Have a look at the Top 10 Best Atta Chakki in 2023 for home use. This article will give you a fair idea of the process of buying the best flour mill in India. We have curated this list carefully to ensure you the best buy.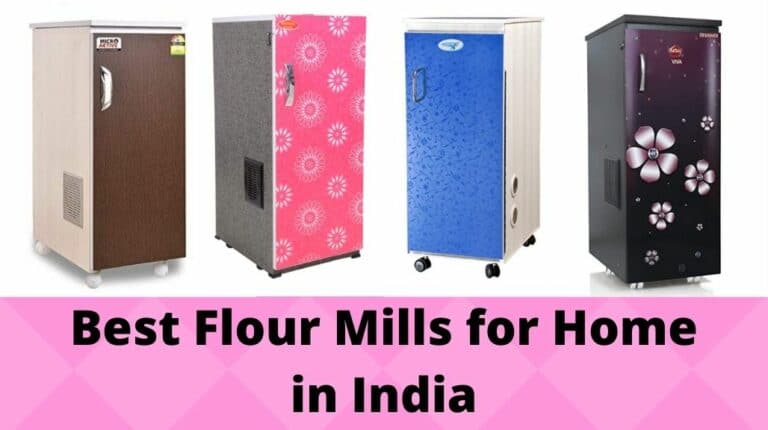 This is a review of the Top 10 best Atta Chakki in India in 2023. Through all these years we have all been to the flour mill shop and stood in long queues to get the grains grounded. The introduction of a domestic flour mill or atta chakki has proven to be a rescue for us. It is a small grinding machine that is used to grind grains to powder form. It is meant for domestic use and can be kept easily in the kitchen.
What is Atta Chakki/Flour Mill?
Earlier, atta chakki had two round flat stones that used to rotate over one another. It had a small hole at the top through which the grains were poured into. It had a basic working principle of pressure and force exerted by the upper one over the one underneath. The grains were crushed due to this force. However, these were operated manually and had exposed stones which possessed a danger of injury.
A modern domestic flour mill anyway overcame this flaw. They have no exposed parts and are significantly more efficient. They are fully automated and provide comparably better results. They are also easy to maintain and clean. Instead of rotating stones, they are equipped with stainless steel blades that further ensure durability. In this article, we have provided you a guide to buying the best atta chakki online for home use.
How Does Atta Chakki Work?
Your domestic flour mill unit is equipped with a small hopper. Through this hopper, grains are poured into the flour mill. From the hopper, the grains reach the grinding chamber. Once reached, the grains come in between the rotating blades and are crushed into a very fine powder. Unlike the old traditional chakki, these are closed units, non-hazardous and safe to use.
They are provided with special sensors that auto-detects and have an option for auto-feed control. This feature controls the speed of the input of the grain.
They are energy efficient, using just 0.75 units of electricity to grind 10kg of grains. In addition, the best flour mills in India will grind up to 10 kg of grains in under an hour.
Advantages of Domestic Atta Chakki :
The invention of atta chakki has proved to be a boon. With this wonderful device you can have healthy and pure flour anytime without any hassle. There are numerous benefits of domestic flour mill machines. To help you decide whether you need it, we have mentioned few of many advantages of the same.
How do you choose the perfect atta chakki for your home?
Selecting the right flour mill can be a hectic procedure, you need to consider so many things while buying as it is a big investment. We have mentioned some of the important things to keep in consideration. You must go through this buying guide thoroughly while buying the best flour mill for home
a) Warranty
Opt for the one with at least a year of warranty. Few flour mills even offer multiple years warranty for the maximum satisfaction of the consumers.
b) Grinding capacity
The key to determine the best flour mill machine in india is to check for grinding capacity which is important for the efficiency and effectiveness of the machine. Ideally, anything between 8-10 kg an hour is considered great.
c) Multi-channel airflow
This ensures better motor controlling and longer mill life. Checking this feature is essential, ideally a better air flow cools off the motor and makes the machine last longer.
d) Type of grains
Look for what types of grains you need to grind and then select the machine which suits best to your needs. Flour mills are designs with different settings for different types of raw material.
e) Power consumption
It is important to consider this feature for the longer term. It will determine whether or not the flourmill is economical.
f) Motor Power
One of the basic features to look for while making the decision to buy an atta chakki. Oftentimes, the motor can get overworked and overheated or it may not be strong enough, so choose carefully.
10 of the Best Atta Chakki for Domestic Use in India in 2023:
To help you buy the best atta chakki we have carefully curated a list of Top 10 Best Atta Chakki machines in India in 2023. While making the list we have kept in mind the customer reviews and their valuable feedback. Provided beneath we have taken into consideration the best atta chakki brand in India which manufactures excellent products.
1. MICROACTIVE® Classic Fully Automatic Domestic Flour Mill
MICROACTIVE® Classic Fully Automatic Domestic Flour Mill is one of the best Atta Chakki in India in 2023. This product is highly preferred by the consumers, that is the reason it made into our top 10 list. It has plenty of features making it an ideal choice.
It is a fully automatic flour mill machine that can grind about 7-10 kgs in a single time which depends mainly on the type of grains. It grinds the grains extremely finely and has a very high grinding capacity, as it is equipped with an exceptionally sturdy motor. It can grind a wide range of variety of grains like jowar, coffee, rava, udad, daliya, moong kali mirch, daliya, besan, wheat, rice, bajra, salt etc and preserve their nutritional values.
It has a 6-blade high quality grinding chamber which is a unique feature to this machine and also equipped with a strong grinding chamber door.
This MICROACTIVE flour mill comes with a pre-installed child safety lock, ensuring your safety. The machine will automatically stop rotating if the door is opened.
It has a stainless steel hopper of size 4-5 kg aiding to the ease of usage. The container inside is made with a high-quality stainless-steel material, it is easily washable. It also has a cloth filter ring to minimize floor wastage.
You can easily move the machine anywhere as it comes with high quality caster wheels which can withstand the weight of the machine. Its compact and sleek design makes it user friendly and easily compatible for modular kitchens.
2. Natraj Viva Designer Automatic Aata Chakki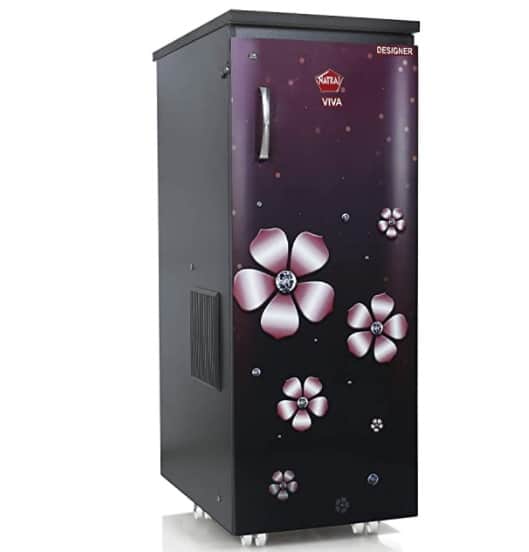 Natraj Viva Designer Automatic Atta Chakki is considered as the best natraj flour mill. Natraj has always been the top choice of the Indian consumers when it comes to choosing the best flour mill for home use in India. This machine has lots of fantastic features to stand up to the expectation of the users.
It is a fully automatic domestic flour mill which is easy to use, maintain and clean. It also has beautiful printed exterior which compliments your style
This flour mill machine is equipped with seven perforated jaalis or sieves which can grind at different ranges of consistencies. You can select the jaali according to your requirement and enjoy the suitable product in a brief time. The grinding chamber of the flour mill is made with cold forged steel with a guarantee of "iron particle free" grinding.
The 4.5 kg hopper is specially designed to make grinding easy for large quantities of grains. You can use large batches of grains to get maximum benefits. The compact and menial design makes it easy for you to move around, you can easily carry it anywhere in the house according to your convenience.
This product requires minimal maintenance and cleaning is very easy too. It comes with a cleaning brush which can clean all the flour stuck in the corners. This feature ensures you get hygienic and fresh flour anytime and keeps in check the nutritional values
Natraj Flour mill has a powerful motor which can grind any kind of grains including wheat, haldi, coffee and many more. The flour produced is healthy and retains all the nutrients like carbohydrates, proteins and fats because of slow grinding of grains. All these features make it the best natraj atta chakki.
3. NAVSUKH Automatic Domestic Flour Mill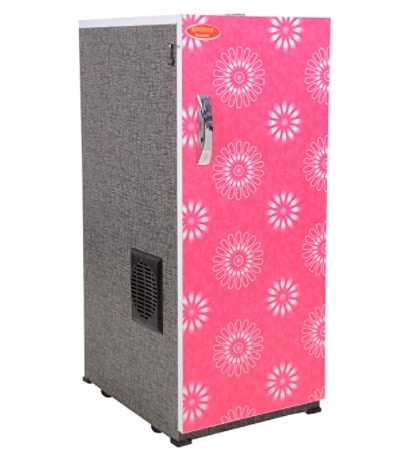 NAVSUKH Automatic Domestic Flour Mill is an expert choice for the best atta chakki machine for home. It is a domestic atta chakki which can be used easily at home. This product offers plenty of features which makes it more desirable by the customers.
There are few factors which make this flour mill unique in all aspects. The product has next generation nano processor technology with AFS and unique ABFM technology. The flour mill has a beautiful splash proof body which is secured completely. It is heat protected and comes with a KSL safety measure. Moreover, this product speaks for locals. The mill is fully automatic and furnished. The main advantage is that the flour mill is within budget.
The flour mill can grind even the toughest grains very easily and finely because of its powerful motor. The motor is completely made up with heat grinding technology which does not take away any nutrients from the atta. Anything can be grinded in this mill like wheat, rava, udad, coffee, besan, rice, bajari, maize, jowar, dhaniya, haldi, daliya, mehandi, moong, kali mirch, salt, avla, and many more. All the nutrients are completely retained by the flour mill.
Includes an air circulating system which helps the flour mill to avoid overheating and remain cool during grinding. Comes up with the latest grinding designs and better grinding capacity. On top of that, the product also has an automatic chamber cleaning system for the mill.
It comes up with 6 blade cutters which help the mill for faster and efficient working. The machine is "STONE LESS", which means it has hard cutters and a grinding chamber.
The grinding chamber is totally bacteria free as it is made from antibacterial food grade material which makes sure iron free grinding. The mill is easy to clean by either wet or dry cloth as the base is covered by steel sheet.
The mill has portable and moveable carter wheels which makes it convenient to move it from room to room. The wheels are smooth and crafted well.
The mill allows the selection of required settings and it starts automatically. The mill has proper air ventilation with chamber knobs and splash proof cabinets.
Bulk quantities grains are grinded in this flourmill which shows that it has great grinding capacity and has an automatic feeding system.
The mill provides hygienic atta with hassle free processes. It is long lasting and is user friendly. Also this mill can run on low voltage which is advantageous.
4. Haystar Domestic Flour Mill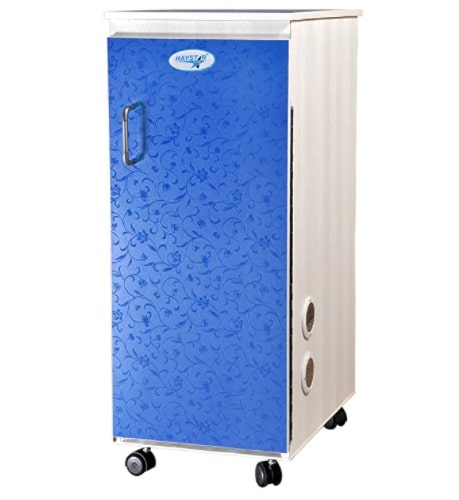 Haystar Domestic Flour Mill is our recommendation for your best atta chakki in india in 2023. It is a fully automatic machine which has an easy clean feature. The heavy-duty material makes it quite durable. It also comes with a one-year guarantee covering the manufacturing defects.
This Flour Mill comes with a unique multi-channel air flow for motor cooling, this feature increases the life of your machine. It also has a self-cleaning chamber which is also easy to use. Embedded microcontroller devices prevent the electric parts of the machine from overloading and voltage fluctuations.
Haystar Flour Mill can grind up to 7 to 10 kg per hour. It is also provided with six types of nets to achieve a different course of grinding. It comes with a steel container, caster wheels and a cleaning brush. The cloth filtering technology makes it maintenance free which is washable and can be removed easily
The unique safe feature of the product ensures maximum safety, if the door is opened, the machine is turned off automatically.
The machine also turns off if there are no grains in the hopper. The automatic feeding device maintains and adjusts the speed of the incoming grains into the grinding chamber.
It grinds all non-oily grains perfectly with precision. With this product you don't have to worry about overheating, sticking or gumming of the product. It is very easy to use, no complex buttons and operation, just pouring the grain in the hopper.
It can be used for grinding a wide variety of grains. It also has lifetime cutter warranty which is replacement of the cutter the performance is decreased. The glossy modular doors are very stylish and attractive.
5. Classic Atta Chakki Fully Automatic 2 in 1 Domestic FlourMill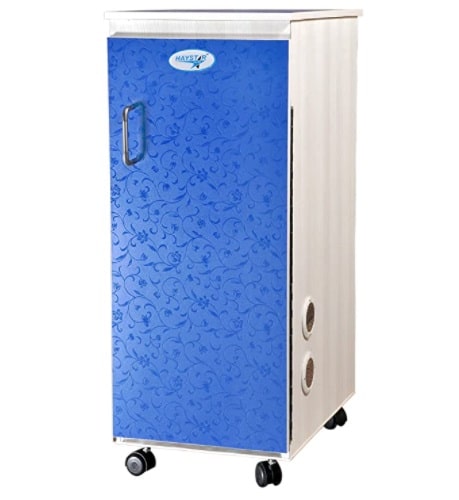 Classic Atta Chakki Fully Automatic 2 in 1 Domestic FlourMill is a fully automatic and one of the best domestic flour mill in India. It is the best suitable product for domestic purposes. This product is affordable and suits best in the budget.
The machine maintains a proper inbuilt cleaning process which means it is cleaned automatically making maintenance hassle free. The motor of the mill is efficient and comes with rugged electrical power.
The motor is made up of new technology which makes them grind any ingredients like wheat, bajara, besan,rice, maize , jowar, coffee, rava, udad, dhaniya, haldi, daliya, mehandi, moong, kaali mirch, salt, amla and many more items. The flour is perfectly grinded with fine particles to make any roti, masala or daal.
All the nutritions of the grains are completely intact after grinding like vitamins, proteins, carbohydrates, fibres, minerals. The mill grinds best quality atta which is partially iron free.
The mill is classic because it is easy to operate. The product comes with protection from electricity overload and also child protection. The mill has a proper controlling unit. The mill is completely made up of stainless steel and covered with plywood outside. This product is usually multicolour which adds to the aesthetic of your room.
6. King Smart Green Flower Automatic FlourMill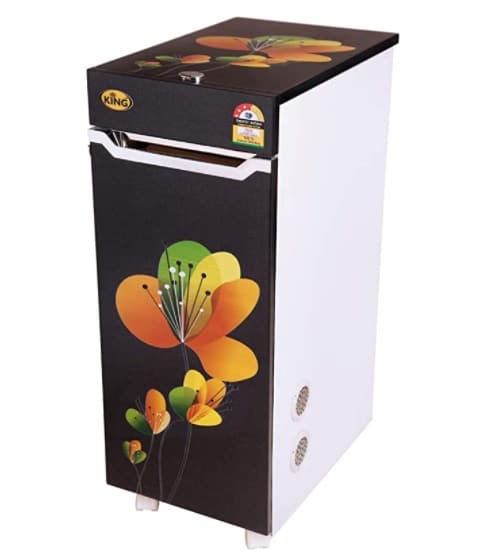 King Smart Green Flower Automatic Flour Mill is chosen as the best mini flour mill for home by the consumers in India that's why it has made its way in our list. It is one of the fully automatic smart flour mill which now comes with a new feature that is LED lights which gives the mill an auto GLOW.
This Flour Mill machine has a top door which has a glossy finished plus a modular front with attractive designs. The product has been designed for different types of flour so they come with 6 variants of net with a variety of colours. The machine is completely noise sensible and works smoothly.
It works quietly without disturbing your daily routine. The main component of the machine is a microprocessor which makes it work properly for lifetime. This flourmill has the best look particularly because of a steel body inside and plywood body outside.
It comes with all the best accessories. The machine retains all the nutrients which is required in diet like vitamins, proteins, minerals and carbohydrates. The best feature is that every kind of grain can be grinded in this flourmill.
7. Jaisinghani Fully Automatic Domestic Flour Mill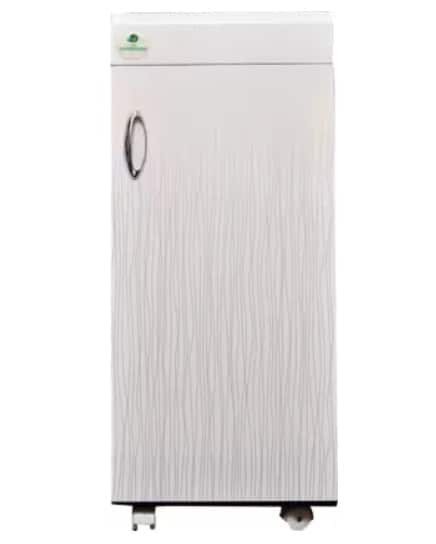 Considered as the best atta chakki machine in India, the Jaisinghani Fully Automatic Domestic Flour Mill is a fully automated machine with high-quality materials used for manufacturing. The plywood from which this product is made is of high quality.
It has a wooden texture door and matte finish laminate. The flourmill can perfectly grind any ingredients like wheat, rice, bajra and also masalas like chilli powder and many more spices. On top of it, it retains all the nutrients present in the grains which are rich in vitamins, fibres, proteins and many more.
The product comes with a mini power stabilizer. The machine is made up with mechanisms which control the noise of the grinding process.
It has an overload protection safety and child safety too to ensure maximum safety.
8. MILCENT Classic Fully Automatic Domestic Flour Mill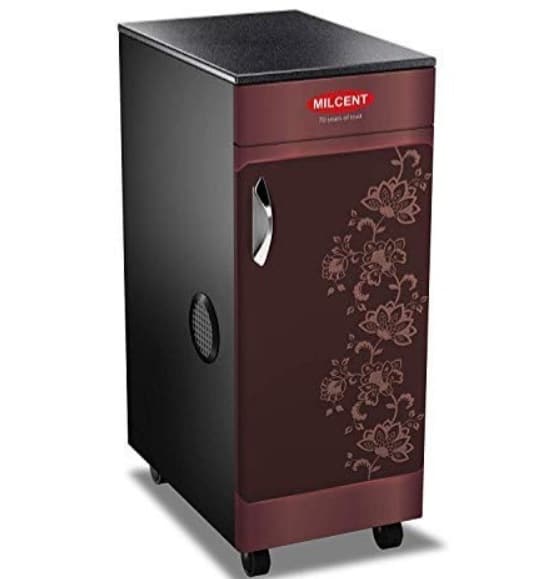 MILCENT Classic Flour mill is the best fully automatic domestic flour mill in India. The company is considered as one of the best flour mill brand in India. The grinding automatically starts by sensing the presence of the grains. It has a high-quality electric motor of 1HP.
It has a hopper capacity of 3 kg and the container capacity is 4 kg. It has a modern and sleek Italian body best suitable for modern modular kitchens. This amazing product grinds everything and every type of grains like rice, besan.
Maize, jowar, bajra, wheat, haldi, coffee, dhaniya, mehandi, mong and so many others. It has a low electricity consumption and has power saving ratings. It consumes about 0.75 units per hour making it highly budget friendly and goes easy on your pocket.
9. STC swaroop Sparrow BR Fully Automatic Flour Mill
STC Swaroop Sparrow BR Fully Automatic Flour Mill is manufactured by one of the best atta chakki company in india. It is economical and fits right in your budget. This flour mill is easy to use, maintain and clean.
STC Swaroop Sparrow Flour Mill It is equipped with the most efficient, powerful and long-lasting electric motor. The company offers a unique seven years warranty on motor and a two years warranty on product and a lifetime warranty on bitter and chamber.
It has overload protection and child safety lock to ensure the maximum safety for you. This product is extremely low maintenance because of features like auto clean and accessories like cleaning brush, rings, funnels, stainless steel container and protection flour mill cover. It has an auto shut down mechanism.
This Flour Mill is embedded with a high-quality electric motor with power of 1 HP. it comes with six types of long-lasting stainless steel or brass rings to grind with variable fineness, this can let you select the type of atta you want and can make different types of rotis, masala and daals. This atta chakki is accompanied with a cleaning brush, warranty card and a manual guide.
The precision of this atta chakki preserves all the nutritional value of your atta making it a perfect healthy choice. The machine has a sleek brown look with a matte laminate finish and a wooden texture door which adds to the beauty. This product is loaded with features which makes it best atta chakki.
10. SONAR Premium Regular Automatic Domestic Flourmill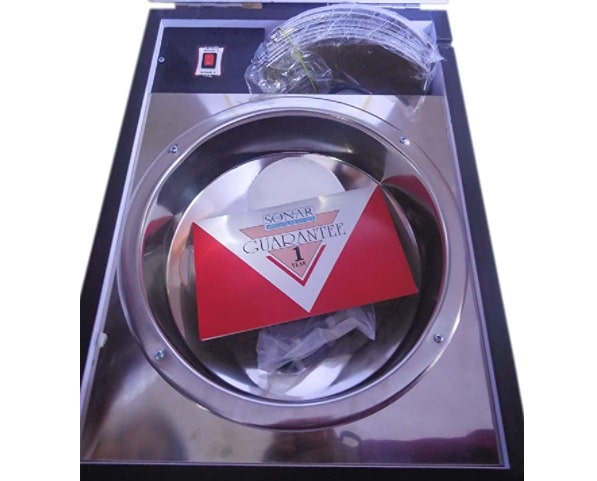 SONAR Premium Regular Automatic Domestic Flourmill is solely used for household purposes and is fully automatic which means it turns off itself if there are no ingredients in the hopper. The flour mill makes low noise and the door of the mill stops automatically if the machine is not running to ensure child safety.
The machine consumes less electricity and has high quality performance. The mill provides nutritious flour which is lost in commercial mills. The nutritional value which contains most carbohydrates, vitamins, proteins, and fibres etc. in wheat kernels is remaining intact in this product. The mill grinds everything from wheat, besan, rice, bajari, maize, jowar, coffee, rava, udad, dhaniya, haldi, mehandi, moong, kaali mirch, salt, avla, etc.
The mill does not require any installation and is ready to use easily. The motor is fully electric and has an auto sensor working. The mill is made up of wooden material.
Variable texture control is provided with a self-cleaning milling chamber.
Various grinding capacity for different grains:
Wheat- 6.5-8.5kg
Moong- 20kg
Rice- 5-7kg
Maize- 4-kg
Rawa- 30kg
Jowar- 4-6kg
Haldi- 8kg
Salt – 40kg
Coffee- 20kg
Udad- 20kg
Dhaniya- 12kg
Mehandi- 8kg
Kali mirch- 20kg
Besan- 18kg
Bajari- 4-6kg
Daliya-40kg
FAQs About Atta Chakkis
While buying the best Atta Chakki machine for the home there are so many questions that come to our mind. We get so many queries regarding the same. Listed below are some of the most asked questions to help you clear your doubt.
What is the process of flour milling?
Out of the two rotating blades, the one above rotates at a higher acceleration than the other one. When the grain comes in between these moving blades, it gets cleaved and as a result, they are crushed. hence the purpose of grinding is fulfilled. the different components of the grains are separated into germ, feed, bran, and flour (final product).
Does the blades or stone need repair?
There are no chances of stone wear and tear as contrary to the traditional atta chakki this modern device is equipped with stainless steel blades. Periodic maintenance is also not necessary.
Can wet grains be also ground?
No, as these chakkis are specifically designed to grind only dry grains. You cannot use wet grains for this purpose, since cleaning will not be easy therefore it may cause damage.
How long does it take to grind 10 kg grains?
It takes almost an hour to grind to its full capacity.
How do I use domestic atta chakki
So, there'll be a tiny hopper at the highest, from wherever grains are poured (with machine feed control) into a grinding chamber, wherever the particular crushing of grain takes place. Crushing happens victimizing rotating blades (metal) steam-powered by a motor. The machines have sensors and microcontroller to find grain and regulate the speed of grain input
The Final Verdict About Best Atta Chakki's in India in 2023
An atta chakki is a great device for domestic use. In this era of adulteration of food, it is a great way to make sure of purity and a hundred percent nutritional value. It is economical and user friendly. Very easy to use and maintain.
Being light in weight it is quite portable too. Mentioned above are all the reasons which make the product really worth your hard-earned money. Above, we have provided you with a list of the best mini flour mill for home.
The list has been made after lots of research. They are the best atta chakki machines in India. Choosing the right product is very important as it saves your time and energy and also preserves the nutritional values of your food.
It is our duty and professionalism to provide you with the best service. We are intent to provide you with an authentic and honest review of the product so that you can invest your money in the best product. We hope this article can assist you to find the proper and most popular flour mill machines in India for you which makes your life easier.