Calling all coffee lovers – here, we present you a list of the best coffee brands in India in 2023 that you can get your hands on. So, brace yourself to sip some of the finest ones.
These top 10 coffee brand in India in 2023 have been reviewed by us and have proven to be of the best quality. The taste, aroma, and flavour of these coffee brands is sharp and strong like no other.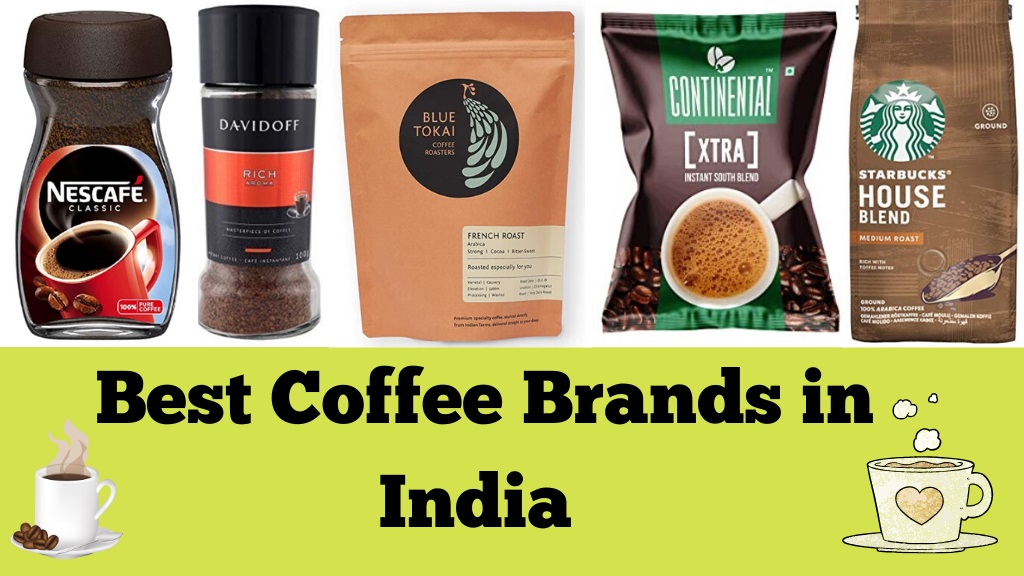 These best coffee brands in India are not just known big names, but they are the ones who have made a remarkable mark in the community of coffee lovers and market as well. Coffee, in general, is the most rejuvenating product after tea. When looking at the world consumption, the reports suggest that more than 2 billion cups of coffee is consumed every day. This is evident from the rising preference of coffee as a beverage and the parallel increase in the number of coffee shops and brands in the Indian market.
But what is that makes coffee so special and sought-after? What do some of these best coffee brands in India offer that make them top the list? May be, it's the variety, quality, quantity, and end product that they provide which creates an impact on the choices of people. With passing days, more and more people are becoming aware of the luxury coffee brands, best roasts, blends, and many other things.
Besides, with the advent of coffee chains like Barista, Café Coffee Day, Starbucks, and Costa Coffee, the demand for both coffee as well as franchise opportunities has grown exponentially. The best part is that India has now taken up the fifth rank in terms of producing coffee in the world. Within India, the state of Karnataka happens to be the biggest producer of coffee beans, to an extent that it accounts for 70% of the total output of the country.
In fact, India is now considered as the land of coffee producer, offering over 16 different varieties from over 13 different districts of the country. As opposed to the earlier times, coffee has now become a staple, an essential beverage, in Indian households. And so, we thought of introducing you to some of the top coffee brands in India so that you can make your purchase and cherish the goodness and richness of it.
However, before we move on to doing, we must also understand the things that are to be considered while selecting the best coffee brand in India. Take a look at it below!
List of Things to Consider Before Selecting the Right Coffee Brands:
Even though there are tons of best coffee companies in India, not many people know a lot about what factors to consider when purchasing the best coffee. This guide will help in understanding the basics of selecting and buying the best coffee in India in 2023.
1. Freshness
It's a world known fact that coffee degrades quickly if it has been roasted and kept. Ideally, it is said that for the best results, one should consume coffee 2 to 5 days after roasting. However, in reality, the coffee is usually lying on shelves for months at a stretch and so, the freshness deteriorates automatically. No matter how well it is packed in an air tight container, the flavour is likely to be delicate and not strong since it is probably been sitting there for months.
Hence, when selecting coffee in India, ensure that you check the date of manufacturing and pick the one that has a latest date. This way, you can relish on its freshness without being disappointed.
2. Aroma
One of the most prominent features that directly indicate the quality of coffee is nothing but the aroma. Different beans and areas where it is produced results in varying scents. The aroma can differ from the subtle floral ones to strong spicy notes. The best way to judge the quality of coffee is by taking a quick whiff. Remember that there are variants of coffees that can taste and smell good as they are – be it strong or subtle – but the trick is to discover what you prefer and how to make it right.
3. Unroasted
The secret to finding the best coffee powder in India lies in the best coffee beans brands. So, if you are a die-hard coffee lover, focus on selecting the best coffee beans brands in India which can lead to the finest end product later. Unroasted coffee stays fresh for months to go, and so, this makes a great choice for those who are very particular about their beverage.
Get home the unroasted coffee beans, roast them as and when needed – which can happen in a variety of ways, in a coffee maker too, and enjoy freshly brewed coffee.
4. Pricing
A good quality coffee need not always cost a fortune. When looking for the best gourmet coffee brands, you'll surely come across luxury coffee brands that undoubtedly cost a lot more than others. But at the same time, even though the taste differs slightly, but a coffee costing half of it will be equally amazing.
The reason why some coffees cost a lot is because they are produced in very small regions and have a great repute and demand. There are a lot of other blends that are lesser known but the taste and flavour may be better. Research, experiment, and keep trying new ones.
5. Quantity
Exposure to air ruin's a coffee's taste and fragrance much quicker, especially if it is ground. Therefore, we suggest that you either purchase whole coffee beans or buy in small quantities. This way, you can grind only as much as you need and small portions will help you from keeping your coffee smelling and tasting fresh.
By keeping in mind these points, you can experience a deep and refreshing flavour from the coffee – one that can be rejoiced at any hour of the day. Now, let's move on to check the best coffee brands so that you can make your purchase instantly!
Your Guide to The Best Coffee Brands in India in 2023
The list of 10 best coffee brands in India extends much beyond it. The amount of variety available in the market in India can make shopping for coffee exciting as well as overwhelming. Hence, we are listing the top 10 coffee brands in India in 2023 so that you can choose wisely.
1. Try out Nescafe Coffee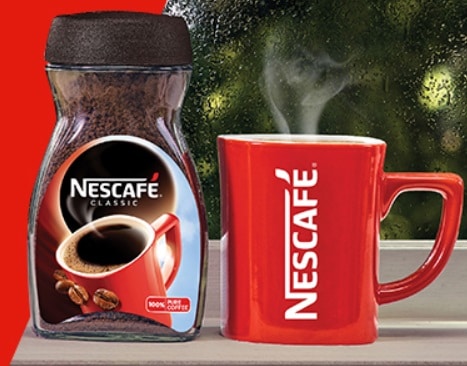 Out of the best coffee brands in India 2023, Nescafe tops the list. This brand was launched in the year 1938 and since then, they have been winning hearts of all the coffee lovers around the world. The coffee brand's name was derived from its parent company, Nestle, with café added it to it.
Today, owing to its reputation formed over the years, Nescafe can be found in almost all the homes across India. There are tons of variety that the coffee brand offers to cater to the different tastes of our population.
Let's check the different types that they have in store for us:
2. Try your hands on Davidoff Coffee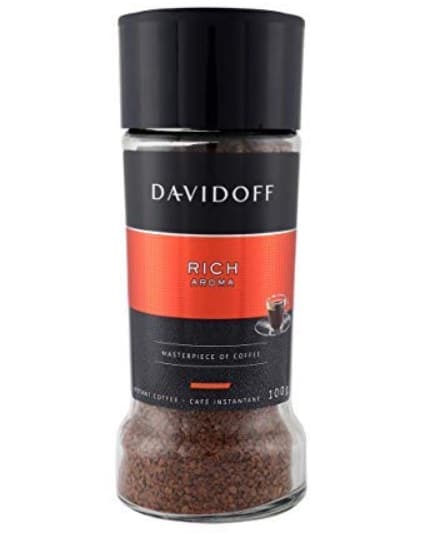 Davidoff coffee ranks the next amongst the best instant coffee brands in India in 2023. This brand was founded by Zino Davidoff from Switzerland. As someone who had interest for finer things in life and immense love for coffee, the entrepreneur who began his journey as a cigar merchant soon expanded his portfolio and leaped into the coffee market.
Over the years, Davidoff has gained immense name all the over the world and is often regarded as a luxury coffee brand owing to its premium range and also the use of Arabica beans for the finest flavours. Each of this coffee brand's range differs from one another in terms of its roasts, acidity, and intensity.
Let's take a look at the varieties Davidoff coffee brand offers:
3. Purchase Blue Tokai Coffee
When it comes to the best instant coffee brands in India, Blue Tokai is something that comes to our mind instantly. This Indian brand, since inception, has taken the youth and market by storm. Blue Tokai produces as well as distributes grounded powders and coffee beans through their online presence and cafes.
Blue Tokai is considered to deliver the best coffee beans online and hence, the brand has managed to gain a strong section of followers from not just India but across the globe. As one of those very brands selling the best coffee online in India, their variety and quality of coffees stand out like no other and ensure that the owners behind this brand get their due credit.
Let's see what are the varieties of coffee that Blue Tokai sells:
4. Check out Continental Xtra Coffee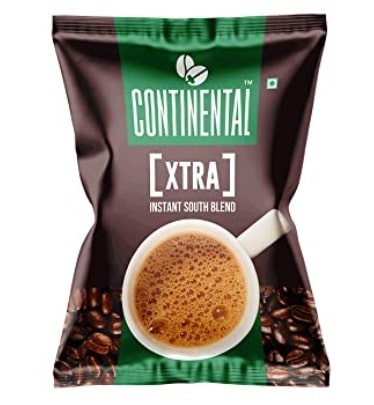 The Continental Xtra Coffee is amongst those very few brands that give an instant strong flavour like that of a south Indian coffee. So, if you are struggling to find the best filter coffee brands in India, you may try your hands on this brand to get a taste that's somewhere near.
Continental Xtra is made up of 30% Chicory and 70% coffee which together releases an aroma and taste like no other. For the best results, try this coffee with a little milk in a strong form or with lots of froth for a subtle flavour. Either way, the turnout would surely impress you. So far, since inception, this coffee brand has never failed to impress any taste buds.
So, let's also find out the different types that Continental has to offer:
5. Nothing better than Columbian Brew Coffee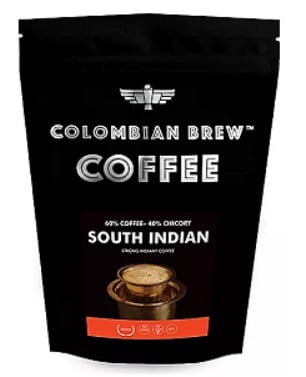 When we speak of the best coffee powders in India, it's hard to not mention Columbian Brew Coffee in the list. So far, Columbian Brew has gained immense repute for being the best coffee company in India and for letting billions of people relish on its instant strong coffee that oozes intense aroma within a few seconds.
The best part about Columbian Brew coffee is that it does not contain any added sugar or chicory and hence, the product is in a powdered form. So, even if you are a calorie conscious person, this coffee is something you can always opt for. 1 spoon will suffice the need to make a strong mug of coffee for recharging your mood and energy.
Let's find out the types available in this brand:
6. Lavazza Coffee is like no other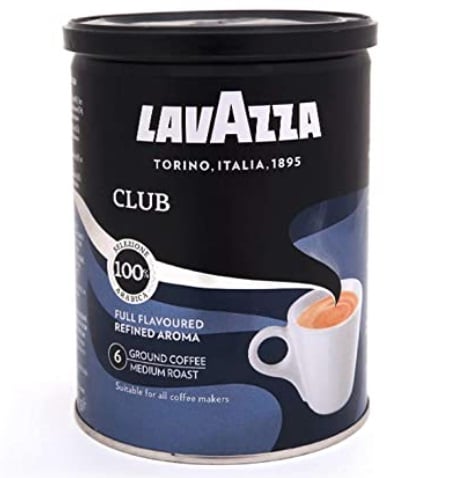 Lavazza Coffee is originally an Italian brand which has now managed to spread its presence in more than 90 countries, India being the most prominent one. What started in the year 1985 by blending multiple coffees to cater to different customers tastes, soon turned into a brand producing the best coffee powder online.
What gave the needed kickstart to this business is the founder's quest for blending different varieties and toasting coffee beans. To date, the brand follows the same principle of offering the blends that suit everyone without compromising on quality. This commitment is evident from the wide range that this brand offers for all types of coffee enthusiasts.
Let's take a look at what this variety is:
7. The best amongst the rest Starbucks Coffee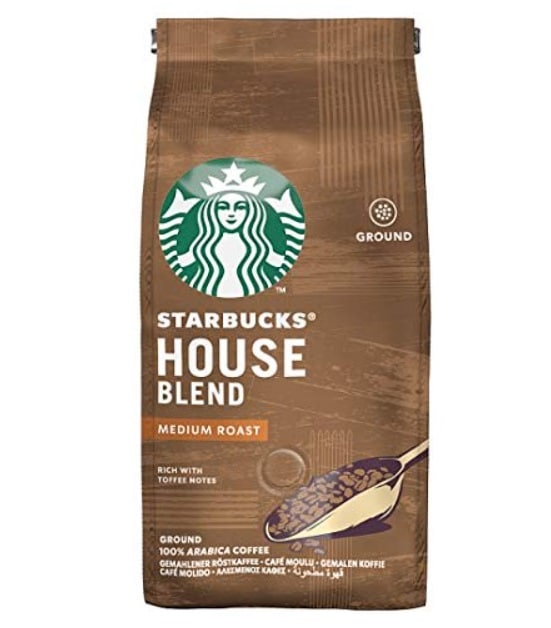 The world-famous coffee brand began its journey as a retailer and roaster of ground coffee as well as whole beans in 1971. Today, this brand has gained a repute as one of the world's best coffee company in India.
Starbucks offers more than 30 different blends of single-origin coffees. Besides, they even have a number of flavours to offer, right from regular and decaf versions to medium roast and blonde coffees. In the Indian market, this brand made its first presence in the year 2012 through a joint venture with Tata Global Beverages. So far, the brand has proved successful in terms of standing by its original principle of providing premium quality coffee and a wide choice of variety.
It's time to check out the types that they have in store for us:
8. Try your hands on Bru Coffee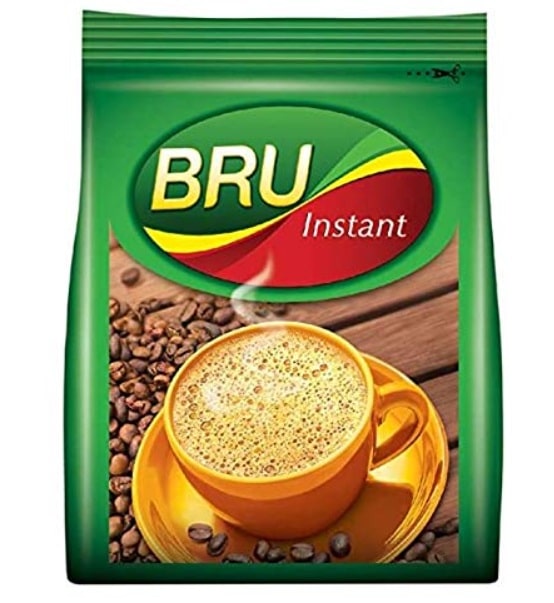 Bru is India's one of the most popular coffee brands in India. This Indian coffee brand is a product of Hindustan Unilever. The quality of coffee sold matches up to the international levels. Considering the number of different available coffees online in India, Bru has its range stocked up on almost all the ecommerce sites owing to its high demand across the year.
The variety that the brand offers caters to the different tastes and preferences that the Indian consumers have. Besides, the blend of Bru contains fine powdered coffee and chicory mixed in the right quantities which makes it perfect to have it instantly. Bru's coffee is considered 100% pure too, and hence, the flavour is unique in its own way.
Now, let's find out the different variants available in Bru:
9. Can anything be better than Café Coffee Day Coffee?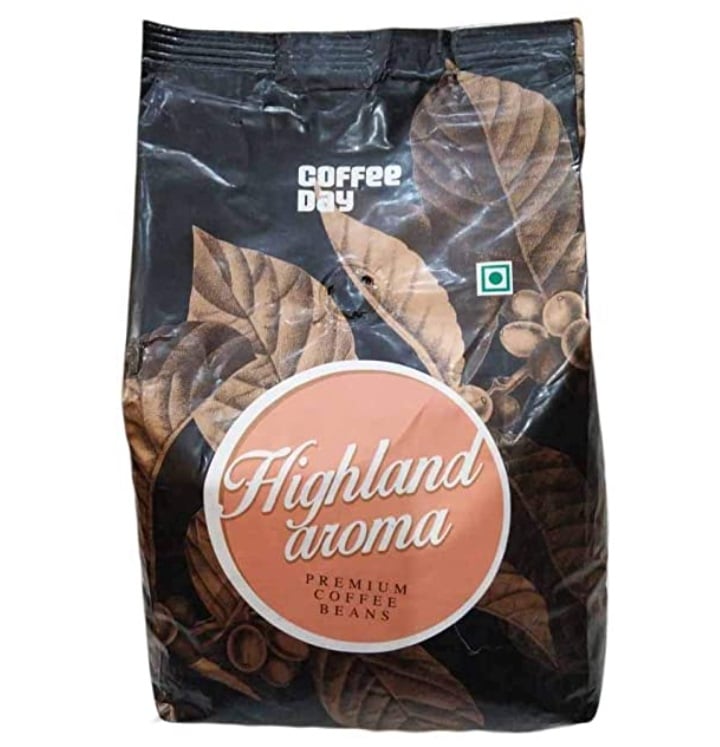 Not many people know, but Café Coffee Day is one of the best coffee brands in India, founded by the late entrepreneur V.G. Siddhartha. CCD first opened its outlet in the year 1996 and in no time, it became a hot spot for the youngsters to meet.
Now, this Indian brand is no longer limited to India but has slowly become the best coffee brand in the world with outlets in Czech Republic, Austria, and Malaysia. Not just this, CCD has been offering its signature coffee beans as well as powder to customers since 1995 and have now got a portfolio boasting of over 25 unique blends.
10. The Flying Squirrel is sure to impress you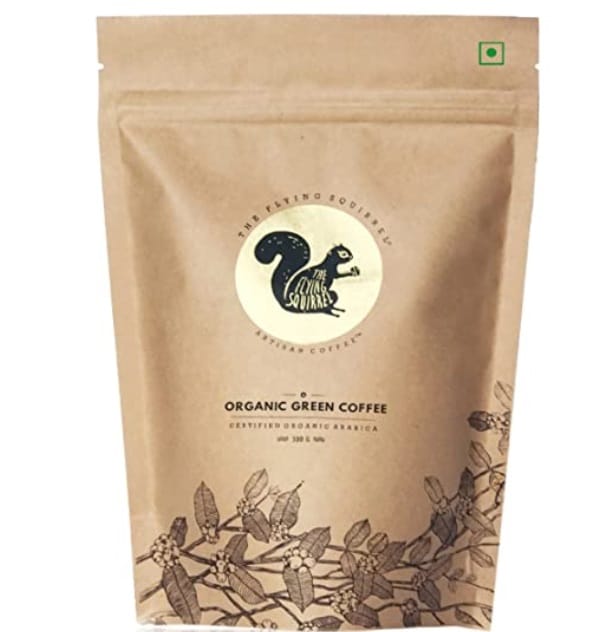 Found in Bangalore in 2013, The Flying Squirrel offers coffee like no other brand, majorly from their own coffee estates in Coorg. Since inception, the aim of the brand has been to offer a range of gourmet organic coffees amongst the rest in the market. They offer a variety of flavours and roasts including Robusta, Arabica, and Cultivar beans.
Check out below the types that The Flying Squirrel offers:
The aforementioned brands have till date had quite a strong hold on the Indian market. They have not just create a space in the hearts of Indian consumers because of their variety or products but also due to the consistency maintained in terms of quality, services, and uniqueness.
We hope we have helped you understand and identify some of the best coffee brands in India as well as whole of the world. But still, if you have any queries, then take a look the FAQ section below!
Frequently Asked Questions (FAQs)
For clearing all your doubts, we are making this section as expansive as possible. By referring to this, we are certain you'll be sure about purchasing the best coffee brand!
Which is the best coffee in India?
Davidoff Café Fine Aroma Grande Cuvee Instant Coffee is considered the best coffee in India.
Is Indian coffee good?
Indian coffee which is typically grown in southern states is termed the best coffee not just in India but world-over.
Which coffee powder is best for health?
An instant coffee of any brand contains less caffeine, and so, proves to be beneficial for health.
Which coffee brand is best for black coffee in India?
Lavazza is the best brand when it comes to black coffee in India.
Which Nescafe coffee is best?
Nescafe Clasico 100% Coffee and Nescafe Espresso 100% Arabica are the best coffees offered by Nescafe.
Which coffee is best Bru or Nescafe?
In terms of demand, Nescafe is at the top. However, Bru is at a very close competition with the former.
Which coffee is best brand for filter coffee?
Locally, in most of the cities in India, Devi Madras Kaapi has gained immense repute for being the best filter coffee brand.
Which coffee is best for brain?
Any coffee prepared with arabica beans is great for the brain as well as overall health.
Which coffee brand is best for weight loss?
WOW Green Coffee is considered the best green coffee brand in India as well as a reliable one for weight loss.
Every cup of coffee counts, so grab the best coffee brand in India
For a country that has always relied on tea, getting accustomed to coffee and finding the best coffee beans brands in India is a task in itself. But in order to ease the process for you, we curated this article so that you could refer to it when making your coffee purchase.
The more you drink, taste, and experience, the better you understand about coffee. That's how the perfect combinations are born. So, make use of our guide, take some cue from your taste buds, and then enjoy the experience of forming a taste for coffee. The brands we have listed above are here to help you have that one best cup of coffee that can rejuvenate, refresh, and replenish your mood as well as energy, just anytime, anywhere, your way. So, why wait? Go, get grab your phone, place an order, and make that finest cup of coffee.