Check out for the best contact lenses in India in 2023 that are designed for comfort, ups your glamour quotient with guaranteed satisfaction.
Out of so many brands of contact lenses available in the market, it is essential to opt for the one that enhances your view, safe to wear and highly comfortable. While all the major factors in choosing a contact lens remains intact it should also not be heavy on your pocket.
We have created a list of the best contact lenses in India in 2023 through rigorous market research in order to help you in your pursuit to buy top-notch contact lenses.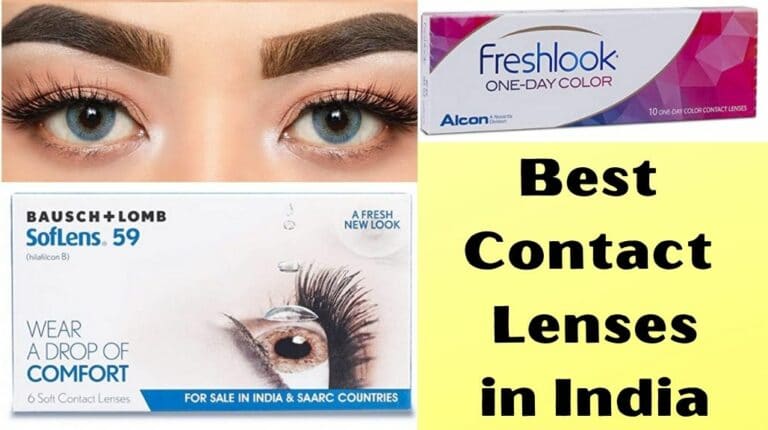 Perfectly designed lenses can correct refractive errors, maintain a healthy eye with high level of comfort, provide unrestricted central and peripheral visual access. But properly categorizing and comparing the available brands based on specifications, price, looks and other features can be a time taking process. Hence, we have collated it all for you with our recommendations. However, we advise consulting an eye specialist first before picking up the best brand of contact lenses.
Which Type of Contact Lenses are best suited for you: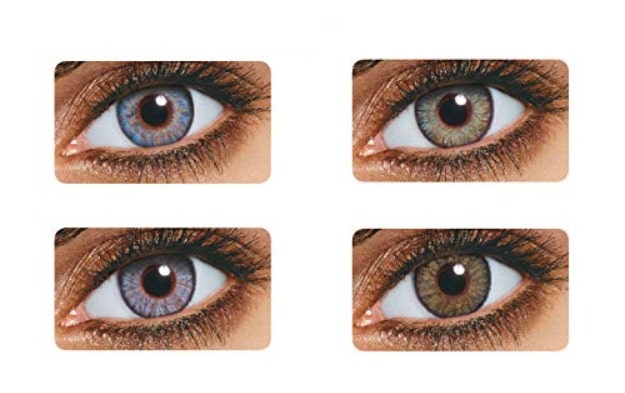 Contact lenses are an excellent means for nearly anyone who needs vision correction yet doesn't want to wear eyeglasses always or undergo a LASIK surgery. There are many types of contact lenses available in the market, each with its own advantages and disadvantages.
Even before browsing for the best brands of contact lenses, one should have a basic understanding of these types that are there. Obviously, consulting with your ophthalmologist would also reveal some greater knowledge on contact lens types. However, we have put it down here.
i) Soft Contact Lenses
Most ophthalmologists generally prescribe these lenses, and are mainly used to rectify vision related problems such as – far-sightedness(hyperopia), near-sightedness(myopia), blurred vision(astigmatism), and the loss of close-up vision due to old age. Soft contact lenses are easier to adapt, very comfortable and soothing. These lenses use materials like silicone-hydrogels to provide more oxygen to your eye while you wear them.
ii) RGP Contact Lenses
RGP types of lenses have better durability and are resistant to deposit build-up, and provides a clearer, crisper vision. As compared to soft ones these lenses are more durable. They are also more breathable, and allows more oxygen flow to the cornea. These contact lenses must be removed at night for cleaning and disinfection purpose, but few can be worn at a stretch for a week or even a month.
iii) Extended Wear Contact Lenses
One can either wear this for overnight or avail continuous wear option that ranges from 1 – 6 nights or upto a month. Cornea gets more oxygen as these lenses are made of flexible plastics that allows easy oxygen flow. How long to wear these lenses depends on type of lens and your ophthalmologist's evaluation of your tolerance level. Eyes are delicate and should be in rest without any lenses for atleast one night.
iv) Disposable Contact Lenses
These are nothing but soft contact lenses that are mainly for frequent or planned replacement. The extended wear lenses can be worn continuously for the prescribed period and then be disposed. Mostly, these are single-use lenses that are removed and discarded by the end of the day, and a fresh pair of lenses are worn.
v) Hybrid Contact Lenses
These special type of lenses consists of a rigid gas permeable centre that's encircled by a soft outer ring. They can correct near-sightedness, far-sightedness, age-related loss of close-up vision, astigmatism as well as an irregular corneal curvature, also known as keratoconus. As compared to the traditional gas permeable lenses, these are more comfortable to wear.
Take your pick from the Best Contact Lenses in India in 2023
Try our list of best contact lenses in India in 2023, to enhance your look and lead a better lifestyle. We have meticulously prepared this so that it eases your purchase decision.
Based on brand equity, quality, durability, value for money, comfortability, and other important parameters, we have shortlisted the best ones for you. Go for the one that perfectly suits your requirement and style.
1. Bausch + Lomb SoftLens 59 Monthly Disposable Contact Lens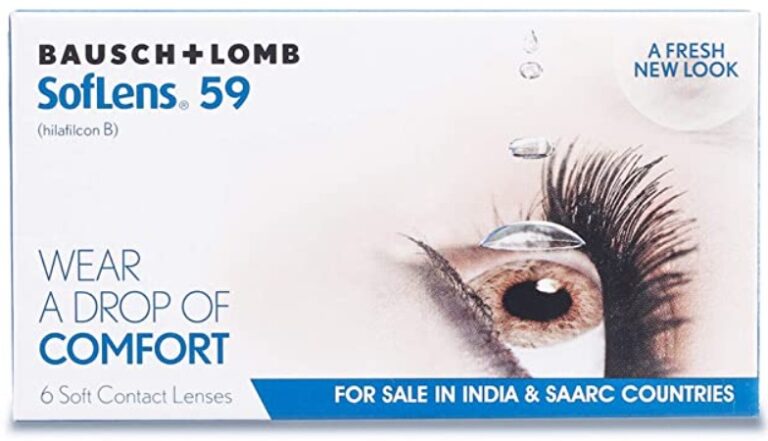 Bausch + Lomb is undoubtedly the best contact lens brand in India in 2023 that is designed to suit the modern lifestyle. SoftLens 59 Monthly Disposable contact lenses from Bausch & Lomb has a 59% water content for ultimate and extraordinary comfort. These are comfortable, low-maintenance and flexible, so that you lead a hassle-free life and keep your focus on working towards achieving your dreams.
SoftLens contact lenses boosts your confidence and helps you to see better, and hence, live better. Some of the key features of Bausch + Lomb SoftLens 59 Monthly Disposable Contact Lenses are listed below that makes it a unique one in the market place:
2. Freshlook One-Day Color Pure Hazel Powerless Contact Lens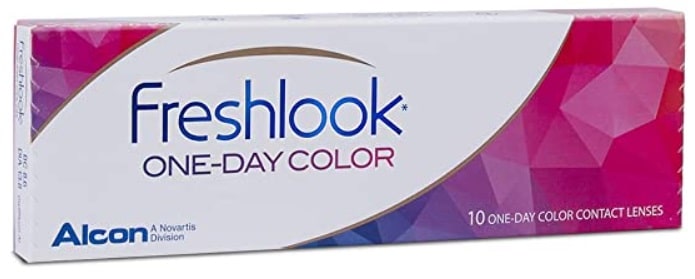 The best eye contact lens in India in 2023 comes from Alcon (a Novartis division) through its brand called Freshlook One-Day Color. This Germany based contact lens manufacturer provides 10 coloured lenses in a single pack, and is meant to give you a fresh look every day. These coloured lenses would definitely add glamour to your appearances besides being extremely comfortable to wear.
With Freshlook One-day Color Pure Hazel Powerless contact lens, one can experience the extraordinary simplicity of wearing a fresh, new pair of contact lenses every single day. These daily disposable lenses can be worn in the morning and thrown away before bedtime. It gives outstanding convenience and comfort for successful contact lens wear. Some key features are as follows:
3. Bausch & Lomb Iconnect Value Pack Monthly Disposable Contact Lens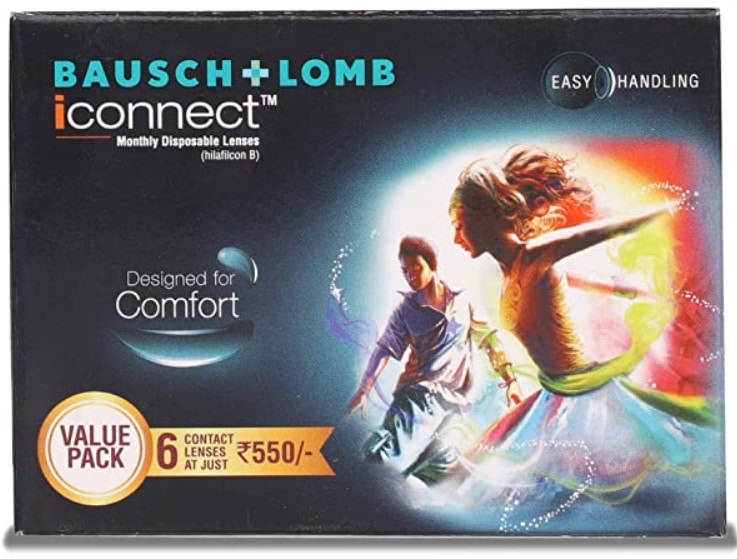 Bausch & Lomb is the best eye lenses brand in India in 2023 that perfectly understands the requirement of every Indian. The iconnect Value Pack Monthly Disposable Lens from Bausch & Lomb is an affordable pack of 6 contact lenses designed for ultimate comfort. Bausch & Lomb iconnect contact lenses help you break free from your monotonous glasses and make you the trendsetter.
These stylish lenses make you see better, and provides a better lifestyle. These contact lenses are easy to handle specifically for teens and young adults and are easy on your pocket and personality. Let's look into the key features:
4. Aqualens Daily Disposable Contact Lens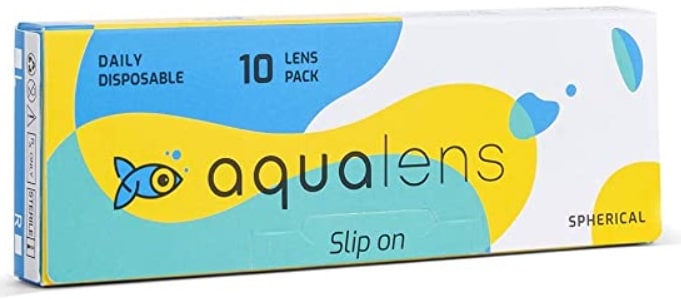 For the best contact lens online, Aqualens' daily disposable contact lenses serves the purpose. With a promise to bring the best lenses at the most affordable price, Aqualens makes you look and feel the best always. All the products from Aqualens are of superior quality and are US FDA/ CE approved.
The Aqualens experience is your ticket to better eye health that is fast, value for money, and meets you at your doorstep whenever you need it. It provides the freedom to lead an active lifestyle without holding you back. Some of the key features that Aqualens offers are as follows:
5. Bausch & Lomb PureVision 2 Monthly Disposable Contact Lens
Bausch & Lomb provides the best contact lenses in India that makes you feel better and lead a joyous life. Bausch & Lomb PureVision Contact Lens helps in getting crisp and clear vision with enhanced contrast, sharper details and reduced glare, even in low light conditions. With Bausch & Lomb lenses you are set to keep your worries at bay and enjoy life's precious moments.
The thin and clear lens helps you in achieving HD quality vision. Few important features that makes Bausch & Lomb PureVision 2 Monthly Contact Lens unique are as follows:
6. O-LENS Russian Velvet Blue Coloured Contact Lens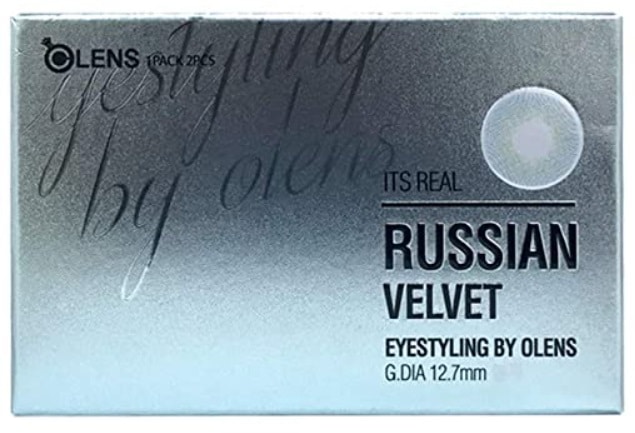 Best blue contact lenses in India comes from O-LENS. These are the most premium and soft lenses that make your eyes look stunning with visual clarity, comfort, and performance. These chick lenses help to shape up your personality. O-LENS Russian Velvet Blue adds an edge to your outfit and personality, it also gives a stylish and comfortable look.
O-LENS enhances the natural look of your eyes. Some key features of this brand of lenses are as follows:
7. Bausch & Lomb Optima 38 Yearly Disposable Contact Lens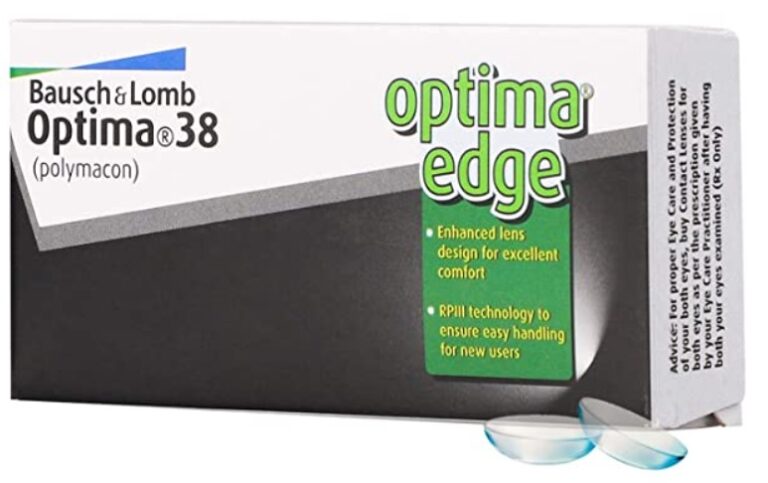 Best contact lenses in India in 2023 is Bausch & Lomb's Optima 38, which is a yearly disposable lens. These are colourless contact lenses, with recommended usage of around 12-14 hours every day. Bausch & Lomb is known to make lenses that are customer centric and addresses vision problem. It aims to improve style quotient through stylish lenses.
Easy to handle, Bausch & Lomb Optima 38 Yearly Disposable Contact Lens is loaded with some great features like :
8. Soft Eye Monthly Color Contact Lenses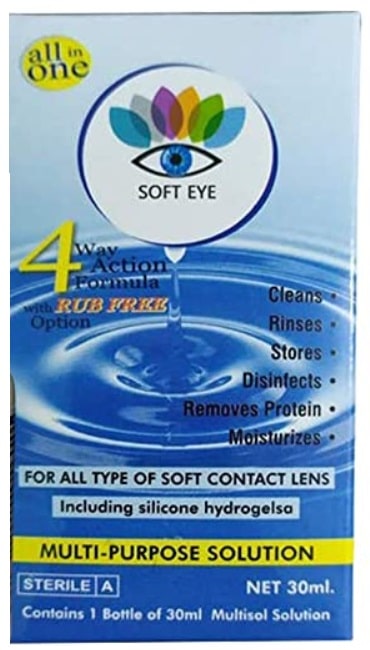 Best contact lens online is Soft Eye coloured contact lenses that gives you a trendy look that's contemporary, fashionable, beautiful and bold. Your everyday look can be refreshed by these coloured contact lenses from Soft Eye. With HD clarity these lenses can be used all day long with maximum comfort and gentle effect on eyes.
This Indian brand of contact lens have some features that one needs to check out before making a purchase decision, they are as follows :
How to Wear Contact Lenses
Now that you have known the best contact lenses in India, you must have made up your mind to go for the brand that is pocket friendly and complements your lifestyle. Since not everybody is an expert of wearing lenses, we have listed down step-by-step guide to wear them. Newbies will also find this helpful in order to sport the trendiest contact lenses in town. According to experts, contact lenses are generally safe if you use them correctly. However, you may get an eye infection if you don't care for them properly.
How to Remove Contact Lenses
While wearing a contact lens is a careful process, removing it is equally important and should follow due steps. If not handled properly it might get stuck and create problem. Follow the step-by-step simple guide to remove contact lenses from your eyes.
Let us Answer your Queries
Although we have collated a list of best contact lenses brand in India featuring the important aspects that would eventually help you to get the right lenses to fit your style and status, you might still have some common questions regarding contact lenses. The following most commonly asked questions will address your queries for sure.
Which brand is best for contact lenses in India ?
Bausch & Lomb is the best in contact lenses in India. This Canadian brand is world's largest suppliers of contact lenses and in India they started their commercial operations in 1992. Right from premium range of lenses to affordable ones, Bausch & Lomb has varieties to offer depending upon India's dynamic market need.
Which lens is best for eyes ?
RGP contact lenses are more durable than soft contact lenses. They are also more breathable, and allows more oxygen to the cornea. These contact lenses must be removed for cleaning and disinfection at night, but some can be worn for a week or even a month.
Are daily contacts better than monthly ?
Daily contact lenses are comparatively thinner than monthly ones. These are also more flexible and hassle free, as there's no need to cleaning or storing them. For healthy and comfortable eyes, you can wear a fresh pair every day. They are also best for occasional wear. Silicon hydrogel are now widely used in modern daily disposable lenses.
Are daily contacts thinner than monthly ?
Yes, daily contact lenses are much thinner than monthly ones. As a result they tear up easily. Since the life span of the dailies are just 24 hours, they are made thinner.
Are daily contacts expensive ?
Daily disposable lenses are expensive than monthly upfront. However they require very little care or any maintenance. Expense for dailies also depends on the frequency of usage, and they come in a pack of 30 or 90.
Are lens better than glasses?
Yes, contact lenses are better and convenient than glasses. Glasses can get scratches along with the problem of reflections and distortions. Whereas lenses sit comfortably on the curvature of the eye, giving a wider field of view than glasses, along with excellent focus. Lens doesn't get affected by adverse weather conditions such as fog and rain, while they also won't steam up in hotter conditions. Coloured lenses further can add glamour to your getup.
Best contact lenses in India will help your vision enhancement and clarity
Human eyes are important organ and any problem to it might affect uninterrupted vision. And in today's fast paced life, one needs to look classy yet keep the vision problem at bay. Only contact lenses can be the saviour. Without any worries, they can be used as a regular wear and do all sorts of daily work – right from gym, office, home, functions etc. Best contact lenses in India in 2023 will help you fetch the top-class brands and help you lead a fantastic life.