Here's a guide to the best food processors in India in 2022 that you should definitely read before you purchase your next food processor! Cooking food will never be the same again!
Recall the last time you made food for your whole family. They were very happy and smiled at you, appreciating you for the tasty food they got to eat. Of course, you enjoyed being the reason behind that smile but you also wished that it took less effort, right?
Cooking food for your family is one of your greatest pleasures in life. We get that! But we also know that it drains more energy out of you than running a Sunday marathon. So, what if today we could tell you that we can solve a problem you didn't even know you had? We have compiled a list of the most demanded and the best food processors in India, for you to decide which one you want to bring in your kitchen to be your "partner-in-crime" for the time you spend to cook food.
This article contains the best food processors in India reviews that you will probably find anywhere. Completely unbiased and honest reviews have always been our topmost priority. Though now, if you haven't exactly heard about food processors before, you're in for a real treat. Read on to know more!
What is a Food Processor?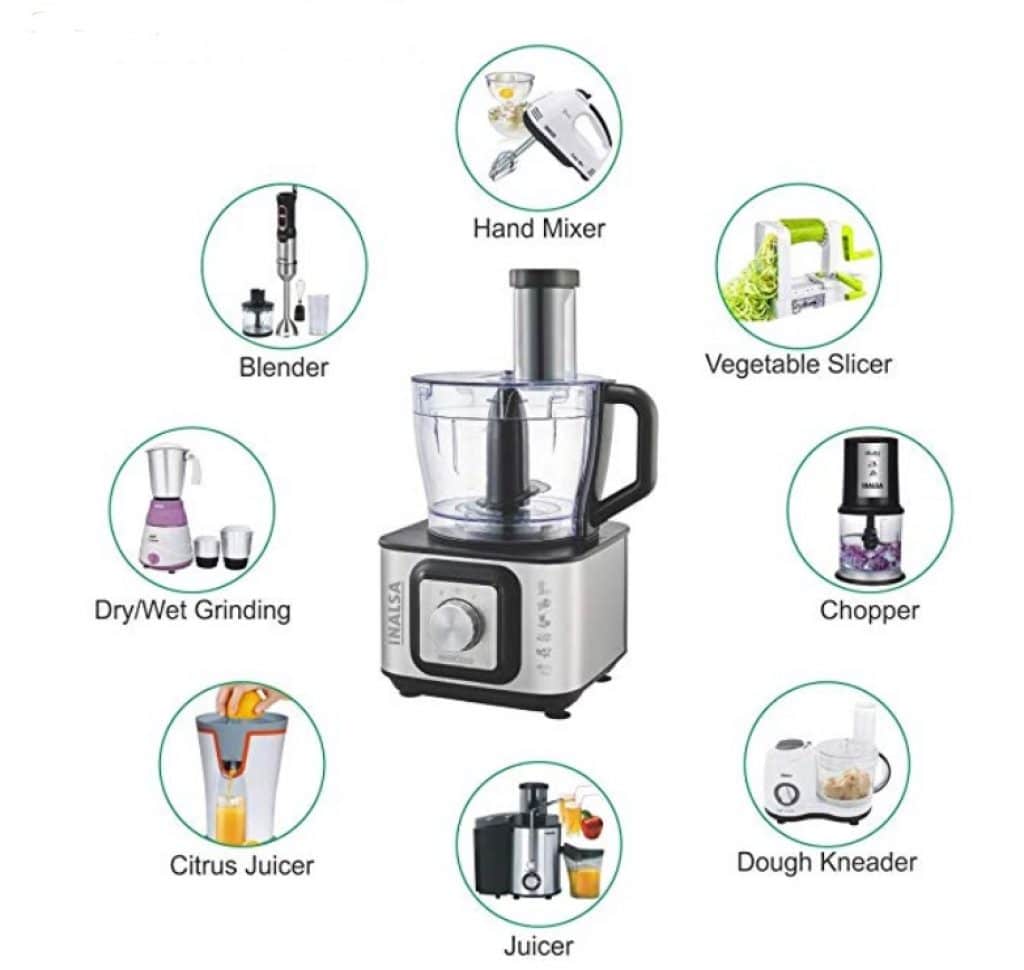 Would you believe us if we say that these food processors are machines from the future that you handle almost all the work for you in the kitchen? Probably not, right? Though believe us when we say that these appliances might as well be from the future because they actually can help you out in your kitchen probably more than you would expect. Let's read understand how!
In simple words, food processors are electronic appliances for your kitchen that can be used for numerous uses like blending, kneading, juicing, chopping, etc. A food processor frees you from having to do the repetitive tasks involved in making food. Basically, it helps you in all the processes that you carry out before cooking, including slicing vegetables, kneading the dough, mixing and grinding of spices, etc., and makes your work in the kitchen a bit less hectic and bit more efficient.
It uses a high powered motor to work on even the most stubborn of ingredients, for instance, dough. A vertical shaft is attached to the motor and on that shaft are attached extremely sharp and heavy-duty blades. The blade set is usually changeable to let you use different kinds of blades for different purposes. There is a feed tube which allows you to constantly put in ingredients to be shredded without having to open the jar again and again.
Summing up, food processors have been one of the most successful innovations in household appliances that have relieved many housewives and chefs and reduced the efforts they have to put in to cook good food!
Types of Food Processors: You need to know before purchase
Based on the criteria of features and functions, there are different types of best food processors. They are:
1. Hand Operated Food Processors
The most widely used are these Hand-operated Food processors. They are small and is very easy to use as well as to clean. Because of its small size, storage does not require large space. They are simply the best for chopping when the amount of food is less. Also, to be noted, they are manual and not motor-driven.
2. Full-Size Food Processors
They can process around 9 to 12 cups of food at one time. Some can even provide 20 cups. Some also have an option of dough hook which can mix bread. They come with different types of blades and discs to perform all the functions of a processor. Full-size food processors are very long-lasting because of their powerful motors that handles these kinds of operations.
3. Mini Food Processors
They are ideal for small families because of their compact nature. It can perform all the functions of the latest food processor in India but in smaller quantities.
4. Buffalo Choppers
Buffalo choppers are ideal for processing huge quantities of meat. They are mostly used in large kitchens like restaurants. Mainly made of sturdy metal with accessories parts like grinders and slicers, they are perfect for commercial use.
What is the Difference Between a Food Processor and a Mixer Grinder?
It is surprisingly very common to confuse food processors with mixers and grinders. People often tend to question the fact that food processors are more expensive, in comparison with normal mixers and grinders. Well, we're here to tell you that the price difference can be completely justified. Let us explain how.
First, we'll discuss what mixers and grinders are. These are appliances that have long been in the market now and can be found in most of today's households. They work at beating, mixing and grinding ingredients mostly for baking and preparing spices for your food. Now, it might sound like an unimportant appliance but if you think about it carefully, you will find that the alternate for it is horrifying at the least. Not having one would mean grinding and mixing ingredients with your own hands! Unthinkable, isn't it?
On the other hand, to make you understand how food processors are different, we will lay it out for you in the simplest words we can think of. Food Processors perform all the functions of mixer grinders, and much more! With food processors, you not only can change the blades to turn it into mixer, grinder or juicer, but you can also go with the kneading blade that will prepare the dough for your chapattis and other stuff.
Basically, mixer grinders serve a very particular purpose in your kitchen but food processors have wholesome features that can help you in almost every aspect of your food preparations. So if you don't have one till now, you should really consider buying a food processor for your house!
The Ultimate Food Processor Buying Guide
You read about a product online, you like it, and after careful consideration, you decide to buy it. But when going to the market, one often stands confused as to what to look for in a product to deem it good. In this competition filled market, no product is "bad". All the products are good. The real question is HOW GOOD!
Now, how do you determine if a product is good? You merely check the different features it offers and compares them with market standards! We have made a list of the features that you should take in consideration before you buy a food processor. Here is our ultimate food processor buying guide. Consider these factors to find the best food processor available in India.
1. Your Budget
The very first thing you consider before buying any product is obviously your own budget. How much money do you have to put in that particular use, is the factor that determines what range you are aiming to choose from and it slims down your search from the whole market wide range of products to a few products that fall into your slab. Cost of the food processor will obviously have a significant role in its quality and features but it does not mean that if you buy a cheap one, you will have to sacrifice all the good features. There are many products available in the same price range and so you should get the processor that offers more features and quality than its competing products.
2. The Blades
The second most important thing that we think you should consider is the quality of blades that come with the processor. Now, the quality of blades is defined by two things, durability, and sharpness. Obviously, the sharper the blades are, the better you should rank that product in your list of preferences, but only sharpness will not cut it. If the blades are not as durable as they are sharp, even the sharpest of blades will become unusable in no time. To save yourself from the hassle to find and buy new blades constantly month after month, choose a processor that has durable blades in the first place. This will help keep the blades sharp for a longer period of time.
Also, consider the coating on the blade. The blade should be rust-free at all times you use it to make food, or you might risk your family's health. These days, most blades come with a water and stain-resistant coating.
3. Capacity
The capacity of the bowl is directly related to the time you will save with your food processor. It is obvious really. If the capacity is low, you will have to divide your slicing or mixing or grinding into multiple sessions as compared to the case if the capacity will be higher. The more sessions you have to run the processor to complete your ingredients, the more time and efforts it will take to complete your food preparations. So try to buy a processor with the capacity that would be enough for your family. Also, if the capacity is enough, you'll be able to host those dinner parties without having to worry about being in the kitchen for the whole day!
4. Power Usage
Now, you need to consider the power input of your new processor for two reasons. The first, obviously being the cost of electricity. The more your food processor uses power, the more it will be contributing to your electricity bill. On the other hand, you should not prefer a food processor with less power intake since it won't be able to handle the processes which would require more force, such as kneading the dough or grinding those stubborn spices. So, what you need is to consider buying a product with a balanced power intake which is not more than needed but is more than enough to perform all its features smoothly and effectively.
5. Easy To Use
What most people think and exactly where most people go wrong, is that the more the appliances are complicated, the more features they would have. There are products available in the market which can perform all the functions as effectively and efficiently as any other product and are also easy to operate. Think about it, if you can't even understand how to use the food processor properly, how would you even use the "more" functions they contain. So, choose a processor with more functions and features but fewer buttons and less complicated user interface.
6. Brand
The notion that big brands provide the same product as local companies but charge a higher price just because they are a big brand, might just not apply to household appliances. The big brands in this industry actually do have substantially superior product quality than local competitors. Their products last longer and work more effectively. Most of the big brands will also provide a manufacturer's warranty for your food processor which only goes to show how confident they are with the quality of their product! So we say, consider a well-known brand for your next food processor purchase. It'll come with a hefty price tag but believe us; it will really be worth it.
Our Handpicked List of Best Food Processors in India in 2022
We know that if you haven't had experience with the purchase of a food processor before, you probably might be having a problem choosing one now. And you know what? On some level, we love that you're confused because we love to help you to the best of our knowledge! So, without further ado, here is our handpicked list of the best food processors in India 2022!
1. INALSA Food Processor Fiesta 650-Watt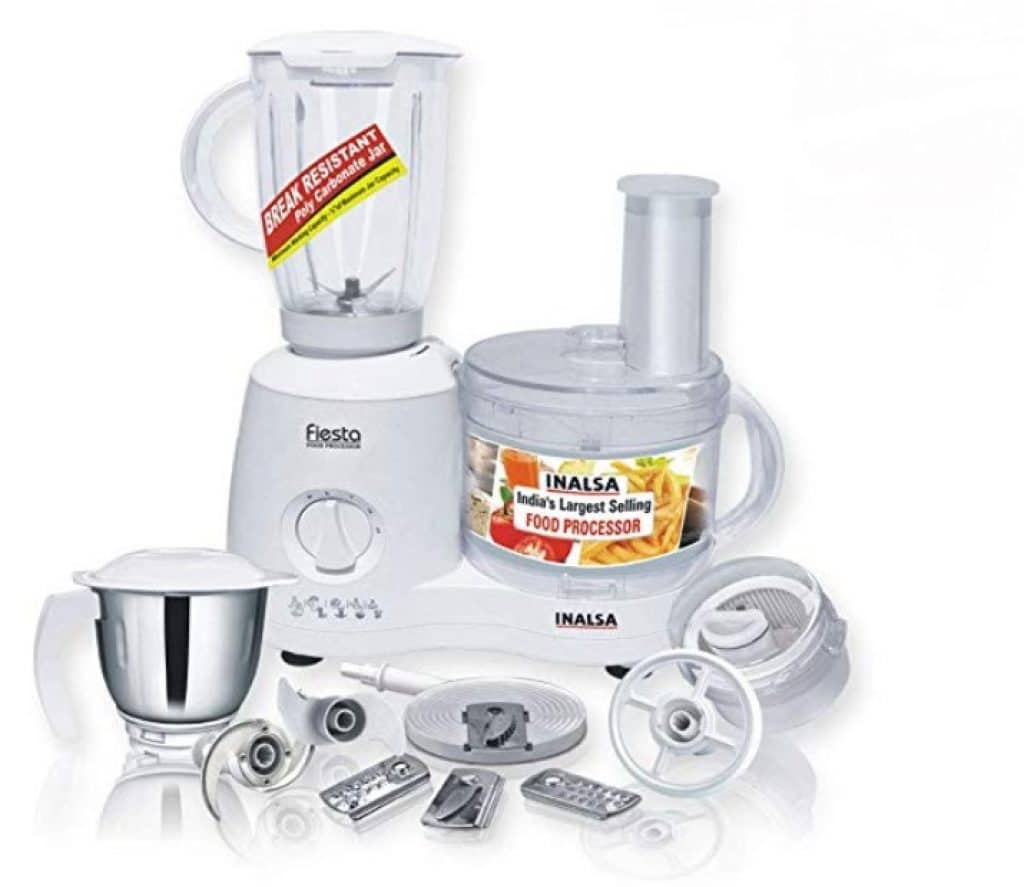 A food processor named quite accurately, this product is truly a fiesta of features packed in one little machine! With four blades to help you with any and every task in your kitchen, whether it be juicing or grinding or mixing, this processor is set to be your best kitchen buddy ever!
Insala Fiesta Food Processor is equipped with a 650-watt motor, which the company provides a 5-year manufacturer's guarantee on, which is more than enough to support all its features effectively and efficiently and is comparatively less than what you will normally find on other products in the market. This goes to show that while the product will work perfectly in your hands, it will also save you a whole lot on the electricity bill! The motor gives enough power to the blades to smoothly grind or chop or knead absolutely hassle free and in no time.
INALSA Food Processor Fiesta comes packed with two jars, a Blender Jar (1.5 L) and a Grinding Jar (1.0 L); a cord plug, egg whisker, chopping blade, kneader blade, coarse Shredder cutter, fine shredder cutter, fine slicer, french fry cutter, spatula, and a centrifugal juicer. All these features packed in one product gives the INALSA Food Processor Fiesta an edge over all the others in the market.
2. INALSA Food Processor Wonder Maxie Plus V2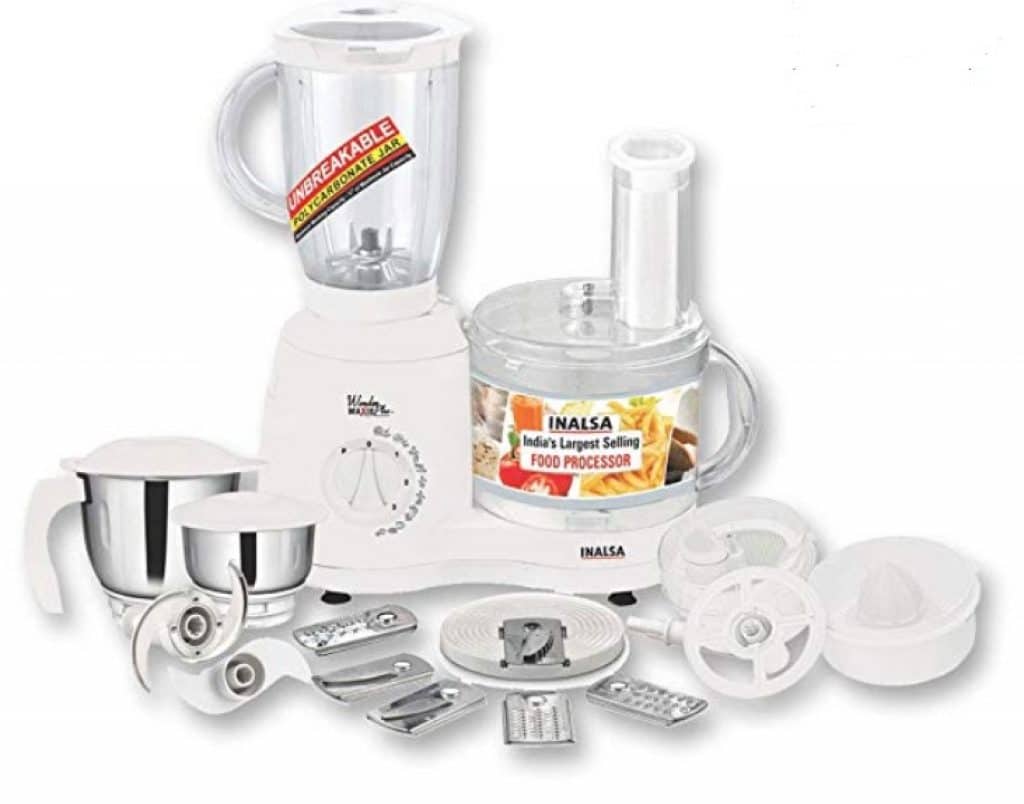 The unique thing about the INALSA Wonder Maxie Plus that makes this product stand out among the rest in the market is that it comes with a little chutney jar, which might seem like a very common feature branded as a new one, but it is really not. When you try to make chutney's in the regular-sized jars in other processors, you often face problems like spilling or uneven consistency. In this specially made chutney jar, you will find that because of its small size, the ingredients are ground and mixed properly, which gives proper taste and proper consistency required to make your chutney tastier than ever!
Even if you are a quantity person rather than a quality person, you should have no problem choosing this processor at all. It comes with ELEVEN accessories included. Three different kinds of jars, four different kinds of blades and a couple of shredders and some other accessories are what you can expect in your box when you bring this product home. It also has a citrus juicer that you can use to juice just about anything to go along with your breakfast!
With a 700 watt motor, it boasts of being one of the highest-powered processors in the market and guarantees you a good hassle-free time while completing those kitchen chores every day. Every process related to cooking preparation becomes a lot easier with this best food processor to buy in India.
3. BAJAJ Food Factory FX11 Food Processor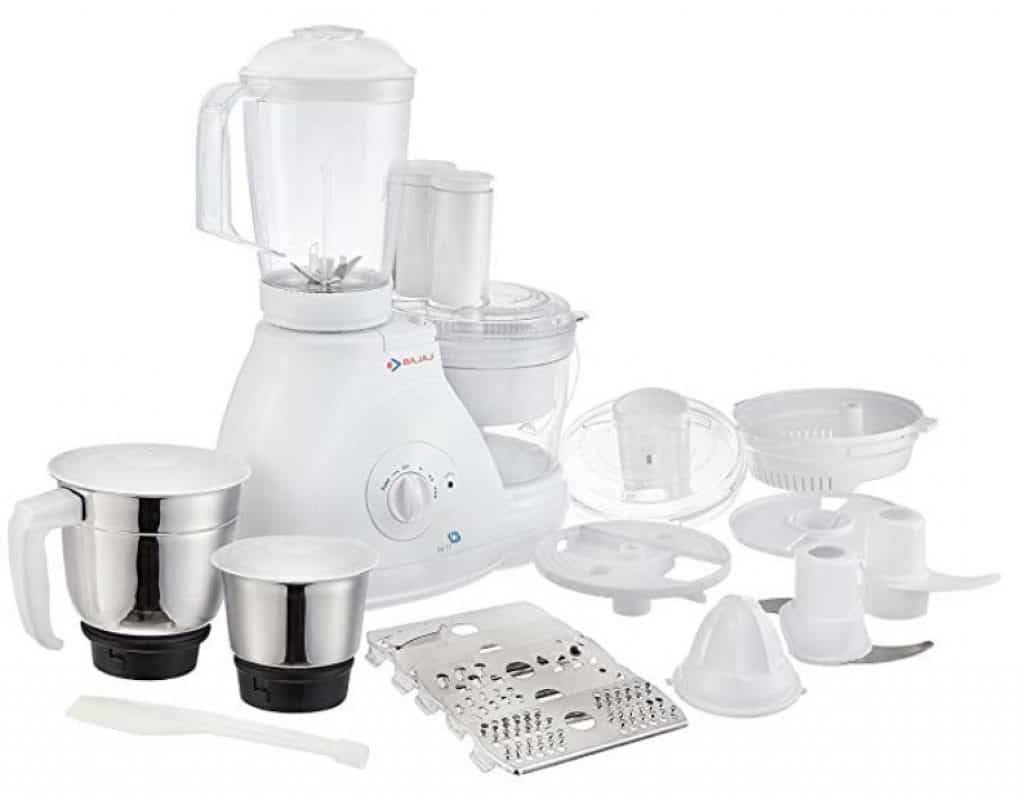 Your aim is always to get the best product in the market for your house, but with the budget constraints, you don't always get what you want. Now, we're not saying that the BAJAJ Food Factory FX11 is not the best food processor in the market, but it definitely gives them a run for their money, all the while being totally within your budget! For just under 5000, you get a state of the art food processor with almost as many features as the most expensive one in the market.
It includes the safety locking mechanism which requires you to put the lid on carefully and twist it before you can turn the blades on. Otherwise, the blades do not run even if you turn the switch on. On top of that, it has a company claimed unbreakable polycarbonate liquidizing jar along with stainless steel blades that can endure even the toughest of ingredients and help you grind even the driest of spices.
Powered by a motor of just 600 watts, this product will save you a good amount on your electricity bill. It also comes with a 0. 3L chutney jar for you to make your favorite chutney with every meal. It has a 3-speed control which enables you to decide the consistency of the mix.
Overview:
4. Philips Daily Collection HR7629/90 Food Processor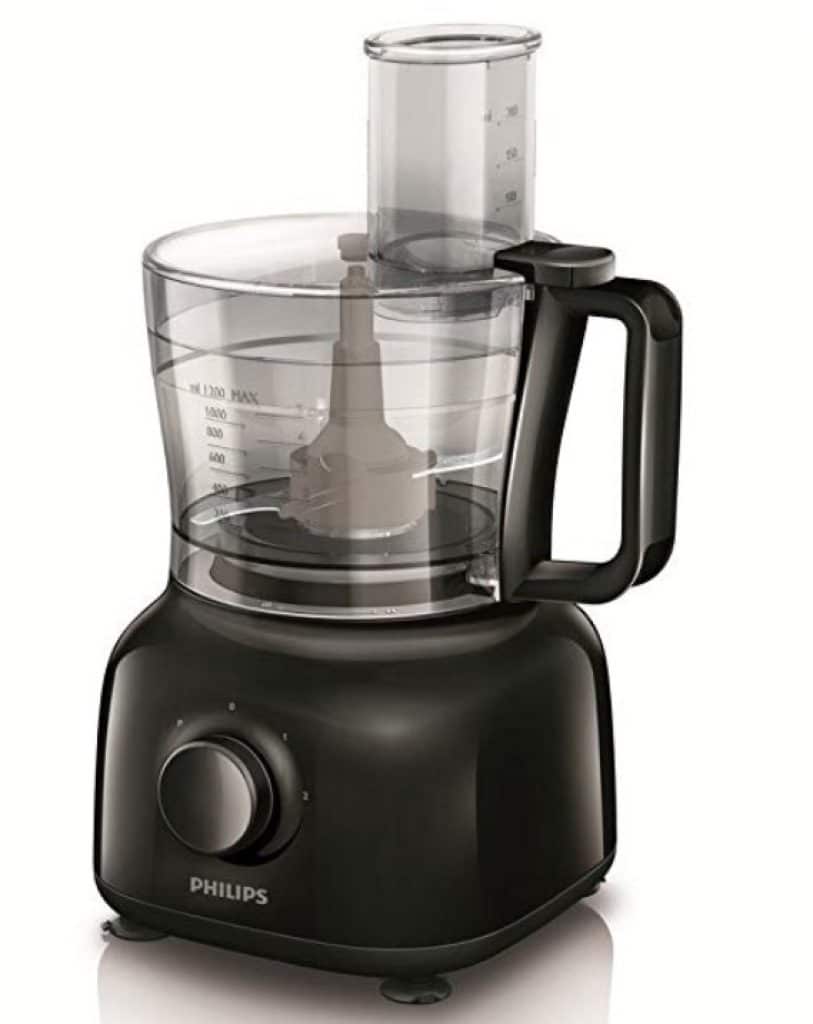 When you read the name PHILIPS attached to a product, whether it be in any product, food processor or not, you immediately feel good about buying that product, knowing that you can trust that product to last long and give you a good experience along with good quality! It is such a big and trusted brand, especially in the Indian market, that it does not even spend that much on marketing its products. It lets the quality speak for itself!
In this product, Philips brings to you a mini processor with almost as much power as a big one! This thing will fit in any space or corner in your already filled kitchen and you will not have to worry about making space to keep it.
It uses PowerChop Technology, patented by Philips, to give you a superior chopping experience and the finest chops that you will ever see. Adding to that, there is a safety locking mechanism included in this gem of a product that saves you from the risk of being injured by the blades by accident in case you press the on button by mistake.
With a 650 Watt motor, high-performance stainless steel disc inserts and highly endurable steel blades, the Philips Daily Collection HR7629/90 is the best food processor in India under 5000.
Overview:
5. Maggi Rio All in One 4G Food Processor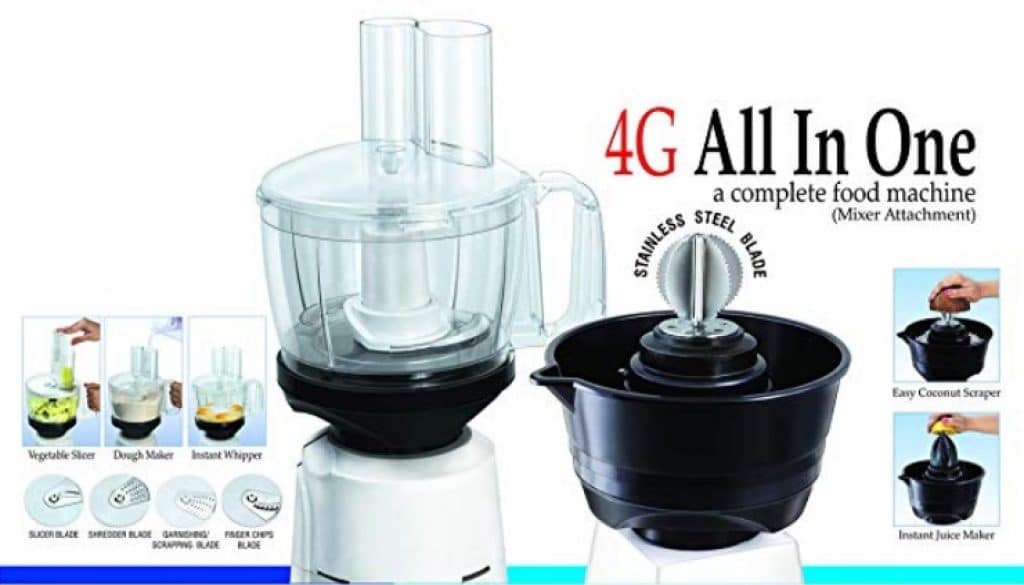 This is the food processor option for you if you are looking to buy one at a really low budget. At just around 3000 bucks, this product comes as the most affordable one on this list. Sure it compromises on quality a little bit, and maybe a little bit on looks, but it is really effective in its working, considering the price range it operates in.
Now, this is not exactly what you might think it is. It is not exactly a whole food processor machine. Rather it is just an attachment to be fixed on your own appliance at your home. It fixes on almost all of the processors available in the market, whether it be of any brand, and you can run it as much as you like. You can consider this an option only in the case when you already have your own food processor in your house. Remember, this is only an attachment.
Also, it comes with a coconut scrapper tool, which is of special utility in the religious houses because most of the prayer in religious practices require a coconut to be scrapped and normally you do it with your bare hands! This coconut scraper will help you get the coconut out of the tough external fiber layer.
6. INALSA Food Processor INOX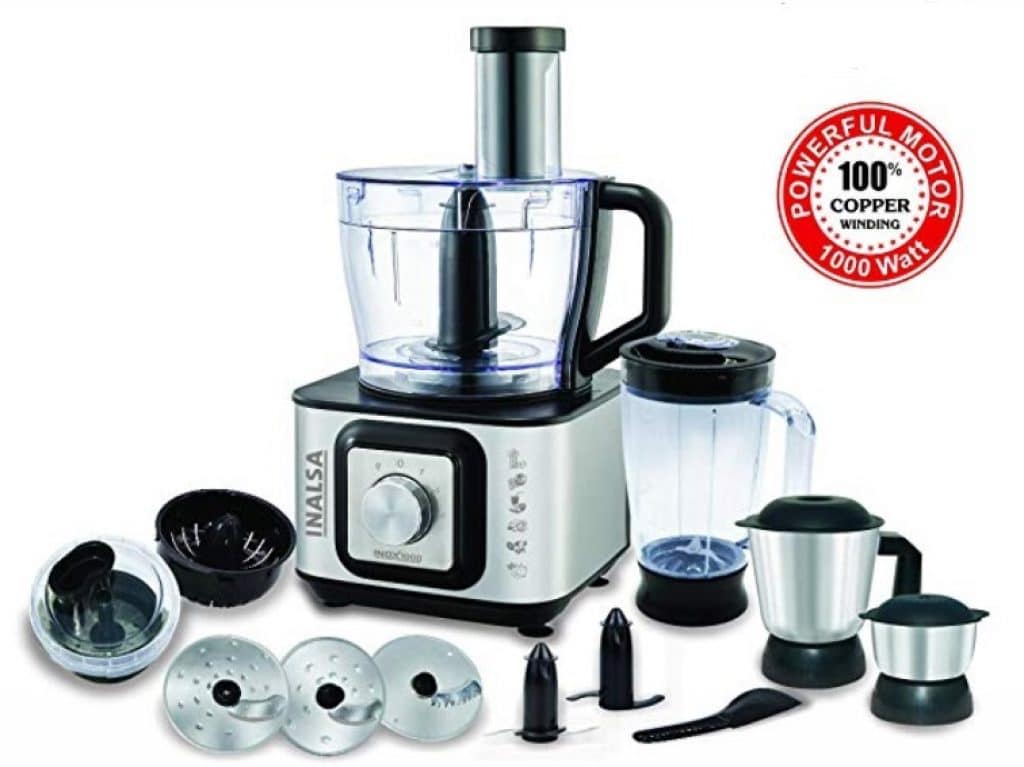 With the highest powered motor, the INALSA Food Processor INOX can easily boast of being the best food processor in India under 10000. A 1000 Watt motor gives it so much power that it can knead and mix your flour in no time and with no real effort at all. It will run the smoothest among all the other options on this list! Given that it will cost a lot to run it daily, you can see it as a bit of disadvantage too, but that would not even matter when you will realize that your cooking efforts have been halved!
It comes with SS-304 grade jars, grinder, and chutney, that are meant to be of very high quality and which undergo several inspections and endurance tests before they leave the factory. It also has in its box, a centrifugal and citrus juicer, a kneading blade, a chopper blades and a set of 5 other blades which can be used for dozens of different purposes while preparing ingredients to put in your food.
Also, this particular product has overheating safety. If the motor of the appliance gets too hot from running for too long, the device will turn automatically off and would save the motor or the blades from incurring any kind of damage. If you're inclining towards this food processor, we really do recommend for you buy it.
7. PHILIPS Daily Collection HR7627/00 Mini Food Processor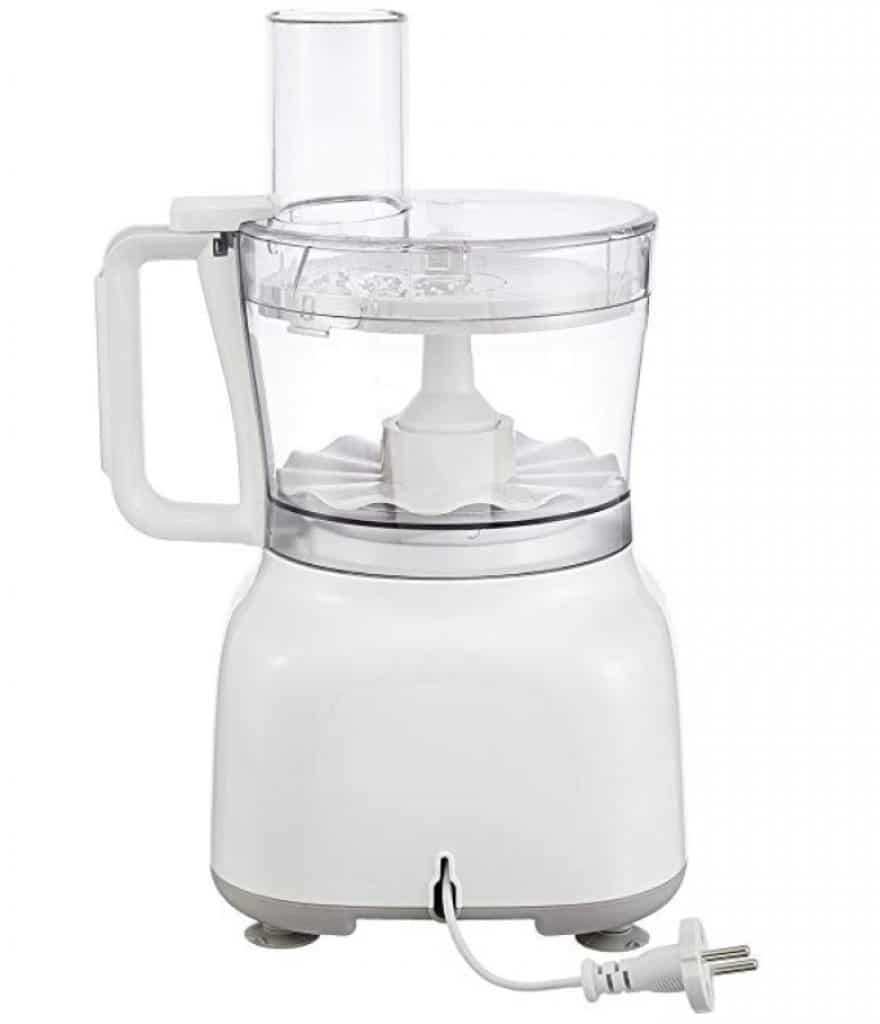 Another masterpiece from the multinational conglomerate PHILIPS, the HR7627/00 model of the Daily Collection series is quite more affordable than its counterpart, the HR7629/90. Though, don't mistake the cheaper price with lesser quality or features. This model also can do wonders for you in your kitchen.
Like its counterpart, it is also a mini food processor, that can fit anywhere in your kitchen and does not require that much of space. The only difference is that it has a handle, which might take up a little bit more storage space. However, the handle is more of a convenience rather than a disadvantage. You can easily lift the jar up and reduce the chances of spilling which might be the case in no-handle jars.
It comes with a 2.1 L bowl and a feeding tube which is 40% larger than the previous model of this series, which saves you the time you'd have spent in chopping the vegetables before putting them in the processor. To go with this function, it comes equipped with strong and endurable stainless steel blades that can cut through whole vegetables and handle more heavy pieces. It also has the same 650 watts powerful motor as the other models and is fully armed to work as effectively as any other food processor in the market.
8. INALSA Craze DX 700-Watt Food Processor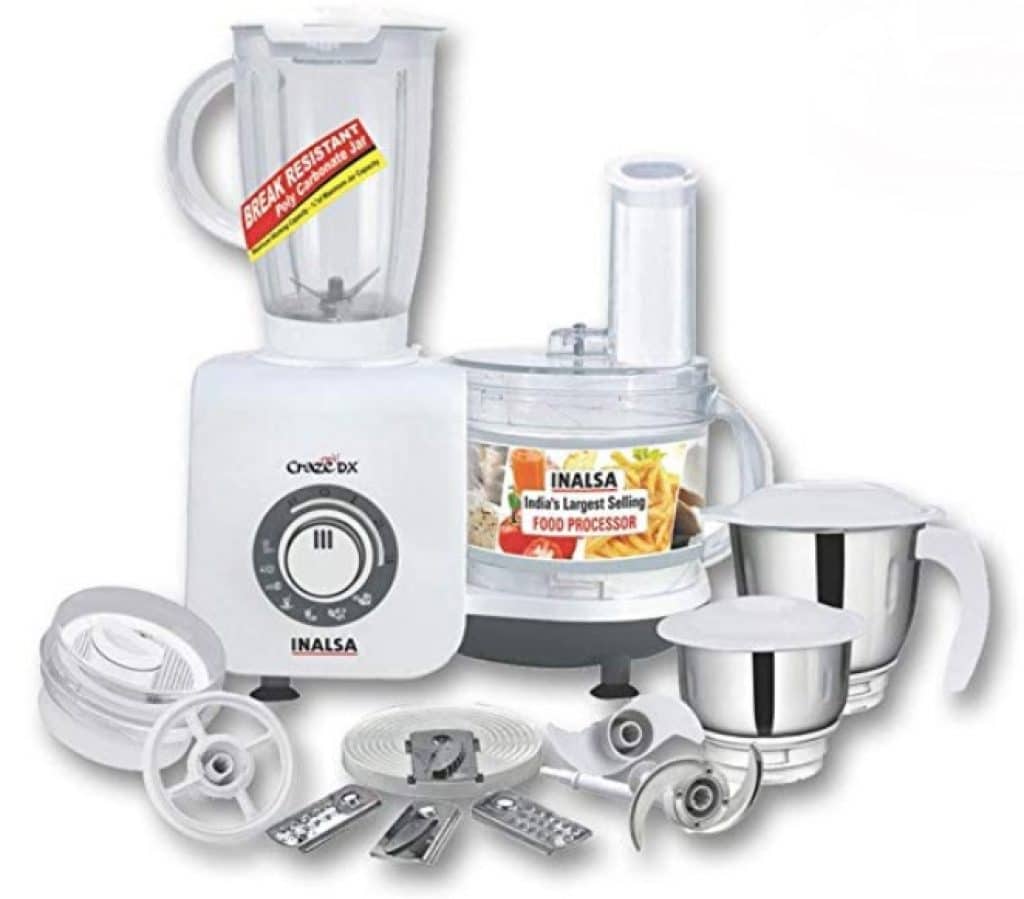 Available for around Rs. 4000, this stunning food processor from INALSA comes with a super-easy user interface with just one knob to control all the features. It has a separate kneading jar and blade to strip you of the pain of kneading the flour every time you cook food! Now, we all know how annoying it is to get flour all over your hands and clothes. This model from INALSA will help you get rid of that process entirely.
It includes 3 jars in its packing, the blender jar, the dry grinding jar and the chutney jar all of which are appropriately sized for you to do the cooking preparations in as fewer portions as possible. It also includes a centrifugal juicer, egg whisker and 4 kinds of segment cutters that serve different purposes and help you with almost every kind of pre-cooking chore.
With a 700 watt motor, it is powerful enough to knead your flour in a flawless and effortless manner. On top of that, it comes with a 5-year manufacturer's warranty on the motor. So if any fault comes in the motor, you can claim the warranty and the company's immensely helpful and fast customer service will come to your house and replace or repair the motor for you!
9. Singer Foodista Plus Food Processor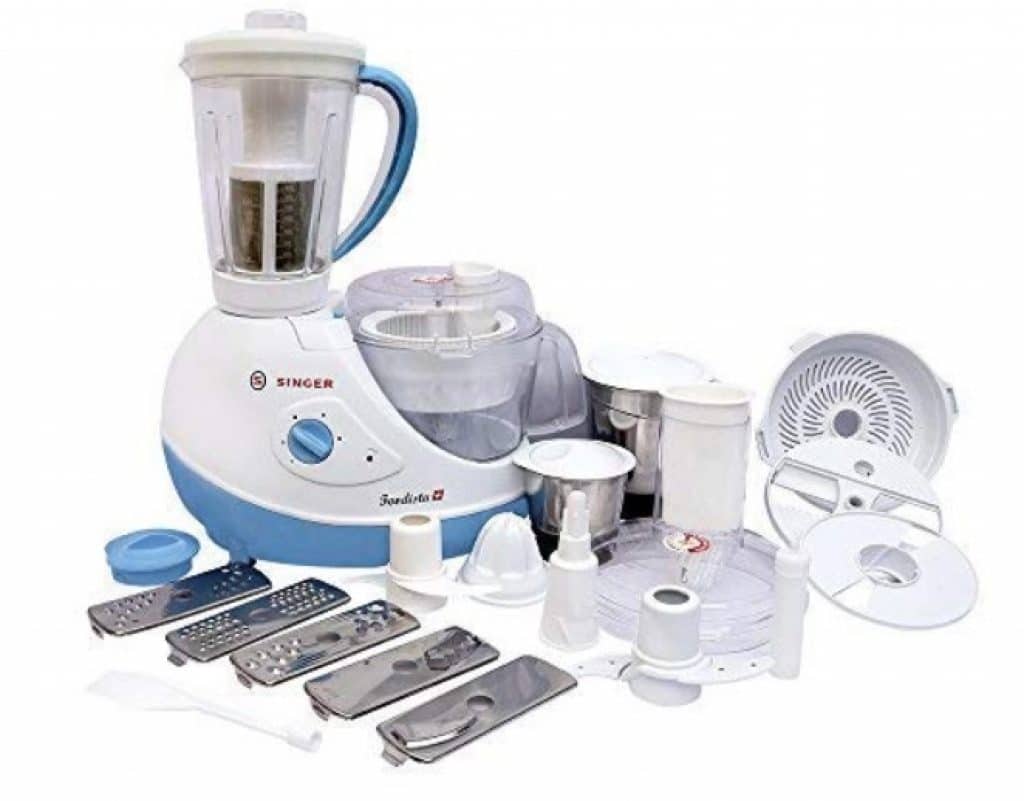 The most striking thing about this product is that it comes with FOURTEEN different kinds of accessories included in the box. This is way above any other product available in the market and gives this model a feature count higher than any of those. On top of that, the greatest thing is that you can buy it from Amazon for almost 4500 bucks only!
Singer Foodista Plus Food Processor comes equipped with an unbreakable Poly-Carbonate 1.5 L liquidizing jar, a 2 L Processing Bowl, 1L Multipurpose Jar and a 300 ml Chutney Jar. Also, a thing to be noted about this product is that it comes with a fruit filter attachment that lets you juice and keeps out the seeds and the pulp at the same time.
The 600 Watt motor will ensure your savings on your electricity bill as well as hassle-free chopping and grinding. It comes with a 3-speed controller which lets you decide the speed of the blades and thus, the consistency of your mix. It also has a safety locking system built in for you to be safe from any accidents whatsoever.
Overview:
10. INALSA Maxie Marvel Food Processor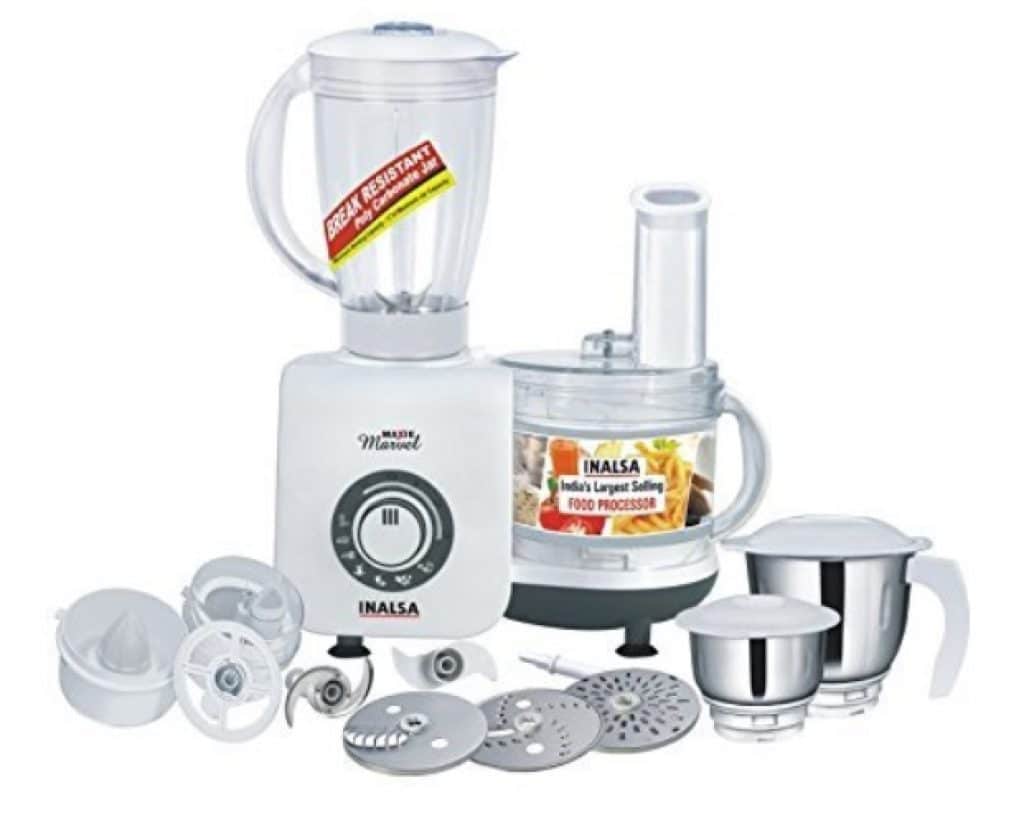 One of the three models from the Maxie Food Processors from INALSA, this model brings you the ultimate food preparation experience. With an 800 Watt powered motor, you won't have to think twice about putting in big chunks of fruit or vegetable because it can handle them in flawless fashion.
With a 400 ml chutney jar, it has one of the highest capacity chutney jars in the market and it keeps you from running the same process twice or thrice to make enough chutney for your whole family.
What is unique about this product that makes it stand out from most of the other products in the market is that it will come packed with a demo DVD for you to completely understand the functions of this model. Not only that, the DVD will help you fully use the potential of your new kitchen helper and would make the money that you paid for it, totally worthwhile!
Buying this product also gives you the privileges of an INALSA costumer, that is, you get lifelong support from their outstanding customer support and quick, inexpensive repairs from company certified engineers.
11. BAJAJ FX7 Food Processor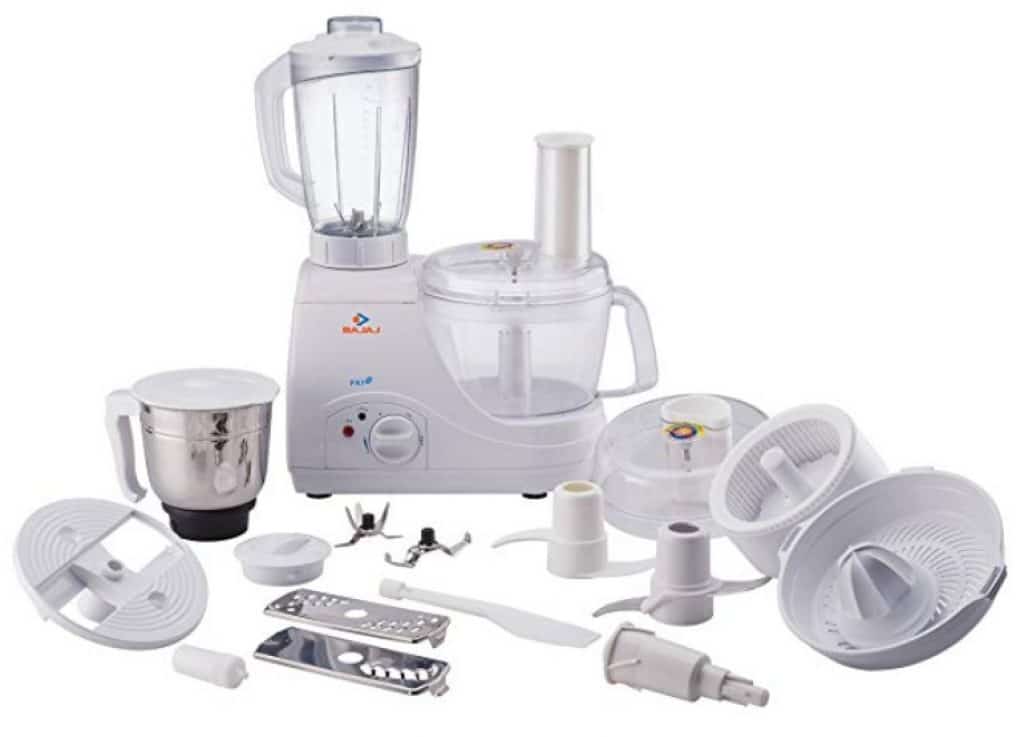 This food processor model is carefully curated to be user-friendly above everything else. It includes LED indicators for power on and motor overload function. It also has the safety locking feature which does not let the blade run without proper lock first. This saves you from the risk of cutting your hand by the blade in case you accidentally push the on button while the lid is open.
It has a motor of 600 watt which is more than enough for you if you have a nuclear family to take care of. However, if guests come to your house, you might have to run the preparations in two or three portions. There is a 3-speed controller knob with pulses. It comes with almost all the accessories and attachments that you might need for various kinds of chops and grinds.
It has a manufacturer's warranty of 5 years on the motor and 2 years on the whole product which only goes to show how confident the company is in quality and the endurance of its product. The customer support of Bajaj is well known to people from its other product services and we don't think there is any need of reminding you of that here! If you choose this processor from BAJAJ, you surely won't come to regret your decision later!
Overview:
12. INALSA Maxie Premia Food Processor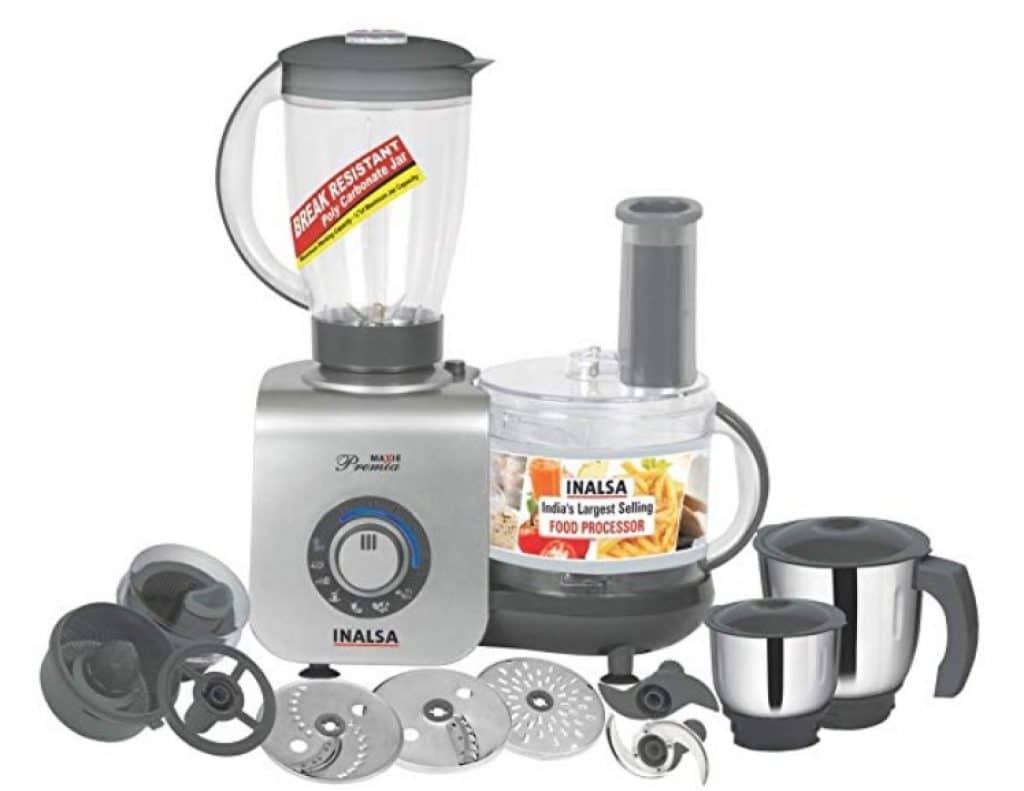 The most premium model from the Maxie range of food processors from INALSA, this Maxie Premia is available on Amazon for around 7000 rupees, despite its original rice being above 8000. What makes this product stand out is the design and look of this model that has been given a lot of thought by the company. In a total black and silver contrast, this food processor will not only help you with your kitchen chores, but it will also make your kitchen look a little better and modular!
Break-resistant poly-carbonate jars surely provide durability to the product. Even in the case of a fall, the jar has very fewer chances of breaking. Even the lid of the jar is lined with rubber so that it does not open easily. This reduces the chances of a spill to a minimum.
Its 800-watt motor allows you to grind and mix even huge chunks of food at once and is capable of running for around 30 minutes at once! This is definitely a lot more than any of the other products on this list can handle. Its voltage operates in the range of about 220-240 volts.
It comes with the market standard 2-year manufacturer's warranty on the whole model and a 5-year warranty on the motor, which enables you to claim for a replacement anytime your processor breaks down or does not function properly. Your problem will be carefully understood and immediately rectified by the company's stellar customer support.
How Does a Food Processor Work?
The best food processor available in India mainly comes in three sizes which are mini, compact and full model. All the models have the same basic components as motor, a bowl, cover, feed tube, blades, and discs.
The heaviest part of this appliance is its motor which ensures that the entire thing does not fall off while functioning. It drives all the tasks of a food processor.
It also has a feed stack put together by a feed tube and covered by a lid. Feed stacks support the attachments. Some models have narrower tubes which makes it difficult to set the whole thing.
Bowls are another important feature of this device. A full bowl can fit 9 to 13 cups. While a compact one can fit 5 to 7 cups. Mini size bowls can accommodate 2 to 5 cups.
Different blades have different functions like kneading the dough, mincing meat, chopping an onion or making a sauce for a salsa dip. A standard blade is called Sabatier blade which is "S" in shape. They are fitted at the bottom of the bowl. Generally, they are made up of hard plastic or any metal.
Best Food Processor Brands in India 2022
Home appliances are among those products which can't be judged just on the basis of how it looks from the outside or how many features it comes with. Heavy competition in the market has led many local companies to emerge and push their product at a lower cost in the market.
How are they able to do that? Well, obviously by compromising on quality or in some cases even the safety in the product. Either their food processors will break down and just stop working within a few days or they will work not as effectively as they were claimed to. That is why you need to consider buying your food processors from the top brands in the market that have been there for a long time now and have already been successful in building trust in their customers.
For you to make the right choice, we have compiled a list here for you, of the best food processor brands in India, who have such a legacy in the market that you won't at least regret buying anything from any of them!
1. INALSA
We're just going to go out on a limb here and assume that you have heard about Inalsa before. It is only one of the biggest home appliance brands in India. The name carries a big legacy and a rich history in India. Inalsa was started as a subsidiary firm by the Taurus group in Spain in 1967 and was founded with the aim of revolutionizing home appliances, which, if you ask us, it has been fairly successful in doing.
It was brought in India almost 30 years back and it has taken the Indian market by storm. Almost every other household in today's date owns some kind of appliance or the other from the catalog of Inalsa. That is how trusted this brand is in the Indian market!
2. BAJAJ
Bajaj is not only a home appliance brand, but it is also a name to be reckoned with in India. One of the oldest companies, Bajaj has earned its trust from the Indian public in many sectors of the market such as automobiles, appliances, electronics, etc. Excelling in every sector, Bajaj focuses on the quality and durability of the product it makes. Not only that, but it also tries to continuously bring in new designs and innovative features in its products.
So, if you consider buying your food processor from Bajaj, we won't hold it against you at all. We are sure you won't regret your purchase because the quality you will get is impeccable.
3. PHILIPS
You might know Philips as the electronic sector giant that has its reach in over 100 countries and currently employs 74000 people, but what you probably don't know is that Philips is not just a single company, it is a conglomerate. That is, it has its hands in many sectors and sells products of a wide variety under different companies or subsidiaries.
Philips domestic is the group's home appliances subsidiary that manufactures and sells a huge range of household products like mixers, grinders, juicers, shavers, food processors, etc. It was introduced in India in 1993 and it has gone on to become one of the biggest players in India in this sector.
4. MORPHY RICHARDS
Morphy Richards is one of the few brands in this list that only caters to the electronic appliance sector. It is a UK born company and it has shifted all its manufacturing operations to the eastern countries. That means that you not only buy a good quality product, but you're also contributing to your own country's economy by buying it because most of its products available in the Indian market is not imported, rather it is locally produced!
This brand is synonymous with quality. It is one of the higher and elite range brands with a higher endurance in their products and stylish and dapper looks that helps your kitchen look modular! You might think of its products as expensive, but we think that buying them is totally worth it because you really won't get such looks in household appliances anywhere in the market.
5. USHA
USHA, a household name across India, is a constituent of the Siddharth Shriram Group founded in 1989. It has diversified its reach into sectors such as food appliances, electronics, sewing machines, etc. and has excelled in each and every one of them. Usha's quality of products is incomparable and second to none. It gives a manufacturer's warranty with most of its products and has a very low warranty claims rate. This only goes to show the endurance of its products!
Usha is the perfect choice for your home, whether you are looking for appliances, electricals or sewing material. We guarantee that you will be totally satisfied with not only the quality but also the after sale service of this behemoth!
A Few Common Questions You Might Have In Mind
Which is the best food processor in India in 2022?
The best food processor in India, according to us, is the INALSA Food Processor INOX which has a 1000 watt motor and can handle the toughest of ingredients and the largest chunks of vegetable or fruits you put in them!
What is the best food processor for home use?
The best food processor for home use is the PHILIPS Daily Collection HR7629/90 because it is small-sized and compact, but offers the same power and effectiveness as any other food processor on the list. With a motor of 650 watts, it can handle any kind of ingredients you put in it.
What brand of food processor is best?
The brand which sells the bestselling food processor in India is INALSA since it has been in this business for relatively longer than the other and has more experience in building quality products, which is also reflected by its ever so loyal customer base! Also, customer support is quick and hassle-free.
Which food processor has the most powerful motor?
The INALSA Food Processor INOX has the most powerful motor among all the other products listed here today. With a motor power standing at 1000 watts, it boasts of the heaviest motor in the market with high endurance and maximum power. This model from INALSA can handle the most stubborn of ingredients and huge chunks of vegetable and fruits at the simple touch of a button!
Which is the best cheap food processor?
The PHILIPS Daily Collection HR7627/00 is the best food processor in India with price affordability! It can be yours for around 3000 bucks if you buy it off of Amazon where huge discounts are available from the manufacturer's themselves! You get a compact, yet powerful food processor in this model and the excellent quality, service and the trust of Philips!
What can you make in a food processor?
Of course, you can make juices, smoothies, etc. in a food processor but did you know that you can also knead your atta in it? Yes, that is right! You can get rid of the most annoying chore in your kitchen, kneading the atta, by bringing home a good food processor. As for your question on what recipes you can make, almost every food processor comes with a guide on how to use it and some recipes that you can prepare with that model. Look out for that in the box when you purchase your next food processor!
Is food processor useful for Indian cooking?
Of course, food processors are useful for Indian cooking. In fact, they are most suitable for Indian cooking only! You can knead your atta in a food processor which is a very big part of Indian cooking and is involved in the preparation of almost all Indian meals. Also, food processors in the market today come with a special chutney jar that you can use to make the perfect chutney to go along with your meal!
Can you make smoothies in a food processor?
Despite the myth that you can't, you actually can make a smoothie in your food processor if you have the right accessories and follow the correct steps given in the guide that came with it! Although, not all food processors are equipped to make smoothies, most of them are. So, if you can't find a way to make a smoothie in your food processor, we would recommend searching for the recipes on YouTube! You are surely going to find your answer there and much more!
What is the dissimilarity between a Blender and a Food Processor?
Blenders are mostly used to blend soft liquid ingredients like juices, smoothies or taking out a pulp. The Food processor takes care of all your labor-intensive tasks like chopping, blending, slicing, shredding, juicing and mincing.
Can all the parts of a food processor be washed in a Dishwasher?
Separate all the parts from the main unit and soak them in a soapy solution. Generally, we recommend washing the processor manually. But you can clean all the blades in a dishwasher's warm water instead of cold temperature.
What is the power of the best motor of a food processor?
Wattage of at least 500 to 1000 watts is considered to be the most excellent power range of the motor for the best food processor in India.
Do Food processors shave or crush ice?
Most of the food processors cannot shave or crush ice due to the presence of pushers. It may also damage the blades and the bowls present. However, some variants can crush ice. So, make sure which food processor you are buying and what is its function.
Can a Food Processor chop frozen meat in it?
Before putting the frozen meat inside a food processor, it is always better to thaw the meat. The meat can heat the appliance, causing system damage if it is stuck inside the processor.
Can you puree Hard Ingredients inside a Food Processor?
We would recommend chopping the hard vegetables or ingredients into small portions before pureeing them. Then you can slowly add them into the processor instead of stuffing it fully.
Should I change the speed of the processor before shredding?
You should always reduce the speed of the processor while grating, slicing and shredding the soft ingredients. But while doing the same activities with the hard ones; never forget to increase the speed as it may affect the motor.
Which type of Attachment Should I use for Dough Kneading?
Most of the processors have a separate blade for kneading the dough. You can also use the primary attachment for the mixing of cake dough, but not for making the dough of an Atta.
Sometimes my new food processor does not turn on. What can be the problem?
The food processor comes with an interlocking system that will not start until and unless all the attachments are fitted properly. You should check if the bowl is in place and all the jars are closed with their respective lids before turning on the processor. If anything is not placed correctly, your food processor will not start.
Why my Food processor did stop working suddenly?
Most of the Processors come with overload protection. This can be the only reason why it has stopped working suddenly. You can remove some of the ingredients and start the appliance. It will start working again.
Can I grate Coconut in it?
Yes, you can grate coconut in it. But first, remove the soft portions of the coconut from the shells and then add them to the processor. This Technology is included in most of the top food processor in India.
Can I whisk eggs and Buttermilk in my food processor?
A whisk disc and blade are always included in a food processor. By using these attachments, you can easily whisk your eggs or prepare your favorite buttermilk in it.
Can Hot Ingredients be used in a food processor?
Always cool down the hot ingredients to room temperature before putting it inside a food processor as it may heat the appliance.
Can Coffee Beans be ground in it?
No, it is not advisable to grind coffee beans inside a food processor.
Will I hear if the speed changes?
If the machine is new and smooth, you won't be able to hear the speed change. But you can observe the content of the jar. When the speed increases the content goes up and when lowered, it comes down.
How to maintain the sharpness of the blades for a longer period?
All the blades are made up of stainless steel. Hence would not corrode easily if they are washed and cleaned properly. The longevity and sharpness of a blade depend on its use and maintenance. Thus, always read the instructions carefully before using them.
Signing Off…
In this article, we discussed the best brands of food processors in India, the factors which you should consider before buying a food processor for your home, the difference between a food processor and a mixer grinder which is a very common confusion and at last the reviews of the best food processors in India 2022. We hope that the info curated by us was helpful to you and provided with all the information you needed!
Now, we would like to sign off by saying that you know your house best. You know how big your family is and how much food you need to prepare every day. So it all boils down to you to choose the best suitable food processor for your house. We are sure that you will choose wisely! Do tell us your choice in the comments section!