Here is a list of the best furniture brands in India in 2023 which offer the most affordable and high-quality furniture available in the market.
A list of the top 10 furniture brands in India in 2023 is one of the best places to visit for everyone looking to purchase suitable and beautiful furniture for their vacant space. One of the first and most important investments anyone can make when transforming a house into a home is buying the right furniture.
Not just limited to residential spaces, furniture is a basic necessity for various other settings like offices, hotels, restaurants, etc. The process of looking for the right piece of furniture for your space may seem overwhelming. This pressure can be reduced to a massive extent if you take suggestions and advice from competent sources, one of them being this site.
All you have to do is ensure that you are partially aware of how you want a particular space to look like and what kind of furniture you would prefer within your walls. Once the personal preferences are aside, the below-mentioned brands can easily offer various options according to your taste and budget.
List of Top 10 Furniture Brands in India Offering Affordable Furnitures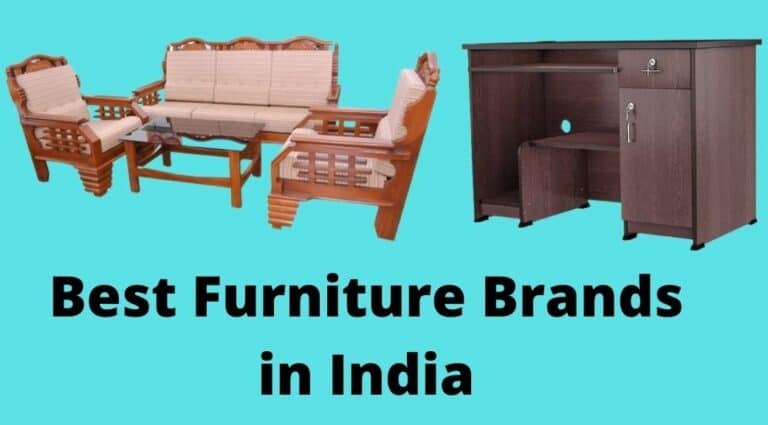 All the brands that have been described in this article, have been put under scrutiny. They have been checked for the quality and standard of products they sell. We have only selected them after reading genuine reviews therefore, they have a position in the list of best furniture brands in India.
1. Godrej Interio
Founded in 1932, Godrej Interio is one of the largest and best furniture companies in India that started their long and successful journey by initially manufacturing the Storwel cupboards which proved to be a massive hit around 80 years back.
Although they have reached a long way since then by designing and manufacturing a wide variety of furniture products, the brand has managed to maintain its USP (Unique Selling Point) of being capable of filling your vacant spaces with befittingly appealing pieces of furniture.
Comfort and aesthetics are both important features of the products manufactured by the brand and so it is never too difficult to find items that suit your style and budget within the walls of Godrej Interio.
The brand is also one of the absolute best when it comes to luxury furniture brands in India and hence, is an excellent option to consider even if you wish to go all out in luxury and beauty with regards to the furniture that will decorate your space.
With approximately 50 showrooms around 18 cities in the country, the brand has a large variety of furniture items available within their catalogues, some of which are almirahs, beds, chairs, dressing and dining tables, display units, sofas and bean bags, chest of drawers, shoe racks, etc.
Some of their best selling products that you can find on their site at the moment include a Grove king-size bed, motion high back chair, and Platina pro 2 door wardrobe.
2. Hulsta
A German brand founded in the year 1940, Hulsta is one of the biggest names in the category of top international furniture brands in India because of the successful reputation it has built for itself in the furniture industry.
With two branches in India in the cities of Mumbai and Delhi, Hulsta is home to not only homely pieces of furniture but also offers the best quality in system furniture for corporate and official settings.
The brand offers an excellent combination of design and modernity through its furniture which is greatly appealing for those who are specifically looking for cutting edge and contemporary items of decor and furniture. The colour contrasts observable is at most times the most attractive feature of Hulsta furniture with some examples being their lustrous grey lacquer tables, genuine oak cupboards, or walnut colour chairs.
A heightened sense of uniqueness and individuality pours out of Hulsta furniture designs because of the massive effort that goes into the aspect of workmanship. There is no doubt that purchases made from this brand will bring joy and class to your space.
Not only is the brand keen at making furniture for those who vision exclusivity and elegance within their walls, but it is also very much capable of fulfilling the wishes of those who wish to decorate their space with the most minimal repercussions on nature and the environment. The sustainable resources used by the company ensures this at most times.
Another outstanding category of furniture that Hulsta offers is the custom-made items embedded with beautiful artistry for those who want their furniture pieces to stand out and attract attention.
At their online handle, you can easily see the wide variety of options available in different sections such as the mega design, small furniture, bedroom furniture, items for dining and living rooms, etc. Available at the best and affordable prices. Because of all of these factors it has been stated that Hulsta furniture is one of the best quality furniture brands in India.
3. Usha
One of the most trusted names in the world of furniture, Usha is one of the best wooden furniture brands in India. It is so famous for its quality and variety of products that it is almost impossible to find a household in India that is not home to at least one product from this massive company!
Founded in 1983 by Dr Charat Ram, Usha Shriram has a wide range of products under its belt but its speciality lies with wooden furniture and sofa sets. With the trusted brand of Usha Shriram Lexus Furniture under its umbrella, Usha has managed to reach new heights in just three decades since its beginning.
A massive range in options and designs exists within the walls of every Usha branch when it comes to furniture with the bonus being that almost every item is budget-friendly and affordable while ensuring that its quality is of the highest standards. The wide variety in their furniture products exists under all kinds of categories such as bedroom, study, living, dining, office, kitchen, etc.
Usha also offers the best in designs and quality for those looking for genuine solid wooden furniture for their vacant spaces. From wooden tables and chairs to television sets, Usha furniture can provide you with anything and everything.
For those of you who wish to buy their furniture in sets and do not want to experience the hassle of separately shopping for every article of furniture in a setting, Usha furniture is once again one of the best options for the purpose because of the exclusive packages they offer in the complete home furniture.
The company also has one of the best customer policies since it gives a free replacement warranty of validity of 12 months, on almost every purchase along with a month-long after-sales service that is free of cost.
Usha furniture is also one of the best companies for custom-made furniture items in India because of the precision and perfection they invest in their customised designs that aptly fulfil the vision of the customer. Some well known Usha furniture products that customers can get buy are a fabric sofa set, wooden dressing table, double wooden cot bed, etc.
4. Nilkamal
Nilkamal is one of the top 10 furniture brands in India and is a name known to almost every household here. Its products are known for their excellent quality and variety in almost every category of furniture items.
The brand is not just widely known but also extensively spread throughout the country with branches established in the deepest parts of the nation. Nilkamal has 42 depots across India, 1,100 distributors, around 20,000 retail dealers, 29 company-owned and operated stores, 38 dealer-owned and operated stores, and 14 franchisee-owned and operated stores.
A consistently evolving brand, Nilkamal was first introduced into the market by Mr Vamanrai Parekh and Mr Sharad Parekh in 1981 and since then, the company has been on a rise to the heights of popularity, all thanks to the quality and variety of products they offer.
The speciality of this brand lies in creating furniture out of moulded plastics like chairs and tables at affordable prices for everyone and with a quality that does not get damaged easily. The brand is one of the best if you are looking for a sturdy and strong furniture design, especially if you wish to purchase one made from plastic.
5. Wipro
Wipro furniture is one of the best office furniture brands in India and easily a part of the best in the list of top furniture brands in India. Established in the year of 1945, the brand was previously under the belt of Wipro Limited but it soon diversified into a brand and company with an identity of its own.
The variety and quality of furniture items they sell have pushed the company to the top, especially in the opinions of those who wish to get their hands on the best office furniture for their space.
The ranges in furniture that they provide fall under the category of workstations, partition systems, and cabin furniture. Most of the items they sell are known to be customised according to the needs of the customers.
From height-adjustable tables (HAT) and X-benches to accessories such as tassels, Wipro furniture has it all at affordable and comfortable prices. Some of their other office-friendly products include storage spaces such as endura+compactor cupboards, uniboxes, wudsafe, etc.
The brand also makes furniture for various other settings such as classrooms, hostels, libraries, etc. For those who wish to furnish a larger vacant space like the ones mentioned before, Wipro is one of the best places they can go to for sets of furniture items that would sit perfectly in a given space.
The company has more than 40 branches around the world and 55 branches spread across various cities here with its headquarters of India based in Bangalore. The company is known for the way it incorporates immaculate designs into innovative products. Every item of furniture made by Wipro is a piece of art that has been perfected in terms of quality and style. Without a doubt, this exemplary brand deserves a name on the list.
6. Durian
Established in 1985, Durian is one of the best furniture brands in India when it comes to decorating your home or office space with beautiful, appropriate, and cost-friendly furniture items.
Every piece of furniture manufactured by the company shows innovation and sturdiness as its basic features. Durian is one of the best places to visit if you wish to bring home some remarkable items of decor and furniture that are not just effective in their functioning but also manage to improve the aesthetics of your space.
With more than 30 stores across the cities of India, the company is capable of supplying its customers with reliable furniture almost anywhere in the country. Its headquarters is located in Mumbai, however, the first showroom the company launched was in Ahmedabad.
Not only is the brand capable of delivering your items safely to your doorsteps but it also provides its customers with a warranty valid for five years on all its items. The company also assists its customers in the process of assembling their furniture by providing them with expert technicians who install the item for free of cost as part of the service.
The process of payment has also been made easy by the brand so that it is not a hassle for you. The options offered by the company include cash on delivery, online payment, and EMI.
The company manufactures and sells almost everything ranging from veneers and sofas to chairs, beds, and tables. Some of its best selling items include almirahs, wardrobes, display units, dressers, shoe racks, sofas, beds, and accessories.
7. Ikea
With their origin in Sweden, Ikea easily falls on the list of best furniture brands in India in 2022 as it is an extremely well-known furniture brand that is famous all around the world.
The brand has had a significant existence in the industry for more than two decades and it continues to rise to the top by providing its customers with the best in the market of beds, sofas, chairs, tables, and a lot more.
Its headquarters of India is located in Delhi while branches of Ikea are situated in Mumbai and Hyderabad. The company is in the process of inaugurating its showrooms in more than 40 cities across India.
The brand is famous for its sophistication and class with which it creates its furniture items and so if you are looking for a piece of furniture to spice up the vacant space on your hands, Ikea is one of the best options to consider.
The types of furniture they offer fall within the range of various categories such as dining, kitchen, bedroom, home decor, open spaces, etc. Some of their affordably remarkable products that are available for purchase at the moment as mentioned on their website include a beautiful bed frame worth approximately Rs 25000, a plant pot worth Rs 79, and a study desk worth around Rs 10000.
Apart from being the best, Ikea has also managed to be the first significant and large furniture brand that has an FDI approval under its belt for opening retail operations in India.
With approximately 48 suppliers in India, the brand is one of the best places to visit to get your hands on furniture that is a perfect combination of style and comfort.
8. Style Spa
Style Spa is another one of the best furniture brands in India. It is one of the largest brands of South Asia, Style Spa is an excellent place to shop if you are looking for elegant and functional furniture items to decorate your personal or official space.
Although the brand has a specialisation in manufacturing panels, the brand is very well skilled at creating every other style of furniture for homes and workplaces alike such as bedrooms, kitchens, living rooms, dining rooms or offices and cabins.
The company has managed to make its presence be felt not just in India but all over the world while, in India the brand performs its marketing and production operations with RTA furniture.
With more than 60 branches and showrooms across the country, Style Spa is very much capable of helping you in the process of transforming your space into something that brings joy and peace to your mind.
The innovative ideas, advanced dimensions, and reimagined visions provided by the company through its products are the perfect choice for those who put a lot of thought and effort into their furniture and accessories.
The technical and aesthetic features incorporated into every Style Spa piece of furniture is immaculate and hence, the brand is one of the best for those whose love for furniture is unparalleled.
Some of the most recent products advertised by the brand on their online handles include the stylish Dixi two door one drawer chest, a beautiful Madrid coffee table, the neo hydraulic half lift-on storage king bed, Estilo three-door wardrobe, strata TV unit with wall shelf and many more.
9. Zuari
Zuari comes in the bottom half of the list of the top furniture brands in India. A famous brand in India, Zuari has been providing its customers with a wide variety and high quality of furniture items since its establishment in India in 2001.
Zuari has a style statement that is unique and makes it different from the other brands and hence, it is the perfect choice for those who wish to purchase something out of the box to decorate their space.
With more than 60 distributors and 500 dealers, it is never a hassle to find good furniture items within the walls of a Zuari showroom. The variety available under their belt includes cots, sofas, dining sets, kitchen furniture, wall units, dressing tables, TV trolleys, computer tables, office furniture, etc.
Apart from being affordable and budget-friendly, Zuari furniture items are a beautiful combination of style, comfort, and trendiness. Their superior quality also stands out on its own and makes the brand highly appealing to almost every furniture lover out there.
The brand also manufactures custom made pieces of furniture depending on the needs and desires of its customers. If you wish to purchase a piece of furniture that is not only elegant and comfortable but also trendy and modern, Zuari furniture is one of the best options to consider.
Even if you have a vision regarding how you want an item of furniture to look, Zuari is highly capable of bringing the vision to life!
10. Damro
One of the top furniture brands in India, Damro has been a rising furniture company since the year of 1986. With more than 190 showrooms around the world and 65 branches across the various cities of India, Damro provides its customers with products that are not just of the best of qualities but also include consistent and effective customer service.
With a global reputation for being one of the best providers of furniture, Damro has a large variety of
products available under its umbrella. Furniture items for the living room, dining, kitchen, bedrooms, study room, office spaces, workplaces and many more are all available in every Damro outlet.
The brand is also known for being able to manufacture modern as well as traditional furniture items for its widely diverse customers and so if you are someone who wishes to get their hands on good quality traditional furniture items then a Damro showroom is an excellent place to visit.
Some of their products that are available at the moment on their website include the beautiful Atlanta seven-piece dining set, the elegant Midland corner sofa, the Proxima sofa, the magnificent Staffer king size hydraulic storage bed, and many more.
Factors to Keep In Mind Before Purchasing Furniture
After you have decided as to which brand you want to buy your furniture from, you should be aware which type of furniture fits your home decor and how to choose it. So, we have brought you this furniture buying guide, in order to give you the basics of purchasing any furniture.
1) Check the source of the material
2) Guarantee their durability
3) Research
4) Think it through
5) Quality test
FAQ's
To answer any doubts you might have, we have answered all the doubts below to make the task of selecting the best quality of furniture for you.
Which is the best furniture brand in India in 2023?
The best furniture brand in India is undoubtedly Godrej Interio. It has the best feedback and value for money hence is trusted by the Indian masses.
What brand of furniture is of the best quality?
The best quality furniture is provided by Godrej Interio and Wipro. They have extensive quality checks and proofing done on their furniture to provide you with the best furniture there is.
Which brand is best for sofa sets in India?
If you are looking at sofa sets particularly, we would strongly recommend Ikea and Wipro, they have budget sofa beds which are extremely durable.
What are luxury furniture brands?
Luxury furniture brands are the ones that provide quality furniture using the best materials and designs. Luxury brands do not compromise on cost. Zuria and Damro are one of the best luxury brands in India.
What is the most expensive furniture brand?
The most expensive furniture brand in India would be Wipro.
Which wood is best for furniture?
Maple and Mahogany would be one of the best choices for wood when looking at furniture.
Where can I buy good furniture online in India?
The Ikea store and Pepper fry studio are two places you can buy furniture online without any hassle. They offer good deals and have a legit return/exchange policy.
Ending Remarks on the Best Furniture Brands in India in 2023
All the above-mentioned brands are great choices for you to buy furniture from. They offer a variety of furniture in different price ranges. We have picked out the brand which has the best feedback and offers value for money service.
The buying guide makes sure that you are equipped with the right tricks and tips to help you buy the best furniture for your home. We hope all the information mentioned above helps in making the process of selecting furniture easy for you. Happy Shopping