We have compiled a list of the best hair dryers in India in 2022 which provide quality, durability, and peak functionality. This article also contains well researched and detailed reviews and a complete hair dryer buying guide that will allow you to spend your money wisely and attain absolute value for money.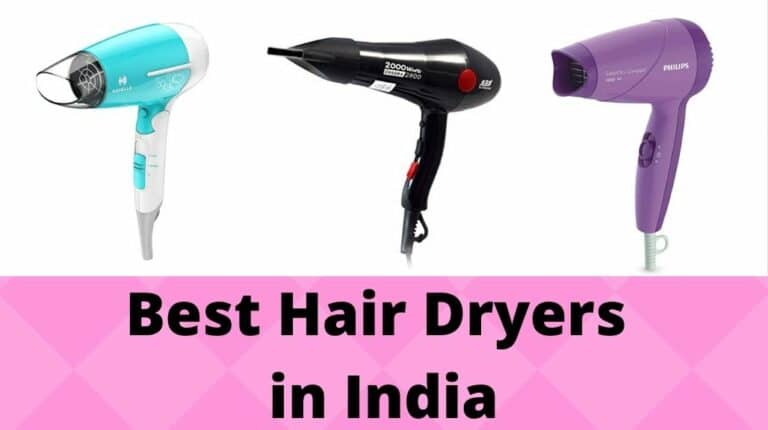 Every single human on this planet absolutely loves their hair. With changing times, the hairstyles and hair fashion has reached a new era. Now, just taking care of your hair is not enough. It is equally essential to be able to style your hair to match the fashion standards.
The market is filled with numerous hair styling and hair care products. Choosing the perfect hair dryer to maximize the value for your money can get extremely difficult. Hence, we decided to provide our insight on this topic and help you purchase the best hair dryer in India.
What is a Hair Dryer?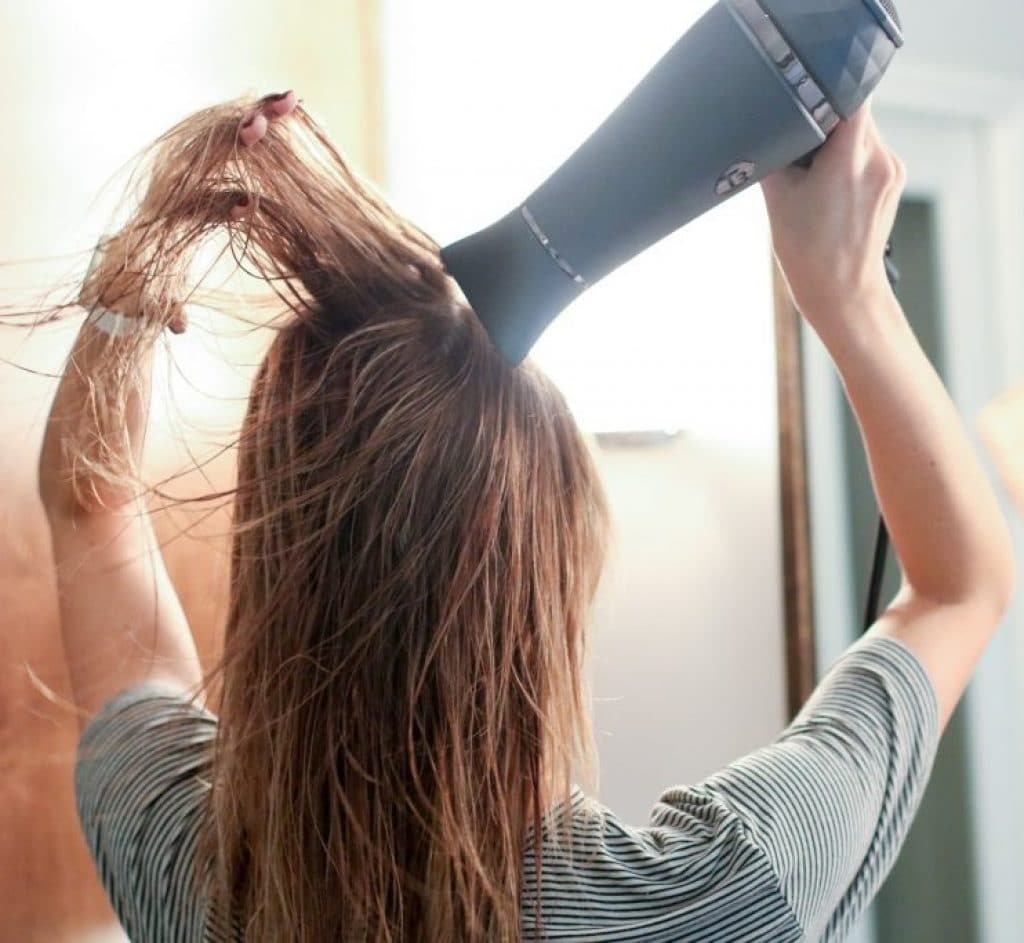 A hair dryer is an electric device which is used to style and dry hair. It is also known as a blow dryer which blows air which we can use to dry and style our hair.
The very first hair dryer was introduced in the market in the early 1900s. It was a handheld device, and it lacked power. The heat generated wasn't sufficient because it took a lot of time to dry hair. Heavy metals like steel and zinc were used to make this device. The hair dryers that we see today in the market have evolved from this device. Engineers worked on the design and functionality to make the hair dryer lighter and more powerful.
How Does a Hair Dryer Work?
Hair Dryers work on the principle of evaporation. The rate of evaporation is inversely proportional to the relative humidity of the air. Which means that if the relative humidity is high, then the rate of evaporation is low. So, when the hair dryer blows hot air, the relative humidity becomes low, and as a result, the rate of evaporation increases, which means that your hair starts drying quickly.
The main components of the hair dryer are the heating element, electric fan, power supply, safety mechanisms like the cut-off switch, thermal fuse, insulation, protective screen, and the front grill.
The heat is generated by the heating element, which is usually made out of nichrome wire. This nichrome wire acts as a resistor, and due to this resistance to electricity, the electric energy is converted into heat energy. This heat starts increasing the temperature of the air, and the electric fan then starts blowing the air out of the hair dryer. We then use the hot air that is blown by the hair dryer to dry and style our hair. Many other processes are happening inside, but this is the basic principle and functioning of the hair dryer.
What is the use of Hair Dryers?
Hair drying is an important phenomenon when it comes to beauty and health care. People have started growing very cautious about their hairstyles with the growing popularity of the film industry. Thus, having possession of the perfect gadget that can set your hair and style it according to your will is the need of an hour. Here, the Hair Dryer comes in handy.
1. Hair drying :
Do you come out of your shower every day with wet and messy hair and find it tedious to dry them quickly and adequately? Then the hair dryer is the perfect product you need! Even though drying your hair can seem like an easy job to do; If you use incorrect ways to dry your hair, it can result in a complete mess!
As they say, the more the number of people, so are their types; and we say, so are their hair types! Each hair type needs to be taken care of. The hair dryers do the exact job! They are here to take care of your wet, messy, curly, rough or straight hair in a jiffy! Using various filters and controlling the air flow from the nozzle, you dry your type of hair according to you!
2. Hair Styling:
Due to the increasing popularity of cinemas, people have started growing cautious about their hairstyles. They idealize famous actors and want to look like them. If you too fantasize yourself having a hairstyle like your favorite actor or model, hair dryer gives you the perfect edge above everyone else. Even famous hairstylists use hair dryers to style their clients.
You can straighten your curly hair by using hair dryer without emptying your pockets on professional and expensive saloons. If you want your hair to have gorgeous curls in the end; hair dryer is the key again! Just set your curls according to you and dry them with the hairdryer. The heat coming out of the nozzle sets your hair perfectly.
3. Additional advantages :
Did you think that hair dryers had their domain of use only for your hair? Then there are some unique and rarely known ways in which you can use hair dryers :
(i) Dry your nails faster:
After you paint your nails, you try to do a job without realizing that your paint is still wet and then mess up your nails more often? Then the hair dryer is your lifesaver in this case. Just blow dry your nail paint after you apply it using a hair dryer and get ready to work. Just note that you use the cool air instead of the hot air for this purpose of avoiding your polish getting tackier for a longer duration.
(ii) New shoes:
Just got a new pair of gorgeous shoes but scared of getting a shoe bite? Don't worry at all. The hair dryer has got it all sorted! Hit the inner side of the new pair of your shoes with the hot air from the hairdryer. Now wear a thick pair of socks and stroll around your apartment until the shoes cool off. Heat provided by the hair dryer and the extra padding provided by the socks will stretch the shoes out according to your convenience. There you go! Perfectly fitting shoes!
There are many other unique hair dryer hacks that you can use in your day-to-day life :
Unbeatable List of Top 10 Hair Dryers in India 2022 :
Now it's time for us to reveal our top 10 picks for the hair dryers in 2022. These products have an excellent performance record in the present Indian market. Considering the customer reviews, these are on the peak of the hair drying industry.
1. Wahl 5439-024 Super Dry Professional Styling Hair Dryer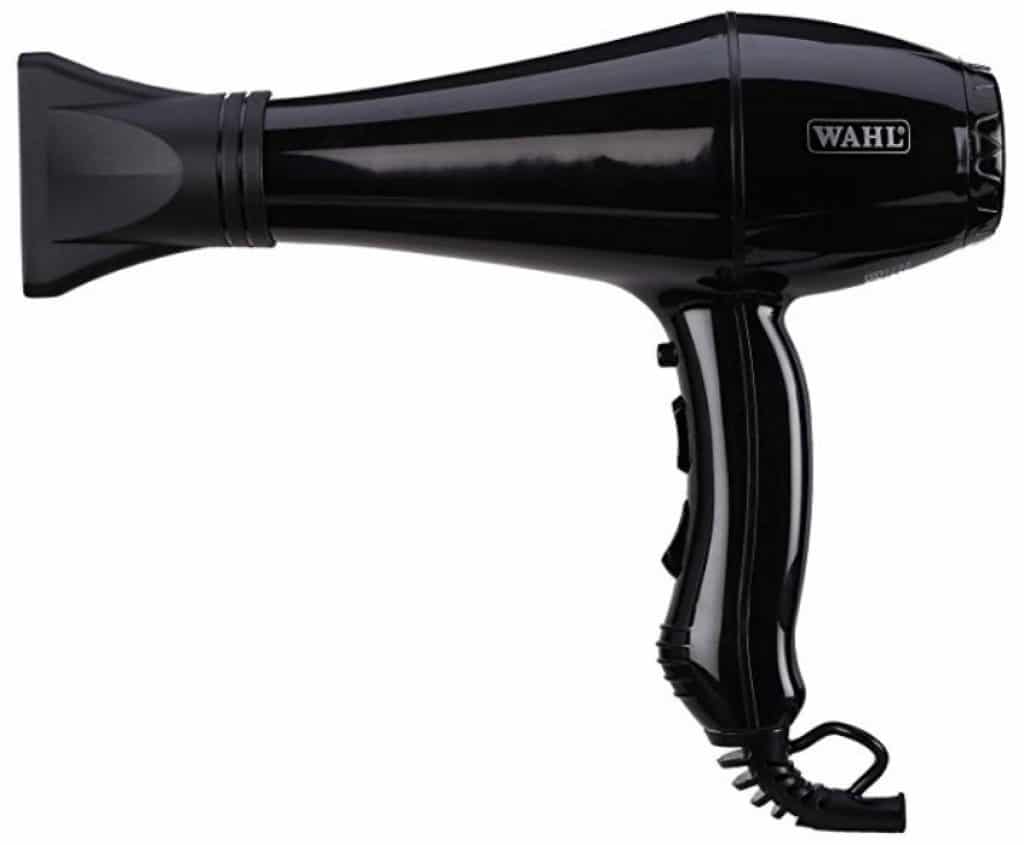 Wahl 5439-024 is the best hair dryer in India under Rs 2000 In India in 2022 with an iconic technology that provides you with shiny, silky, and smooth hair results. There are two modes in this product:
Concentrator: To blow dry and style your hair.
Diffuser: To add volume to your hair right from the roots.
Wahl Hair Dryer product has seven different combinations of heat and speed variations: High heat-high speed, High heat-low speed, Low heat-high speed, Low heat-low speed, Cool high speed, Cool low speed, and cool shot.
Wahl dryer consists of advanced technology of generating negative ions which lock in the moisture and smoothen your hair. It also includes an extra feature known as 'Cool shot' that provides the blasts of cold air to keep your hairstyle locked in for the entire day.
Wattage: 2000W
Motor Type: Professional Ac collector motor with the latest Tourmaline technology
Settings: 2-speed settings and 3-temperature settings
Price range: Around INR 2250
2. Philips HP8100/46 Hair Dryer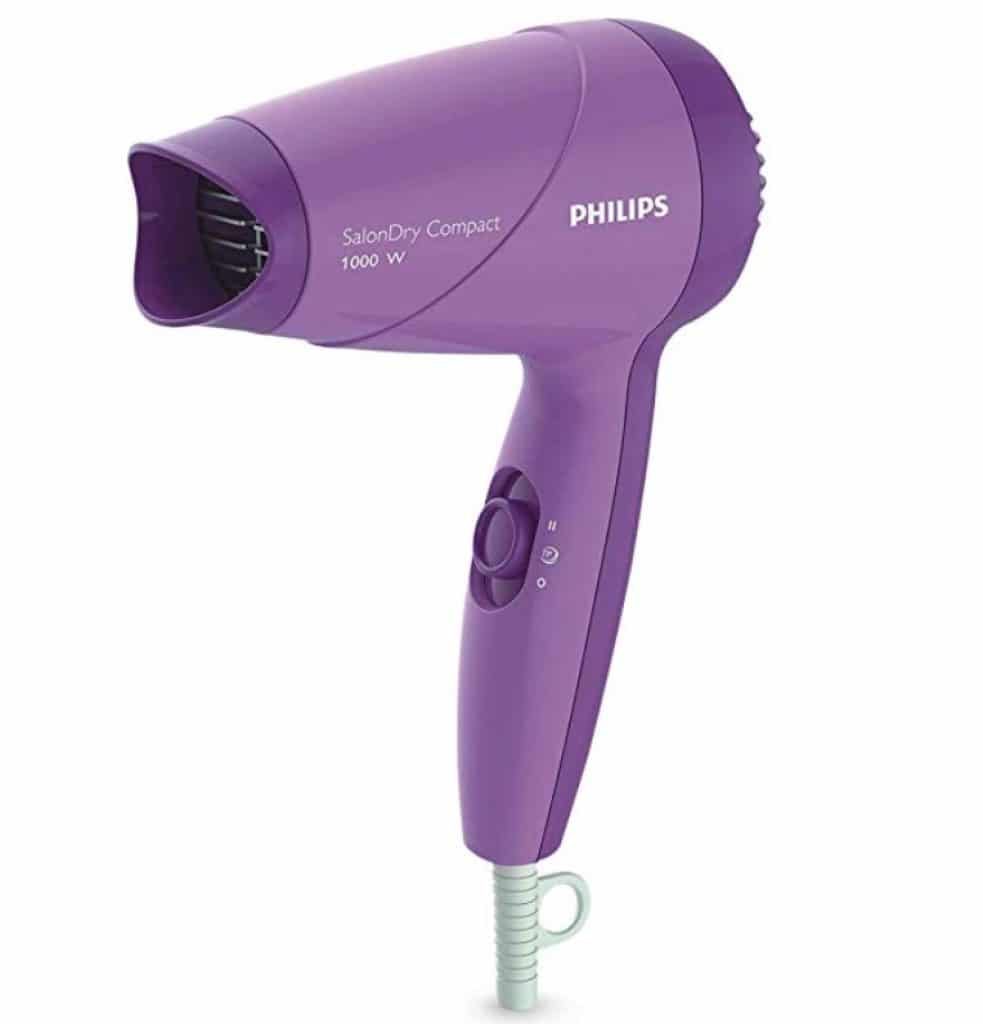 If you consider the budget before buying any Hair Dryer, then is Philips hair dryer won't disappoint you. This product is the perfect combination of providing excellent quality at a comparatively meager cost. It has a compact and ergonomic design along with the benefits of being lightweight and easy to handle. The feature of the design of the nozzle having a narrow concentrator works on focusing the flow of air in the specific areas of your choice.
This Philips Hair Dryer is the best Hair Dryer under Rs 1000 in India in 2022 and provides you with an extra feature 'ThermoProtect.' This feature offers additional protection while maintaining the optimal drying temperature.
Warning: Do not use this appliance near water and switch it off after the use.
Wattage: 1000W
Motor Type: Professional Ac collector motor with the latest Tourmaline technology
Settings: 2 flexible speed settings
Price range: Around INR 800
Warranty: 2 years of Philips India warranty from the date of purchase
3. CHAOBA 2000 Watts Professional Hair Dryer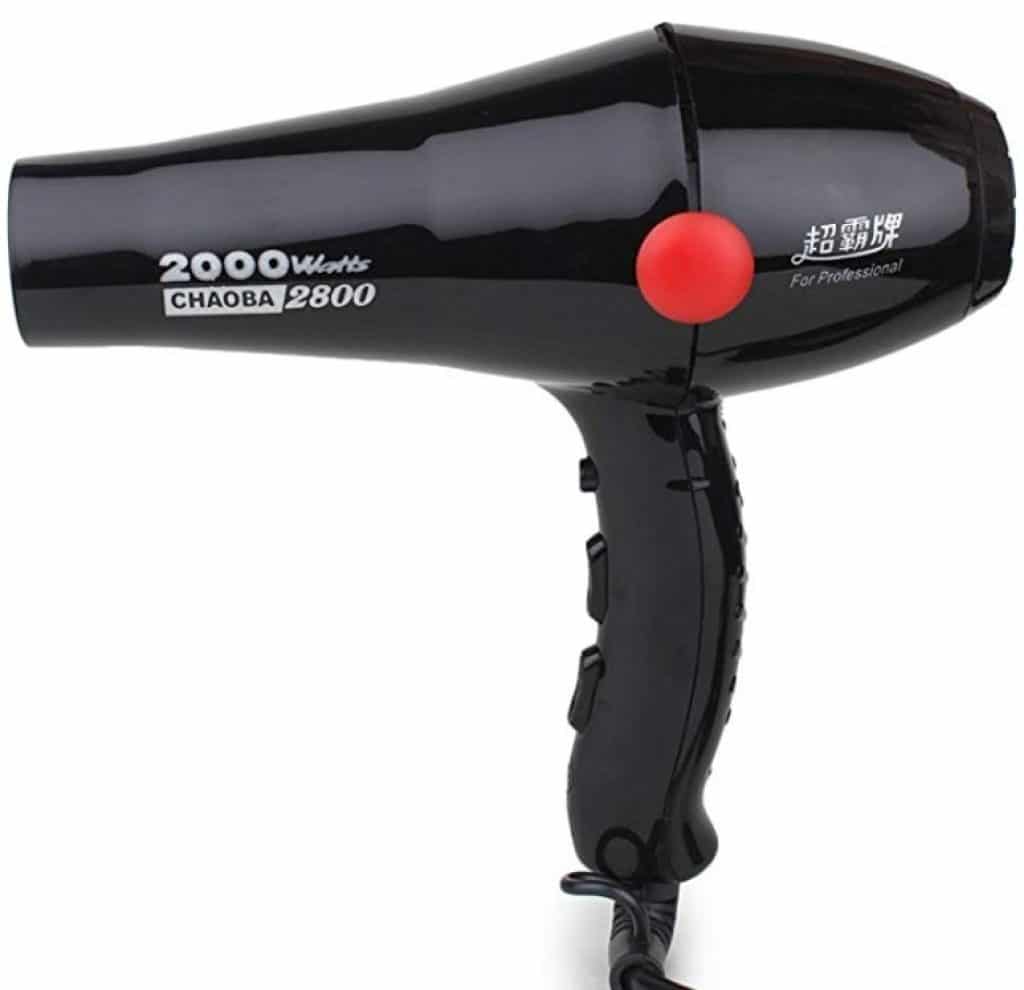 This is a stylish Chaoba hair dryer that uses a Keratin coated technology while drying your hair and ensures a uniform distribution of air on your hair-locks. It consists of an automatic temperature maintainer that prevents hair damage. Its amazing features, ultimate protection, and balanced automatic temperature settings make it perfect for your daily use.
Chaoba hair dryer is the best hair dryer in India under Rs 800 and it gives an upper edge over other dryers as it has a quick heating feature and provides you with shiny and beautiful hair within minutes.
This product has been designed with accuracy and precision and keeping in mind the user's convenience. It has a comfortable grip and provides a firm gripping for preventing it from slipping.
Wattage: 2000W
Settings: 2-speed settings
Price range: Around INR 700
4. Havells HD3151 1600W Powerful Hair Dryer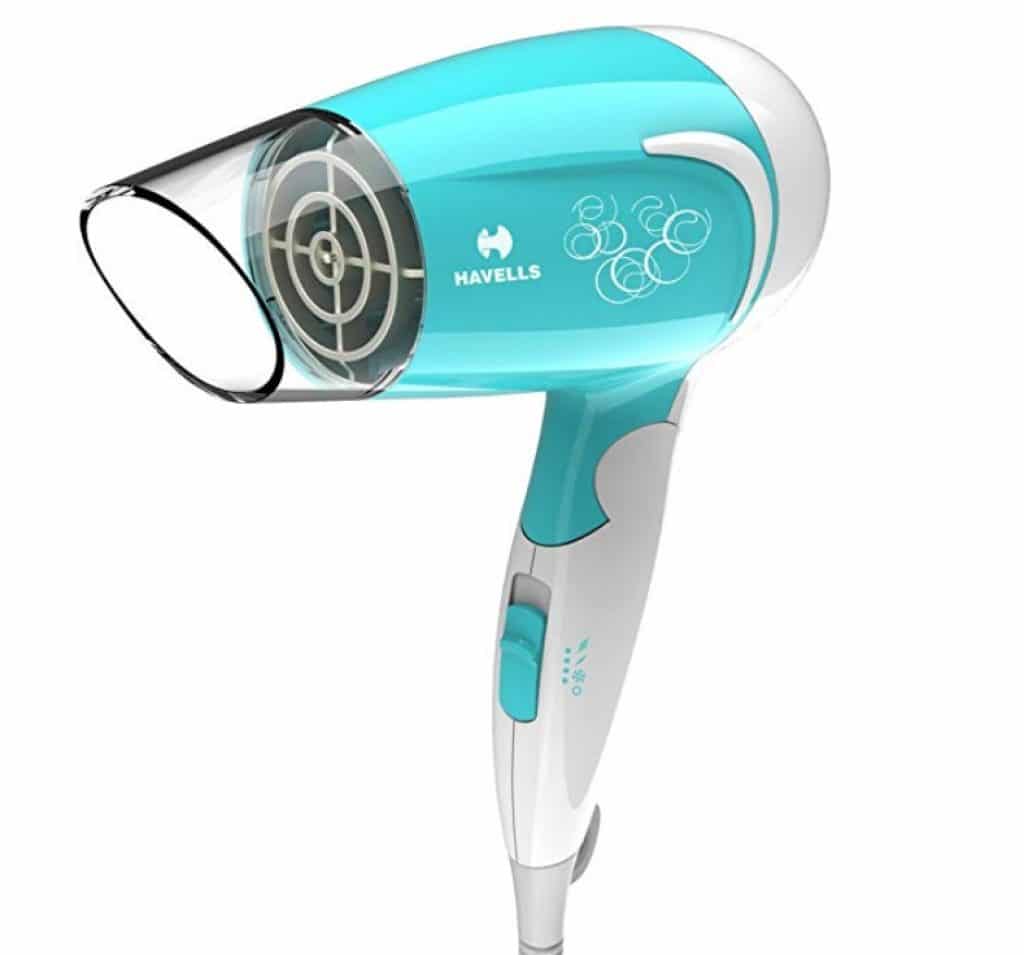 If you are searching for a perfectly balanced dryer which offers both drying and styling, then Havells has your back. This Havells hair dryer comes with its unique and extra features that give this product a top edge over others. A unique feature that this product provides is a Detachable nozzle. Use the nozzle for blow drying only specific areas while detaching the nozzle for covering the maximum area proves very helpful.
This product comprises of a heat balance technology that ensures uniform distribution of heat to prevent hair damage due to excess heat concentration.
Another unique feature that this product provides is the honeycomb inlet present at the back of the nozzle that prevents the hair from getting tangled unknowingly after drying. It has a storage hook and a long chord of A grade quality.
Wattage: 1600W
Settings: 2 flexible speed setting & 3 temperature settings
Price range: Around INR 1000
Warranty: 2-year guarantee
5. Philips BHD007/20 Hair Dryer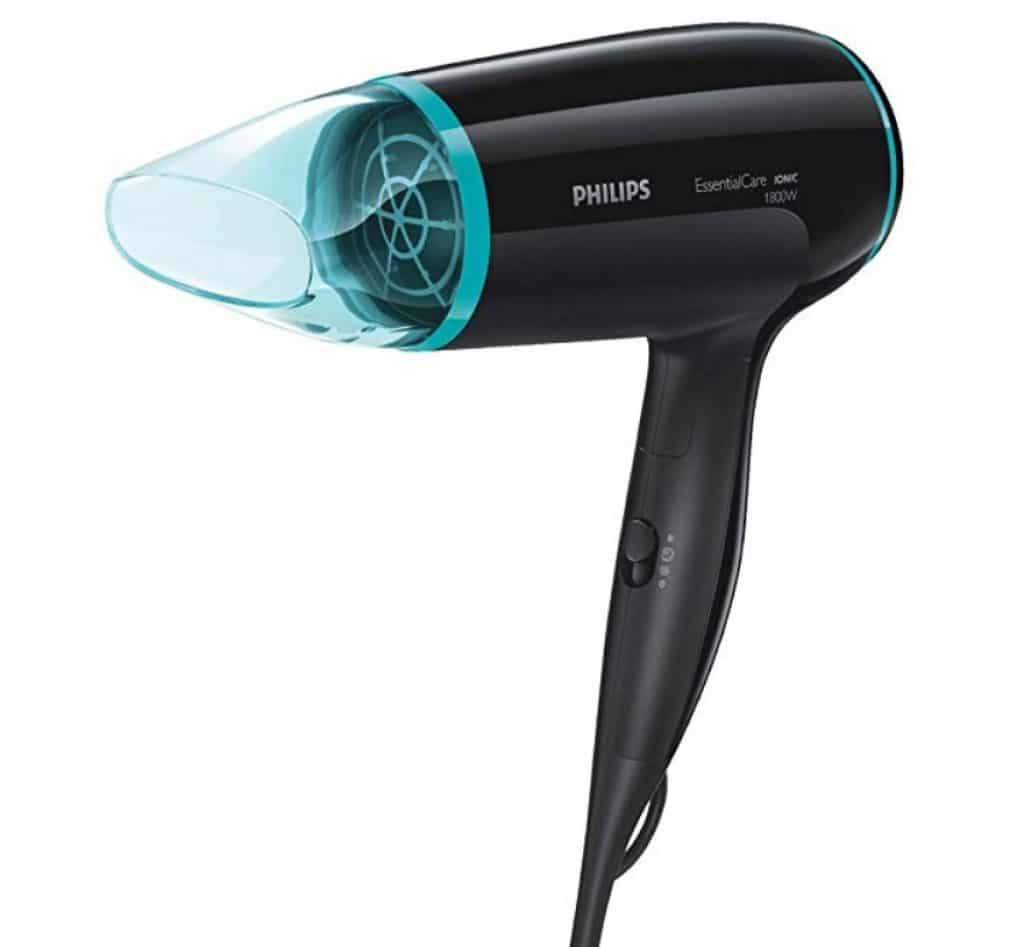 Tired of your hair dryer that makes a lot of noise while doing the job? Then this is the exact hair dryer you should be looking for! This Philips Hair Dryer gives you the power and cares you need for maintaining your smooth, shiny and silky hair with a voluminous look right from the bottom of their roots.
3 pre-selected speed and heat combinations make it easy for the user to achieve quick and professional style just by sitting at home.
The additional features that give this product an upper edge are the ThermoProtect technology and the cool blast technology. These ensure that the user gets proper protection while using the product and promises the safety of the customer's hair.
Unlike the other products, this product has a rubberized hook on the handle that can be used to hang the product at your place. This is one of the best hair dryers in India.
Wattage: 1200W
Settings: 3 flexible speed settings & 3 temperature settings
Price range: Around INR 1900
Warranty: 2-year guarantee
6. Nova NHP 8100 Silky Shine Hot and Cold Foldable Hair Dryer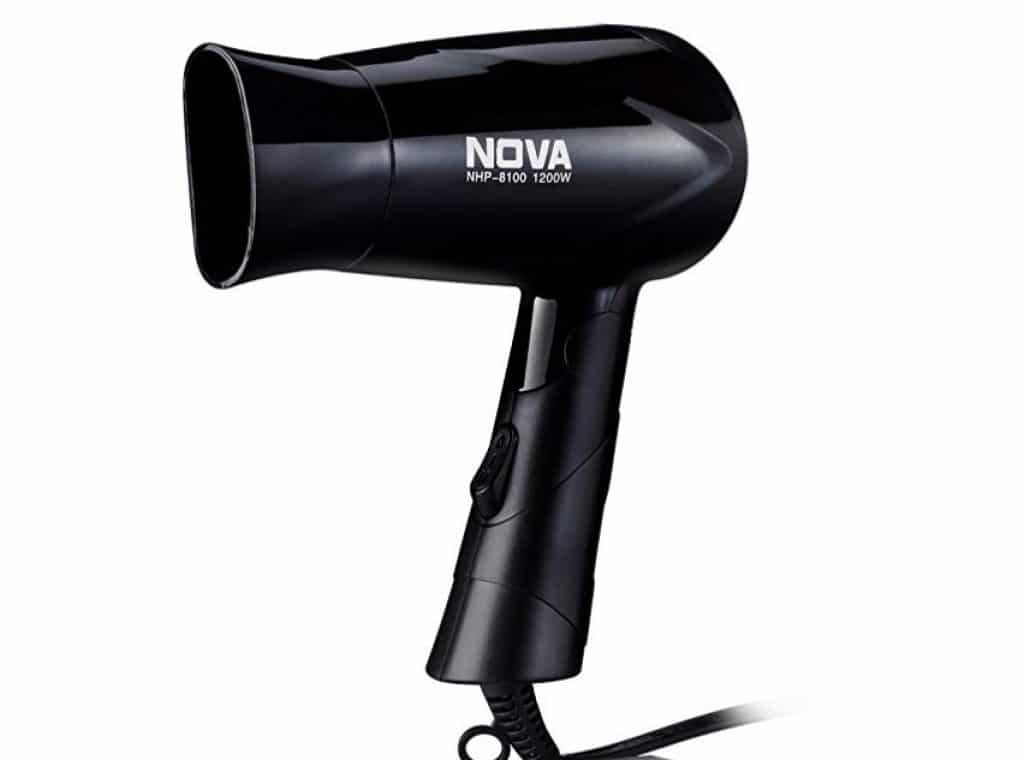 This Nova Hair Dryer is a lightweight, affordable, and stylish hair dryer which uses advanced technology for drying as well as styling your hair. It offers you a salon like a hairstyle by just sitting at your home! It comprises of both hot and cold features and has overheating protection.
The ThermoProtect feature of this Nova dryer enhances safety. It offers the user with the Ehd+ technology that distributes a uniform amount of heat over users hair and helps to keep it in good shape and gives it a shiny and gorgeous look.
This Nova NHP 8100 Hair Dryer is the best Hair Dryer Under Rs 500 and also offers a unique feature, which is 'Foldable Technology.' You can fold this product after its use to make it compact and easy to store.
Wattage: 1200W
Settings: 2 flexible speed settings
Price range: Around INR 400
7. SYSKA Hair Dryer HD1610 with Cool and Hot Air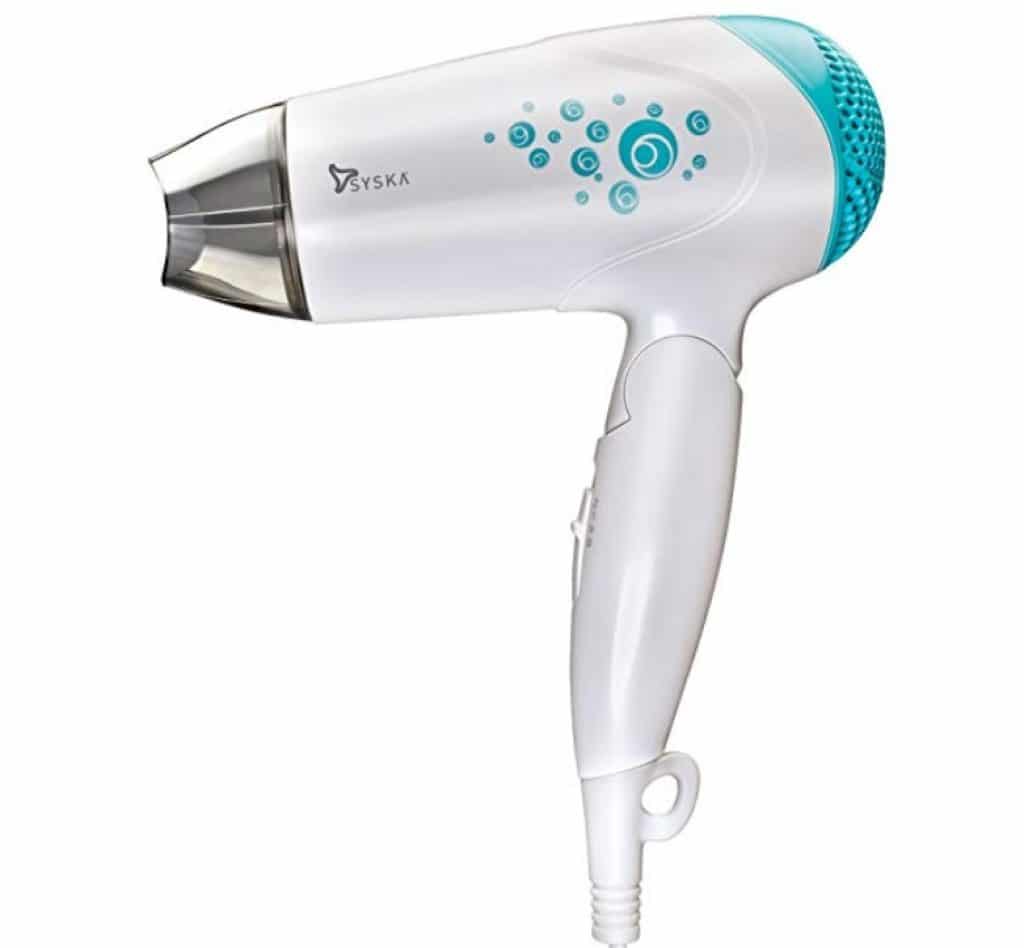 This is a Korean crafted trendy SYSKA hair dryer that comes with a 2-year warranty. Its affordable range with good quality makes it different from the rest of the products. It promises the user of making less effort for getting a professionally styled hair at home.
This Syska hair dryer comes with two pre-selected heat and speed settings that make your hair drying and styling job much more comfortable. Its unique feature includes a foldable technology which helps you to carry this product wherever you want to.
This Syska dryer also promises the user with the overheat protection and Heat balance technology with very low noise.
Wattage: 1200W
Settings: 2 flexible speed settings & 3 temperature settings
Price range: Around INR 700
Warranty: 2-year warranty provided by the manufacturer from the date of purchase
8. Lifelong LLPCW08 Hair Dryer with Cool Air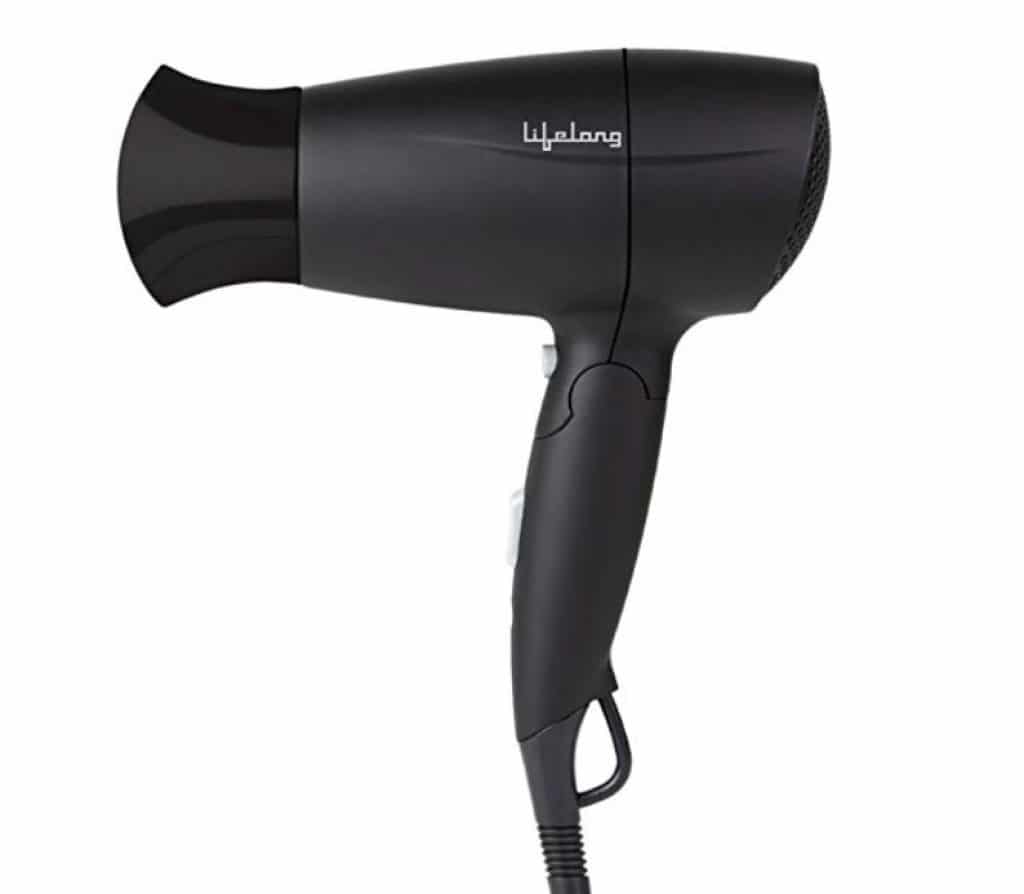 This is a sturdy looking hair dryer which gives you salon-like hairstyle at your home. This product gives you a guarantee of ensuring that your hair is taken care of when you are styling it with this hair dryer.
It has a comparatively bigger air inlet that provides the user with frizz-free hair and gives a shiny and smooth outcome. It comes with a foldable handle which mks it easy to store and carry anywhere while traveling.
Concentrator: this product provides the user with the advanced technology concentrator that concentrates the heat to the specific areas and helps the hair to have a smooth and shiny look.
Wattage: 1600W
Settings: 2-Speed settings & 3 Temperature settings
Price range: Around INR 1000
9. Vega VHDH-05 Blooming Air Hair Dryer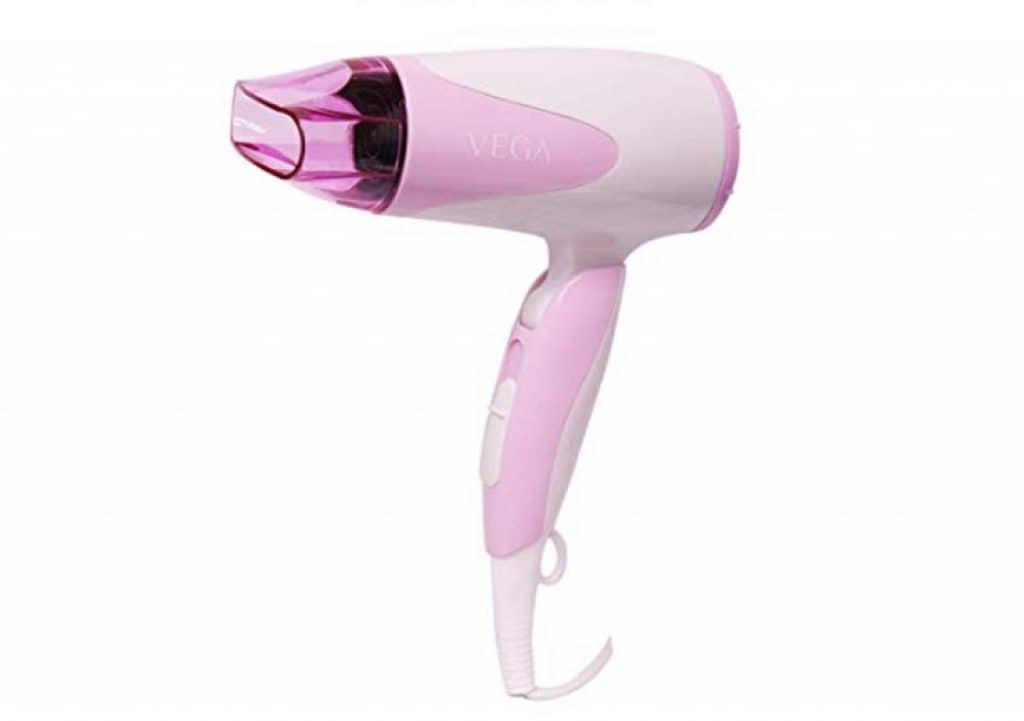 This is a fabulous hair dryer that comes with a top class engineering as it supports finely functioning dual settings in speed and temperature. This smart piece of gadget offers excellent utility and comfort for the user. The motor unit comprises an automatic cut-off safety to protect your hair from extreme heating damage.
It also takes care of storage as it comes with a handle loop that can be used for hanging and a foldable handle that can be used to make the product compact and easy to store.
Its unique feature includes a detachable nozzle, and an automatic overheat cut off.
Wattage: 1000W
Settings: 2 Flexible speed settings & 2 Temperature settings
Price range: Around INR 700
Warranty: 2-year warranty
10. Panasonic EH-ND11A Hair Dryer
This Panasonic hair dryer comes with its compact design and a well-engineered finish. It has a 1000-watt turbo dry technology and an efficient working motor. Dual speed and temperature selection modes help you to style your hair according to your will. It has a fast drying and a secure styling technology which gives a smooth, shiny, and gorgeous result.
Its extra features include its firm gripping handle and convenient as well as portable size. It promises the user with a saloon like hairstyle outcomes with shiny, frizz-free, and perfect hair.
Wattage: 1000W
Settings: 2 Flexible speed settings and 2 Temperature settings
Price range: Around INR 700
Warranty: 2-year warranty
Heavenly Hair Dryer Buying Guide
A hair dryer buying guide will help you in selecting the best type of hair dryer you require for your hair type. This guide will go through the required points like quality, warranty, materials used, technologies used etc.
Tourmaline technology :
This is the latest technology in the hair dryers that gives out negative ions and helps the hair to look voluminous from the roots itself and also gives smooth, frizz-free, and shiny results.
Ceramic or porcelain hair dryer :
If you have fine or dry hair, then this type of manufacturing is what you require to pay your attention on. The dryers that are coated with porcelain and ceramic materials provide heat that is less harsh and hence smoothen your hairstyling job.
Titanium is worthy:
Titanium hair dryer provides heat at a steady temperature and hence if you have lot of hair and are scared of using the hair dryer thinking it might damage your hair, then looking for a titanium hair dryer is the key. It also provides an additional advantage that it is lightweight and hence easy to handle.
It's all about Power-play:
Power of the hairdryer is what you observe first before buying it. The power denotes how the motor of your hair dryer will work. Always consider buying a hair dryer with more watts as it gives out more amount of air in very less time as compared to others and thus gives outcomes quickly and at a faster rate.
The lighter, the better:
It may sound like a very minute detail of the, but it matters in the long run. You want to buy a lightweight model so that you get comfortable with using your dryer without causing strain in your hands.
Set it all up:
Always opt for a dryer with multiple heat settings as well as speed settings as that makes your styling much efficient and gives you the desired outcomes with comparatively fewer efforts. Sometimes you need a Hair dryer to give out cold air while sometimes warm while many times hot. These options will take care of your hair and make them shine properly.
Finding the right extras:
Finding the specific extra features you require for styling your hair is extremely important when it comes to buying a hairdryer. The features like 'cool blast,' 'thermoprotect' and 'automatic overheat cut-off' are some of them that protect your hair from getting damaged.
Choose concentrator wisely:
The concentrator plays a vital role in the hair drying as it gives out heat evenly according to your settings. The detachable nozzle is an extra feature that comes with some products that come in handy when you want to blow dry your hair with variations.
Best Hair Dryer Brands in India in 2022 :
In today's market, the brand is what everyone pays for. The more popular and better reviewed a brand, the better is its quality and functionality. In terms of your hair, you can't take the risk of choosing the wrong brand as it might cost you a lot. So here are our best picks regarding the best brands that offer affordable prices and top engineered quality for best hair dryers in India in 2022.
1. Wahl
This brand specializes in the hair dryers and has a variety of hair dryers according to your taste and requirements. This American company is known for manufacturing grooming products and is developed in manufacturing best hair dryer for men in India according to many reviews.
2. Philips
This Dutch multinational company is a leading manufacturer of electronic products in India. It provides with the best products of customer care and health as well as home appliances. This brand is famous for providing the best hair dryers in India.
3. Panasonic:
Another famous brand that is highly grossing its products in India is Panasonic. This Japanese multinational company comes with a good quality of products which are well engineered and have efficient and smooth functioning. This brand is famous for providing the best hair dryers in India.
4. Nova
Another multinational Japanese company that has started growing its roots in the Indian market with its quite affordable and promising products is Nova. It is steadily increasing in demand as its products of hair drying are best hair dryers for women in India.
Few FAQS
Which is the best Hair Dryer for Men?
Generally, almost all the hair dryers in the market nowadays are unisex. Both men and women can use them. Wahl is a better choice for men.
Which is the best Hair Dryer for Women?
Nova hair dryers or Philips is better suited for women.
Which is the best hair dryer under Rs 1000?
Panasonic EH-ND11A Hair Dryer, Philips HP8100/46 Hair Dryer are some of the hair dryers under INR1000.
A Quick Summary to Buying a Hair Dryer in 2022
Even the best brands can have manufacturing defects or some other problems where your warranty can come in handy as a life saver. The warranty provided for the product needs to be discussed in complete detail. Make sure you ask the following points:
Having read this article in detail, you are now ready to buy a perfect hair dryer that will fit your budget as well as requirements, and you can style your hair by just sitting at home and look like your fantasized model or a film-star!