Have a glance at our take on the Best Manual Treadmills in India in 2023, Under Rs.15000. Comprising some of the most high-rated treadmills which one can use and store with ease.
Presenting to you the top 6 Best Manual Treadmills in India for Home and Gym Use! This article will focus on bringing you the most loved and recommended manual treadmills. In this modern era, it is almost essential that one remains fit, however not every individual has ample time to spare for a trip to the gym or a jogging session.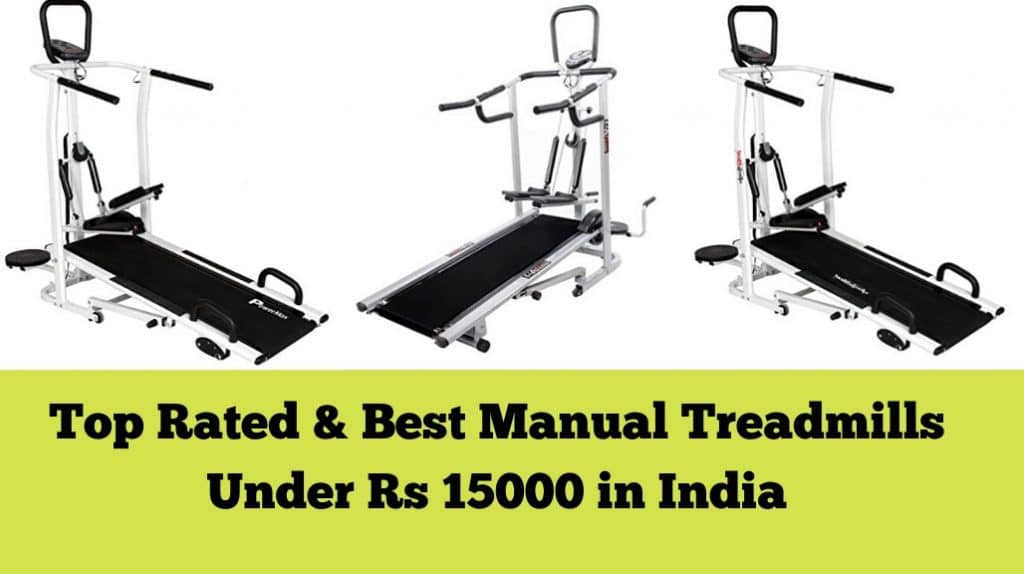 That's where gym equipment like manual treadmills come into play. Once you buy a treadmill you will have opened a doorway to easy and accessible fitness.
What is a Manual Treadmill?

Now you may have just been searching online for treadmills and might have ended up confused between the two types of treadmills- manual & motorized. Well, like the name suggests a manual treadmill functions solely on a person's manual capabilities.
The machine doesn't assist in the movement of the belt via a motor but rather moves along as a person starts to walk/run on it. It is basically as if you are pushing the ground to move along with you while you walk, jog or run.
A manual treadmill comes with a proper frame or body which consists of side handles, the front body and the belt (on which a person runs). We have listed 6 of the best manual treadmills in India below, these machines have been designed to be efficient and compact so that they fit in with your home environment.
Who Should Buy a Manual Treadmill?
If you're a beginner and wish to start getting in shape, then do NOT buy a manual treadmill. These treadmills require 10x more effort than a normal treadmill and not all beginners will be able to use them efficiently.
A manual treadmill is mostly recommended for people who have been exercising for a while and are in the habit of using a treadmill.
The reason behind this is that a treadmill is different from normal jogging. In a motorized treadmill, the belt/floor moves effortlessly as it is being powered to move by a motor. While in a manual treadmill you are required to apply pressure to move the belt/floor.
For a beginner, this may seem odd and they might hurt themselves trying to work out on the machine. An expert, fitness enthusiast or someone who has enough experience with treadmills will easily be able to operate a manual treadmill. Thus, the purchase of a manual treadmill is only beneficial in the case you are an expert in using it.
The Ultimate List of Best Manual Treadmills In India Under Rs 15000 in 2023:
Now coming to the Best Manual Treadmills in India Under Rs 15000 in 2023, we have managed to gather enough information in order to rank them according to their performance and customer feedback. If you are able to get one of these manual treadmills mentioned below, you are bound to stay in shape and get the level of fitness your desire. So let's check out the Best Manual Treadmills which people of the modern era are going crazy over.
1. Lifeline 4 in 1 Deluxe Manual Treadmill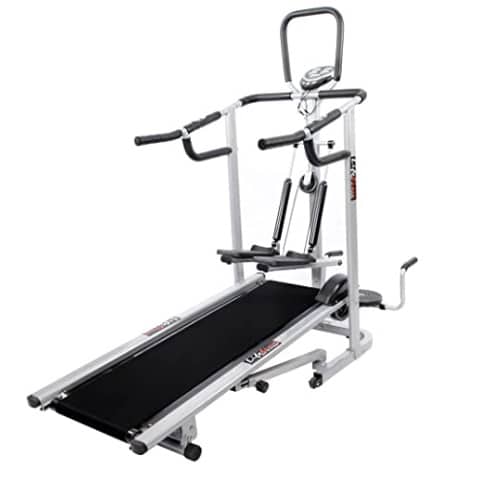 The Lifeline 4 in 1 is the best manual treadmill under 15000 INR in India in 2023! Yes, you heard that right. The very reason it is ranked at #1 is because of the amazing features it has to offer, at such an affordable price.
This machine consists of a manual treadmill, a stepper, a twister and bars for your triceps. So, after you have completed your jogging or running session your manual treadmill and are all warmed up you can use the other aspects of the machine. Lifeline is considered as the best manual treadmill brand in India.
You can head on to the stepper to work those legs with more vigour. Then move on to the twister which will help you exercise your waist and help get rid of some side fat. The twister plate has two rods attached to it which can be used for push-ups to pump your muscles.
The steppers are foldable so they do not come into your way when you are walking or jogging on the treadmill. In fact, the whole 4 in 1 Lifeline deluxe manual treadmill is foldable and can be stored easily without taking up much space.
This manual treadmill has 3 settings when it comes to the inclination of the treadmill. Thus you can adapt and challenge yourself with its different levels of inclination. This machine also comes intact with a hand-pulse system on the bars and an LED screen in the front so you can keep track of your calories, time, speed, distance and pulse rate.
2. PowerMax Fitness MFT-410 Manual Treadmill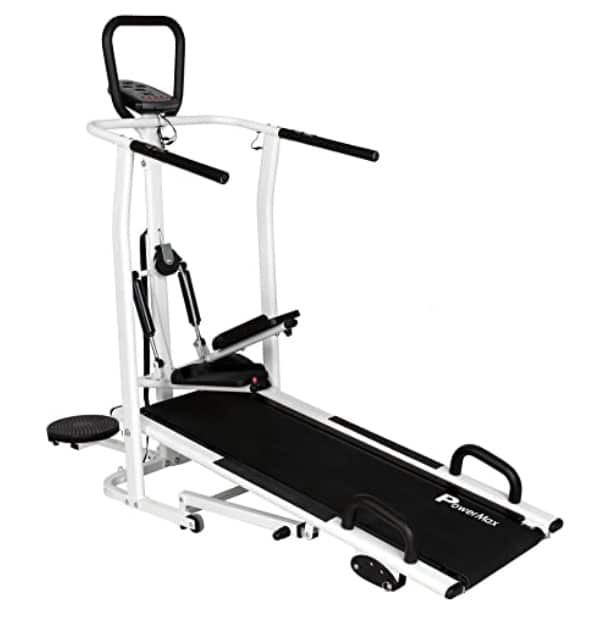 We have ranked this Powemax manual treadmill on #2 as it has some of the best features in the given price. The PowerMax Fitness MFT-410 is one of the best manual treadmills under 15000 INR. This manual treadmill is a 4-in-one machine that can satisfy any fitness enthusiasts.
It comes with a strong steel frame that is easy to assemble and disassemble. This machine consists of a manual treadmill, a stepper, push-up bars and a twister. The stepper is foldable and can be used to strengthen your legs, as it gives you a real experience of climbing stairs.
The twister is located in the front of the manual treadmill and will help you work on your waist and side fat. The bar in front will act as a perfect place to hold on to and continue your exercise. The push up bars on the PowerMax Fitness MFT-410 is located at the end of the treadmill. You can perform elevated push ups easily with these bars.
This manual treadmill can hold up to 120kgs of weight (the user's weight). You can test yourself with its 3-level inclination which offers great resistance thus giving you an intense workout session. It has a 1.8mm thick bubble etched multi-layer running belt which is considered as an Anti-Skid Running Belt. Thus you won't have to worry about falling while running.
The PowerMax Fitness MFT-410 is the best manual treadmill for home use, as it is foldable and won't take up much space. It also has an LCD display which will notify you of your time, calories, distance, speed and pulse. The pulse sensors are located on the side handles for efficiency.
3. RPM Fitness RPM810 Manual Treadmill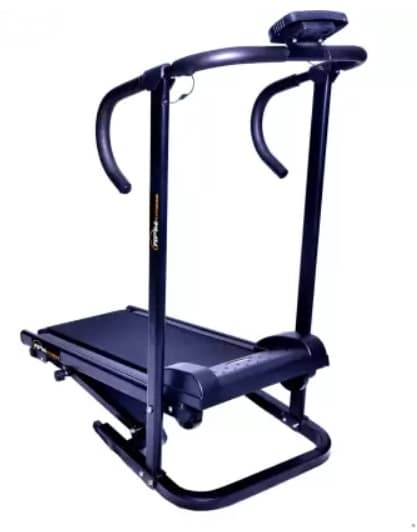 The RPM fitness RPM810 manual treadmill is the best manual treadmill for running. This is being said that it is not a multi-function treadmill like the two mentioned above. But rather this treadmill has only one purpose and that is to satisfy your running, jogging or walking needs.
With a fancy design that is also efficient this treadmill is the most wanted manual treadmill in the market. It has a strong metal frame which weighs around 38kgs and is 63cm (H) x 24cm (W). This manual treadmill has a running surface as big as 45cm x 15cm, with a smooth-running mat.
The treadmill has 3-levels of inclination which help initiate an intense workout. You can increase levels to challenge yourself and work those calves. The RPM Fitness RPM810 can easily be folded vertically so that after you are done it will take up less space. The RPM fitness RPM810 manual treadmill is the best manual treadmill for gym use.
This manual treadmill has an LCD monitor which is able to track your time, distance, calories and your heart rate. The heart rate is found out through the heart sensors present on the handles. This treadmill can handle weight up to 100kgs. The RPM810 manual treadmill is considered as the best manual treadmill for jogging.
4. Healthgenie 3412MT Non-Motorized Treadmill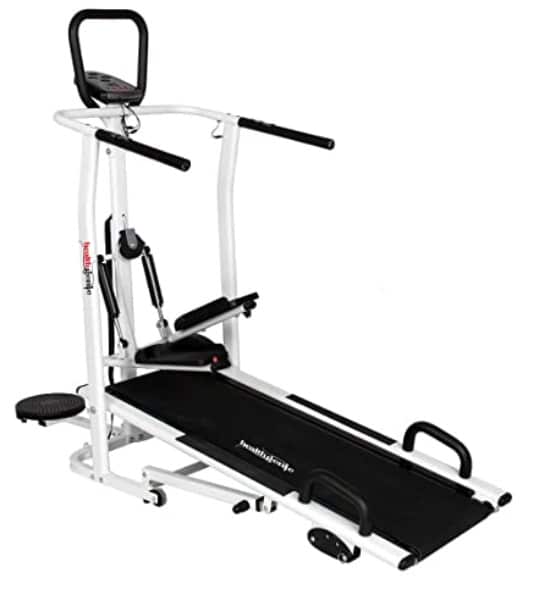 The healthgenie 3412MT is one of the best manual treadmill in India 2023. This multifunction treadmill has received a generous amount of positive feedback. It is a 4-in-1 machine which will keep you content with your physical exercise needs.
The Healthgenie 3412MT comprises a manual treadmill, twister, stepper and push-up bar. The 4 equipment needed to work on your whole body. The manual treadmill will help you warm up. The foldable steppers when used will strengthen your legs, these steppers do not come in the way while jogging.
The pushup bars attached to this manual treadmill are located at the end of the treadmill. While, the twister is placed at the very front, so you can work that side fat instantly. The platform size or the place to run on is of the size 114cm x 34cm.
The Healthgenie 3412MT is made up of firm and sturdy metals which can handle up to 120kgs of weight. This machine is easy to fold and store, this won't take up much space when you're done working out.
The sidebars have inbuilt heart-rate sensors which are shown on the LCD screen located in the front. Along with being able to view your speed, time, calories burned and distance covered. It also has buttons which can be used to set and reset the LCD monitor.
5. Lifeline LYSN5213 Manual Treadmill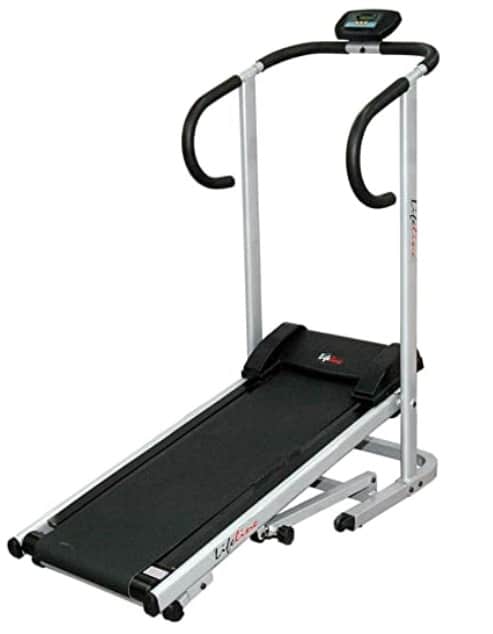 The Lifeline LYSN5213 is one of the best treadmill under 15000 rupees. This is being stated as this machine only has one function and that is to work as a manual treadmill. Unlike the other treadmills, this machine has a more unique design being wider and longer. Thus you can even do that long step jogging/walking.
With an iron pulley and smooth running mat, you can jog on this manual treadmill without having to worry about slipping or the machine making excess noise. For all those fitness enthusiasts who are looking for a machine simply for jogging and lunges, the Lifeline LYSN5213 is the best manual treadmill online.
This treadmill has a basic LCD monitor placed in the front attached to the front bar. This LCD monitor depicts speed, scan, distance, time and calories. It consists of wheels at the bottom which makes it easy to move around the house. This machine is easy to fold and store as it is lightweight.
6. Fitkit FK95 Manual Treadmill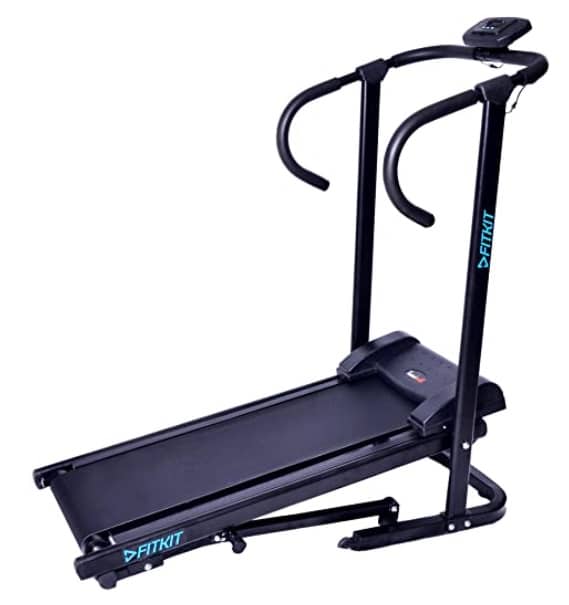 The Fitkit FK95 manual treadmill is one of the best manual treadmills in India, which is so appealing. It mostly comes in a shiny matt black type shade, which makes it quite a suitable choice for your house. As this manual treadmill is not a multifunction treadmill, it tends to take up minimum space.
This treadmill is compact and can be vertically folded without any hassle. With a running surface equal to 45cm x 14cm this manual treadmill gives you a spacious jogging experience. The running mat is made of fine quality that proves to be skid-resistant. The long and padded platforms give an even more pleasant experience.
The Fitkit FK95 manual treadmill is the best manual treadmill for weight loss, as you can even perform lunges on this treadmill. Along with that, the 3-level inclination gives a way to initiate a robust and intense workout.
This manual treadmill has wheels attached to it so you can move them around. While, you're working out those wheels can be put at halt so the machine does not move. The Fitkit FK95 has an electronic screen attached to it; located on top of the front hand-bar. This screed displays- calories, time, speed and distance.
How Manual Treadmill Works
Those were some of the best treadmills in India which have earned their position in our list of top 6 manual treadmills. But before you go to buy one, you should be fully aware of what manual treadmills are and how they work.
Now, we know you are enthusiastic and motivated but that doesn't mean you blindly buy any gym machine and expect yourself to profit from it. A manual treadmill has no motor and works on the efforts put in by humans.
Meaning the belt will only move when you make it move with your feet. Now that sounds easy but it isn't. You will require to have balance while doing so, that is why strong sidebars are provided for you to hold on to while using a manual treadmill.
When walking or jogging on a manual treadmill consider that you are pushing a piece of cloth down with your feet. A proper exercise session will burn a lot of calories as you will be required to do all the hard work while using these machines.
Manual Treadmill Buying Guide
Now that you are aware of what are manual treadmills and how they work. Let us brief you with a simple yet crucial point "how to buy a manual treadmill". To help you out we have constructed this manual treadmill buying guide.
1) Learn the Basics
Do you know how to work a manual treadmill? If you don't then think about your decision twice before buying it as many people aren't able to work out on a manual treadmill properly, as they are amateurs. And thus, turn out to hate these machines.
2) What is your demand:
Try figuring out the type of exercises you will be executing on the manual treadmill. This will basically help you narrow down the type of treadmill you need. Do you need a simple manual treadmill for walking and lunges or a multifunction manual treadmill to get your whole body worked out.
3) Branded are the best:
Consider buying manual treadmills from the best brands, which offer the ultimate quality of body parts. You do not want to land face first while jogging just because the treadmill you purchased did not have a high-quality running mat.
4) Budget:
What is your budget? Decide how much you want to spend on a manual treadmill and don't exceed that amount. Doing so will help you narrow down to few manual treadmills to choose from.
5) Deals:
Consider going through the warranty and guarantee offers which are provided with these manual treadmills. The more or extended period of warranty or guarantee that you get to opt for that treadmill company.
6) After sales benefits:
Do make sure to check about after-sale service. That if something goes wrong then you can contact the service centre or have experts come over to help you with your problem.
Manual vs Automatic Treadmill
With all the talk about manual treadmills you are bound to feel a little curiosity regarding automatic or motorized treadmills. The best way to clear your doubts about two things, is by differentiating between the two. To help you out we have created this table that will show the characteristics of both treadmills.
| | |
| --- | --- |
| Manual Treadmill | Automatic Treadmill |
| More affordable | Less affordable |
| Less comfortable; preferable for experts and people with intermediate knowledge. | More comfortable; beginners can use this with ease. |
| More effort needed and hence burns more calories in the same duration. | The motor does a lot of the work so less effort is needed and hence burns fewer calories in the same duration. |
| Lightweight and easy to store | Heavy and difficult to store |
FAQS
There are a few common doubts that many individuals have in their minds. To have these doubts cleared out before purchase will help benefit you to make a choice that will benefit you completely. To help you out we have come up with a few Frequently Asked Questions.
Is a manual treadmill good?
Yes, manual treadmills are good and very effective, but only if you know how to use them. Beginners might have a tough time trying to get used to the motion and how to work a manual treadmill.
Which manual treadmill is best?
The Lifeline 4 in 1 deluxe manual treadmill is the best manual treadmill based on ratings, feedback, material and efficiency.
Which treadmill is best for home use in India?
The PowerMax Fitness MFT-410 is the best manual treadmill for home use or the manual treadmill we mentioned at #2.
Can you run on a manual treadmill?
If you have prior experience with a manual treadmill and are an expert, then you can run on a manual treadmill. However, your speed will have to be limited as to much speed might cause strain on the treadmill.
Why are manual treadmills so expensive?
They are not expensive but are rather more affordable than automatic treadmills.
Can you lose weight on a manual treadmill?
Yes with regular exercise like jogging, brisk walking and lunges you can easily lose weight on a manual treadmill.
Are manual treadmills good for walking?
These treadmills are the best for walking!
Go Purchase one of the Best Manual Treadmills in India in 2023, Now!
Using a manual treadmill is not exactly a piece of cake but rather a challenging task. The result however, is quite astonishing as to how fit you become after using one. Since there is no motor present you have to do all the work by yourself and thus causes you to put in more efforts. We had above mentioned some manual treadmill reviews, we hope you found that to be of great use. So, what are you waiting for? Go and grab a manual treadmill for yourself now!