As an avid traveller, we are sure that you are always on the lookout for the best fares and connectivity options. Here are the top 15 best online travel sites in India for 2023 that promise to take you places.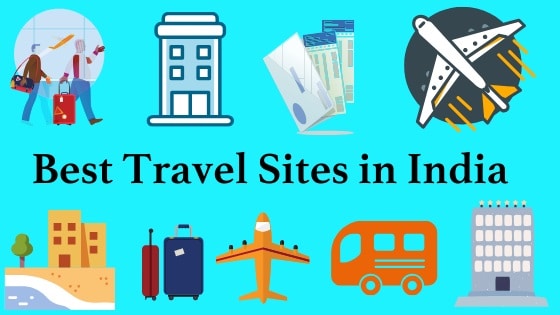 Believe it or not, you no longer have to stand in long reservation queues or worry about your hotel accommodation once you connect yourself to the top selling travel websites in India in 2023.
Flush with features and boasting of exciting deals and offers from time to time, most travel portals in India make the burden of booking tickets, managing itineraries, reserving staying places, and travelling by air or land easy.
From giving access to lucrative holiday packages to explaining the nuances of travelling abroad via interesting anecdotes and tips, these travel websites have to be explored to be understood well.
Here is the List of Best Travel Websites in India in 2023 :

The only point of consideration is that once you start looking for the best travel portal for your needs, you will come across hundreds of them, thus adding fuel to your confusion. To enable you to get the best results only, we have short listed the best online travel sites in India in 2023 for you – take a look.
1. MakeMyTrip
Makemytrip.com has been ranking high on the list of travel websites that serve as a one-stop shop for one and all. The online travel company is a household name nowadays and has been partnering with important players in the travel and hospitality industry for the past 10 years or so.
Having gained the confidence of millions of customers, this successful travel site had started its operations as a small start-up organization in 2000. However, courtesy its relentless efforts and the best-in-class service provisions, MMT has notched many milestones and continues to do so everyday.
Some of the ace services provided by MakeMyTrip include secure payment options, reliable ways of making payments online, easy methods of compliant redressals, simple cancellation policies, etc.
It caters to the flight ticketing, holiday package bookings, accommodation, and all other travel-related requirements of travellers in affordable ways.
So, whether you intend travelling from your home town to an exotic location in Europe, or plan to book a holiday for two in Bhutan during the peak holiday season, MMT caters to all international and domestic travel needs in all conceivable ways.
2. Yatra
Yatra.com, the first top for travel agents, corporate frequent flyers and casual backpackers alike, is a premium travel site in India.
By logging into Yatra.com, users can be assured of getting the best prices and cashback deals on their air, train and bus bookings; hotel and accommodation facilities; holiday packages; etc. It is also possible to book car rentals from this site in a number of towns and cities in India and abroad, with at least 5000 large cities being covered in its auto rental network.
Yatra.com is an online travel agency of high repute. This travel search engine is headquartered in Gurgaon, Haryana. The brainchild of Manish Amin, Dhruv Shringi, and Sabina Chopra, it came into being in August 2006. By April 2012, Yatra had emerged as the second largest travel website in the country.
It is active 24×7 and allows users to book train tickets, cars, air tickets, bus tickets, and accommodation from just about anywhere, anytime. Especially known for its international and domestic holiday/vacation packages, this site is not to be missed by travellers.
3. Cleartrip
Headquartered in Mumbai, Cleartrip Pvt. Ltd. has scaled the ladder of success in the shortest possible time. This online travel company offers online booking services fir train and flight tickets, domestic / international holiday packages, and hotel reservation services.
It has helped travellers get to the locations of their choice and explore the many bounties of the world in the most affordable of ways. Be it in India or abroad, there is no dearth of travel options to choose from at this site.
It goes a long way in helping users plan corporate tickets, holiday packages, tickets, and a lot more. One of the most important features of this website is its cheap fare calendar that helps travellers select the best possible rates as per their budget, travel dates, etc.
Cleartrip.com is best known for its safe payment options, safe payment options and easy modes of booking deliveries.
4. EaseMyTrip
Leaving many existing travel players in the race behind, EaseMyTrip.com has become fourth largest flight booking site of India. Started by Pitti brothers in year 2008, this Delhi-based travel company is ruling in the online travel space offering competitive air ticket pricing and best travel solutions.
Without investing much on branding or marketing activities, it has won the trust of more than 8 million direct customers through excellent 24X7 support services. Last year, the turnover of the company reached to Rs.2000 Cr without any VC funding. In fact, it is the only big travel portal that is in constant profit since its inception.
EaseMyTrip gained popularity among the users for its USP of charging Zero Convenience Fee and giving transparency to the customers in terms of price.
It has 28 branch offices across India, Thailand, Singapore, Dubai and Maldives. The B2B network of this travel company consists of 65,000 Travel agents, 2500 Franchise Outlets, 7000 Corporate, 1600 Distributors and 640 Whitelabel solutions.
Along with cheap flight tickets, the company also offers great deals on hotels, bus tickets, holiday packages and MICE packages.
5. Goibibo
Goibibo, launched in 2009, is a branch of Ibibo Group. Goibibo happens to be India's largest hotels and air aggregator; it is noted for providing trusted and reliable services and user experiences to travellers.
Oft ranked as number one mobile app in the travel category in India, Goibibo.com offers the best deals in flights and trains. It provides regular updates and information regarding flights, trains and hotels.
With loads of cash back features in the form of GoCash and other offers, Goibibo .com is now a trusted portal for domestic and international travellers desirous of availing the facilities of the best online travel sites in India. Users like to look for the best deals on the desktop or its mobile application.
6. Expedia
Expedia.co.in, is a under the banner of Expedia Inc. is very useful for booking airline tickets, car rentals, cruises, hotel reservations, vacation packages, other attractions and services, and a lot more on the desktop or via its mobile app.
It has the smartest technology in place for reservation systems for hotels mad flights. This online travel site has been operational for over 2 decades now and is noted for its attractive deals and offers for domestic/ international flights, holiday packages, bookings for over 7000 exotic locations, etc.
7. Thomas Cook
Thomas Cook (India) Ltd., an integrated travel financial services, and other travel services providing company, has its headquarters in Mumbai. From booking international /domestic holidays to facilitating Foreign Exchange, Visa, Passport, insurance for travel purposes, etc. it does it all.
After having established its very first office, Thomas Cook has extended its presence to all other parts of the country. Today, TCIL offices and counters are located in more than 233 locations (inclusive of 23 airport counters) spread across 94 cities in India, Sri Lanka, Mauritius, etc.
The Company's consumer-centric services have won it many accolades in the travel industry. TCIL has partnered with over 23 airlines and offers the best ever deals on tickets and accommodation.
8. Cox & Kings
Cox and Kings, established in 1758, happens to be one of the oldest and most reputed travel companies headquartered in India. This holiday /education travel group boasts of subsidiaries in the Netherlands, the UAE, US, Canada, the UK, Australia, Japan, Singapore, and New Zealand.
With its operations spread across 4 continents and 22 countries, Cox & Kings Ltd. is capable of searching and finding attractive deals and offers for air tickets, hotels, hotels packages etc. on the basis of the location of its users. Headquartered in Mumbai, Cox and Kings is often the first choice for off-location corporate conferences, comfortable hotel accommodation, flight deals, etc.
9. Oyo Rooms
OYO Rooms, which is commonly referred to as OYO, is a popular hotel brand in India. It operates and aggregates a particular standard of hotel rooms. Currently, it is operating in over 200 cities in India, and in Malaysia.
Established in 2013 by Ritesh Agarwal, the CEO of the Company, Oyo Rooms had triggered off its operations with a single hotel located in Gurgaon, way back in January 2013. Today, it hosts over 7500 hotels and is considered to be among the largest budgeted hotel chain in the country.
When users book a room in one of Oyo Rooms designated ho tells, they can expect a particular standard of amenities, be it anywhere in the country. This makes it easy for them to decide upon the best alternative without having to pinch the pocket.
10. CozyCozy
Recently launched in India, CozyCozy is a fast-growing accommodation metasearch engine that aggregates all existing online accommodation solutions in one place. It brings all options to a single site, from hotels, hostels, holiday rentals, and luxurious beach villas to more unconventional accommodation types like treehouses and boats. In short, it saves you from website hopping and the never-ending accommodation search process.
The platform lists accommodations of booking.com, Airbnb, VRBO, and many more. It brings cheap to the most luxurious hotel options. CozyCozy is currently growing in 25+ countries. The platform provides a full range of accommodation options available, so you're guaranteed to find the place that best meets your needs and your price expectation.
What we love about CozyCozy is that it is a hub of all hotels, guest houses, homestays, villas, bungalows, hostels, boats, treehouses, beach cottages, and more. You could even find some FREE options, like home swaps. Customizable search, multiple filters, results displayed on a map, and tools to help you find accommodation that meets your desires.
11. Musafir
Launched by Sachin Gadoya, Sheikh Abdullah Muhammed Al Thani and Albert Dias, Musafir.com is a UAE origin travel based organization.
In 2010, the Company had first made its presence felt in India after teaming up with Sachin Tendulkar, its popular brand ambassador for all travel operations.
With link-ups spanning 3000 airlines and airports, 80000 accommodation facilities, and much more, Musafir.com is a coveted choice from travellers looking for the best ticketing and accommodation options. This website is also known for providing some of the most lucrative deals and offers during holidays and peak travel seasons.
12. Travelguru
Travelguru.com, often rated as one of the most visited Indian travel sites online, is a treasure house of treats when it comes to booking air tickets, hotel facilities, etc.
Packed with the best features for comparing and booking different travel services, the Company has set the highest benchmarks in terms of convenience of booking holiday packages, flights, etc.
Travelguru.com is the brainchild of Jarad Fisherand Ashwin Damera; it was established in 2005 while the duo were students at Harvard Business School. Overall, this website has shot into prominence because of its transparent booking modes and high quality services.
13. Ixigo.com
Ixigo, founded in 2007, is a popular travel search engine that is based in Gurgaon, India. Its mobile travel application is available on Android Windows Phone and iOS. Ixigo aggregates various travel websites for comparing information and deals.
Its Aloke Bajpai (CEO) as well as Rajnish Kumar (CTO) happen to be the principal founders. As one of the leading travel search/planning websites in India, it is seeing new levels of success with every passing day. By using data and information collated from over 100 leading travel websites, this traveller's delight gets the best travel booking delights for its users.
14. Via.com
Via.com, which was founded as Flightraja.com, is based in Bangalore, India. This online travel company and portal has solid networking channels with over 20,000 partners located across 1,000 cities and towns in India.
Established in July, 2006, it is lead by Amit Aggarwal who is the CTO and Co-Founder, and Vinay Gupta CEO of the organization. Via.com nurtures over 60 million satisfied customers and has annual revenues notching 700 million USD and above. With the cheapest fares, and the best partnering with good hotels and travel carriers, this site is a must-visit indeed.
15. RedBus
Founded in August 2006 by Phanindra Sama, Charan Padmaraju, Sudhakar Pasupunuri, Rebus is thriving under the leadership of Prakash Sangam, the CEO of the Company.
This one stop portal of bus bookings helps users get their tickets on the go and provides easy payment solutions to make their journey less tiring and overbearing. The mobile application for Redbus helps users go their way by guiding them to the best seats, the boarding station, and more.
With easy booking facilities, favourite payment options, and scope for secure transactions, RedBus helps travellers get to their destination without much ado.
16. Abhibus
Ever since it came into being in 2008, Abhibus has always topped the charts as one of the most loved platform for online bus tickets booking. Here, it is possible for users to select their favoured bus time, travel route, etc. from over 1,800 bus operators.
It's really simple to book bus tickets on this website. All that users need to do is finding the ticket of their choice on the Ticketgoose search page, select a seat and pay securely via online payment gateways. It is possible to compare up to 4 buses and view the available seat positions present on each search page itself. It is also easy to go cashless and paperless on this site!
17. Booking.com
Booking.com, the online accommodation booking portal of high repute, had started in 1996 as a start-up in Enschede. The site has over 1,000,000 properties that it has partnered with, and is known to deal with over 900,000 room reservations everyday.
It has very simple room reservation and cancellation policies and helps users get to the place of their dreams in just a few steps. Reliable and quick, this travel portal covers many destinations in India and is a windfall for travellers looking for the best deals for their stay in such places.
Making Travel Easy
Hoteliers, travel agencies, flight booking websites and all others have managed to gain an extra mileage by getting in direct touch with their patrons. On the other hand, all those wanting to get some extra savings in their pockets are finding it easy to reserve their travel itinerary and hotel rooms online.
With a lot in store already, and more in the offing with technology taking over like never before, travel websites in India are reaching out to the masses through internet and wireless enabled platforms like never before.
If you are vendor or consumer looking for the best travel deals online, then these portals are where you should find yourself before going elsewhere. They help you book your flight tickets, train tickets, bus journeys, holiday packages and hotel rooms from the comforts of your room, and without trying too hard.
So, instead of waiting any longer, start checking out all that is in store for you at these websites for travel booking in India on 2023, you will surely be surprised to see the results and good savings that keep coming your way.