Read about the Best Pav Bhaji Masala Brands in India in 2023 that help you spice up the most loved Indian street food that too right away in your kitchen. Know what makes a good pav bhaji masala and how different brands claim to have a secret formula to enhance your ordinary pav bhaji.
This review of the Best Pav Bhaji Masala Brands in India is compiled after a detailed study of the various spices that blend to make a good pav bhaji masala. It studies the different brands available in the market and their so-called acclaimed magic formula. We also unfold the secret behind what keeps these spices fresh and aromatic despite being packaged and sold in retail boxes and pouches. But before that, we tell you why this street food is so popular throughout India and the origin of this common man's dish that has made a mark for itself from busy street stalls to high-end dining buffets and even to your humble kitchen.
So pick one of the finest pav bhaji masalas from our list and see how your ordinary dish transforms into the most relished and delicious pav bhaji, giving even the finest Mumbai pav bhaji a run for their money.
Pav Bhaji – The Great Indian Combo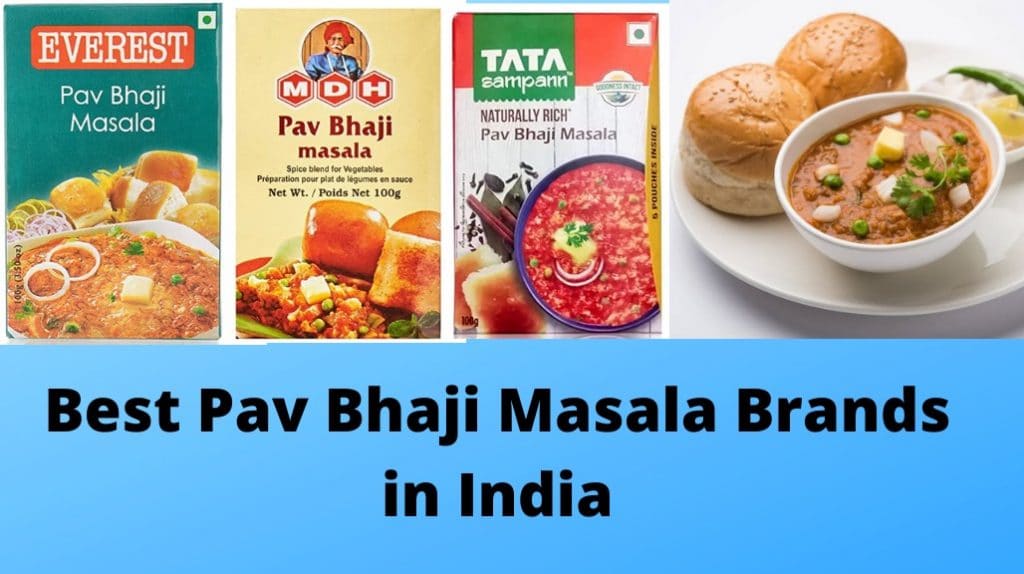 Originally born in the streets of Mumbai, this classic dish is a combo of 'Pav' or buns/bread and 'Bhaji' which is essentially a mix of healthy and nutritious green vegetables. The vegetables are cooked together, mashed into a thick gravy-like consistency, enriched with the goodness of aromatic pav bhaji masala (which is a blend of various Indian spices), served hot with a dollop of melting butter on top of it, and garnished with finely diced onions and coriander leaves and accompanied by a slice of fresh lemon.
Today, the humble pav bhaji has various new versions added to its list like-paneer, cheese, Kolhapuri, Kala, Jain, Punjabi, and even soya or mushroom pav bhaji available throughout India. However, what remains consistent in all these variations is the use of authentic pav bhaji masala that gives it a distinct taste and flavor.
A good pav bhaji masala is a perfect blend of Indian spices in the correct and most accurate combination that enhances the taste, aroma, and visual appeal of your humble vegetable dish making it smell and taste so heavenly, that even your neighbors envy the aromatic sniff arising from your kitchen. In this review, we aim to bring you close to the secrets of the best pav bhaji masala in Mumbai.
Take Your Pick from the Top 10 Pav Bhaji Masala Brands in India in 2023
Reviewing the 10 Best Pav Bhaji Masala Brands in India, we take you on a guided tour of taste and flavorful aroma learning the secrets of spices, their perfect blend, and how different brands claim to make the most authentic magic formula of the best pav bhaji masala.
1. Everest Pav Bhaji Masala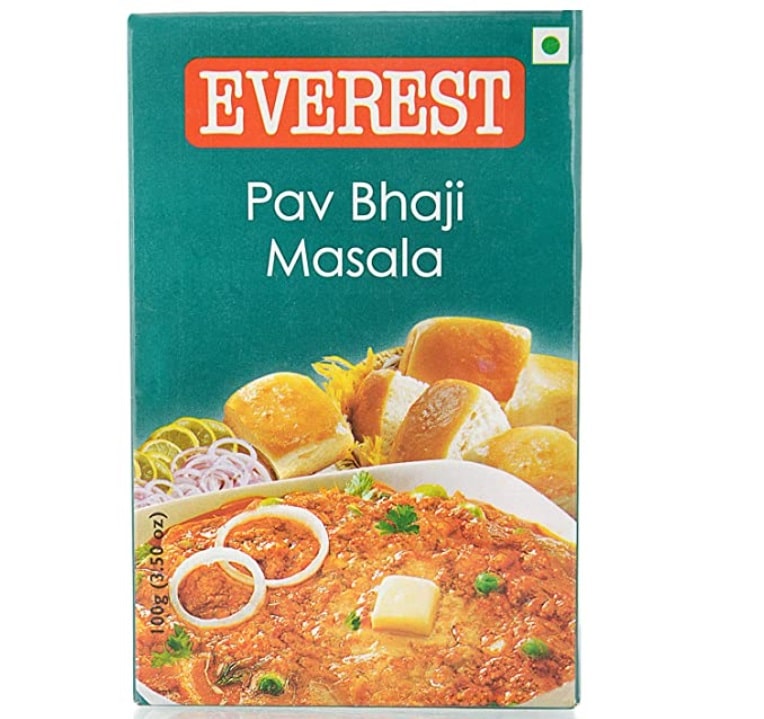 When searching for the best pav bhaji masala brand in India you surely can back upon a brand like Everest that has a legacy of more than 50 years. As the largest spice selling company in India Everest Masala is known for selling more than 45 different spices either in pure or blended versions.
The Everest pav bhaji masala is high in quality using some of the finest spices in the correct proportion that are delicately roasted and blended to impart supreme taste and aroma to your recipe.
The Everest Pav bhaji masala is a combination of more than 15 closely hand-picked spices like anistar, black cardamom, caraway, cassia, cloves, dry ginger, dry mango, and fennel each imparting its richness and culinary goodness to this vegetarian dish and giving you the same taste in your kitchen that you relish on the busy streets of India.
2. MDH Pav Bhaji Masala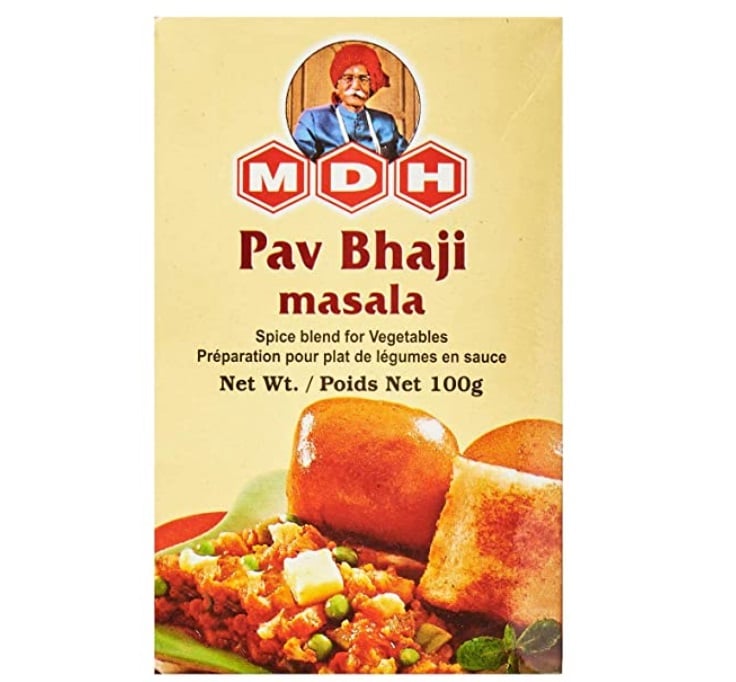 If you are searching for the best pav bhaji masala brands, then the MDH Pav Bhaji Masala is high on our list of recommendations. Their blended spice is a mixture of some finely chosen raw spices that come directly from their centers of production and then grounded in automatic machines of the company to assure you of the best quality and taste.
MDH has five production units throughout India and a few across India borders thus reaching out with their quality and taste internationally. They offer both fine and coarsely grounded spices so that you can spruce up your recipes as per your taste and culinary needs. Their pav bhaji masala is indeed a market leader that can give your humble mix of vegetables an exotic taste.
3. Kohinoor Mumbai Pav Bhaji Masala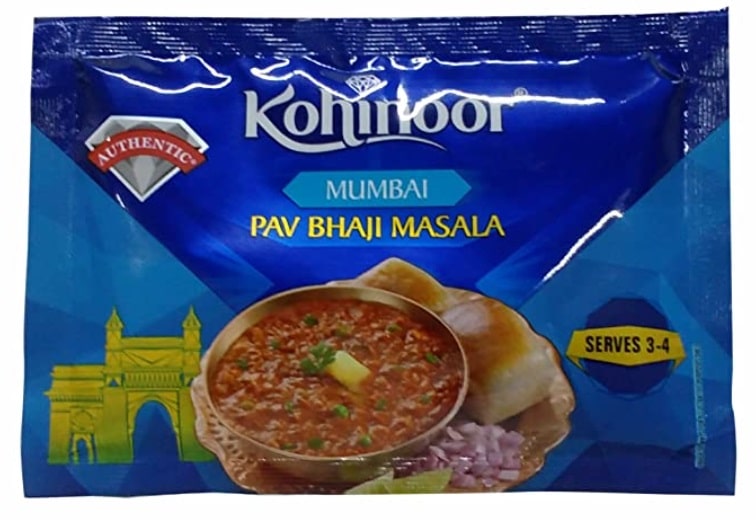 Next on our list is ready to use flavorful spice blend of Kohinoor Pav Bhaji Masala that comes from Kohinoor India in an easy use one-time pouch that serves about 3-5 people. The spices are finely textured and impart a rich red color to your dish. The label on the pouch distinctly indicates the nutritional value that each serving of the spice offers.
With just 351 calories, 11g of total fat, 1.5g saturated fat, 0.1 of trans fat, 52g of carbohydrates, and 0.5g of sugar you get a wholesome taste, flavors, and the goodness of health in each serving.
Blended with the correct measures of red chili powder and pomegranate seeds or anardana, it adds a zing of spice and tanginess to your authentic pav bhaji. The spice comes in a beautiful 4-layer packaged pouch that retains the freshness and aromas of the spices intact assuring you quality and outstanding taste.
4. TATA Sampann Pav Bhaji Masala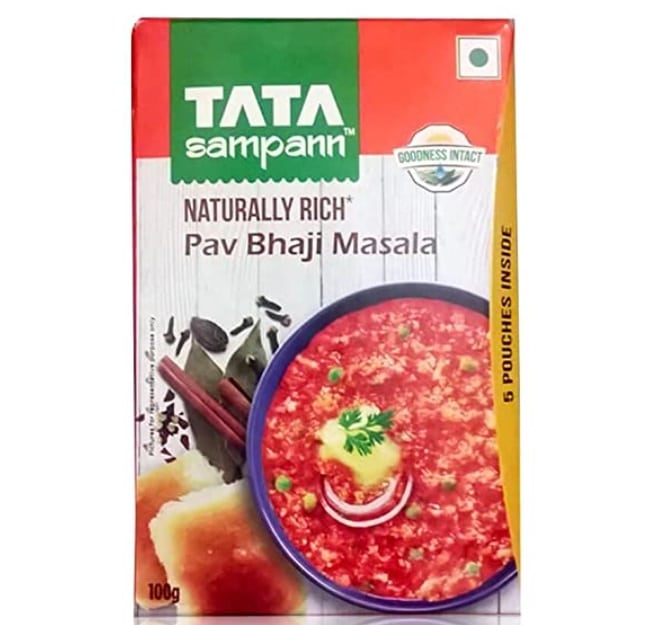 Bring home the magic of Chef Sanjeev Kapoor's culinary skills with the TATA Sampann Pav Bhaji Masala that enhances the taste, aroma, and flavors of your dish without much effort. Packed with a recipe specially created by the chef himself and is made of whole spices that preserve the natural oils and aromas of the spices.
With dagad phool or stone flower as the star ingredient of the TATA Sampann Pav Bhaji Masala has a strong earthy and authentic flavor making your home-made bhaji close to your favorite street-side food. Available in three retail packs size 8g, 14g, and 45g, it gives you the convenience to try your hands at this authentic street food as per your culinary needs.
Packed with the utmost care and high hygiene standards, this pav bhaji masala mix is high on our recommendations and a must-try if you are a fan of authentic Indian dishes made with traditional spices.
5. Suhana Pav Bhaji Masala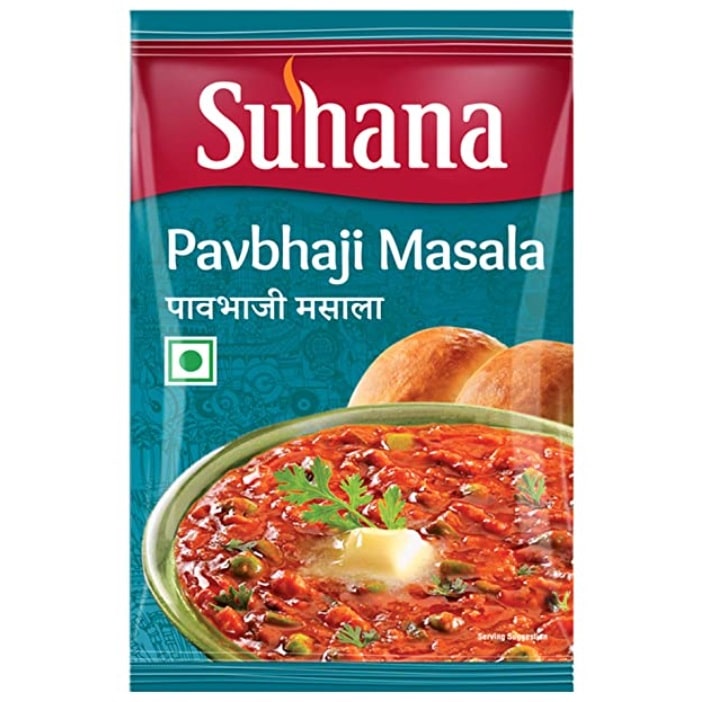 Suhana Pav Bhaji Masala is another unique blend of spice mix that adds taste and extra flavor to your vegetable mix, making your home-made version of street food exotic. Loaded with the richness of spices like star anise, cloves, cardamom, bay leaf, caraway, nutmeg, mace, and trifalla that are finely grounded and packed in a multilayer pouch, this spice mix is just the perfect blend of taste and health.
Free from colors, artificial flavors, and preservatives, this pav bhaji spice mix contains no added msg and is purely safe for vegetarians. For longer shelf life, it is recommended to store the spice in a cool, dry place away from sunlight.
6. Keya Tawa Pav Bhaji Masala
Get a taste of the best pav bhaji masala with the Keya Tawa Pav Bhaji Masala mix that is grounded coarsely to keep intact the flavors and aromas of the whole spices used in the formula. Manufactured with no added colors or preservatives this tawa pav bhaji masala uses fine hand-picked spices from the best farms and is then blended in the most accurate proportions to add taste and flavor to your home-made pav bhaji.
The pre-roasted spices used in the pav bhaji masala impart a unique aroma and savor to your dish, enhancing its taste and visual appeal.
7. Badshah Mumbai Pav Bhaji Masala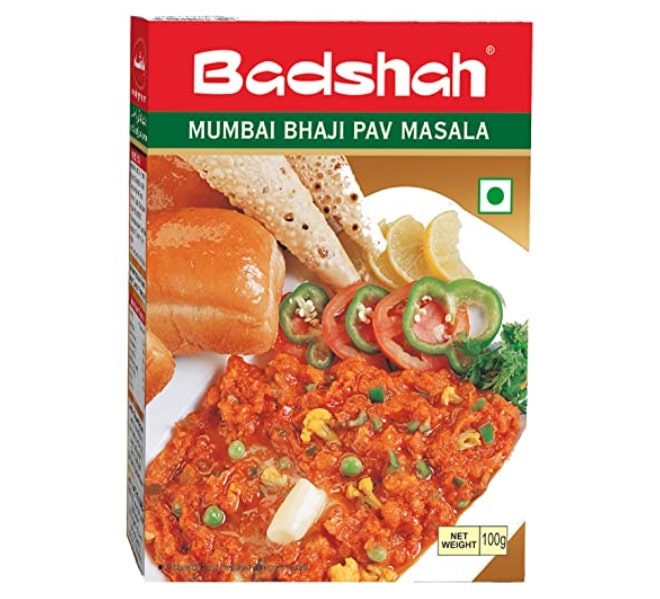 Made with the choicest seasonings and incredible Indian spices, the Badshah Mumbai Pav Bhaji Masala brings to you the most authentic and secret recipe of the Mumbai pav bhaji. Loaded with high nutritional value and enhanced taste, it is a perfect blend of whole and ground spices to give you the best of both.
With more than 15 exotic spices like Kashmiri Red Chilli, White pepper, cassia, celery, kachari, and cinnamon, the Badshah Mumbai Pav bhaji masala is just the answer to getting the perfect Mumbai pav bhaji right on your table.
The blend of spices gives your pav bhaji a restaurant like taste and consistency that is unmatched and outstanding.
8. Pure and Sure Organic Pav Bhaji Masala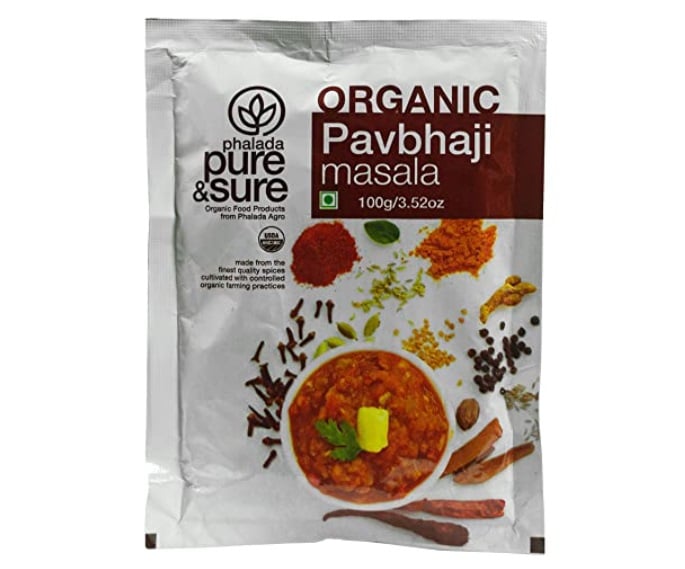 Practicing organic farming and procuring the best quality spices from their farms, the Pure and Sure Organic Pav Bhaji masala is one product that you can be sure of when it comes to incorporating health and taste in your food. As a purely organic spice mix, it is free from added preservatives and artificial colors. The advanced packaging keeps the freshness and nutritional value of the spices intact, giving you a taste of authentic Mumbai pav bhaji that too within the comfort of your kitchen.
With high-quality standards and assurance of purity and great taste, this spice mix is surely high on our recommendations.
9. Catch Pav Bhaji Masala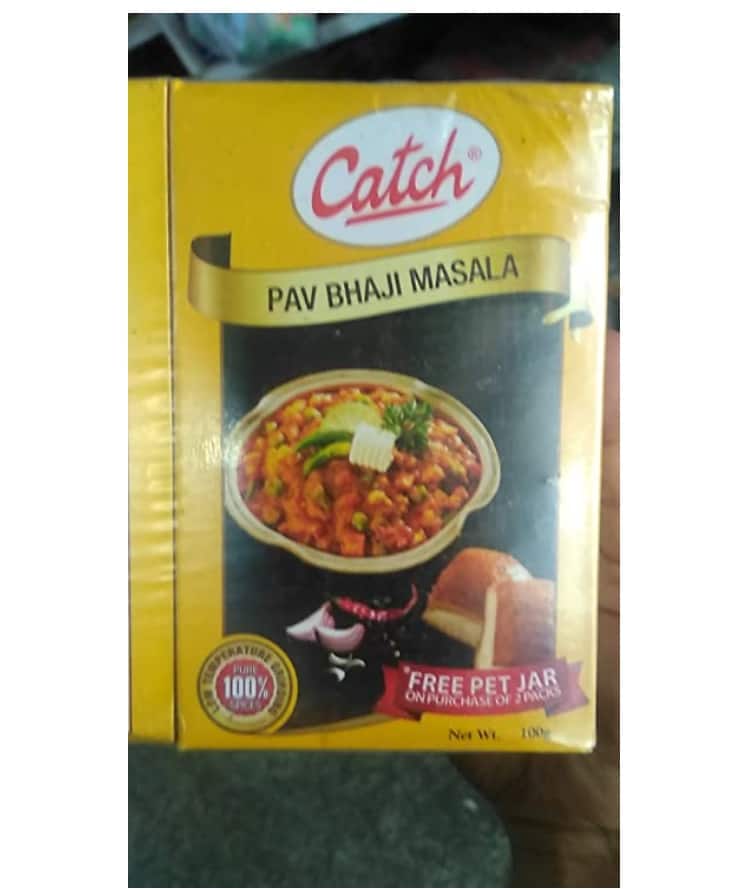 One of the best pav bhaji masalas in the market, pick the Catch Pav Bhaji Masala as a relishing spice mix to make your street food specialty even better. While the catchy tagline of this brand keeps ringing in your ears, its tangy taste and aroma have a lasting effect too.
Made from the finest spices that are grounded to restore the freshness and aroma, this pav bhaji masala imparts a special color, consistency, and taste to your bhaji and can also be used for enhancing the taste of mixed veg and tawa pulao. A purely 100% vegetarian product, this masala mix is coarsely grounded to retain the natural oils of the spices while capturing their taste and savor.
10. Masala Tokri Pav Bhaji Masala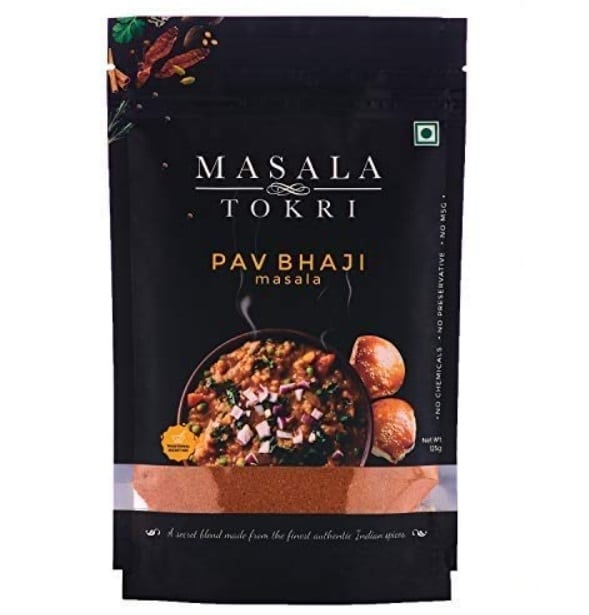 Enjoy a mouth-watering taste of the Mumbai style pav bhaji right in your kitchen with the Masala Tokri Pav Bhaji Masala that is a perfect blend of Indian spices like cloves, Red Chilli, Cinnamon, Mango powder, and a whole lot of other authentic spices. Freshly ground, the spices for this mix are collected from different farms and then mixed in accurate proportions to create this magic formula.
With the hallmark of premium Mumbai style pav bhaji taste, this brand gets close to replicating the flavors and taste of the street food that has taken India by a storm and is relished equally by people from different walks of life.
FAQs related to Pav Bhaji Masala
Still, wondering how a humble pav bhaji masala can make a whole lot of difference to your most relished street food? We answer some common FAQs to help you clear the air…
What is the best Pav Bhaji Masala?
While each of the available brands of Pav Bhaji masala claims to be the best, the one that is high on our recommendations is a spice mix that is loaded with authentic Indian spices in the most accurate proportion without empowering the inherent taste of the vegetables that go in to make a perfect bhaji. Both Everest and MDH pav bhaji masalas are high in nutritional value as well as taste and aroma.
What does Pav Bhaji Masala contain?
Pav Bhaji masala is a blend of various Indian spices just in the right proportion s as to achieve a great mix of taste, flavor, and aroma. It consists of some whole spices and some grounded spices that are coarsely grounded into a spice blend and stored for use anytime. It is a combination of spices like Red Chilli, cumin seeds, coriander seeds, black pepper, cinnamon, clove, black cardamom, fennel seeds, turmeric powder, and dry mango powder.
Is Pav Bhaji Masala the same as Garam Masala?
While the basic ingredients are the same in both pav bhaji masala and garam masala yet the quantity and proportions are slightly different. While garam masala has more warming spices, the pav bhaji masala is a bit mild and richer in aromatic flavor.
Is Pav Bhaji good for health?
Made from a whole lot of green vegetables like capsicum, carrots, cauliflower, green peas, and tomatoes, it is high in nutrition along with the carbohydrates from potatoes. By moderating the amount of butter and oil used in its preparation, it can be made even healthier and low in calories. The blend of different Indian spices used aids in the easy digestion of this street food besides increasing its flavor.
Final Thoughts on the Best Pav Bhaji Masala Brands in India in 2023
With our review of the best pav bhaji masala brands in India in 2023, you can easily pick one to enjoy the taste of this street food at home without having to plan your next trip to Mumbai to enjoy a plate of authentic pav bhaji. With a deeper understanding of the spice mixes that make up this magic formula and how you can use it to replicate the taste of Mumbai pav bhaji at your home, you are surely better placed to surprise your family members this weekend with a pav bhaji treat.
So, go pick your favorite pav bhaji masala mix and unfold a world of aromas and authentic taste right in your kitchen.