Confused between the best dog food brands in India in 2023, and wondering which one to choose. Here is your list top pet food brands you can consider.
Finding a good dog food brand is often challenging for pet parents, so here is your list of the top 10 and best dog food brands in India in 2023.
Good health depends on good nutrition, so you can never go wrong with the choice of a dog food brand. However, with the availability of plenty of brands in the market, you cannot just trust anyone, as it's a matter of your pet's health.
Feeding quality food prolongs the health of your furry friend while making his coat shiny, and that's something every pet parent wants. Here in this article, you will find the top 10 dog food brands that are trusted by thousands of pet owners.
How Did We Shortlist the Best Dog Food Brands in India?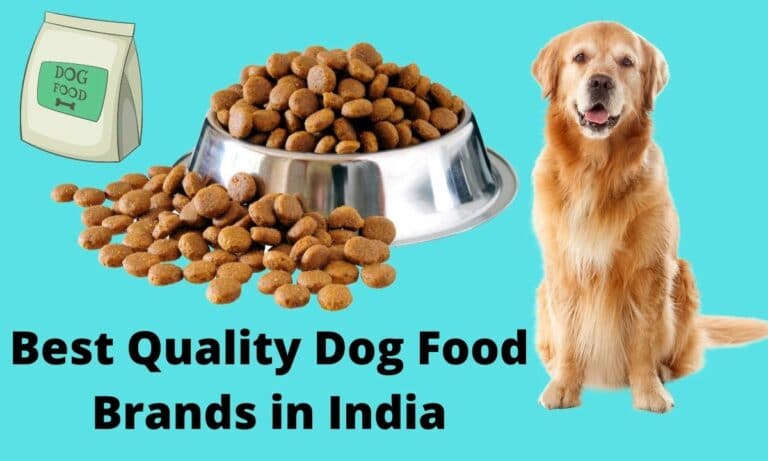 Just searching for the best dog food brands will bring numerous results, thus, choosing a good brand can be daunting. To curate this list, we did extensive research and asked several pet experts as well.
Moreover, we only shortlisted the brands that are into the market for years and are known for their quality food.
You can rest assured that all the dog food brands that we have covered here do not contain any harmful or unallowed substances in their pet food.
Types of Dog Foods: Different Types of Food for Different Needs
Dog food companies offer a wide range of foods for every dog. Some pets prefer dry food, whereas some dogs love relishing wet or grain-free food. Before we talk about the top dog food brands, it would be great to know about the different types of dog food.
We have even recommended brands based on the type of food they are popular for to help you make an informed decision.
(i) Kibble or Dry Dog Food: Perfect for Quick Treats and Everyday Meals
Perhaps the most common and affordable dog food comes in crunchy bite-size shapes, making it easier to feed. Most brands in India offer dry food, and the nutritious value is also on the higher side.
With a moisture content of around 6-10%, kibble is easy to travel with, so you can take it camping and keep your pet happy by feeding him what he loves. When it comes to meal preparation time, dry dog food requires minimal effort and comes ready to serve.
Another reason that makes kibble suitable for pets is the hard texture, which promotes healthy gums and teeth. Furthermore, there are different options available in dry dog food as well, so you don't have to feed the same food to your dog every time.
As a pet owner, be aware that not all kibble foods contain the same ingredients and do not have the same nutrition value. So, it would be great to check the ingredients beforehand.
(ii) Semi-moist Dog Food: To Keep Your Pet Feel Full
Some pet owners also call it wet food since it has a thin texture. Available in resealable pouches, semi-moist dog food is convenient to pour into the pet's bowl. These foods may have different shapes and textures, while some brands offer them in mashed form, making them easy to consume.
With a higher moisture content of 60-90%, these foods are good to keep the pet hydrated. The resealable bags make it ideal for carrying around, just make sure to carry a leak-proof bowl as well.
Wet or semi-moist foods may contain some artificial colorings, preservatives, and flavours which pet owners should always take into consideration. You can use moist foods as an occasional treat, and they can also be fed on a regular basis because of the high nutritious value.
Only choose wet dog foods that come with completely natural labels.
(iii) Canned Dog Food: Easy for Traveling
Most dogs love the taste of canned foods, and if you have ever tried feeding it to your pet, you will surely agree. Canned dog foods are readily available, and you can quickly serve them into the bowl.
While the consistency of the food varies from brand to brand, these foods are usually wet and come in a semi-moist form. The cans are totally leak-free, so you can toss them into your backpack and feed the pet whenever required.
Another benefit of canned food is the amazing shelf-life since these foods are packed using vacuum technology that prevents oxidation. As compared to other dog food types, canned foods can be pretty expensive to serve on a regular basis.
Also, you need to keep a can opener handy, and once opened, you must serve the entire can.
(iv) Home Cooked Dog Food: The Healthiest Meal Option
If nutrition is your priority, there is no better choice than home-cooked food. A home-cooked meal is almost similar to what you cook for human family members but should contain more meat content.
Feeding too much kibble may lead to the pet getting bored, so feeding some home-cooked food is a great idea. One thing to keep in mind when preparing a home-cooked meal for the dogs is controlling the ingredients.
Moreover, preparing a meal for your pet can be pretty time-consuming, making it a perfect option for occasional meals. You also have to be knowledgeable about what to feed the pet and the contents you can add to the meal to make it healthy and nutritious.
(v) Raw: Good for Bones and Gut
Raw dog food should be biologically appropriate and suitable for the pet. Moreover, you cannot feed all types of raw foods to all breeds, so this is something you need to be careful about. Brands market the raw foods by BARF diet, and you can quickly serve them to the dog.
BARF meals are rich in calcium, and phosphorous, the two healthy minerals for your pet. Also, the prep time for these foods is low, and you can directly feed them without any preparations.
Note: Do not feed raw dog foods to pets with a compromised immune system, as digesting these foods can take more time. Also, these foods have higher fat content and should not be fed on a regular basis.
Top 10 & Best Dog Food Brands in India 2023: Brands You Can Count On
Choosing the best dog food brand in India is one of the trickiest decisions pet owners have to make. Not just the ingredients, but there are plenty of things to look for, and all of these sum up into the best dog food brand.
Below, we have listed the top dog food brands you can trust and expect your pet to stay healthy and happy.
1. Royal Canin : Best Overall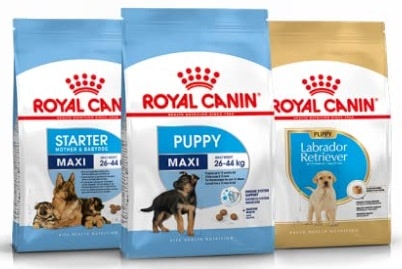 The list of best Dog food brands in India in 2023 is incomplete without Royal Canin, since it's a preferred choice by pet owners. What makes this brand a trusted option is high nutrition value and quick availability. In addition, their dry dog food is extremely popular among pet parents, thanks to the amazing shelf life and convenience of feeding.
Royal Canin has a wide range of foods for dogs, and the brand even claims that they use around 80 dry formulas to make the food highly nutritious. Apart from kibble, the brand also offers food for puppies, adults, and even senior dogs, making it an all-in-one choice.
The brand also has a range of breed-specific foods, so if you own an imported dog breed, you can choose their foods without thinking twice. In addition, the kibble shape of the dry dog food is selected based on the jaw shape of the particular breed in order to support the natural biting pattern.
With rice being one of the major ingredients, Royal Canin dog foods have lesser fat content and more protein. Pet experts like Dr. Frione also recommend this brand. According to our research, we found out that Royal Canin focuses on a nutrition-based approach making it the best dog food brand recommended by vets.
The most popular dog foods that the brand offers are:
Royal Canin Small Breed Adult Dry Dog Food
Royal Canin Medium Breed Adult Dry Dog Food
Royal Canin Canine Health Canned Dog Food
2. Pedigree : Cheap and Best Dog Food in India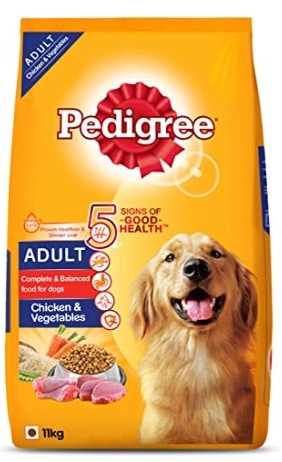 Pedigree is popular for its best dry dog food in India, and the brand is known by almost every pet parent. There is a misconception that cheap dog foods are not good, and that's why some pet owners overlook Pedigree when choosing good food.
However, the brand has food that has high nutrition content, not as much as Royal Canin but is great to keep your pup healthy. Owned by Mars Pet, Pedigree offers more than 60 types of dry and wet foods.
This nutritious dog food is suitable for both adult dogs and puppies. Moreover, their formula elevates the protein content of the food and helps the dog lose weight.
The owner of Pedigree also owns the Waltham Petcare Science Institute, where they test these foods and evaluate other such things to ensure all the food range is fit and healthy for the pets.
The ingredients used in Pedigree dog food might not be of the highest quality, still, they are enough to keep the pet healthy and sound. Lastly, you should avoid overfeeding Pedigree dog food your canine since the brand uses more corn content to keep the overall cost low.
3. Meat Up: Best Dry Dog Food Brand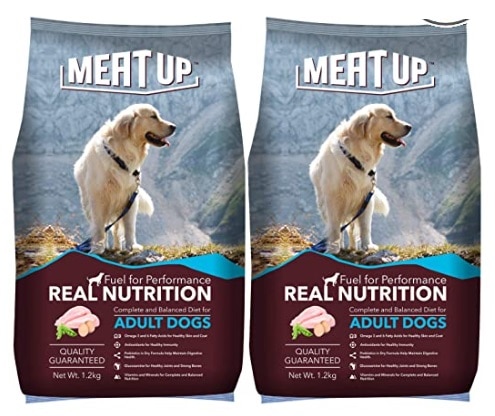 Meat Up is another best dog food brand India 2023 that you can trust. This brand is popular for the kibble that you can feed to puppies of all breeds and ages. The food contains a natural formula that helps improve the overall well-being of the pet.
While the prices are also not exorbitant, you can choose this brand as a daily meal for your canine. As the name suggests, the dog food is meat-based, making it a delicious choice, and also the protein content is higher.
There are no moist dog foods offered by Meat Up, and you need to keep a bowl of water along with the kibble for better digestion. The best part about Meat Up is that the brand does not use any harmful components, so you don't have to worry about the health of your pet.
Overall, Meat Up is a budget dog food brand that ensures quality feed for your pet. The dry food is easy to feed. Lastly, their dry formula contains probiotics that help maintain digestion and provide the nutrients your furry friend needs.
4. Drools: Best India-based Dog Food Brand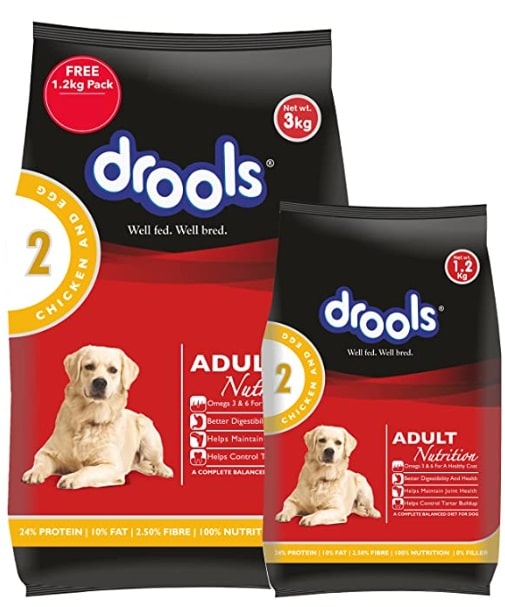 If you want to support the local economy while feeding your pet something he loves, you can trust Drools. The brand belongs to IB Group and is a very popular Indian dog food brand that provides high-quality meals for your little friend.
The dog food offered by Drools is rich in protein since more than 40% of the content comes from chickens, long grain rice, and whole dried eggs. Furthermore, the brand doesn't use any artificial colours and flavours, making their foods completely safe for everyday consumption.
On the ingredients label of Drools dog food, you will find chicken as a common ingredient. Also, dog food is rich in probiotics and prebiotics.
While the prices are not as economical as Pedigree, the high-quality ingredients give your dog a perfect balance of everything required for a healthy lifestyle.
Here are some most popular dog foods from Drools that you can consider for your canine:
Drools Optimum Performance Adult Dog Food
Drools Chicken and Egg Adult Dog Food
Drools Ultium Performance Puppy Dog Food
Drools Chicken and Egg Puppy Dog Food
5. Orijen : Best Animal-based Dog Food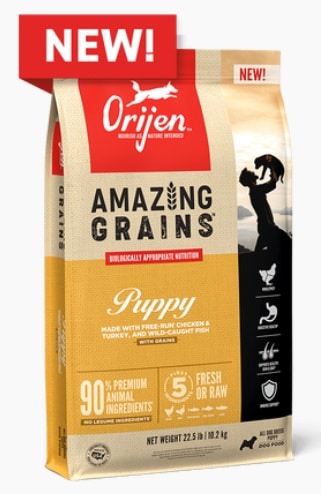 When it comes to the best dog food in India that's free from grains and contains protein derived from turkey, chicken, and fish, Orijen is the top choice. Moreover, the foods contain higher amounts of cage-free eggs, wild-caught fish, and other natural foods elevating the nutritional value.
The brand belongs to Canada and operates across the globe, enjoying love from pet owners. The brand maintains a ratio of 85% meat and 15% vegetables in all of their recipes, giving your canine the balanced diet it needs to flourish.
Moreover, the protein percentage is quite high, while the fat is on the lower side. However, the higher protein content may not be suitable for all dog breeds, so you have to be careful about it.
Lastly, the dog food comes at a cost, because of high-quality ingredients. But if you want to feed your beloved pet high-quality food, there is no better brand than Orijen.
6. Fidele : Suitable for Puppies and New Mothers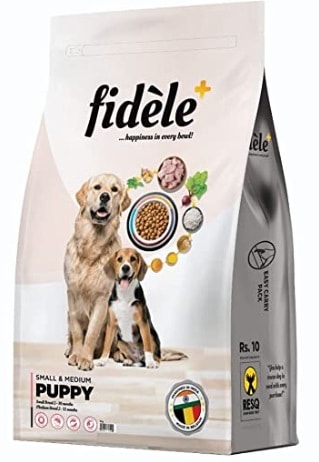 The best puppy Food in India should contain a natural formula, and that's what Fidele has designed for pups and lactating mothers. Their dog food is rich in protein and contains dehydrated chicken, which promotes muscle health and helps in faster growth.
Another ingredient is white rice making every meal highly fibrous and nutritious. The most popular dog food by this brand is kibble, and you can quickly feed this delicious food to your canine.
While the ingredients are of high quality, that does not affect the price of this product. It is a mid-budget dog food that's perfect for everyday meals. The shape of the kibble improves oral health, whereas the ingredients present in the meal are good for the gut.
Fidele has kept their dog food free from soy and wheat, so there are lesser chances of any allergies. The ingredients also promote good digestion and soften the coat. As per the brand, there are no artificial flavours, colours, or preservatives.
Lastly, the range of high-quality dog food by Fidele has higher protein content and contains a mix of herbs to keep your beloved pet healthy.
7. Acana : Rich in Minerals and Nutrients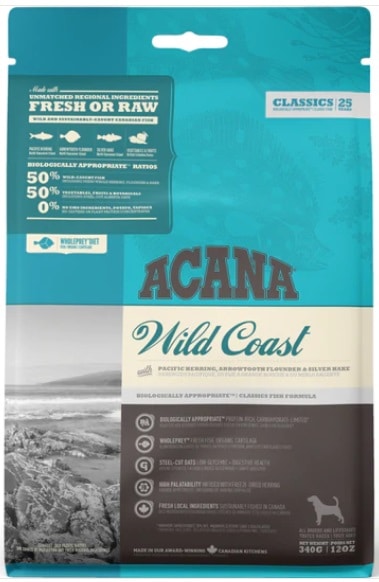 Like humans, dogs also need a dose of minerals and nutrients that can be accomplished by having dog food by brands like Acana. The brand claims that the food contains around 18% fresh grass-fed lamb making it really healthy for the canine.
Moreover, the Acana Dog Food is primarily sourced from organs like the liver and kidneys. No matter what dog breed you own, you can feed this healthy meal, irrespective of the age of the pet. Some nutrients and minerals that the Acana Dog Food is rich in include: Vitamin E, D, Zinc, and copper, making it an ideal meal.
8. Farmina N&D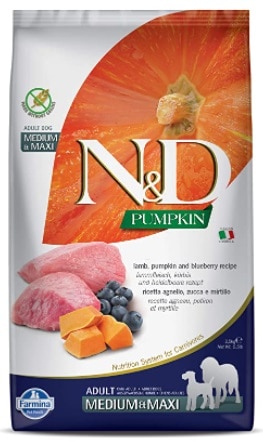 Next on the list is Farmina N&D which is another Indian dog food brand. The quality of ingredients matches Royal Canin, and this product has better availability since it is made in India only. The primary ingredients include chicken, lamb, quail, and duck, improving the overall nutritional value.
If your dog is allergic to grains, you can feed him Farmina N&D Dog Food. The gentle ingredients also make it ideal for dogs with sensitive stomachs. Lastly, the food is entirely free from artificial preservatives, and there aren't any additives as well.
9. Purepet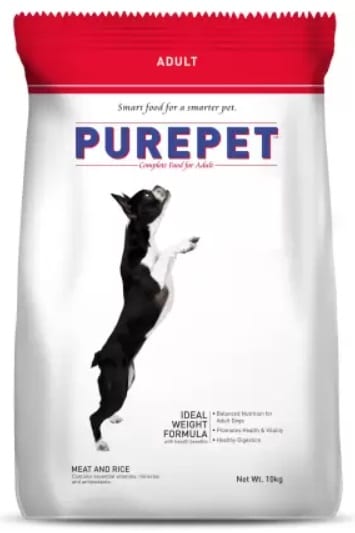 Purepet offers a broad range of dog foods with a mix of vegetables and chicken making them a complete diet. While the food is suitable for almost all breeds, you can still choose breed-specific foods if required.
Usually, their foods come in a dry form, making them a travel-friendly option. Some dog food products also contain milk, which is ideal for puppies for better muscle growth.
However, there is a lack of nutrients, but the reasonable price compensates for it. The most popular options from this brand are:
Purepet Chicken and Milk Adult Food
Purepet Adult Meat and Rice
Purepet Adult Smoked Chicken
10. Chappi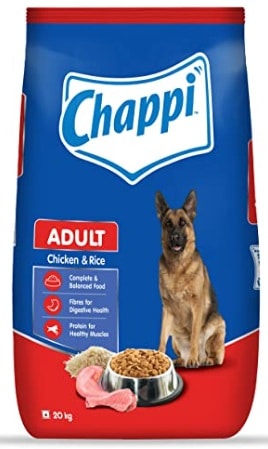 You must have heard about Chappi, as it is not a new brand. The brand is popular for its affordable food, and if you are looking to feed your pet something every day, you can trust Chappi.
The primary ingredient is corn, and that helps keep the canine feel full. Other ingredients include meat by-products and some vegetables that are healthy for pets.
Always go for bigger packaging to get a better deal. Lastly, Chappi offers you multiple dog foods, including breed-specific, age-specific, and more.
Characteristics of an Ideal Dog Food That's Healthy and Nutritious
Every brand claims that they are the best, but you should ensure that you are feeding the canine with something that promotes good health. Below listed are some factors you should consider when choosing dog food.
Pay Attention to the Ingredients
Go through the list of ingredients and make sure the food contains everything natural. You should prefer foods that contain chicken, meat, and other such things that are healthy for the pets.
Avoid foods with too many fillers, harmful preservatives, and artificial colours.
Check Meat Content
Meat is highly nutritious for dogs but in the right amounts. Ideal dog food should have around 40 – 80 % meat content. More meat means more protein, so your pet will get everything from its diet.
Form or Type
Check the form or type of the meat since it's something you cannot overlook. Kibbles are always a great choice, whereas moist dog food is perfect for a complete meal.
Certifications
Pet food also goes through multiple tests, and you should look for certifications. Always choose a dog food brand that labels lab certifications, as it gives extra assurance.
FAQS: Must Read Before You Buy Dog Food
What is the healthiest dog food brand in India?
There are plenty of best dog food brands in India in 2023, but we'd recommend Royal Canin. The brand only uses natural ingredients and gives your pet a balanced diet with their meals.
What flavours do dogs like?
It depends on what your dog prefers. In general, dogs love foods that contain chicken, beef, and pork. The flavours should be sweet, sour, and a bit salty if you want your dog to finish every bite.
Is Pedigree a good brand?
Yes, Pedigree is a good brand if you are on a budget. However, their dog food contains fillers, which may not be healthy for some breeds.
Is Royal Canin better than Pedigree?
Yes, Royal Canin uses high-quality ingredients and is better than Pedigree. If budget is not an issue, you should choose RC over Pedigree.
Is Royal Canin manufactured in India?
The manufacturing plant of RC is located in Mumbai, Maharashtra, so yes, it is made in India.
What dogs cannot eat?
Dogs cannot eat foods that contain chocolate, avocados, onions, garlic, grapes, raisins, and sugars. Click here to know more about what dogs cannot eat.
Bring Good Health in Your Pet's Life with These Best Dog Food Brands in India
Now that you know about the best dog food brands, it is time to make a choice. Choose a readily available brand in your area that offers high-quality food and does not use any artificial flavours or preservatives.
It'd be great to consult a pet doctor about the ingredients if you have an imported breed. Lastly, make sure the canine loves the flavor of the food by ordering a small packet.