With unbeatable Yono SBI offers in 2022, shop to your heart's content without worrying about the expense. Don't miss the chance to grab the best of these deals and coupons.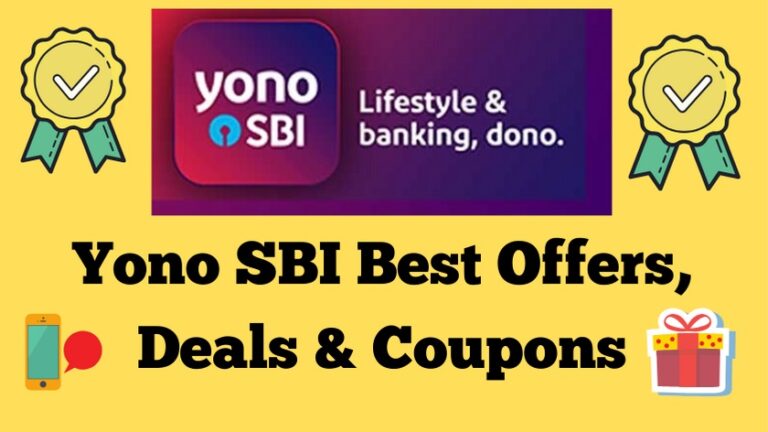 By availing the upcoming SBI Yono App offers 2022, you can access a number of services – be it online shopping, taxi bookings, or medical bill payments. Download the app and explore what's in store for you.
By now we know how much all of you cherish these occasional offers and deals on different sites through the means of bank collaborations. This time, through SBI Yono offers, there's something different for you to benefit from. Before diving into the details of these offers, aren't you keen on knowing what Yono app is and how would it benefit you? We knew you would be sceptical, and so, we have got you a guide to refer to. Check it out below!
Your Introduction to Yono App by State Bank of India (SBI)
Yono, also known as You Only Need One, is a digital banking app introduced by State Bank of India (SBI). This app may sound like an unusual term pronounced by a teenager but in reality, their services are designed to make transactions a lot easier. Yono was introduced by SBI back in 2017 and since then, it has come as a rescuer to its consumers. SBI's Yono aims to be a single-entry point for lifestyle, banking, shopping, investment, and insurance needs. There are numerous things that can be done through Yono including opening a savings account, applying for loans, or even shopping online.
This move was initiated by SBI in order to let go of their debit cards and rather have dependence solely on Yono service for making payments and withdrawing cash. But the question arises – why does SBI want to eliminate the existence of its debit cards?
At a time when digital transactions are proving to be more secure and reliable, platforms that are based on digital technology for merchant payments or cash withdrawals seem logical. When there's an option of paying from your mobile phone, why not make use of it to withdraw cash as well? With the help of Yono, SBI's customers can go about availing services without debit cards. The app works quite similar to the net banking facility and can help the customer in various ways. All that is needed is an active net banking service to utilize Yono's services.
But, to be able to make use of these services, we need to understand how to create an account on Yono and how this app works. So, let's check it out.
Guide to Creating an Account on SBI Yono
Refer to the steps below if you want to open an account on SBI Yono app.
Step 1: Install SBI Yono App in your smartphones
Step 2: Login to the Yono App
Step 3: Select 'Open New Digital Account' option and choose whether you want to start a 'Digital Savings Account' or an 'Insta Savings Account'
Step 4: Once you have decided the type of account you want to open, select 'Apply Now'
Step 5: Proceed with clicking on 'Apply New' and go through the product information. Then select 'Next'
Step 6: Ensure having your PAN and Aadhar card details handy. Proceed to insert your email address, referral code (optional), and contact number.
Step 7: Last but not the least, go through the privacy policy thoroughly and then click 'Submit'
Isn't the process short and simple? If you are still doubtful or sceptical about this procedure, check out SBI Yono website and you'll be sorted with creating an account on the platform.
Now that we are aware of the process of creating an account on Yono, it's finally time to dive right into the details of the offers. Excited much? Why waste time? Read the offers below and do avail any of these that meet your requirements!
Take a look at the Best SBI Yono APP Offers & Deals 2022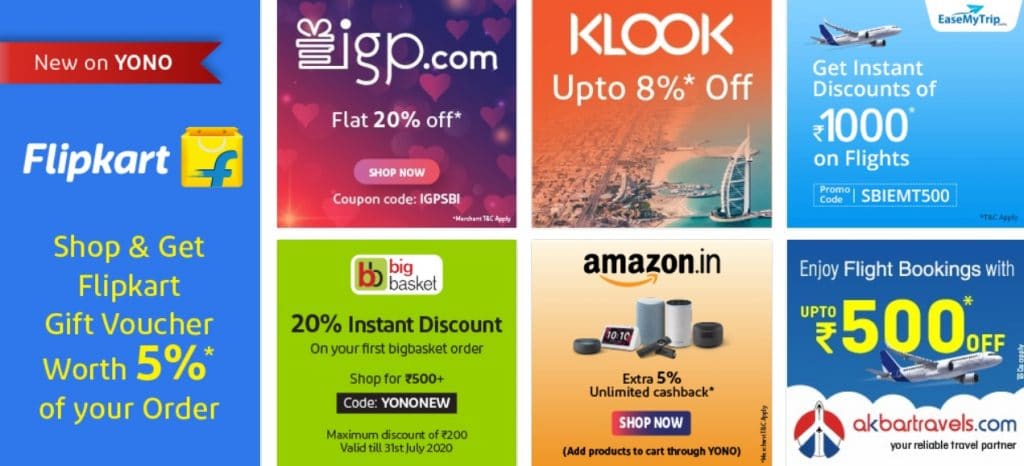 With so many Yono SBI offers for customers, we bet you'll be confused and may find it hard to select the right deal out of so many. But don't worry – glance through the information, process, amount of benefit, and eligibility, and then make your decision. Ready to grab Yono SBI deals? Without wasting any further time, let's dive into the details.
| | | |
| --- | --- | --- |
| Store Name | Promo Code | SBI Yono App Offer |
| Flipkart | N/A | Get 5% Cashback as Flipkart Gift Voucher |
| Amazon | N/A | Get Flat 5% Cashback on Amazon India |
| Swiggy | YONONEW | Flat 50% OFF on 1st Order at Swiggy |
| Oyo Rooms | YONO | Flat 40% discount on Hotel Booking |
| BigBasket | YONONEW | 20% discount on the first BigBasket order |
| FirstCry | FC35SBI | Flat 35% discount on Firstcry |
| PepperFry | SBIMKP | Get Flat 55% OFF + 5% extra discount |
| RedBus | YONO5 | Flat 5% discount on bus tickets |
| FNP | YONO200 | Flat Rs 200 OFF on Ferns n Petals |
1. Check out the Yono Amazon offer
Aren't we all borderline addicted to Amazon? Whether it is their range of electronics, apparels, cosmetics & beauty, or home & kitchen products, there's nothing that won't attract buyers. This time, SBI Yono has introduced an offer in association with Amazon where you can shop on the site for as much as you want, just by using SBI payment option. By doing so, you can grab 5% cashback on your total expenditure.
This Yono app offer is valid on SBI debit and credit cards as well as net banking facility. The best part? There is no minimum transaction amount involved, so, your shopping value doesn't matter. However, what you must note is that this deal is applicable only on select categories. Once the payment is made and order is placed, the cashback will be processed within 90 days of transaction. That's great, right? That wait isn't extraordinarily long.
Here's how you can go about availing this Amazon Yono offer:

Firstly, log into SBI Yono app, website, or mobile site. Then, land on Amazon.in through SBI Yono shopping page. Add your desired products to the cart without worrying about the limitation on quantity. Following this, make use of your SBI credit/debit card or Netbanking facility at the time of checkout. And not to miss, enjoy the cashback for which you participated in this offer. Sounds interesting, right? Why wait? Go make your list right away!
2. Take a look at the Firstcry Yono offer
If you have got toddlers or young kids at home, this Firstcry Yono offer will then surely entice you. The only thing that'll set you apart from the rest is your SBI account. This Yono 2020 offer is only meant for SBI customers. Don't wait for any more offers and opportunities, shop right away through Yono app to grab flat 35% discount on a minimum purchase of Rs.1000. What's even better is the fact that the maximum discount you can avail is Rs. 350. Isn't that great?
But before you proceed with buying things on Firstcry through Yono, do keep in mind that this coupon code is applicable on MRP of products and can be used only once per user. Do remember that all these discounts can be yours only through SBI payment instrument via credit/debit card, net banking facility, or UPI pay. Also, do not forget to apply FC35SBI coupon code while checking out. Without this, you won't be able to take home any discount on the site.
So, why wait? Go, grab this deal as soon as possible!
3. Nothing better than Swiggy Yono offer
Aren't we all always looking forward to seeing deals on Swiggy to be able to order delicious food from our favorite restaurants? So, here's a chance once again! Don't stop yourself from dreaming about food because Swiggy Yono offer has come to your rescue. Through this deal, by placing an order on Swiggy via Yono app, you can get up to 50% off if you are placing an order for the first time on the food delivery app.
So, if until now you haven't availed ever ordered anything through Swiggy, now is the right chance to do so. Use YONONEW as the coupon code at the time of payment and grab an instant discount worth Rs. 125. Seems like a great deal, right? All you need to be is an SBI customer. If you already are, wait no more. Slide into Yono app right away.
4. Pepperfry Yono offer cannot be missed
Our one stop solution for furniture and home décor – Pepperfry – has tied up with Yono to bring us this very exciting Pepperfry Yono offer. The amount of benefits that the SBI customers are going to come across through these offers are countless, we assure. This is one among them. Needless to say, this Yono offer is meant for SBI customers who can get up to 55% off and additional 5% off by logging into and shopping through Pepperfry via Yono during the offer period.
But what's very important is applying SBIMKPF coupon code while you check out from the app. The minimum cart value needed for this offer is Rs. 1000. Isn't that quite manageable? Practically, furniture and home décor shopping does cost us way above this amount! Do take note that this offer is not applicable on hot priced items or gift card purchases. Also, this deal is valid for a very limited period of time. So, you got to take your decisions faster and make the most of this offer while its there.
5. Tata CliQ Yono offer for one and all
Doesn't matter whether you want to purchase TV appliances, jewelry, electronics or home fashion products, you'll find it all on Tata CliQ through SBI's Yono app. Through the means of Tata CliQ Yono offer, you have a chance to get flat 10% instant discount up to Rs. 400 on all your fashion-related purchases. Besides this, if your purchase value exceeds Rs. 5000, you stand a chance to get flat Rs. 300 off.
However, to participate in either of these deals, you need to be an SBI customer. For the former, you need to apply SBISTYLE coupon code, while for the latter, apply SBITECH. Also, do remember to keep an eye on the offer dates since it is going to be valid for a limited period. We don't want you to miss this chance of saving some bit while shopping simultaneously on Yono app.
Ready to make the most of Yono coupons? Let's brace ourselves for the upcoming offer period and get going!
6. Do glance through the MakeMyTrip Yono offer
You'll be happy to know that Yono has tied up with MakeMyTrip as well to bring to you the best through MakeMyTrip Yono offer. Don't we often hunt for exciting deals on travel sites that could lower our burden of travel or accommodation expense? Well, this is the desire that MakeMyTrip and Yono are aiming to fulfil.
If you are keen on participating in this offer, your excitement will further rise after knowing that you can get an instant discount as much as flat 18% on domestic hotels. No matter which city, log in to Yono and browse through MakeMyTrip site if you want to earn a discount as high as Rs. 10000. The best part? There is no minimum booking value involved to avail this Yono SBI offer.
Didn't we tell you that you wouldn't find a better deal than this anywhere else? All you need is an SBI card or net banking facility to grab this chance. Also, do not forget to apply the promo code at the time of check out, in this case it is SBIMMT. So, hurry up. What are you waiting for?
8. You must make use of this Samsung Yono offer
Here's good news for all you Samsung fans. If you were planning to purchase a Samsung phone or tablet all this while, but couldn't do so due to budget issues, your dream is finally going to come true. This is a good chance for all the SBI customers to grab flat 5% off on select models of Samsung phones through Yono on Samsung site.
What's even better is the facility of easy exchange. So, if you have a used model of Samsung with necessary documents, replace it with a new one during the offer period. Isn't this Samsung Yono offer extremely beneficial? In case of any damage to the cell phone or tablet, you'll be backed by an accidental and liquid damage insurance that comes at a free cost for buyers.
Besides this, you can even invest in some of the Samsung accessories through this offer. Be it headset, earphones, battery pack, power bank, or wireless earphones – there's a 5% discount on all of these. All you need is a promo code, which in this case is SBIYONO, at the time of payment. Ensure making your payment through your SBI card or net banking option. Can't hold your excitement? Why wait then? Go, get this deal right away!
9. Shop to your hearts content by availing Allen Solly Yono offer
Who doesn't like shopping for shirts, t-shirts, and pants, that too from a brand like Allen Solly? Agree or not, most of our time is spent in waiting for the right time to invest in branded clothes, which usually happens during the yearly sale. But now, you won't have to wait for the annual sale on different sites or at different malls since Allen Solly Yono offer is here to enchant you completely! Don't believe us? Check out the details. You'll be impressed without a doubt and tempted to begin shopping right away.
If you are an SBI customer, this offer is waiting for you to grab it. Make use of your SBI Yono app and avail 10% discount on your final purchase. Yes, you heard it right. The collection is massive in different price range, and we are sure you wouldn't want to miss any of it. So, take note of the offer dates, plan your shopping items, and get going already! But also, do remember to apply SBIAS10 coupon code while making the payment through your SBI cards or internet banking. Ready to shop endlessly? Happy shopping on Yono!
10. The best Thomascook Yono offer is here
Over the years, to a great extent, most of us have become travel junkies. Every now and then, we prefer holidaying to new destinations either in India or some other part of the world. This Thomascook Yono offer, also known as Thomascook Ek Ka Teen offer, is a deal available on Holidays, Flights, and Hotels.
If you are planning to take up a holiday within the country, you can get up to Rs. 3500 off per transaction for a booking amount worth Rs. 80000 and above. This deal is valid on holidays within India, Nepal, Myanmar, Maldives, Bhutan and Sri Lanka. The coupon code to be applied at the time of payment is TCSBIYONOD. Similarly, for those wanting to opt for the international offer, there's a flat Rs. 4000 off per transaction for booking amount worth Rs. 100000 or above. Here, the coupon code is TCSBIYONOI.
Talking about flights, you have got a chance to grab flat Rs. 300 off on one-way journey costing Rs. 4500 or above, and Rs. 600 off on return type costing Rs. 9000 and up. The promo code to applied for the former is TCSBIS and TCSBIR for the latter.
On the other hand, in case of international flights, customers can get up to Rs. 500 off on one-way ticket costing Rs. 12000 and up, and Rs. 1000 off on return fair costing Rs. 20000 and above. The promo code for both these offers are TCSBIS and TCSBIR, respectively. Do remember that this deal is only on adult and children.
In case of hotels, get a flat 10% off up to Rs. 2000 on domestic hotels by applying TCSBDH promo code. And similarly, take home 10% off up to Rs. 3500 on international hotels after applying TCSBIH promo code. Do remember, all these deals need you to make payments only through SBI credit/debit cards or Netbanking on SBI Yono app. So, without wasting any more time, start planning your next holiday and utilize this Thomascook Yono offer.
11. Booking.com Yono offer is something you must take advantage of!
Here's a deal by Booking.com and Yono for those of you who travel often and struggle to find great accommodation deals within your budget. Forget all your worries because Booking.com Yono offer is here. Here, you can book your hotel and earn 10% cashback by using your SBI credit or debit card. If you are wondering how soon you'd receive the cashback, then you must know that it'll be credited into your account within 65 days post stay. We suggest, keep a close eye on the offer dates and utilize it as soon as it is live. Such deals are not offered always. So, make the most of it while its there.
Ready to travel and stay in the best of the accommodation anywhere in India? Booking understands your excitement and desire to travel, and hence, the platform has introduced this deal for such people. Have a great travel experience!
Take full advantage of SBI Yono App Offer
With so many offers and exciting deals, we're sure it is difficult to make a final choice. But all of them are worth a try. In exchange, all that you'll need is an SBI Yono app. There's no better time than now to fully utilize your SBI debit/credit cards or net banking facility for shopping online, booking accommodation, flight or train tickets, and ordering products and services from e-commerce portals.
The best part is that SBI Yono app can be accessed through three smartphone platforms – iOS, Android, and Windows. Not to forget, the trick here is to make the purchases or bookings during the offer period. For that, you must be vigilant about the offer dates and its duration. Also, do take note of the promo codes for each of these deals. Without that, you'll not receive any discounts on any of these offers. So, all set to treat yourself with exciting deals this offer period? We, too, are looking forward to some of these offers. It'll be interesting to see what SBI Yono offers have in store for all of us.
So, while the time is there, let's get going with our respective shopping lists and travel plans and swipe through the SBI Yono app once the offers begin!