If you are on a hunt to find the best sites and apps to book train tickets in India in 2023, you have come to the right platform. Avail exciting train ticket booking offers and travel like never before.
Here, we have listed the best sites and apps to book train tickets so that you can plan your travel for the near future. If all this while your travel plans were getting postponed due to some or the other reason, grab this opportunity because you won't be benefited more than this.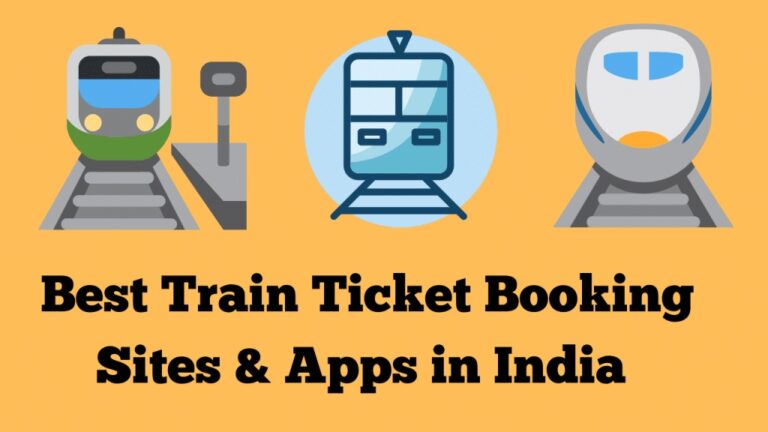 Finding offers that are convenient to utilize as well as lucrative is tough to find these days. However, the travel sites and ticket booking platforms mentioned below are here to give you complete advantage while you travel. So, we assure this time you wouldn't have to cancel your travel plans or postpone them because the offers and deals are so attractive that you wouldn't resist from availing them.
Also, since these the offers are on train ticket bookings, you don't have to worry about increasing your budget for flight tickets. Train tickets are typically economical, easily available, and applicable on multiple locations. We are already excited about these train ticket booking offers on the travel websites, how about you? Don't you want to know what's kept in store for you? Keen on knowing, right? So why waste time? Let's dive into the details below.
Your guide to the best train ticket booking platforms in India
Are you planning a trip sometime soon? Are you too lazy to physically go and purchase train tickets? Are you on a lean budget and want to avoid traveling by flights? Why worry? We are bringing you a list of best sites and apps to book train tickets in India in 2023. Besides just booking the tickets from these sites or apps, you can explore the offers and deals, if available, on the listed platforms. Sounds great, right? So, take a look at the details.
1. Nothing better than IRCTC
What better than booking train tickets through IRCTC app or website itself? Over the years, Indian Railways have made the process of booking train tickets simpler, quicker, and easier. The website as well as app are designed to offer a range of features, and hence, it has been used and reviewed the best by crores of people in India as well as tourists visiting the country.
Through IRCTC, one can seek information regarding live train status, NTES enquiry, PNR status, seat availability, train timetable, available routes, and much more to add to this. You will not only be able to check the confirmation of your tickets, coach position, platform number, but also access unlimited and uninterrupted entertainment while on your journey. Besides, you can even cancel your tickets at the last moment without much hassle or time-consumption.
2. Check what Paytm has to offer

If you have been facing issues with standing in long queues for train tickets or unpredictability on ticket confirmations, then maybe it's time to consider Paytm for booking your train tickets. The best part is, with Paytm, you can book your train ticket in less than 50 seconds. All you need to ensure is that there are adequate funds in the Paytm wallet. Also, by booking tickets through Paytm, there's no concern about failed booking transactions. In that case, the money gets credited to the account in less than 15 minutes.
If the tickets are cancelled upfront, the money gets credited into the account in 7 to 10 days. Paytm allows you to book tickets for locations across India. One can make the bookings through their website, mobile site, or app and pick sleeper, 2AC, 3AC, or first class along with the preferred date and time of travel.
Since the process of booking train tickets on Paytm is hassle-free, faster, and simplified, it has evolved as one of the most preferred platforms. Users can even check the PNR status on Paytm. To boot, by booking tickets on this platform, the chances of getting a confirmed ticket increases two-fold. So, if you wish to have an enjoyable travel experience, book your train tickets through Paytm.
3. Take a Look at MakeMyTrip

By now, we are all aware that MakeMyTrip train booking offers and other deals are like no other. In such a scenario, it surely makes sense to book train tickets through MakeMyTrip. Over these years, MakeMyTrip has gained reputation for being one of the biggest online travel organizations in India. Train ticket booking through MakeMyTrip is absolutely convenient and entirely basic. This is so because the presentation of information on the site as well as app is easily-understandable, clear, and intuitive.
Plus, being leading travel platform, the reliability factor increases when booking train tickets through MakeMyTrip. Also, its very less likely that MakeMyTrip will throw up errors or slow down during the booking process. Isn't that great?
So, through MakeMyTrip, you'll have the benefit of using a less burdened system as compared to government-run sites. Grab lucrative fares, enjoy convenience, and experience seamlessness by booking your train tickets through MakeMyTrip.
4. Enjoy the Benefits Offered by Goibibo

Goibibo is one of the easiest platforms to book train tickets from. This site allows users to check the PNR status and also provides a trip guide upon request. Goibibo and IRCTC being official partners for train ticket bookings, the availability of seats and special preferences are always informed to the users. If bookings are done through Goibibo, the chances of getting tickets confirmed is very high. Besides, if need be, the app also notifies about the train status and other information.
What's worth lauding is the fact that the official site of Goibibo has been designed in a way that promos, deals, and offers are all clearly highlighted. All one needs to do is insert the necessary details like destination, city, time, date, month, duration, and the preferred class of travel. This is it. In case of queries, the customer support team of Goibibo is extremely responsive and quick to resolve. So, get your plan moving!
5. Make Use of Cleartrip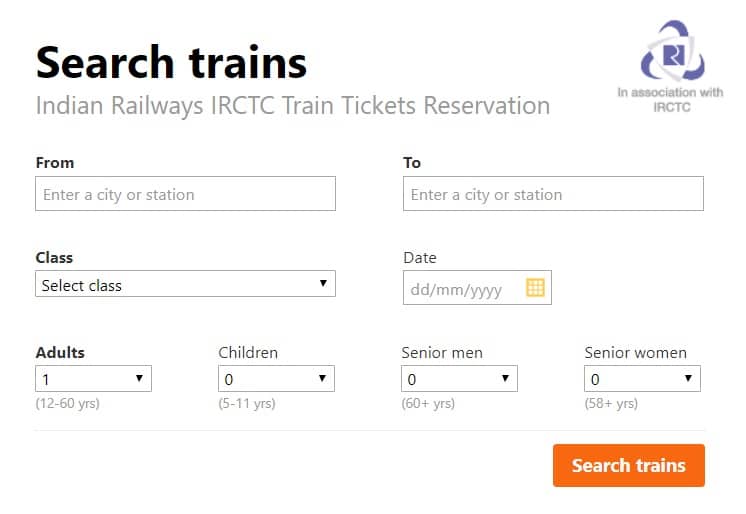 Cleartrip is one of the most reputed online travel portals that offers a range of services, including train ticket bookings. Besides railway, Cleartrip is a one stop travel platform for booking train, hotels, flights, buses, and other activities. The best part about using Cleartrip is that it enables travelers to save the most on their ticket booking by providing exclusive gift cards, discounts, cashback, and other attractive offers. Through Cleartrip, one can track a train's live status, PNR status, NTES train enquiry, train timetable, seat availability, and much more to add to the list.
Another advantage of booking train ticket on Cleartrip is that it has a simple and clean user interface. It gives a clear breakdown of confirmed/waitlist/RAC tickets by making use of different colors. The app also has a train availability calendar which highlights the seats available in all the classes on the trains running on the desired routes, between the desired dates, and months. Using the Cleartrip app or website helps in saving time and energy that would have otherwise got invested elsewhere.
6. Make your Bookings through RailYatri

Since commencement, RailYatri has evolved as a reliable train ticket reservation platform accessed from across the country. The train ticket booking facility is offered through agents and can be tailored to help travelers avoid a wait-list scenario. What makes RailYatri unique is that one can access details regarding the nearest medical emergency centre or hospital for immediate action, if need be. In terms of train-related information, RailYatri provides PNR status, live train status, seat availability, train between stations, and confirmation predictability. One can even make use of meal-on-train services that the platform provides as a part of its offerings.
So, if you are someone who's starting a long journey or traveling for the first time in train, make your journey comfortable and convenient by doing all your bookings through RailYatri. Also, since the travel booking platform is widely-used by people across India, the chances of tickets getting confirmed is high and instant. Travel stress-free and hassle-free by booking train tickets through RailYatri!
7. Rely on EaseMyTrip

EaseMyTrip, in its latest move, collaborated with IRCTC to introduce train ticket bookings on its platform. So now, users will be able to book train tickets through EaseMyTrip's website, mobile-site, and app. Users can even cancel their bookings at the end moment on EaseMyTrip.
Since commencement uptil now, EaseMyTrip has surpassed many other leading travel portals and has managed to grab the fourth position in terms of services and preference.
Besides train tickets, the platform also provides a range of other services like hotel bookings, flight bookings, MICE packages, and bus tickets. Since they have a massive network of agents, getting train tickets is always possible and readily-available without much hassle. What makes them unique is their efforts towards providing transparency to the customers.
8. Take a Glance at Yatra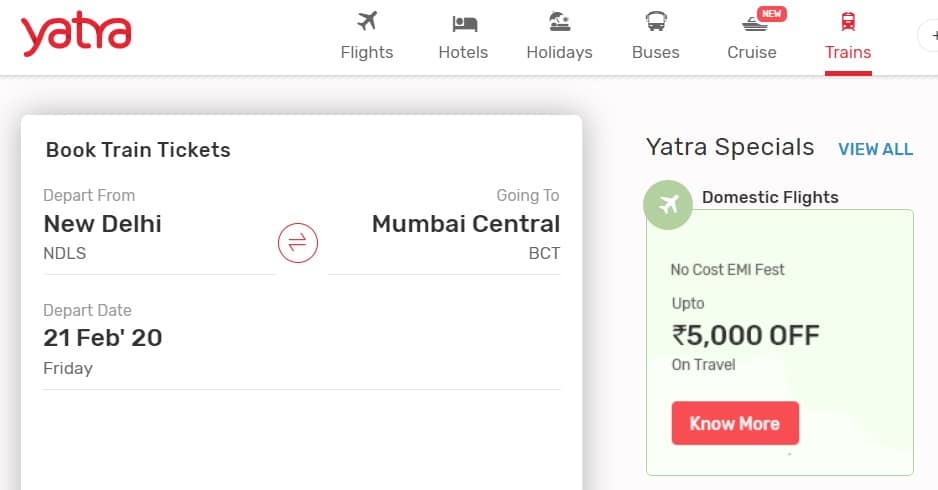 Yatra is one of the most trusted and sought-after travel platforms for many years now. Booking train tickets on Yatra is extremely advantageous and basic. Through the app, checking for availability of locations, timing, and seats is possible as well as easily-understandable. One can even use e-Cash on train booking and save money.
Infact, since IRCTC has officially authorized this app for train booking, getting tickets is never a hassle or trouble. All you need to do is insert from and to in the required field, make payment, and you are good to go. While on the journey, you can keep an eye on the live status of the train, delays, and other services that are speedy and customer-friendly.
9. Do not Forget to Check IXIGO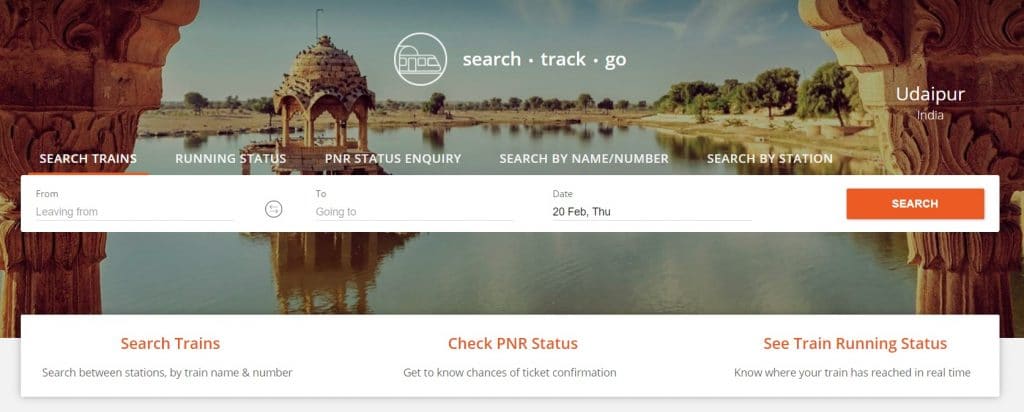 We all know that nothing beats the convenience and comfort of train journeys! So why shouldn't the process of booking train tickets be equally good? If that is what you are looking for, you ought to try booking your train tickets through IXIGO for your next travel. Through IXIGO's application, you can save on the payment getaway charges whenever you make payments through UPI on the platform.
Besides, if you are someone who's booking train tickets for the first time, no extra service charges would be applied to you, which means, a little bit more saving. To add, in case you wish to cancel your tickets at the last moment, all you need to do is enter your UPI ID in the app and have your money back into your account in very little time.
You can even track train in real time, its delay status, the platform number it will arrive on, expected time of arrival, distance covered, and departure. Additionally, the information available on the app is available in 8 different languages, including Hindi, English, Marathi, Tamil, Telegu, Gujrati, Kannada, and Bangla. So, shortlist the location and get going!
10. UTS App is the Most Beneficial
In a move by the Ministry of Railways, UTS App was introduced for travelers to book train tickets online to avoid long queues and reservations. To book ticket on UTS, one needs to register on the platform by logging in with relevant credentials as requested. This app was launched in a bid to move towards a cashless economy. This app is easily accessible through Google Play store and for registration purpose, one needs a valid email address and mobile number.
Lastly, while booking the tickets, add from and to stations, select the route and train type, date and month, and choose the class. This is it. In case of availability of seats, your reservation will be confirmed and notified.
Aren't all these platforms extremely beneficial and easily-usable? Now leave your stress of finding train tickets and start packing for the most-awaited trip. But while doing so, if you still encounter queries, do remember to check out the frequently asked questions section (FAQs) below.
FAQs
How do I book train tickets online?
You can easily book train tickets online by visiting either of the aforementioned websites or apps and following the below-given steps:
a. Visit the desired website/app and go to the bookings page
b. Enter the 'from' and 'to' destinations and select the travel date from the calendar icon
c. After finding the right train, click on check available and then click on book now
d. Select the payment method
e. Enter the credentials for successful train ticket booking
Can I book general train ticket online?
Yes, railways passengers can easily book general tickets online through UTS app from window store or google play
Can we book general ticket in advance?
Yes, you can book general ticket 3 days in advance. You do not have to wait for the last minute of your journey to get the tickets
Which is the best train ticket booking app?
The best train ticket booking apps include MakeMyTrip, IRCTC Rail Connect, IXIGO, Goibibo, and UTS.
Is photocopy of railway ticket valid?
Photocopy of a railway ticket is not accepted but there are many other ways that allow you to complete your journey. In case the message sent by IRCTC is missing as well, you can present your berth no. and valid ID proofs to the TTE
Can I travel without a printout of e ticket?
Yes, rather than carrying a hard copy, also known as a printout, of the ticket, you can show the SMS-based ticket shared by IRCTC
Can I show my train ticket on my phone?
Yes, you can show the SMS that you have received from the relevant train ticket booking platform. You can have even show the emailed ticket on your laptop.
How can I book Tatkal tickets online?
Yes, Tatkal tickets can be booked online through the IRCTC website as early as a day prior
What are the timings for Tatkal booking online?
The right time to book Tatkal ticket for Non-AC class is 11:00 AM and for AC, it is 10:00 AM.
How many seats are allotted for Tatkal quota?
The normal Tatkal quota allots about 10 reserved seats for AC-II, 16 for AC chair car, 16 for AC-III, and 30% of the sleeper class.
How much extra does Tatkal ticket cost?
Tatkal ticket charges are fixed at Rs. 10 to Rs. 15 for second (sitting), Rs. 90 to Rs. 175 for sleeper, Rs. 100 to Rs. 200 for AC chair car, Rs. 250 to Rs. 350 for AC 3 tier, Rs. 300 to Rs. 400 for AC 2 tier, and Rs. 300 to Rs. 400 for executive.
Can I get tatkal ticket from counter?
Yes, you can easily get tatkal ticket from PRS counter from any railway station. You need to go to the station at 10:00 AM for AC tickets and 11:00 AM for Non-AC tickets.
Make use of these Tran Ticket booking sites and travel like never before
If you have been one of those travelers who has loved traveling by trains, this list of train ticket booking websites and apps would have surely tempted you to plan a trip. Most of these websites have exciting offers and deals going around throughout the year. So now, all you have to do is shortlist your destination and check any of these platforms as per your preference. Start planning and traveling with your friends, family, or a special someone soon!