Have a look at these 10 Best Solar Charge Controllers in India in 2023 that can help you effectively charge batteries through solar panels.
With the help of these top 10 Solar Charge Controllers in India in 2023 one can charge the batteries to its full capacity without much of a hassle. Keep those batteries from overcharging by regulating voltages through these charge controllers that are manufactured by reputed brands.
A trusted brand of solar charge controller can actually save batteries from getting damaged. These controllers basically detects any unpredictable loads, user intervention, undersized battery storage or any excessive battery overcharging in the system and accordingly regulates them.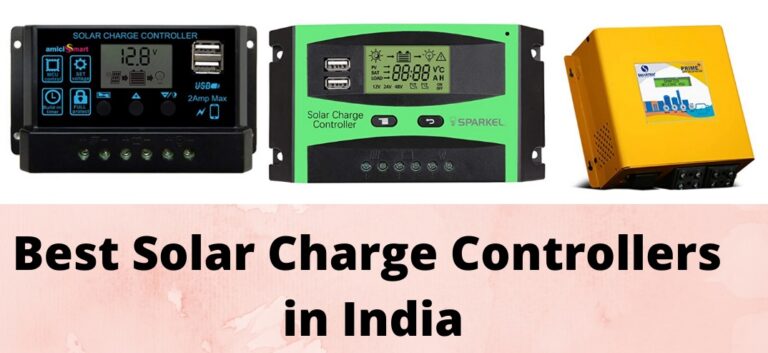 In the market place, these solar charge controllers are generally available in all features, sizes and costs, depending on one's requirement. However, available range of charge controllers is from 4.5A and upto 60 to 80A. Apart from protecting batteries from overcharging, a solar charge controller monitors the reverse flow of current. High on reliability, these controllers are known to reduce system maintenance and increase lifetime of a battery.
All that you need to know about Solar Charge Controller
A solar charge controller is a device that manages the power entering a battery bank from the solar panels. These controllers mainly ensures that the deep-cycle batteries aren't overcharged during the day, and that the power doesn't flow reverse to the solar arrays overnight and drain the batteries.
There are some charge controllers that comes with additional capabilities, such as lighting and load control. However, managing the power is the basic role of a solar charge controller. It is pertinent to know that there are two methods for controlling charging – shunt and series regulation.
Basically, a solar charge controller functions in two different technologies, PWM and MPPT. Their function in a circuit is completely different from each other. Even though a MPPT charge controller is expensive than a PWM variant, it is worth that extra money paid.
Variants of Solar Charge Controller
While it is commonly accepted that the solar charge controller is an important device in the entire circuit of solar power generation, which one to use and when is questionable unless a thorough understanding of the types of these controllers are known to us. Two forms of these controllers are largely available :
Pulse Width Modulation (PMW) Controller
Maximum Power Point Tracking (MPPT) Controller
i. PMW Solar Charge Controller –
These are the traditional type of controllers that has become industry now & operates through direct connection from solar panel to the battery bank. It functions more or less like electrical switch among batteries which can be quickly turned on and off. So that desired voltage can be obtained to charge the batteries. The charge current slowly dies down as and when the batteries get charged. When a battery voltage reaches the regulation set-point, the algorithm of PMW controller slowly reduces the charging current to avoid heating and gassing of the battery, yet the charging continues to return the maximum amount of energy to the battery in the shortest possible time.
The ability of recovering lost battery capacity and de-sulphating it is one the unique benefits offered by PMW charge controller. It is also instrumental in increasing the charge acceptance of the battery. It also effectively uses solar panel energy without wasting much.
ii. MPPT Solar Charge Controller –
These controllers are considered as most advanced form of controllers as compared to PMW. They are effective in converting a higher voltage DC output from solar panels down to lower voltage needed to charge batteries. As a thumb rule, MPPT should be used on all higher power systems using two or more solar panels, or whenever the panel voltage is 8V or greater than the battery voltage.
MPPT provides has 30% higher charging efficiency than PMW and has greater flexibility for system growth which is relevant mostly for commercial establishments. It also allows a solar panel to be of higher voltage than the battery bank.
Applications of Solar Charge Controller
It is universally known that solar charge controller helps to charge battery by drawing up energy from solar panel, however some basic functionality and uses are as follows.
Solar street lights
Solar homes
Hybrid system
Solar water pumps
With more and more emphasis on use of renewable energy resources to get rid of pollution and maintain ecological balance, use of solar energy has gained popularity lately, as a result application and uses of solar charge controllers are on rise.
Top 10 & Best Solar Charge Controllers in India you should know :
When you are aware of the top 10 and best Solar Charge Controllers in India then probably without even getting into much technicalities of this device one can end up buying the best that suits their power requirement. For selecting the best controller, typically you should make sure that it is large enough to handle the amount of power and current produced by the installed solar panels.
Mostly these controllers come in 12, 24 and 48 volts. Amperage ratings can vary between 1 – 60 amps and voltage ratings from 6 – 60 volts. Whatever it is, we are here to help you pick the best brands of solar charge controllers that are superior quality through our intensive research process. Our collated list of controller brands will guide you to procure the best. Check the brand list below…
1. AmiciSmart Solar Charge Controller
AmiciKart's flagship brand amiciSmart easily sneaks into the list of best Solar Charge Controllers in India in 2023. This effective device comes in a capacity range of 10 to 60A and broadly ranges from a little below 1000 to around 1800 bucks. This wonderful device that comes in plastic body protects from short-circuit, over discharge, over current flow, reverse flow, and open circuit. It is very easy to use and can simply be connected between the battery and solar panel. The attractive LCD display shows you charging status and switch modes conveniently.
This controller helps increasing the battery life and works well with 12 and 24V panel. amiciSmart Controllers work best with lead acid batteries and is not fit for any other battery types. Embedded with supreme quality, international grade chip, the controller runs perfectly fine in all weather conditions. It is provided with dual USB port that helps in charging digital products conveniently. This intelligent smart controller is a must have for solar panels.
2. Luminous Solar Charge Controller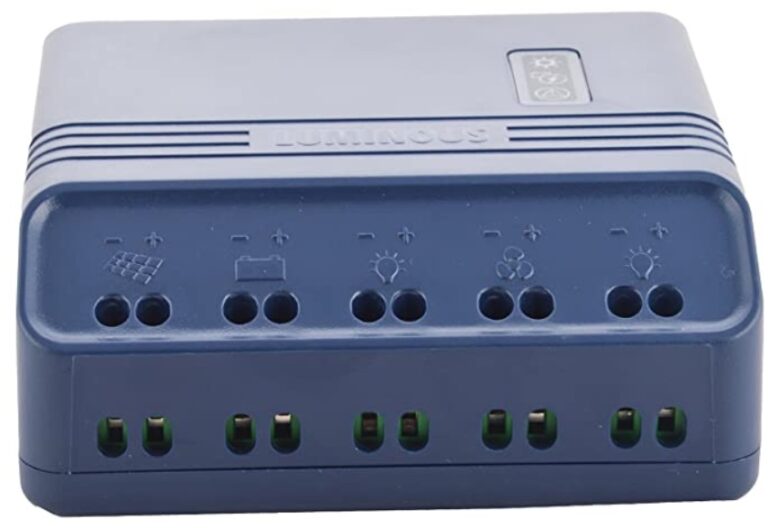 Best Solar Charge Controller in India comes from Luminous Power Technologies, a trustworthy brand that offers a wide range of innovative products in the power backup, home electricals, and residential solar space that covers, inverters batteries, and solar solutions.
This Gurgaon based firm has 7 manufacturing units and more than 28 sales offices spread across the country, along with a global presence in 36 countries. Luminous 10 Amp Solar Charge Controller is one of the bestselling product with great performance and prompt service.
This micro controller based solar charge controller has in built USB port for mobile phone charging and other digital usage. It is highly efficient with electronic short circuit protection and in-built load controller with low voltage disconnect feature options for lead acid or SMF battery types. Build in PWM technology with greater than 96% efficiency.
3. Exide Solar Charge Controller
Exide Industries undoubtedly offers the best PWM Solar Charge Controller in India to its customers. Headquartered in Kolkata, this multinational firm has dealership network in 46 countries spanning across 5 continents. With a dimension of 13.5 x 9 x 4 cms, this particular device is a perfect one for home use and for home lights. This 12/24 V, PWM 6 Amps controller is an amazing product from the stable of Exide. The 100 watt solar panel associated with this controller provides efficient result.
Exide's solar charge controller is of international quality and enhances the life of a battery. It effectively uses solar panel energy without wasting much of it. With great distribution network and good servicing, Exide Solar Charge controller can be the best choice for any domestic use.
4. Smarten Prime+ Solar Charge Controller
Smarten Power Systems is known for its best MPPT Solar Charge Controller in India and is the front runner of the evolution to a renewable energy future in the country. Since its inception in 2014, Smarten has rapidly established a global footprint with their advanced products with diverse range. This Gurgaon based firm's solar charge controller has a user friendly interface which provides upto 20% of power savings with 100% solar priority.
Weighing 3.3 kgs and having an orange casing, this device has four stage charging – bulk, absorption, float and equalize. With high efficiency, this wall mounting device supports LA or SMF or Tubular or solar. It prevents the batteries from deep discharging and is MPPT 12 / 24V automatic 30 Amps.
5. UTL Solar Charge Controller
Being the best Solar Charge Controllers in India, UTL uses advanced technology and fulfils hugely demanded solar products in the market. UTL is known to manufacture solar charge controllers with high efficiency & built-in microprocessors that enables the controller to increase the energy transfer efficiency by up to 30%, compared to traditional charge controllers. This Delhi based company makes Hybrid SMU 12V Panel with 12V Inverter Battery.
The compact sleek design can be wall mounted with high reliability and surge protection. It has longer operational life and in-built PWM technology charge controller. There's also option of automatic voltage selection for 12 or 24 Volt. Fitted with high performance micro-controller, UTL Solar charge controller is efficient enough to avoid battery under-charging or over-charging.
6. Microtek MTK3012 Solar Charge Controller
Being the most prominent brands in power solutions, Microtek ranks within top 10 Solar Charge Controllers in India in 2023. With a wide range of solar products for retail and commercial users, Microtek develops some landmark products using the most recent solar technologies to deliver optimal results. These products from the stable of Microtek are tested and certified as per leading industry certification standards and have carved a strong market position in a very short span of time.
Microtek's MTK3012 Solar Charge Controller is a PWM type 30 Amps 12V controller with a grey metal body weighing around 1 kg. It is instrumental in saving the electricity bill. It is a micro-controller based high efficiency solar charge controller that is best suited for low power solar applications & is best for home use. It is smart enough to cut off the battery from charging whenever it senses the battery full-charge voltage. It then reconnects the battery if the charge drops to a pre-set level.
With its huge distribution network across the country and prompt service, Microtek products are preferred among customers over its competition. All of their products are of premium quality and are crafted to cater to the unique requirements of the Indian households.
7. MagiDeal Solar USB Charge Controller
In case you are looking for something affordable in solar charge controller, then MagiDeal is the brand to try for. This Hong Kong based brand has a light weight device that's made of plastic and is blue coloured. This particular device from MagiDeal is designed specifically to meet the rural electrification market. Highly durable and reliable, this controller is efficient enough to increase the energy transfer by atleast 30%.
It has built-in electronic fuse that needs no replacement. These controllers are protected with moisture proof coating, thereby minimizing damage from humidity and from nesting insects. MagiDeal Solar charge controller is a PWM type with LED display and USB port for charging digital devices. Easy to operate, this particular product is perfect for home use.
8. LOOM SOLAR – Fusion 2024 Charge Controller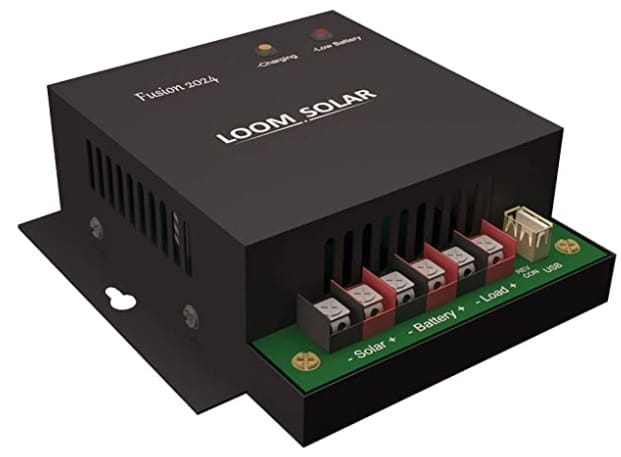 If you are looking for the best solar charge controller for lithium batteries then this Faridabad based start-up has a solution for you. Loom Solar is an ISO 9001 : 2015 certified company and recognized start-up in manufacturing of solar panels and lithium batteries. It has a wide distribution network of resellers and have won the prestigious gold & silver award in the 11th Annual Golden Bridge Business and Innovation Awards 2019 at the USA.
Made of premium quality material, Loom Solar's Fusion 2024 Charge controller is a perfect one for home use. This 20 Amp, 12-24 V device comes with 12 months warranty. It is effective in running DC lights, fan and mobile charging from solar panel and battery. It is provided with USB port and has dusk and dawn feature. It provides protection from short circuit, overload, reverse current flow, low battery discharge, and high battery charge. It has a host of LED indications for easy functioning.
9. ELEPHANTBOAT Solar Panel Charge Controller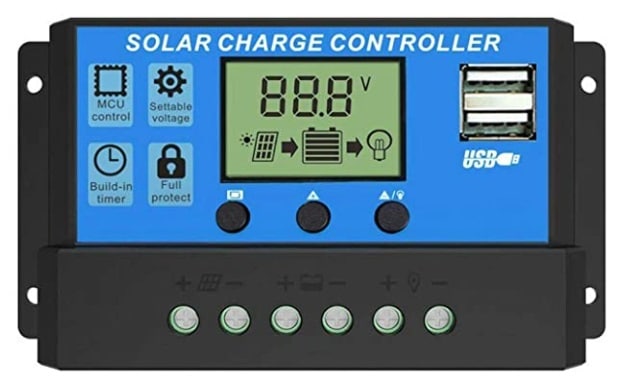 Another affordable and reliable brand of solar charge controller comes from Elephantboat Ecommerce. This Bangalore based firm brings to us an easy to operate device that's not complicated. This 10A 12V 24V ABS Solar Panel Charger Controller has 2 USB port to facilitate mobile phone charging and other gadget charging too. It is a light weight device weighing 140 gms only.
This particular variant from Elephantboat is suitable only for lead acid batteries such as OPEN, AGM, GEL etc modules. Large LED provided for better display of status. It is provided with reverse current protection that gives low heat production and protects from over charging. Since, it's equipped with good industrial grade microprocessor, it efficiently controls the charger and discharge process. Its convenient switched modes make it suitable for home, industries, commercial establishment etc.
10. SPARKEL Digital Solar Charge Controller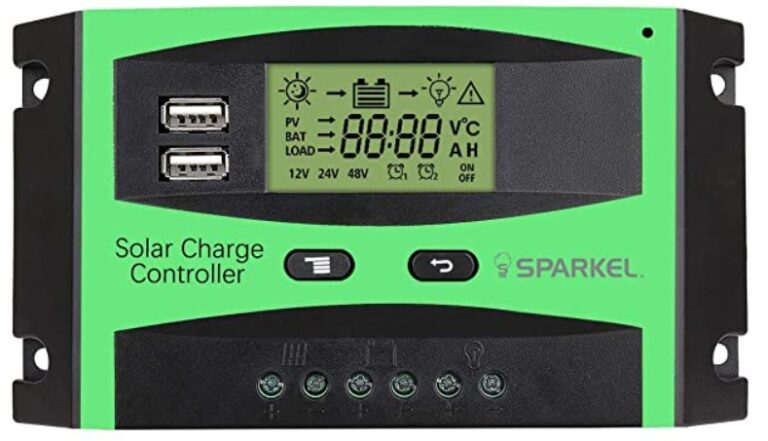 With an aim to simplify life using solar power, this Pune based firm is creating unique value proposition for customers in the field of renewable energy. Over the years, Sparkel has successfully developed and designed product solutions for customers with all levels of requirement. Backed with cutting-edge R&D, it has extensive range of robust and reliable products to offer.
Sparkel's PWM Solar Charge Controller with Digital Display comes with dual 5V USB charging, dusk to dawn feature and is compatible with Lead Acid or SMF or gel battery. It is provided with large LCD display, to keep a track on the charging status and switch modes conveniently. This device comes with overload protection, short-circuit protection, open-circuit protection, and reverse protection, thereby increases the battery life naturally. The green colour plastic body is light weight and has superior quality international grade chip that ensures stable run in both cold and hot temperature and humid conditions. This particular charge controller can be used both for domestic as well as commercial use.
All you need to know before buying a Solar Charge Controller
At times, it becomes a bit of a task to buy a technical device because of those high-tech mumbo jumbo that might sound very confusing, and at the same time the retailers might try to fool you in the veil of those jargons. A solar charge controller is an invaluable protective device, without which you can end up incurring unnecessary costs.
The right charge controller device for your battery can bring in the best performance from the off-grid PV system. There are different types of charge controllers, which are designed to suit a particular solar power system. When shopping, mostly we get lost in the technicalities and are not certain about the type of unit that should be opted for, hence end up purchasing a misfit. The following parameters can form a buyer's guide to solar charge controller.
1) PWM or MPPT –
The very first step of selecting a solar charge controller is to decide which type to go for. PWM and MPPT are the two main types available in the market. It is known fact that PWM is less efficient than MPPT, whereas MPPT has higher upfront cost as compared to PWM, but eventually will have a break-even and starts saving on operational costs.
2) Maximum Open circuit Voltage –
This is a solar cell phenomenon & corresponds to the amount of forward bias due to the bias of the solar-cell junction with the light generated current. The best way to check is to connect in parallel, and the voltage remains same and the current adds up. While connecting in series, the voltage adds up and the current will remain the same.
3) Maximum short circuit current –
When the solar cell is short-circuited, the current that flows through is short circuit current. It is the largest current which may be drawn from the solar cell.
4) Battery Voltage –
While choosing a solar charge controller, one should make sure that it is compatible with the battery type and voltage (12 or 24 or 48V). Along with optimizing the power output if the system, the controller also charges the battery and hence this is critical. In general, the MPPT controllers automatically detects the voltage of the battery and can charge both lead-acid and lithium-iron-phosphate batteries.
5) Battery Charge Current –
This needs a check before shortlisting the controller. One should check for the maximum battery charge current of the solar charge controller. The higher this value is, the faster the battery gets charged.
6) Monitoring Storage capacity –
For low maintenance and efficient energy consumption, monitoring your production and storage capacity is important. This keeps the battery healthy and helps to run longer.
Best Solar Charge Controllers in India can support renewable energy functioning
Global focus is towards renewable energy resources and a lot of importance is given to generating electricity from solar panels. While the process isn't that tough, but a solar charge controller plays like a heart of the entire system. Hence, for clean and better energy production, the focus should be on best solar charge controllers brand that's reliable, long running and deals with all kind of protection.
Get the best of uninterrupted power supply without polluting the environment. The top brands of solar charge controller are hence listed above for your perusal. Simply pick up the best brand of these electric devices and enjoy eco-friendly energy at home.