Finally, the list of best Stethoscope in India in 2023 is here, browse through the top brands and pick-up the ones that best suits your requirement.
Walk-in to any hospital, healthcare centre or clinic and the sight of doctor or nurse walking with their stethoscope isn't uncommon. This acoustic device even though simple in design plays a key role in determining irregularities of human body by listening to the sound. For patients, the brand of stethoscopes probably doesn't matter, as much as it is important for doctors and medical practitioners to choose the best for accurate diagnosis of ailments. Research study suggests that healthcare professionals seen with stethoscopes are perceived to be far more trustworthy than others without it.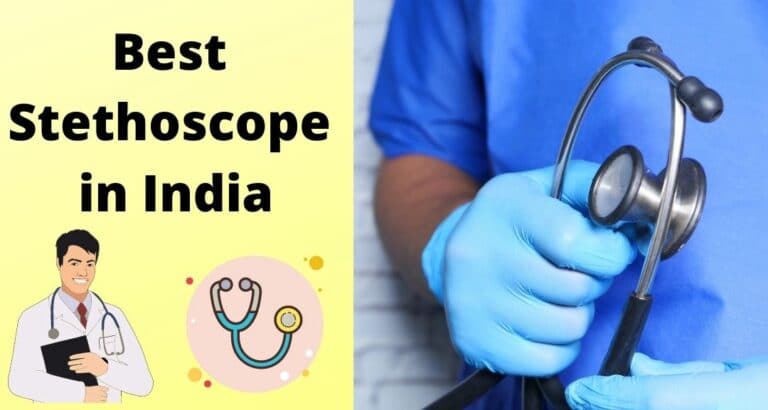 Basics of Stethoscope you should know
This simple yet phenomenal device was invented in 1816 by a French Physician named René Laennec. It all started, as the physician wasn't comfortable placing his ears directly to a woman's chest to diagnose her hear beat. The earlier stethoscope was very simple in design and was similar to ear trumpet that amplified sounds from chest. Later on various innovations came in and stethoscope got transformed into new designs and features. However, traditionally stethoscope has three parts – Headset, Tubing, and Chest piece.
Headset is the part of the device that hangs around a doctor's neck. It basically consists of two eartubes, tension spring and eartips. Eartube connects the tubing to the eartips and are made of metal or steel, and is designed in such a way that it fits best into the user's ear canals. They efficiently directs the sound into left and right paths so as to provide most clearer and accurate listening experience to the doctors and nurses. The eartips are the ones that gets plugged into the ear and are made of either rubber or silicone with hole in the middle for letting out the sound. They mostly come in various sizes to accommodate different ears.
Tubing is the tube connector between the headset and chest piece. This is the part that carries the sound frequencies picked up by a chest piece. Stethoscopes generally have either a single tube design or dual tube design. The double tubing allows sound to travel better and reach the user's ear canal with better clarity.
Chest piece is that part of the stethoscope that is placed against a patient's body. Modern day stethoscopes can be placed on clothes and bandages with no difference in sound frequencies reaching the eartips. Many stethoscope has either one-sided or two-sided chest piece, depending on its make. Chest piece consists of diaphragm, bell and stem. Diaphragm are very sensitive and promptly catches mid to high frequency sound and that's how doctors can diagnose his patients.
Top 8 best Stethoscope in India in 2023 with amazing results :
Best Stethoscope brands in India in 2023 will consistently give the best performance and result. And that's because the technical device that comes from various branded house passes through several quality checks. Our review of the best available brands of stethoscope in the market takes you through some of the finest brands in this segment and how each one stands out from the other. Doctors and healthcare professionals should be aware about the features before choosing the best. More so, when the device is a key element to their profession.
In a cluttered market with presence of so many brands, it becomes difficult to choose the best. Without much of technical knowledge and brand exposure buyers tend to pick up the wrong brand which leaves with negative experiences. We are here to help you pick up the best brands of stethoscope through our intensive research process and expert feedback. Our collated list of brands below will guide you to procure the best, without any doubt.
1. 3M Littmann Classic III Monitoring Stethoscope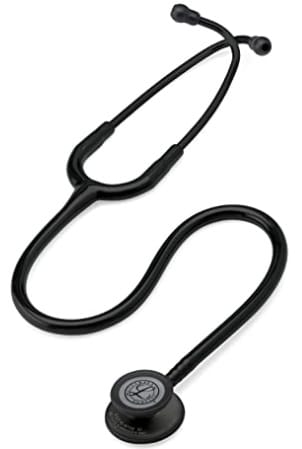 Littmann is one of the best stethoscope brands in India, which is known in the medical field for their patented stethoscopes. Founded by Dr David Littmann, the brand was later acquired by 3M in 1967 where Littmann served as a Consultant. 3M Littmann's stethoscopes are cardiologist's best friend. With high degree hearing, these devices provides the best assessments and diagnoses. High degree of acoustics of 3M Littmann help in gaining greater patient insights.
This black coloured device made of stainless steel and plastic measures 32.3 X 16.8 X 4.4 cm (L XW XH) and has high acoustic sensitivity. With excellent performance, the binaural design is easier to clean and maintain. The tubing is resistant to skin oils, and is highly durable. The black matte finish chest piece looks amazing. Overall the products weighs 100 gms and comes with user manual, warranty card, and spares. The double sided chest piece is suitable for adult and paediatric patients. It can withstand long hours of use and easy to carry because of its light weight. It comes with a 5 years promise and are available in varieties of colours too.
2. IndoSurgicals Silvery II-SS Stethoscope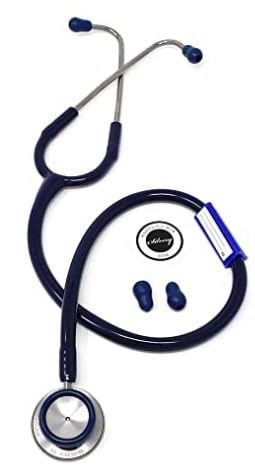 This Indian medical equipment manufacturer and exporter offers the best stethoscope in India under the brand name of IndoSurgicals. Based out of New Delhi, and known to supply a wide range of best quality medical equipment and hospital supplies, their Silvery II-SS Stethoscope is widely trusted among medical professionals. Their devices are made with latest technology in their R&D centre that maintains global standards and ratings.
IndoSurgicals' stethoscope has been a bestseller product in its segment and is available in multi-colours such as black, grey, blue, green and red. It comes with a 5 years warranty. And is made of stainless steel. Admeasuring 29 x 16 x 3.5 cm, it weighs 460 gms. The packet comes with 1 stethoscope, a spare diaphragm, and a pair of spare ear knob. This quality product from IndoSurgicals provides sound clarity of heart, lungs and intestine, thereby helps doctors and healthcare professionals in perfectly diagnosing the ailments.
3. Dr. Morepen ST01 Stethoscope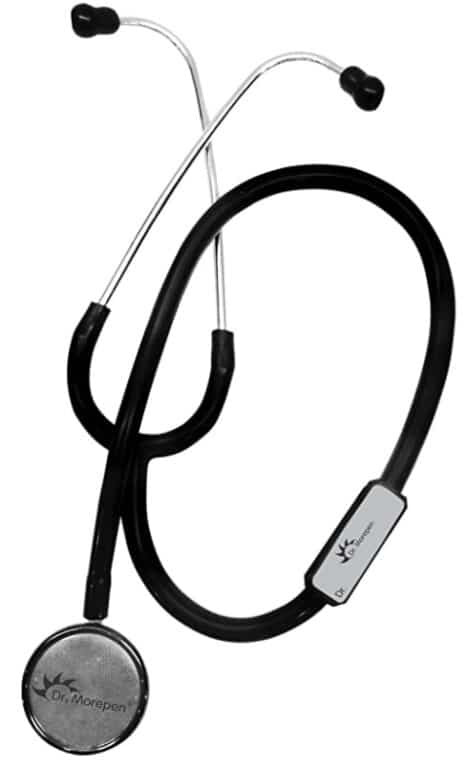 If you are looking for the best stethoscope in India under 1000, then Dr Morepen is the one to go for. This brand from the house of Morepen Laboratories Ltd has been serving medical fraternity for last 35 years with its world class medical equipment and gears that is being manufactured in India itself. With state-of-art R&D and manufacturing units, it has gained a great equity among healthcare professionals. Dr Morepen's ST01 Deluxe Stethoscope is one of the best and affordable option, ideal for Indian market.
This metallic product having brass chrome finish weighs only 200 gms, admeasuring a dimension of 26 X 13 X 3 cms. The highly sensitive and effective diaphragm is cased in a chrome plated chest piece. Provided with soft eartip knobs, this model of stethoscope from Dr Morepen gives sound clarity and best quality. For optimised performance, these are manufactured using seamless PVC tubes.
It comes with 1 year's warranty and offers off-site servicing. Economically best and provides accurate reading, Dr Morepen's ST01 Deluxe is well suited for medical students.
4. 3M Littmann Lightweight II Stethoscope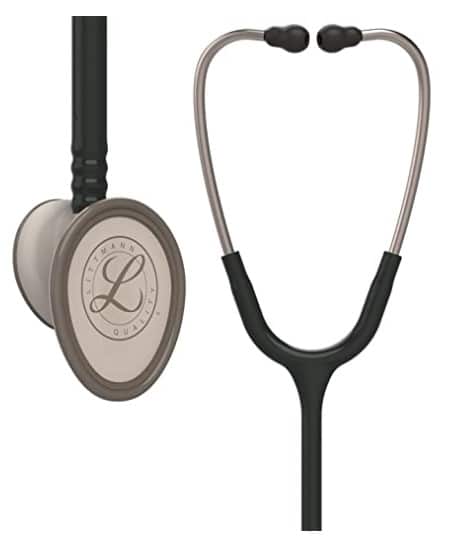 Littmann is known to manufacture the best stethoscope for doctors in India with unmatchable quality and great brand equity. The "L" logo of 3M Littmann brand speaks volume and carrying forward the legacy of the great French physician who invented it. Over the years it has gained trust and advanced the art of listening through its light weight sensitive stethoscopes that are known to enhance amplification and reduce noise, thereby aiding doctors and medical professionals with perfect diagnosis.
Available in black, burgundy and Caribbean blue, this range of stethoscopes weighs only 100 gms, probably the lightest from the stable of 3M Littmann. This model also carries a warranty of 2 years, which makes it an attractive deal. One amazing feature of this Littmann stethoscope is that it has tunable diaphragm, which means that by slightly adjusting the pressure on the chestpiece, one can hear both high as well as low frequency sounds. Further the chestpiece has a teardrop shape that makes it easier to position under blood pressure cuffs and around bandages. The eartips are soft are comfortably fits into the ear. With Littmann, world class quality is assured, hence wear it with pride.
5. IS IndoSurgicals Dulcet Stethoscope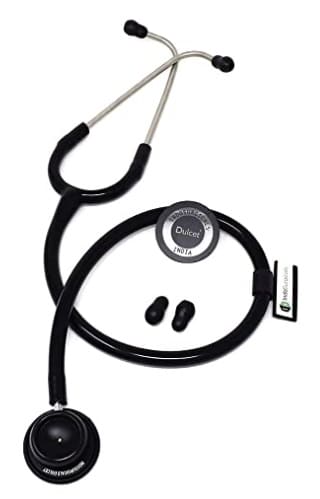 If you are looking for best stethoscope in India for medical students, then IS IndoSurgicals Dulcet is the one. Being an affordable brand this is preferred mostly by medical students, yet the result of this particular stethoscope is amazing. IndoSurgicals offers a wide range of best quality medical equipment and hospital supplies, not only to Indian market but abroad as well. This New Delhi based firm has the best facility to manufacture world class medical equipment and device. Having high degree of acoustic sensitivity, IndoSurgical Dulcet stethoscope is in great demand by young medical students and nurses.
Weighing around 180 gms and admeasuring 26.4 X 13.6 X 4.2 cm in dimension, this stethoscope model is very handy and light weighted. It has an exterior aluminium matt finish and a binaural tube that's comfortably angled. The soft sealing siliconized PVC eartips are easy and soothing. Further, to make it patient friendly, the chest piece has non-chill rim which is coated with aluminium epoxy powder. Incase you want something Indian with great results, then IndoSurgicals is the one.
6. Micro Tone MSI Stethoscope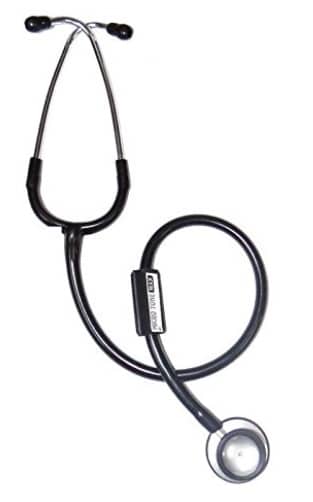 One of the best performing brands in Indian stethoscope segment is Micro Tone MSI. This dual sided chest piece speciality stethoscope has 21 inch of non-greasy superior tube lumen. It comes with 1 year of manufacturer's warranty and has a brass & aluminium finish on the exterior. Some of the key features are its aluminium alloy anodized chest piece, along with ear tube that has extra soft tight sealing. The head frame is made of 5 mm thick brass pipe for better durability. The pack comes with warranty card, accompanied by spare diaphragm with ear knob.
Micro Tone has been manufacturing some of great range of stethoscopes in India that matches international standards, and provide sound with utmost clarity. Thereby helping the healthcare professionals to take a perfect call while diagnosing their patients. Go for this, if affordability and quality are the two things you are looking for in a stethoscope.
7. MCP Dual Head Stethoscope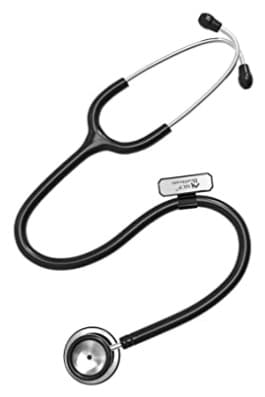 Another brand that easily qualifies as the best stethoscope in India in 2023 is MCP Dual Head stethoscope that's available in multi-colours such as black, blue, grey and red. These coloured stethoscope adds glamour to the look of the medical professionals. Weighing just 140 gms, these are made of aluminium and is latex free. It possess traditional dual head design that has ultra-sensitive random fibre diaphragm and chrome-plated zinc alloy and brass chestpiece. Sound quality is perfect due to thick walled tubing. MCP Dual head stethoscope is a blend of high performance and reliability within affordable price range.
MCP's wide range of stethoscope is reliable in assessing heart, lung and blood pressure. Tunable diaphragm can effectively capture low and high frequency sounds. Some key features are its soft sealing eartips with metal bush. The non-chill diaphragm is highly sensitive for better amplification and crisper high frequency transmission.
8. Pulse Wave Mark -1 Stethoscope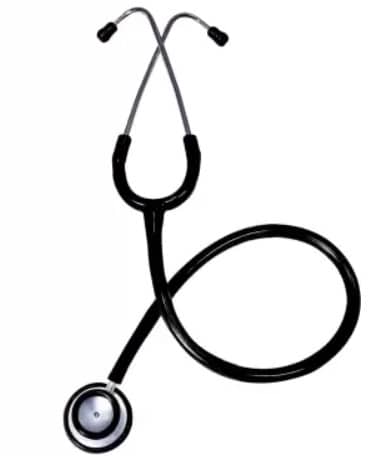 Pulse Wave is also one of the best stethoscope brand in India with accurate results and great performances. It gives reliable readings of heart rate and pulse rate. Available in 11 colours of black, blue, dark grey, ebony black, yellow, green, grey, navy blue, orange, pink, and red. This Pulse Wave model carries 1 year's warranty and is best for students, cardiologists, general physician, paediatrician, nurse and other healthcare professionals.
The packet comes with 1 stethoscope, a spare diaphragm, and a pair of spare ear knob. This quality product from Pulse Wave provides sound clarity of heart, lungs and intestine, thereby helping doctors and healthcare professionals in perfectly diagnosing the ailments. This single lumen stethoscope is extremely affordable with uncompromised perfection in its performance. It's a must have for anybody who seeks reliability and superb results. Pulse Wave's manufacturing unit produces some of the world class stethoscope that can compete with any international brands at ease in performance, design and price.
Things you should keep in mind while buying a Stethoscope :
As we know that stethoscope is the most widely used device among medical fraternity, it is something that creates immense trust and responsibility of the person carrying it. Similarly, to a healthcare professional, a trusted brand of stethoscope is the symbol of reliability, accuracy and dependency. Today with booming eCommerce platforms, hundreds of brands have mushroomed in every sector and that's the case with stethoscope too. But don't fall prey to the marketing tactics of these brands, as we have simplified the parameters for you that would help you choose the best in class brands of stethoscope. Discussed below are the pointers that will help you procure a great stethoscope as per your requirements.
1) Clarity of sound
Sound is important when it comes to functioning of stethoscope. It is the sound that gets detected by diaphragm and is transmitted to the doctor's ears. As a result, one should be heedful to the clarity of sound. Best way to check is to put the diaphragm on to your chest and listen to the heartbeat. One can gain greater patient insight from several frequency of sound that the stethoscope catches. Be it heartbeat, blood pressure, lungs or intestine ailments – the sound quality makes it all the difference in diagnosing the ailments.
2) Tubing style
Tube is also an important section of a stethoscope. Choose the one which has flexible tubing and discard the stiff ones. The headset of the stethoscope should be easily adjustable for individual fit, comfort and ease. Stethoscopes mostly either have a single tube or dual lumen tube design. However, the comfort factor in handling this device should be factored while opting for any specific brand.
3) Colours
The traditional black coloured stethoscope is boring now. These days multi-coloured, light weight stethoscopes are jazzing up things. So, you can take your pick according to your favourite colour.
4) Purpose of use
Depending on the purpose of your usage, you can select a particular over the other. You can be a medical student, nurse, general physician or cardiologist. Depending on the gravity of your medical profession you can choose a basic model over any electronic advanced model which is highly sensitive and can amplify slightest of sound deviation. Cardiologists who deals with heart rate and pulse rate needs to be well equipped with the most advanced model as compared to a junior medical student.
5) Variant
Acoustic vs Electronic, this might keep you thinking for a while before you start browsing the stethoscope brand. Acoustic is a basic variant with low sound levels, whereas electronic ones amplifies the body sounds electronically and provides high clarity, which in turn assists the medical professionals with sound judgement of ailments.
6) Budget
Above all criteria, budget plays a huge role in deciding the best yet affordable stethoscope. There are cheaper models with basic features, and then there's mid-range with slightly better feature. High end cardiology stethoscopes are expensive ones with enhanced features that amplifies slightest of deviation in sound frequency.
Let's clear your doubts
Even though you will find the trending brands of best stethoscope brands in India in 2022 right here in this article, you might still have some queries on this medical equipment that's essential in healthcare profession. More so when diagnosis of patient's ailments are primarily dependent on this device. We are here to address your queries, so that you are clear on what you intend to purchase and aren't confused with technical jargons that are widely used by brands to sound unique and trendy. Following are some of the commonly asked queries on stethoscope and we have tried our best to address it for you. Take a look.
Which brand of Stethoscope is best?
Undoubtedly 3M Littmann Classic III is the best stethoscope brand which carries the legacy of Dr David Littmann, the founder of this acoustic device. With high degree hearing, these devices provides the best assessments and diagnoses. High degree of acoustics of 3M Littmann help in gaining greater patient insights.
Which Stethoscope is best for medical students India?
Affordability and reliability with perfection is the key feature that would attract the medical students in India. And in that scenario, Dr. Morepen ST01 Deluxe Stethoscope is ideal. This device is framed with a dual frequency that makes the medical professionals figure out both high and low frequencies of the patient.
What kind of Stethoscope do nurses use?
3M Littmann is the most trusted and popular brand of stethoscope among healthcare professionals, and hence it is common to find the "L" logo as an emblem of Littmann on their stethoscope. However, in modern days, brands like Dr Morepen and IndoSurgicals are also being preferred by nurses and matrons.
What length of Stethoscope is best?
The ideal length of stethoscope is still a debateable subject. While some physicians and medical practitioners are of the opinion that the length doesn't matter. But many believes that 27 inches is a perfect length between a doctor and a patient to examine him/her with stethoscope. Hence, the length of 27 inches can be considered best.
What is the minimum price of Stethoscope?
A varied range of stethoscopes are available in Indian market. Depending on its make, brand and type, the prices vary. However, the lowest price at which this medical device is available in Indian market is Rs 199, which is a basic acoustic stethoscope.
How long do Stethoscopes last?
The longevity of a stethoscope is very subjective in nature. It depends on the usage and the care taken by the user. But on an average, a normal stethoscope may last for 2 years, before it is time to procure another one.
Best stethoscope in India helps doctors to detect ailments accurately
A stethoscope is the most reliable yet basic medical device which has immense benefits when it comes to initial examination of patients. Any problem in the stethoscope can end up giving wrong results, so a doctor or medical practitioner can't afford to take any chance. While the technical knowhow of its make isn't important, but detection of proper sound with greater clarity is something one should check with the brand they decide to buy.
Our article is a humble attempt to help you get past those ambiguity and procure the best of brands of stethoscope, so that medical professionals can rely on it and get to the root of the ailments.