Check out our take on the 10 best violin brands in India in 2023. The list consists of the most promising brands which offer exceptional and high-grade violins.
Out on the look for the Top 10 Violin Brands in India in 2023? Well, you came to the right place! We understand how frustrating it may be to choose the correct violin. Especially if you have just got into playing the instrument or are a beginner and aren't able to decide which violin is worth their cost.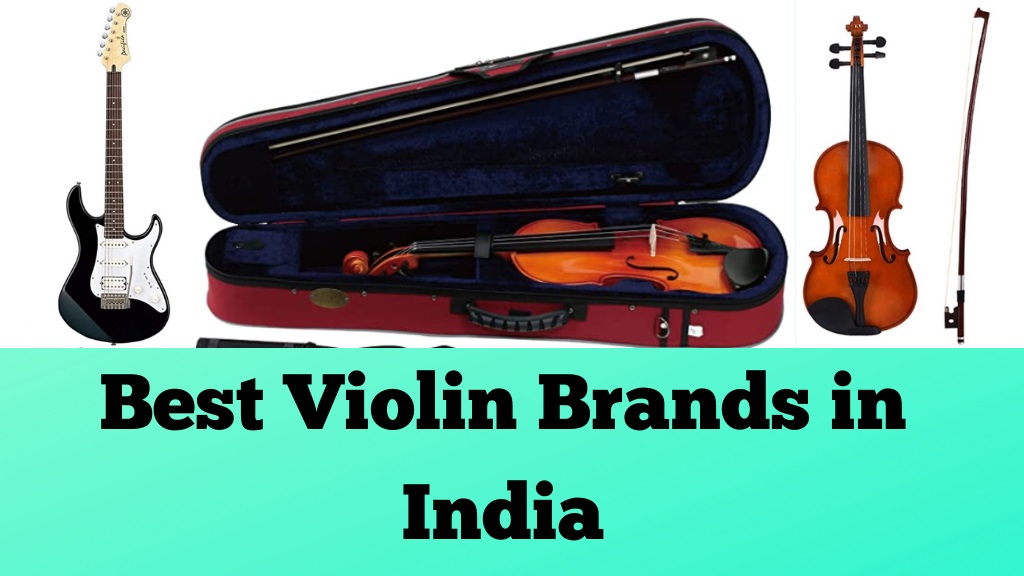 A violin is one of the most delicate instruments which gives out a classy feel when you play it. In India, it has widely been used in traditional music, especially in the south side.
Otherwise, many people who are into orchestra's or group music performances can be found playing the violin with much passion. Many students prefer or want to play the violin and hence start from a very young age, so to keep their interests and make a violin fulfil its purpose the best one has to be chosen.
To make sure that you choose the violin most suitable to your taste, we have curated a list of the top 10 violin brands in India. This list comprises brands which are considered as the most prominent, best rated and have ended up selling the maximum number of violins in India in comparison to other brands.
Best Violin Brands in India in 2023 Which Offer Exceptional Violins:
If you want to buy from the best violin brands in India you have to be sure to purchase a high-quality violin for the most suitable rates. The brands mentioned below will offer you just that.
1. Stentor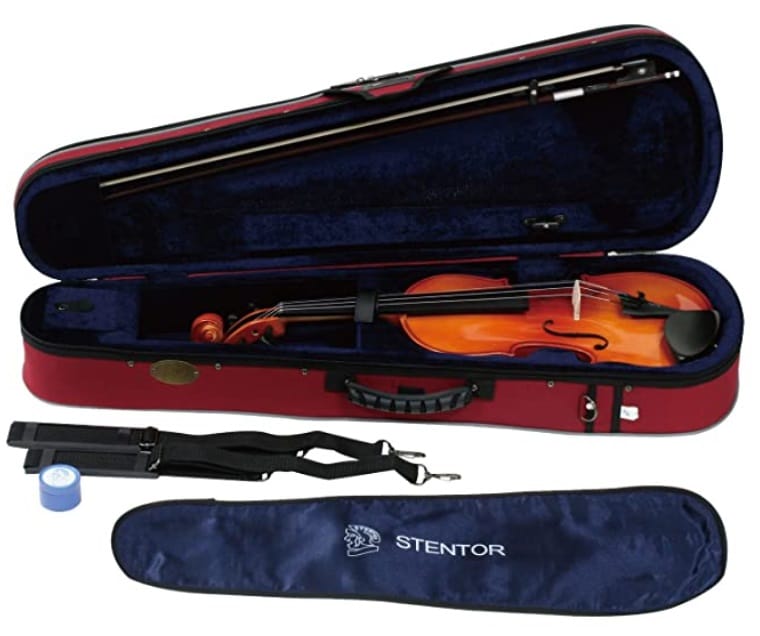 Stentor is the best violin brand in India in 2023 and is considered to provide some of the most high-quality violins. This violin brand manufactures violins in such a manner that it has a range which goes from beginner to expert.
Like the Stentor 1500 violin model is a great choice for a beginner violinist who wishes to get in the habit of playing the instrument quite frequently. The brand offers violins of both half and full sizes which can be used by young children and adults respectively.
Due to these very reasons, Stentor is one of the best violin brands for beginners in India. And just because it makes violins for beginners doesn't mean that the quality is low.
The violins produced by Stentor brand are made up of hand-carved wood. Most of its violins are made up of maple wood and are designed in such a way to give them a classy look.
The designs portray the great craftsmanship which was used to make these instruments. With hand made spruce tops, a nice maple back which may have also been nicely flamed. The designs which are decided for Stentor's violins are made on the basis of efficiency and generating the perfect music when played.
Stentor violins are packed nicely in a violin outfit or case, which has grooves made to place your violin and your bow. The bows are made up of horsehair so that when you play you hit the right tones with precision.
2. Mendini by Cecilio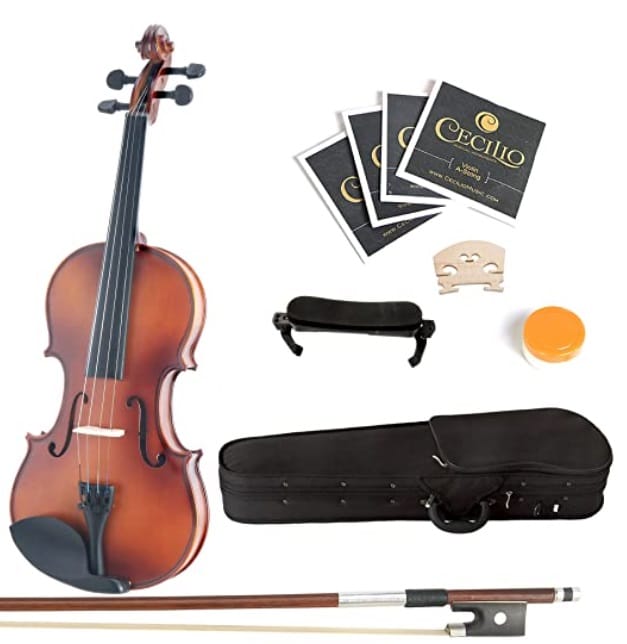 Mendini by Cecilio is one of the best violin brands in India. The brand is so well known that it resonates within the violin playing circuits. Though Mendini and Cecilio are considered to be 2 different violin brands they aren't and this misconception mainly arises due to the huge differences in their prices.
Mendini Violins were introduced by Cecilio, in order to produce a range of violins that would have impeccable quality and be available at an affordable price.
Though these violins are preferred for beginners they are well equipped to be used by experts. Thus, Mendini by Cecilio is considered to offer some of the best violin for beginners in India.
The violins created by Mendini are machine-made and assembled by hand in China. The brand is widely known for producing violins however, they also make and sell brass based, sting based and other woodwind type instruments.
Mendini is basically a subsidiary of Cecilio instruments and hence it's considered to be a trusted brand.
Some of the best violins created by Mendini by Cecilio are the Mendini MV200, MV300, MV400, MV500, MV650 and much more. Most of these violins are put together with spruce used for the top and maple wood for the back and the sides. The bow is made from high-quality Mongolian horsehair.
The brand offers good quality fitting, ebony bridge and in cases of its higher models a hard case, chin rest and other accessories. All in all, if you're a beginner and wish to get a violin which you want to learn on and further practice on, we would definitely suggest that you opt for the violins made by Mendini by Cecilio.
3. PAL MUSIC HOUSE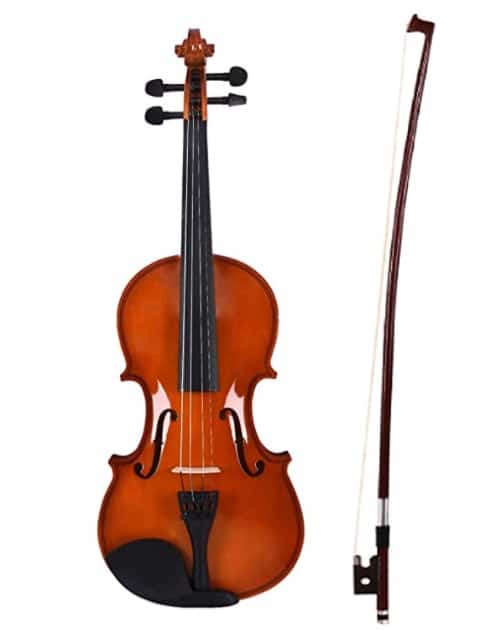 Pal Music House is another one of the best violin brands in India which offer really affordable violins made from high-quality wood. Now, the price of Pal Music House violins is comparatively cheaper than that of normal violins, as this company is a Delhi-based company and hence can be considered a home brand.
Pal Music House brand is mostly known to sell harmoniums and violins, they even sell dafli's (Indian instrument). Due to being focused on only a few instruments, they offer the best in class instruments and even sell them on online platforms.
Pal Music House has violins which are best fit for beginners as these violins have the basic requirements which will fit the needs of a beginner. They aren't made from any fancy wood or have a bow which has some specific type of hair. These violins are simple and cheap, thus making it the best fit for beginners.
The bows are made in such a way to avoid any sort of hand fatigue. The violins made by Pal Music House come with triangle cases, chin rests and even a tailpiece.
4. SG Musical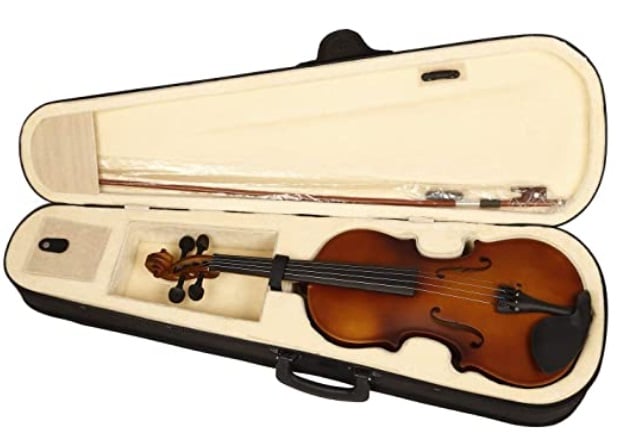 One of the Best violin brands Online in India is SG Musical. Established in 1981 (Punjab, India) this instrument making company focuses on providing the most prominent woodwind and string-based instruments throughout India.
SG Musical has its own website in which you can see them vividly portraying the instruments they offer. They are profound in selling harmoniums, violins, sitars and trumpets and many other instruments. The company is globally known and delivers its products worldwide like the USA, Canada, UK and other regions.
The company offers some of the most high-quality instruments all over India. The SG Musical violins are one of a kind, which are cheap and have a melodious tuning. These violins are a great fit for beginners who wish to learn the basics of violins and then get into a habit of playing them.
SG Musical offers accessories with their violins like packaging and carry-along, depending upon the product purchased. The company has made its name in the Indian markets and is hence considered as one of the best violin brands in India!
Their main goal is to provide high-quality musical instruments all over India and sell Indian instruments all over the world. So, that anyone who wishes to play an Indian instrument shall get delivered to their doorsteps.
5. Yamaha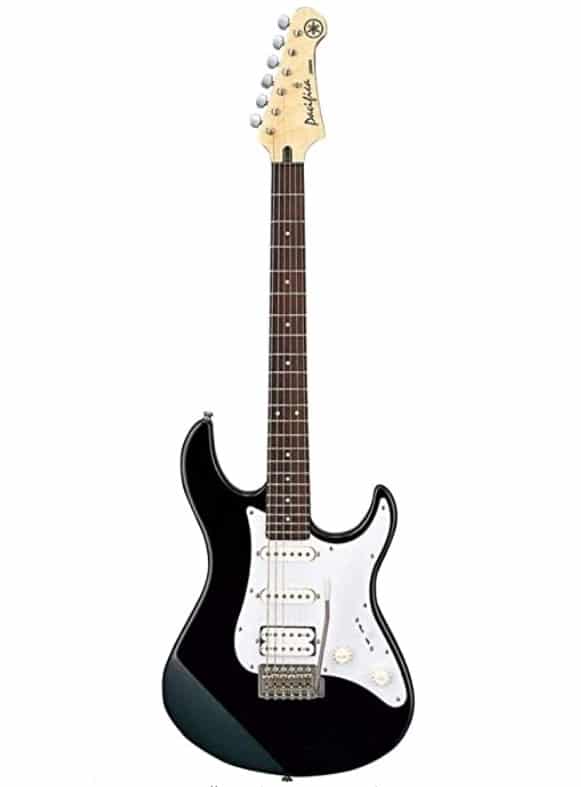 One of the best electric violin brands is Yamaha. Yes, the brand which is famously known to make the streets of India filled with some of the most prestigious bikes also produces some of the most amazing quality of violins.
Yamaha claims that 'weather performing solo or performing in an orchestra, the violin plays the vital role'. And on the basis of that, this violin brand has embarked on a journey to provide some of the most exquisite electric and normal violins.
Yamaha vividly explains on its site as to how they make their violins. The wood used for the violins is stored in a temperature and humidity controlled room. The top plate is made out of some of the finest spruce wood which is basically a pine tree.
Two symmetrical trapezoids are cut and carved out so that when they are put together to form a violin, the vibration comes out symmetrical and produces a very melodious tone. The fact that Yamaha incorporates such amazing craftsmanship in its violins makes it one of the best violin brands.
The violins produced by Yamaha are quite durable which can handle normal wear and tear. They come in attractive casings, have smooth chin rests and possess designs which make other instruments look basic. These violins are made by traditional methods and hence are perfected by craftsmanship.
If you want a stylish violin, we would suggest that you opt for the electric violins that Yamaha has to offer. They come with extended warranties, nice design and an overall great experience. The brand makes violins for both beginners and professionals, so we suggest you choose one according to your level.
6. Cremona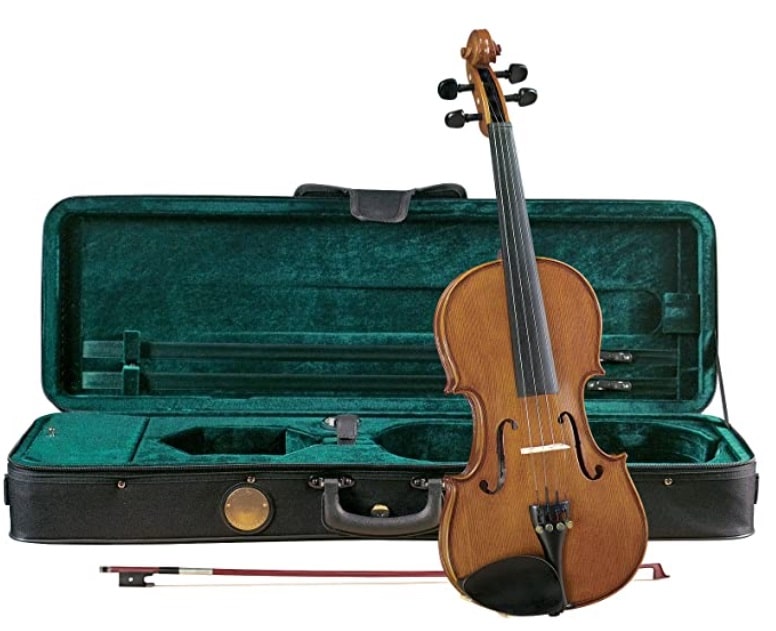 Cremona makes some of the best violin for professionals and they are so good that people around the globe prefer to buy them. The brand is known to produce some of the most melodious violins at a price which won't tend to hurt your pockets.
Many experts have claimed that the violins manufactured by Cremona are well suited for beginners and students. This is because of the sound they produce, the price they are offered at and the fact that they have varying models. All in all a good brand for those violinists who have just started their journey.
The brand also offers violins which are available in small sizes or for children. Like the Cremona SV-175 is one of their popular selling child violin's which comes in an affordable range. For beginners who wish to buy violins in a more affordable range, we would recommend they try out Cremona SV-130 & SV-150.
The violins made by Cremona are crafted out some of the most exquisite wood, which when fit together offer amazing playing ability. Most of these violins are made up of flamed maple, spruce top, Brazillain wood bow and have D'Addario Prelude strings.
All in all, Cremona is one of the best violin brands in India. Due to the high-quality wood used and the extreme durability offered by Cremona violins, they are considered to have a good resale value.
And hence make the violins of this brand an even better option for beginners. As they can just sell off their instrument once they have learned the basics on them.
7. Blue Panther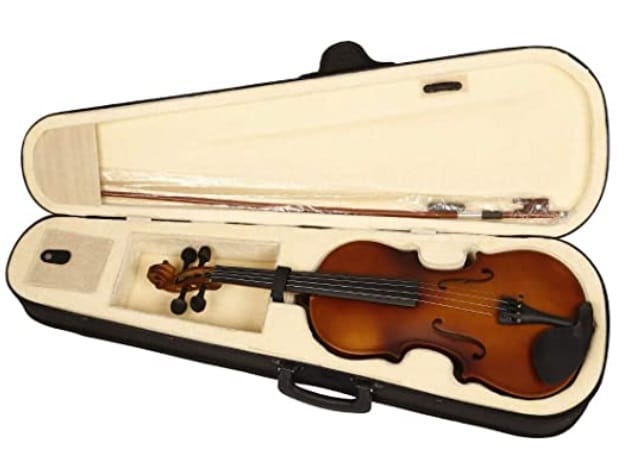 Another one of the best violin brands available in India is Blue Panther. This is an Indian brand that has been exporting its precious violins all over the world. Just by looking at the violin will you be able to tell that Blue Panther has left no room for any sort of disappointment.
The flamed maple, the high-quality wood and the design of the bow so that you don't feel fatigued after playing for too long. All of these qualities make the Blue Panther brand a must-try brand if you're looking for violins.
Most of the violins produced by this brand possess an ebony fingerboard and an adjustable tailpiece so that the violinist can play with smoothness. They have a sprue top for better toning and a regulated string ratio between each string so that they sound coming out is proportional.
The violins created by Blue Panther are quite cheap and much recommended for those players who are beginners. The brand offers a nice casing, a strong bow with high-quality hair, extra strings and rosins with each violin they manufacture.
This is done to make sure that the violins are taken care of and the player or buyer will be able to maintain it. The violins created by Blue Panther are rigid and durable making them a good choice for beginners.
8. Kadence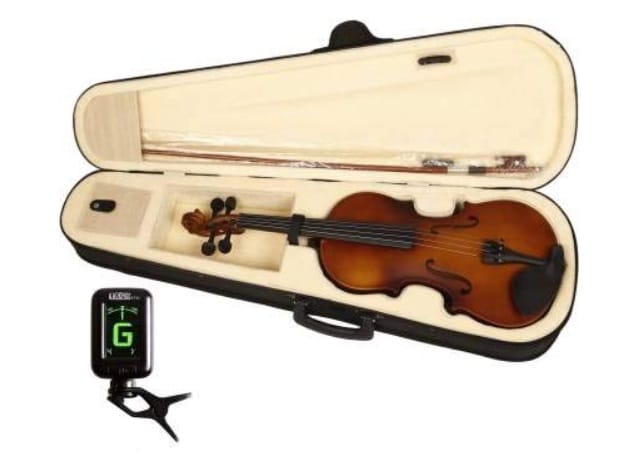 Another one of the best violin makers in India is Kadence, due to its extreme affordability. These violins have been recommended for children or beginners as they are good for basic training. One can learn all about the melody and tunes on a violin created by Kadence.
Some of the top violins made by Kadence have a nice glossy finish to it, thus giving it a classy look. Kadence uses a nice hard spruce top in its violins and also incorporates the use of pine wood and maple in them.
The violins produced by Kadence aren't exactly made for professionals, as these violins are lightweight and have a basic tuning. The bow is made out of average quality wood and uses horsehair to make the part which is used to play the violin.
Each violin made by Kadence is sold with a hard case for the protection of the violin, which consists of grooves to safely keep your violin, bow and rosin. These cases are triangular in shape and hence take up less space.
Now given the cheap price don't think that the violins produced by Kadence are not playable or anything. All their violins have received good reviews and are considered to produce a nice sound. If you're looking for a brand to buy a cheap violin from which will get the job done, we would definitely recommend Kadence.
9. ARCTIC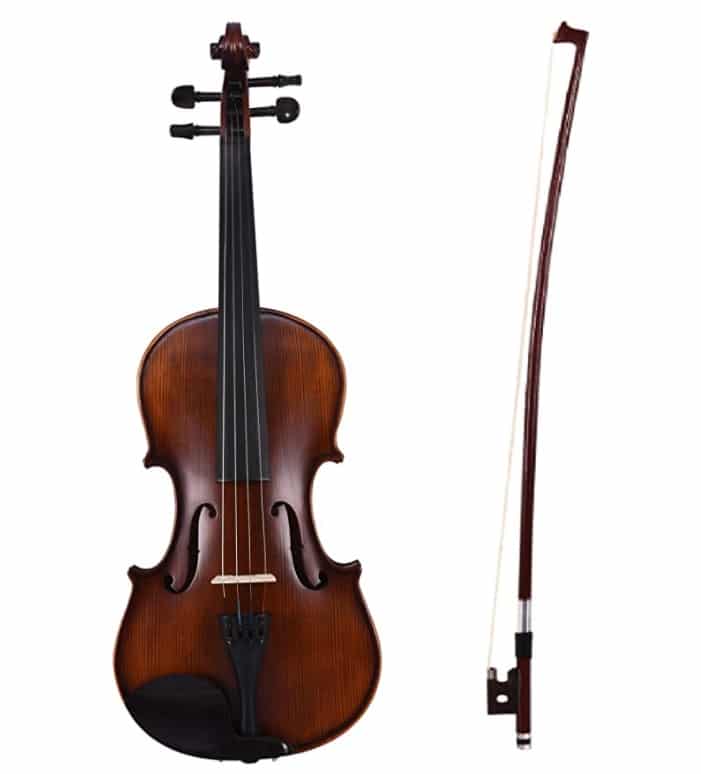 Arctic also produces one of the best violin for beginners. The brand is easily visible on Amazon and can be seen selling their violins in the lower price range. One of the violins made by Arctic, the Arctic Neo Violin kit is as of right now one of the best selling violins on Amazon India.
Arctic has been known to be a brand based in China and hence its violins are imported to India. Their lightweight violins are one of a kind and hence can play some of the most melodious tunes.
The violins produced by Arctic are made by graded quality pine wood and maple wood. The maple is used on the sides and back, hence helps to enhance the sound of the violin. The pinewood or in most cases the spruce wood is used for the top of the violin and hence gives a good tuning.
The spruce top is also referred to as the soundboard, table or in some cases the front. The violins made by Arctic incorporate the use of ebony fingerboard for rhythmic and smooth playing. They provide rosins with each bow and have designed their bows in such a way that a player won't feel fatigued after using one.
In comparison to the other brands mentioned Arctic violins are moderately priced and hence come in the middle range. The brand provides hard foam equipped cases which have proper grooves to store the violin, bow and rosin securely without any issue.
10. Sergio Tordini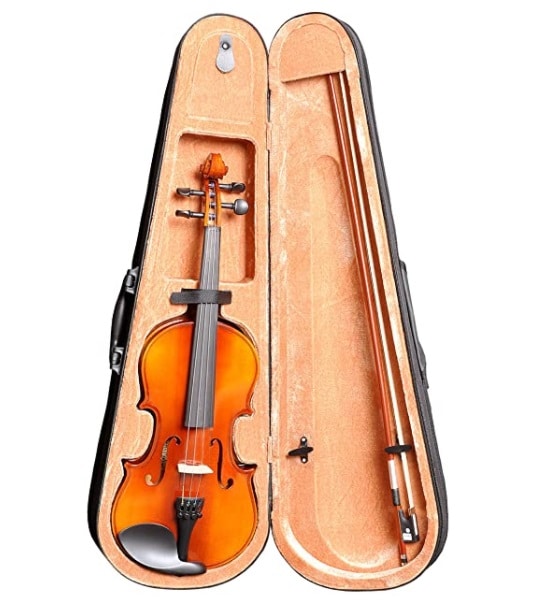 Sergio Tordini is one of the best violin company in India to produce some exceptional violins. Their main motive is that they believe in form and functionality. Along with this Sergio Tordini manufactures their instruments using the best in class raw materials.
The violins created by Sergio Tordini incorporate the use of high-quality wood which are then handcrafted by their master crafters. These master luthiers give the violin its shape and its amazing finish. The end product looks so appealing that people tend to go for it just by getting a glance at it.
Sergio Tordini claims on their site that they have any type of violin you could ever ask for available for delivery. Each violin has a nice finish and when played produces a melodious sound. These violins have received positive ratings online. Thus making Sergio Tordini one of the best violin band in India.
Most of the violins made by this brand use the basic maple and spruce in its making. Where solid maple is used on the back and the sides of the violin for symmetric vibrations. The bow which is used on Sergio Tordini violins are of Brazillian wood and use white horsehair.
The high-quality violins come equipped with a chin rest, high-quality rosin and a foam fitted case to keep all the essentials together. All in all, Sergio Tordini is a brand of Italian taste and has depicted through its products that it surely has great taste.
Violin Buy Guide- Important Points to Consider Before Buying a Violin
Now that you have got to know about some of the best violin brands in India, let us explain to you a few pointers as to what you should consider before buying a violin. This violin buying guide has been created for the purpose of briefing beginners and new musicians as to what all they should know or look for before buying a violin.
What is the purpose ?
Why do you want a violin? Is it because you want to gift to someone, play it by yourself or keep it as a showpiece? Though it may sound absurd but not everyone buys violins to play them, as these instruments represent a class.
Some people buy them just for display. If you, however, want to play then you are going to have to do a bit more research and then choose the best violin for your needs or purpose.
What is your budget ?
A major factor is your budget. It will decide the type of violin you can afford. Really cheap violins won't be of much use and will stop working after a while. High-priced violins tend to stay loyal to their buyers and hence you can play on them for years. So decide your budget and then you will be able to narrow down your options to choose from.
What brand ?
In case of a violin the brand is quite important, if you buy from a local brand that no one has ever heard of you will probably end up with a violin that sounds as if it has been made out of bamboo or really thin wood.
Established brands like the best violin brand in India will manufacture some of the most amazing violins that will be made out of high-quality maple wood, have a good tune to it, come in a nice protective casing, have a high-quality bow and rosin. More renowned the brand, the better will be your options.
Learn about the making of the violin:
For those people who play an instrument it is advised that you attain knowledge on how your instruments are made. This will help you choose one for your liking, it will also help you maintain your instrument. Like if you were to know that maple wood-based violin body and a spruce top turn out to be a good combination for a violin, it would help you buy one without any issue.
What size violin ?
Violins come in many sizes that can range from 4/4 to 1/32 or in basic terms 23 inches to 13 inches, respectively. The size will play a vital role in how well you are able to play the violin. If the violin is too big or small for you it will act as an obstacle when you play it. So, choose a size that best suits you. Smaller violins are for kids, adult violins are bigger than 18 inches.
What type of violin ?
Violins can be categorized into 2 types of electric violins and acoustic violins. The latter is preferred for beginners or people who play classical music. If you're inclined towards the new hip-hop trend or are a professional then you should opt for the electric violin. As playing an electric violin is a bit difficult and will require a great amount of practice, mainly experts play the electric violin. So decide where you stand and select one.
Buy From One of the Best Violin Brands in India Today!
Well, that's all folks. We hope you found this article to be of great use and provided you with the knowledge that you were seeking.
The above-mentioned brands are some of the most promising violin brands which are known to have been selling their products with great enthusiasm in the Indian markets.
These brands provide the best in class violins which range from high to low and are segregated between being compatible for beginners, intermediate players or professionals. Check the one which suits your demands the most and then view their collection. Refer to our Violin buying guide if you face any issues.