Is Flipkart is giving a cardless credit offer? Yes, it is. Now it's time to go for Cardless Credit Offer on Flipkart App and say goodbye to the hurdles that you have to pay if you don't have a credit card.
Flipkart is giving a new option of Cardless Credit regarding the payment. It will provide you an instant credit up to 60,000 so that you can utilize it in this season of festival. You can repay this credit in an easy installment process.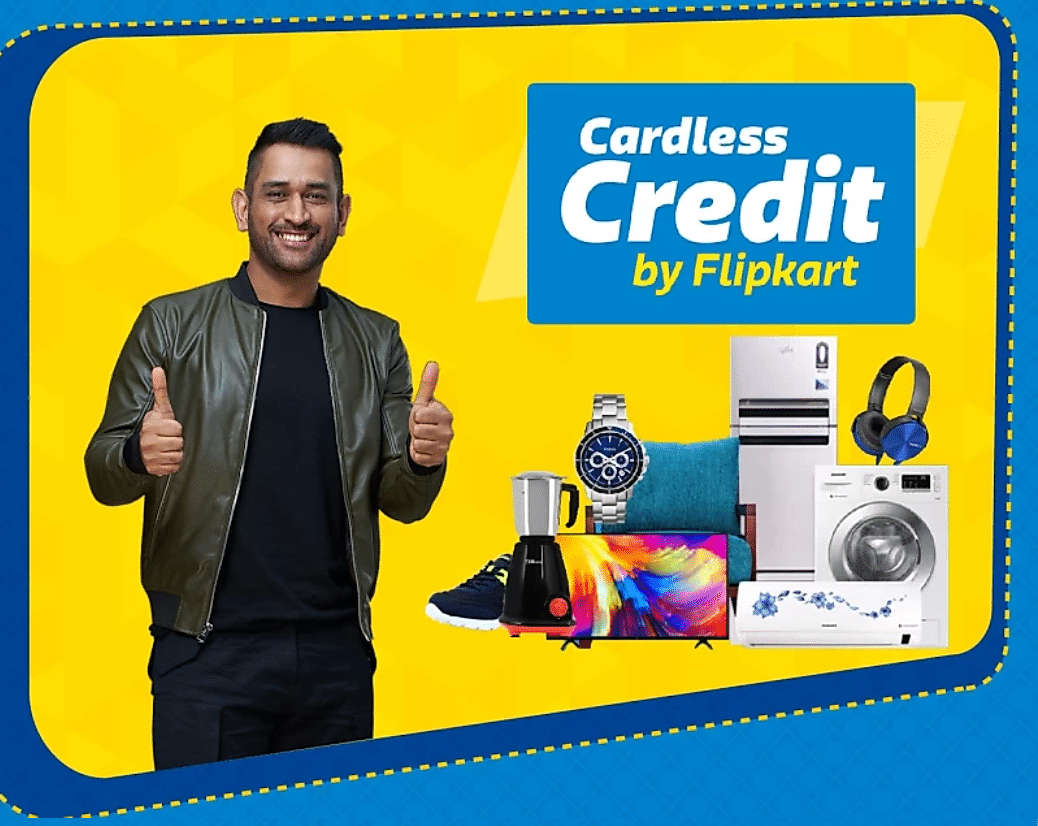 Flipkart is one of the leading online shops of India. They are the most reliable and trustworthy online that you will find. They always come up with new and creative ideas to lessen the burden of the money to the people.
Cardless credit offer is the newest brainchild of Flipkart where they will provide you a certain amount of credit so that you shop without any worries. Everything can be purchased by this payment mode except jewelry and gold.
So, there is no reason to worry if you don't have a credit card. Apply for Flipkart cardless credit and enjoy this festive season. So here are the details about this method that you need to know:
What is Cardless credit by Flipkart?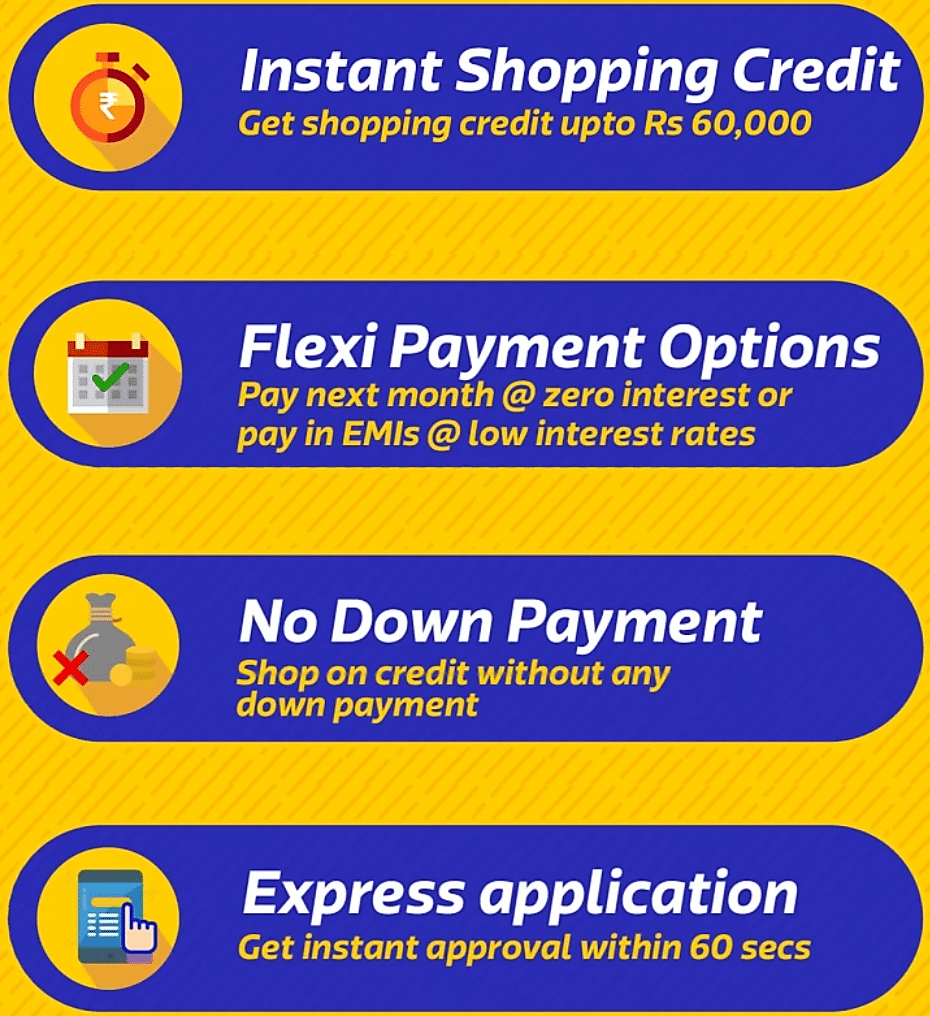 Cardless is a payment option offered by Flipkart. Here, Flipkart will give you a credit of Rs 60,000 which you can use to buy products on credit and repay it before the due date. You can buy all the products by this mode of payment except the gold and jewelry.
The best thing about this cardless credit option is that you don't have to pay any down payment. The EMI rates are also very low for this process. You will instantly get this credit within 60 seconds through the express application.
How to apply for Cardless Credit on Flipkart?
Applying for Flipkart Cardless credit is very easy. You can apply online for Cardless Credit on Flipkart App. All you have to do is follow the steps below, and you will be credited by Flipkart:
1. You have to open the android app of Flipkart and click on the Apply Now button there in cardless credit page.

2. You have to enter your details like your Aadhar number and PAN card number for the identification purpose then click on Continue.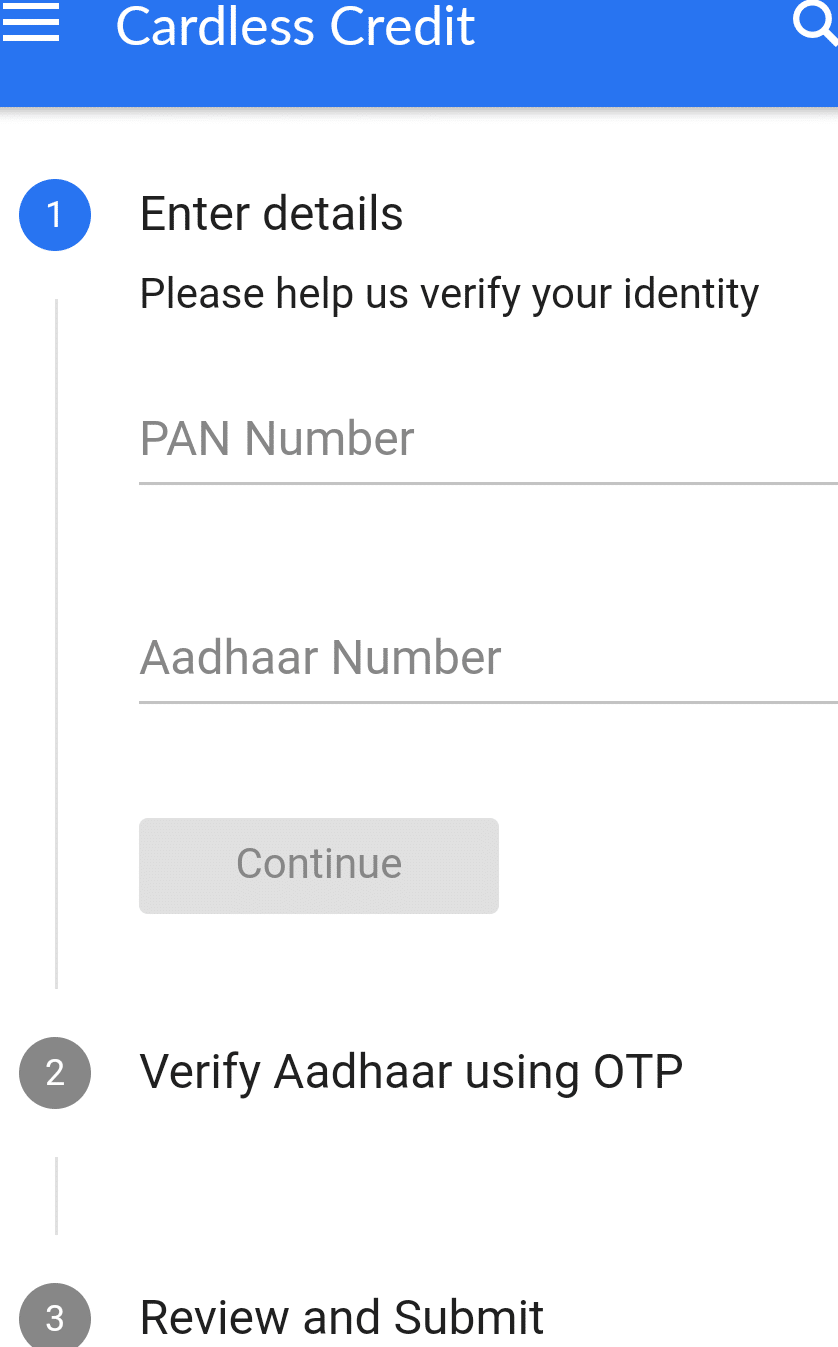 3. You will get an OTP on you Aadhar registered mobile number. You just have to Verify it on the application.
4. Then you have to review your details before submitting.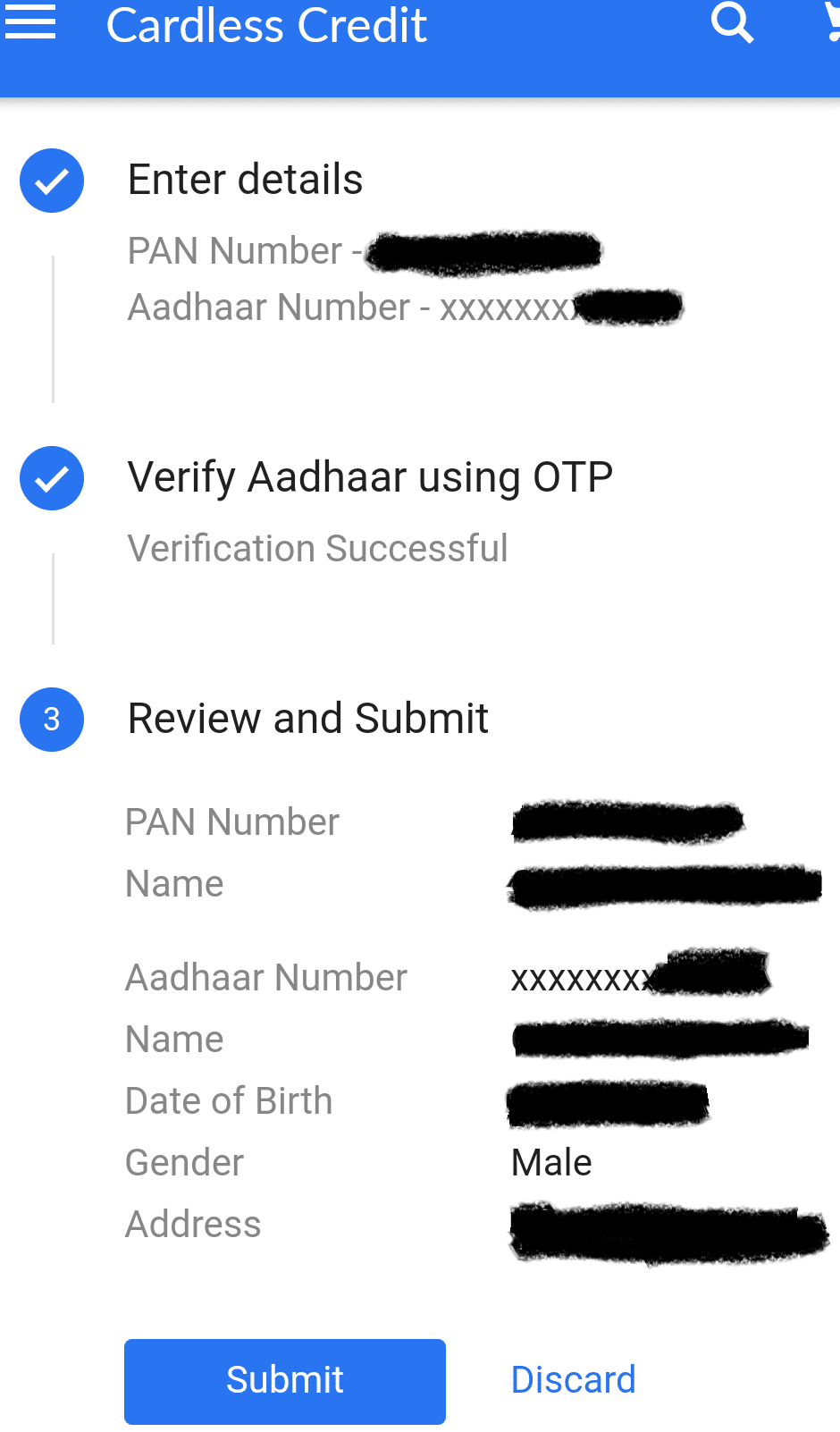 5. Your application will take some time to review your credit limit.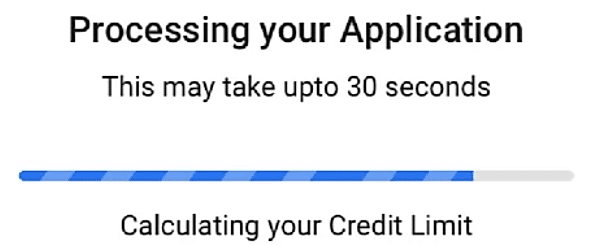 6. A certain amount of credit limit will be added to your Flipkart account.

7. You will get the details of usage in your dashboard that how much credit you have used and how much Credit is left.
Some important FAQ's regarding this Cardless Credit Offer by Flipkart
What cardless credit actually is?
Cardless credit is a new method of payment bid by Flipkart that lets you buy products on easy instalments.
What are the eligibility criteria to get this cardless credit offer?
All you have to do is to enter your Aadhar number and PAN number, they will verify your identification and will tell you whether you are eligible or not.
My friends and family can see this option, but I cannot see it. Why?
Right now, few customers are eligible for this option, but flipkart will give to everyone as soon as possible.
Which items I can buy using this cardless credit payment mode?
You can buy any items except gold and jewellery by using cardless credit.
Can I use this offer from iPhone App and desktop website?
This offer is available on Flipkart android app only right now.
I don't have Aadhar number, can I apply for it?
No, you cannot. Aadhar number is mandatory for this cardless credit offer by Flipkart.
Is any down payment needed?
No, there is no down payment that you have to pay.
After using cardless credit, how can I complete my payment?
You can repay the amount of Cardless credit by a single payment or by easy instalments.
Do I have to pay any penalty, if I fail to repay the cash within the specific given time?
Yes, you have to. Either you have to pay 3% of total due amount or maximum of Rs 200, whichever is greater.
What if I fail to pay my monthly installments?
Information about your loan and payment activity will be reported to all the credit bureaus by the financing partners. Your credit score and ability to get loans in the future will be affected. Apart from that, they can contact collection agencies to recover the pending amount.
Can the EMIs be pre-paid?
Currently, there is no option of prepay.
Is there any option to extend the tenure of EMIs?
No, tenure of EMI is unchangeable.
Can I pay it at once in next month if I skip a monthly installment?
It is strongly recommended that, you must not skip the instalment. You have to pay late fees if you skip your instalment and not only that, this will take a toll on your credit score and availability of loan for the future.
What are the interest rates and repayment schedules?
The interest rate may vary from 14% to 25% and the tenure for the repayments is between 3-12 months.
What are the methods of bill payment?
You can pay your bills by net banking and by debit card.
Will you have the accessibility to my CIBIL score?
Yes, your CIBIL score will be monitored by the financial partners because it is a mandatory step for verification and eligibility.
My cardless credit application got rejected. Why?
The financing partners will approve your application based on the multiple factors like credit score, credit history and past purchases on Flipkart.
When I will get my bills?
You will get your bills on the 1st of every month. A notification will be sent to you on your Flipkart app regarding your bill. The due amount should be paid within the 15th of the given month.
Is there any additional charge?
If you pay your repayment within the given point of time, there will be no additional charge apart from the Interest charge.
Can my loan be pre-closed?
No, the option is not available at the moment.
Do credit bureaus get reported by Flipkart?
Yes, the Credit bureau is informed by the financial partners regarding the applicable payment.
Can I combine my payment by Cardless credit and any other prepaid payment mode?
No, the credit should be paid in full through cardless credit mode for an order.
Why you need my PAN and Aadhar details? Is it safe?
Your PAN and Aadhar number is required by the financial partners to approve your application for Cardless credit payment mode. And your details are safe in Data vault that comes with the guideline of UIDAI.
Is GST included in my bill?
Yes, you will get your GST information in your bill.
Final Words
Cardless Credit Offer on Flipkart will help many people who don't have a credit card and don't want to get a credit card because of the problems that come with. So, use this opportunity that Flipkart is giving you and shop as per your convenience.