Here is the list of customer care toll free numbers and email IDs of all the e-stores that you use to buy different products and enjoy various services.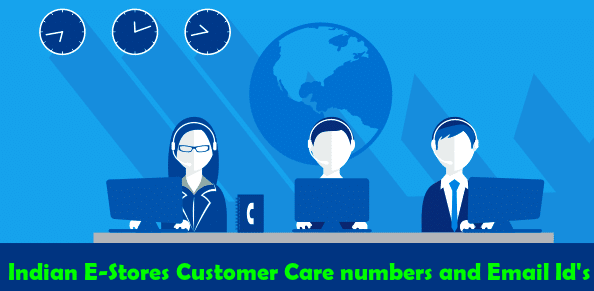 There are so many issues that can come up when you are buying a product or enjoying a service on a specific e-store. Complaints, returns, order query, order tracking, delayed orders, product query, product availability in stock and order booking are some of the things you may want to have resolved. Whether you are angry about something or disappointed with the quality of a specific product, all sorts of complaints and queries can be handled by the customer service department of all those big e-stores you count upon in your daily life. In fact, even if you are happy about the services of a specific brand, you can call up the customer service department and give them a virtual pat on their back to make their day and help them work harder for you as well as the other customers.
1) Customer Care Details for Amazon India:
If you have purchased a product like a fashion apparel, kitchen appliance, fashion jewelry, electrical appliance, mobile phone, etc. from Amazon.in and haven't received your product, yet, it is time for you to contact Amazon helpline and find out the status of your product. This is where you have to search for Amazon India customer care toll free number!
CONTACT DETAILS FOR AMAZON INDIA CUSTOMER CARE –
Here's the toll free number: 1800 3000 9009
Amazon customer care phone number for MTNL and BSNL users: 1-866-216-1072/02230430101
For other mobile networks: 080-41970000 / 1800 319 7355
Landline number: 080-3327300
Amazon customer service email address is cs_reply@amazon.in .
2)  Flipkart Customer Care Team Details :
If you have recently purchased something from Flipkart and are not happy with what you have got, you may want to talk to someone from the customer care department. It is always nice to have a word with someone who can quickly solve your problems. Flipkart customer care complaint number can help you launch a complaint against the cellphone or any other product that has not met your expectation at all.
HELPLINE DETAILS FOR FLIPKART:
Flipkart customer care toll free number: 1800-208-9898
Here's another Customer Care Number: 18004201111 / 18001023547
Common helpline number: 0124-6150000
For Product Assistance, call on: 1800 1080 1800
Flipkart customer care email ID – cs@Flipkart.com
3) Problem with your PayTM Shopping?
PayTM is here to make your life easier, not to trouble you more. If you have recharged your phone with PayTM and there has been a failure and the money has been deducted, you might want to call on the PayTM customer care toll free number.
Customer Care Contact Details for PayTM:
Paytm customer care toll free Number is 0120 3888 388 and for complaints, recharge failure, etc., PayTM customer care mail ID is care@PayTM.com
4) Now let's Move to the Complaints for PayTM Mall:
PayTM Mall lets you buy clothes, accessories, branded shoes and other such products, but that doesn't mean that you are always satisfied with what you buy. Sometimes, there is an urge to talk to the PayTM customer care department and these are the times when you need their details.
Paytm Mall Customer care number for complaints or issues is 011 3377 6677 or you can Shoot an email to PayTM customer care email ID at info@one97.com
5) Regret Buying a Product from Myntra?
Myntra has some of the best brands online, but that doesn't mean that you have no complaints against its products. You may want to have the bag replaced or that tee returned for which you need Myntra helping toll free number. For details related to Myntra, continue reading.
Myntra 24/7 customer service available at +91-80-61561999 .For queries, refund, exchange or issues, write to: support@myntra.com
6) Jabong Solves Problems with Ease:
If you have some sort of an issue with the fashion garment or accessory or show or bag that you have purchased from Jabong, you don't need to be scared because it has the best customer service department working under its roofs.
CONTACT DETAILS FOR CUSTOMER SERVICE DEPARTMENT OF JABONG:
To get a solution for the issues, send an email to: care@jabong.com
Here's Jabong customer care number: 0124-6128000.
Usually it doesn't happen, but if you are dissatisfied with any of the solutions given to you, drop an email to the Chief Manager of Jabong helpline at: chiefmanager@jabong.com.
7) Customer Service Details for ShopClues:
If you don't know what to do with that weird product that you have recently purchased from ShopClues, you can launch a complaint and let the company know that you are dissatisfied with not only their product, but also their service. Whether you have purchased a kitchen appliance or a beautiful t-shirt, if you are dissatisfied with the product, you can take the help of ShopClues helpline number.
Here's the ShopClues customer care number: 0124-441 4888 (availability: 9am – 12am, Mon-Sun)
Write an email to: support@ShopClues.com
8) Click for Tata Cliq's Customer Service Information:
Tata Cliq is known for the kind of service it has, but if you are dissatisfied with the products and services that you have been provided with, you don't have to bang your head at all. You just need to search for Tata Cliq helpline numbers.
Tata Cliq customer care number is: 9029108282 and you can send an email to Tata Cliq Care at hello@tatacliq.com.
For any type of help related to luxury products, send an email to: concierge@tatacliq.com
9) Not a Good Deal at SnapDeal?
There are thousands of products on SnapDeal. Of course you have got the best deal! Wait a minute… did you say you are unhappy with the product? The watch didn't turn out to be the way it was described? There's a whole in the shirt you purchased? Then you have to bring it to the notice of Snapdeal customer care department.
Here's the 24/7 Snapdeal helpline number for users: +91-92126 92126
Snapdeal customer care email ID is help@snapdeal.com
10) Making your Life Easier at MakeMyTrip:
Sometimes, it is good to talk to the MakeMyTrip customer service department for better knowledge on how to book tickets and to keep a track on your journey.
CONTACT DETAILS FOR MAKEMYTRIP HELPLINE DEPARTMENT:
For Flights / Hotels / Holiday bookings, the TOLL FREE MakeMyTrip customer care number for MTNL and BSNL users is: 1-800-11 8747 . Other major network users can use this number for MakeMyTrip helpline: 1-800-102 8747 .
Want to write an email:
For domestic flight queries, write to: service@makemytrip.com
For queries related to international flights, write to – internationalbookings@makemytrip.com
For queries related to hotels and holidays, write to – hotelservice@makemytrip.com
For queries related to buses, dial toll free number: 1800-103-8765 or write to busservice@makemytrip.com
11) eBay India's Details:
eBay has always been there for its customers, even to handle their queries. If you are not satisfied with the toys you have purchased or with any other products, you might want to contact eBay customer care department for the issues you are going through.
For all operators, eBay customer care toll-free number is 1800 209 3229 and for BSNL & MTNL users, the number is 1800 220 288
eBay customer care Email ID is – ebayIndia.helpdesk@gmail.com .
12) Didn't Like what you Got? Contact InfiBeam's Customer Care:
InfiBeam's products like mobiles, printer, air conditioner, etc. may have not satisfied you or you may wish to ask them something related to the availability of a certain product. You need their customer care details for the same.
24/7 Infibeam customer service numbers: +91-79-40260260, +91-79-61900005
Don't want to call? Send an email on: customerservice@infibeam.me
13) Here's the Information related to Pepperfry :
There are times when you feel like calling up on the Pepperfry customer care number to find out about the availability of some specific furniture. This is when you need the contact details.
For enquiries, bookings or complains, call on – 022-6157 6157. You can also use Pepperfry customer care email ID to write an email – tellus@pepperfry.com
14) Not Happy with something you Purchased from FirstCry?
If that particular toy or garment you purchased from FirstCry is making you CRY, you may want to talk to the FirstCry helping department.
FirstCry customer care numbers are: +91-20-46608100 or +91-20-67297800 (availability: 9AM to 8PM)
Shoot an email at – customercare@firstcry.com
15) HomeShop18 has the Best Customer Service Department:
No doubt you can track the item you have purchased from HomeShop18, but sometimes it becomes essential for you to get detailed information about the things you have purchased, especially when the delay is too much.
HomeShop18 customer care number is – 0120-6189818 or you can write to – care@homeshop18.com
16) Here is the Customer Desk Info for CraftsVilla:
CraftsVilla has got to be that one name that gives you all the products that you want, but that doesn't mean you are satisfied with each one of them. You can complain about their products by contacting the CraftsVilla helpline number.
CraftsVilla customer service number is – +91-172-4579090 and if you want to send an email, the address is- customercare@craftsvilla.com
17) Don't Boil your Blood if HealthKart hasn't Given you what you Wanted:
HealthKart is so popular that there are so many food supplements that go out of stock. This is when you can call the HealthKart customer service department and get details from their end about the availability of the supplements you want to buy or place an order for:
HealthKart helpline number is: 0124-4616444 (availability: Monday to Saturday from 10AM to 7PM)
Don't be hesitant in writing to: care@healthkart.com
18) Nykaa's Customer Center Details:
Nykaa has some of the most wonderful cosmetic items for their customers. Yet, if you are not satisfied with the quality of a specific product or if a product has not met your expectation, you can let Nykaa helpline department know about the same.
If you want Nykaa customer care number, it is: 922-220-1010 (availability: Monday – Saturday 9AM TO 9PM) and the email ID is – support@nykaa.com
19) Put an End to your Query at Shoppers' Stop:
Shoppers' stop puts an end to all the queries that you have, along with complains, with the help of its customer service department. You just have to let them know about you situation by using Shoppers Stop helping and you'd get the perfect solution.
You might want the Shoppers Stop customer care number, which is toll free; it is – 1-800-419-6648 .
Email addresses are:
For online queries the ID is: estore@shoppersstop.com
For land based store related queries the ID is: customercare@shoppersstop.com
20) YEP for YEPME Customer Service Department:
You may not be willing to say YES to certain products sold under YepMe, but that doesn't mean that you are going to suffer forever; you can contact YepMe customer service department and place your complaint.
YepME customer care number is – 011 6637 2424 (availability: 10AM to 7PM)
Write an email to the customer service department on – customer.care@yepme.com
21) Want to Book Flowers from Ferns N Petals?
If you have no time to go online and check the website of Ferns N Petals to book the bouquet of your choice, you can call Ferns N Petals helpline and book from there.
Ferns N Petals customer care number is: +91 9212422000. You can also write an email to: support@fnp.com
22) LimeRoad's Customer Service Information:
Fashionable party tops, sizzling short skirts, traditional ethic wear and trendy office shirts are available for you on LimeRoad, but if you are not happy with the product or wish to launch any complain, you can contact on their helpline number.
LimeRoad customer service numbers are: +91-124-6683700, +91-124-4420900 .
23) Contact Koovs' Customer Desk:
Koovs is not a new name in the market and sometimes even the loyal customers are not happy with certain things on the e-store. They can always contact Koovs customer care department for their queries.
Koovs customer helpline is – 0124-6770000 or drop an email at – care@m-eretail.com
24) Not Happy with BigBasket? Contact Them NOW:
BigBasket is all open to listen to queries of all kinds from its customers. You can reach out to BigBasket customer helpline to talk to them about any issue you are facing on their e-store.
BigBasket customer support number is: 1860-123-1000 and here's the BigBasket customer service team email: customerservice@bigbasket.com
25) Want to Inquire at PrintVenue?
If you want to track down an old order or want to place a new order, you may want to talk to the PrintVenue customer service department executives.
PrintVenue customer support helpline number is: +91 11 3001 7676 Or you can write to: support@printvenue.com
26) Issues? Enquiries? Bookings? ClearTrip's Helpline Department:
ClearTrip is at the tip of the tongues of all those people who wish to go on vacation or book the medium of reaching the destination. ClearTrip helpline helps you with everything that you want to enquire.
ClearTrip Customer service number goes: 095953 33333
27) Ajio Cares for the Customers:
Now Ajio customer service department executives can talk to you whenever you want to have a query resolved or launch a complaint.
Ajio helpline numbers are: 1800-889-9991/1800-419-8998 . It also has an email address, which is – customercare@ajio.com
28) ABOF's Contact Center:
Did you know ABOF stands for All AbOut Fashion? If you have any enquiry related to a specific product or brand on this e-store, the customer service department can be contacted.
Abof customer care number is – 080 – 6688 6688 and the email ID is – care@abof.com
29) If They aren't QUICK, Contact MobiKwik's Customer Desk:
In order to get better services or place a complaint related to a bad situation you are in, call on MobiKwik customer service number.
MobiKwik helpline number is: +91 9466446644
30) Freecharge's Customer Desk Information:
Got issues while recharging? Unable to use a specific coupon code? Want to place a complaint? Freecharge customer service department is all set to listen to you.
Freecharge customer care number is: 080-33037133 . It also has an email, which is – care@freecharge.com
31) Want to Book on Oye Rooms?
For bookings or complains related to rooms, you can always have a word with the Oye Rooms customer service department.
For complaints or bookings, the Oyo Rooms customer care helpline number is:  093139 31393
32) GoIBIBO Solves Problems:
GoIBIBO is quite prominent for its decent and polite customer service department. No matter how irate a customer is, the executives know how to handle him.
Toll free GoIBIBO customer service numbers within India are: 1860-258-5858/1800-208-1060 .
If you are calling from another country, use this number: +91-9213025552
33) PrintLand's Customer Desk:
Before you place a bulk order, enquire about the price structure and everything else by calling PrintLand customer service department.
For bookings, queries and enquiries, PrintLand customer care number is: 011 – 42 222 888 or send an email on: contactus@printland.in
34) BookMyShow Relaxes its Customers:
To book or confirm tickets or to place a complaint, BookMyShow helpline number is right here.
For problems, BookMyShow customer care number is: 022 – 6529 9826
35) Contact Purplle's Customer Care for Issues:
Eye pencils, lipsticks, lip liners and all such products can be purchased from Purplle. Also, if there is some issue with any product you have purchased, Purplle customer care department is always more than happy to help you.
You can call Purplle customer service department on: +91 92233 00222Or send an email to them on – customercare@purplle.com
36) If Travel Guru doesn't make you Happy, their Customer Service will:
Travel Guru is quite a famous name amongst all those who wish to travel to another location. If you want to plan your trip in an amazing manner or if you wish to place a complaint, Travel Guru customer care center can help you in all your situations.
For problems related to an existing booking, Travel Guru customer care number is: +91 92111 77444 (availability: 8AM to 10PM)
Leave an email at: service@travelguru.com
For new bookings, call on: +91 92111 77444
37) AbhiBus Customer Desk:
If booking bus tickets is giving nightmares to you, don't worry at all! Here are the contact details of AbhiBus customer care department. AbhiBus helpline number can be used for complaints as well.
AbhiBus customer care number is: 1860 200 9999
Now that you have this amazing list with you, make sure you save our link or take a printout of this so that it is with you for a long period of time. Jot down the numbers and email addresses of your favorite e-stores so that whenever you have a query or an issue, it can be solved by their customer service executives.