These brand new Flipkart HDFC bank offers for 2023 will help you save HUGE MONEY! Buy more – pay less – save big on mobiles, electronics, fashion and many more products with these amazing Flipkart offers for HDFC bank credit and debit cards holders.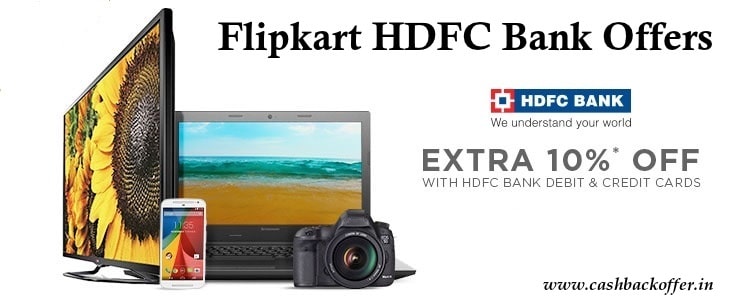 HDFC credit and debit card offer on Flipkart have created a boom in the market with all those discounts that people are getting to enjoy on Flipkart. If you want to learn about Flipkart HDFC bank offers 2023, you have come to the right page because we know how important it is for you to save money. The offers are available on different products.
You just need to grab a pen and a paper and make a list of all those things that you want to buy. Once you know about the different things you want to purchase, all you have to do is visit Flipkart's official website or app and go through the gallery of its products. You can select different products and as you checkout to make the payment of the bill, use your HDFC bank credit and debit cards.
Flipkart HDFC bank debit and credit card offers on mobiles, electronics, laptops, appliances, TV, clothes etc. are going to remain on the e-store for a day or two so you have a sufficient amount of time before the offers expire. Also, if you have other family members with HDFC bank credit and debit cards, you can inform them about the various offers so that they can use them too.
Extra-Ordinary Flipkart HDFC Bank Cards Offer 2023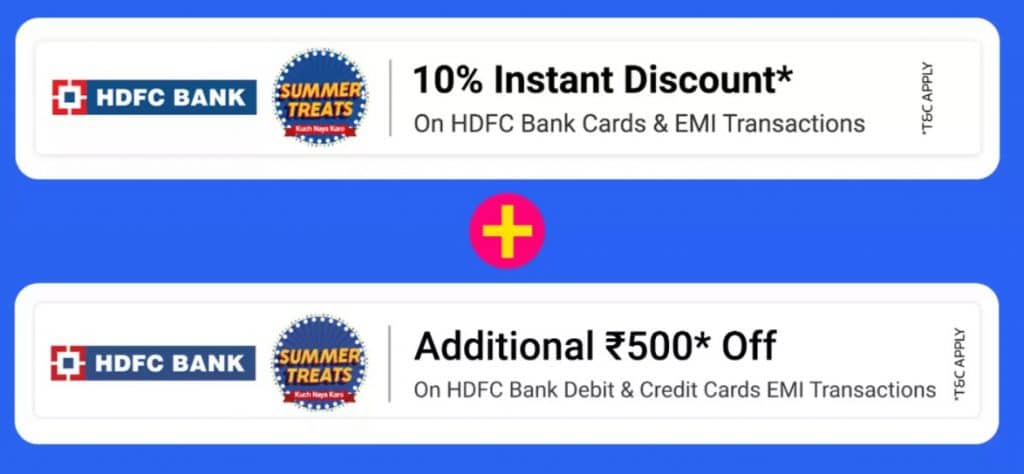 The moment someone wishes to buy something totally incredible, they jump to the website of Flipkart so that they can go through varieties of not only different products but also a single product itself.
Whether you want to buy a special kitchen appliance or a brand new mobile phone for someone special, you can count upon Flipkart. HDFC offers on Flipkart promise to give these products to you at offered rates.
| | | |
| --- | --- | --- |
| Minimum Cart Value | Discount on Credit Card | Discount on Debit/Credit Card EMI |
| Rs 4000 | N/A | N/A |
| Rs 5000 | Rs 500 | Rs 500 |
| Rs 10,000 | Rs 1000 | Rs 1000 |
| Rs 15,000 | Rs 1250 | Rs 1500 |
| Rs 18,000 | Rs 1250 | Rs 1750 |
According to the new HDFC bank Flipkart offer in 2023, you are eligible to get 10% extra cashback when you shop for different products from Flipkart Sale. However, the minimum order that you need to make is of Rs. 5000 and you can get maximum cashback of Rs. 1750 per card.
With this awesome Flipkart HDFC credit card offer, you can make 5th, 6th, 7th & 8th October better than ever before. The best thing about this offer is that it is also applicable on EMI transactions made using HDFC credit cards and debit cards
Flipkart's Awesome Offer for HDFC Cards & Net Banking:
Flipkart HDFC bank offer was never this incredible before! People are now finding all the ways they can to be on Flipkart, fill their virtual card with different things and use their HDFC bank debit and credit cards to enjoy some of the best offers on all the products that they wish to own and use.
What offer do you get to enjoy?
You get 10% discount (Maximum = Up to Rs 1000) INSTANTLY when you use your HDFC Netbanking, credit and debit cards to make the purchase of different electronic items, Large appliances, TV sets, Furniture, kitchen appliances and MANY MORE THINGS!
The only thing that you need to remember is that you have to make a minimum purchase of Rs.300 in order to enjoy this offer. Also, note that this offer is valid only for two days on 1st & 2nd April, so you better use the offer before it expires!
Special Women Wednesday Offer:
What would you do to make your Wednesdays more special? You would use the awesome Flipkart discount coupons for HDFC bank customers and jump onto your couch in order to check Flipkart! Once you get on this website, you need to check for various products that are available at discounted prices for you. Once you note down the discounts, you can buy everything at offered rates.
Wednesdays are always said to be beautiful for woman; on Wednesdays, you can enjoy an additional 15% off when you shop using your HDFC credit or debit cards. The only thing that you need to remember is to fill your virtual cart with products that cross a minimum value of Rs.999
The maximum discount that you can enjoy on this offer is Rs.500. Please note that this Flipkart HDFC bank offer is available on selected women's products only. Don't forget to LOGIN to your Flipkart account this Wednesday and use this offer to buy awesome products.
HDFC Bank EasyEMI Option on using Credit Cards at Flipkart:
There are times when you just can't buy something by paying the entire amount in a few clicks; there are expensive items like cellphones, kitchen appliances and other such stuff that can't be purchased without the help of EMI. With the help of this Flipkart HDFC offer, you can not only get products at offered prices, but also own them with the EMI option.
The Flipkart offers on HDFC credit card are always created keeping in mind the benefits the users will get from the same. While HDFC credit card offers can be enjoyed only when you use HDFC credit card, Flipkart HDFC EMI Offers can be enjoyed by selecting the EMI option at the time of the transaction or paying the bill. The good news is that you don't have to give any down payment for this.
Flipkart's amazing No Cost EMI offer for the HDFC credit card holders

There are many very costly items and other kinds of stuff which you cannot buy with the help of Easy EMI. You will end up paying the high-interest amount. Here, HDFC bank No Extra Cost EMI option steps in. With the help of this option, it will be much easier for you to buy these expensive products.
With the help of HDFC No Cost EMI Offer on flipkart, you don't have to pay the additional interest amount that comes with the standard EMI schemes. You can buy these products at their offered prices and you can also use the No Cost EMI option to pay. The best part about Zero Cost EMI is that it has a 0% interest feature.
You don't have HDFC credit card? Flipkart Debit card EMI will do for you
Don't worry if you don't have an HDFC bank credit card. Your HDFC debit card will just do fine. There is the EMI option for your HDFC debit card as well. You can buy your desired items in easy EMI's with the help of your debit card.
This offer has been launched by Flipkart because there are many users who are not comfortable using credit card. So, to make them shop easily and confidently without worrying about denting their monthly cash, Flipkart has launched this Debit card EMI offer.
Final Words on Flipkart HDFC Bank Offers 2023
HDFC bank cards online shopping offers have always had one goal – to help the HDFC bank stand differently despite the stiff competition in the banking industry. When it comes to Flipkart, it ensures to give the best to its customers and since a lot of its customers have been using HDFC cards to make payments, it decided to come up with HDFC debit & credit card offers.
The moment you use the HDFC online shopping offers, you notice that you save a huge amount of money because when you are checking out with the filled virtual cart, the difference of the total amount and the discounted amount is shown and that's what gets you awestruck!