Score big today with Flipkart SBI Offers for 2023 to get a whopping 10% discount when you use SBI Debit and Credit cards on the Flipkart app/website.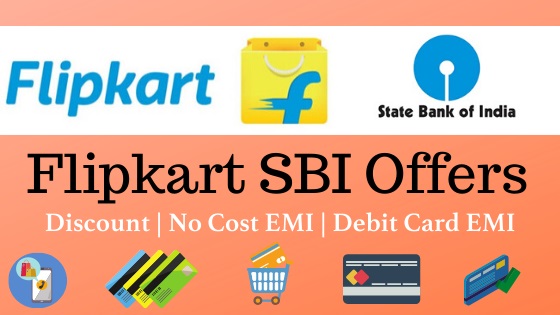 Start your day with a big bang! Gear up for some serious retail therapy with a generous SBI offer on Flipkart on all things imaginable – mobiles, laptops, electronics, tvs and more.
If you are among the many consumers that browse for the best deals every day, this Flipkart SBI credit and debit card offer is 2023's Holy Grail.
2022 didn't live up to the hype? Well, redeem this wonderful SBI cards offer on Flipkart and get the most of 2023.
The Flipkart SBI Offer?

Walmart-owned Flipkart and the State Bank of India have just gone and made the 2023 even better. You may have a lot to look forward to this year and you can go ahead and add this wonderful offer to your To-Do list as well.
Not only can you avail of discounts when you purchase products using your SBI card, but you can also purchase expensive merchandise using the No-cost EMI option to lower the cost of your investment.
The Flipkart SBI debit and credit card offer is not limited to account holders of SBI. Account holders in State Bank of Hyderabad, State Bank of Bikaner and Jaipur, State Bank of Travancore, State Bank of Mysore and State Bank of Patiala can also avail of this lucrative offer.
Check out all these worthwhile Flipkart SBI Debit & Credit Card Offers 2023

For your express benefit, all the lucrative Flipkart SBI offers have been compiled into one comprehensive list.
There are not 2, not 3 but 5 attractive discounts and SBI offers running simultaneously on Flipkart. Get ready to make your friends and family happy.
Let's find out exactly how much you can save with SBI card offers on Flipkart and what Flipkart SBI terms and conditions you need to fulfil to avail the wonderful deals.
1. Get major discount with Flipkart SBI Credit Card Offer 2023

Whether you are drawn to the minimalist lifestyle or follow the latest shopping trends to stay in vogue, Flipkart SBI offer on the app and website extend to ALL products from mobiles, laptops, electronics, TVs, Furniture, Home & Kitchen to the fashion category. Enjoy the Flipkart SBI Credit Card 10% discount Offer from 16th December to 21st December.
All you have to do is make sure your cart value adds up to INR 5,000 or more. The maximum discount per card will amount to INR 2000. The SBI Flipkart offer also holds if you are purchasing products on EMI.
2. Sublime Discount with Flipkart Yono SBI Offer
If you have been planning an major overhaul of your home and kitchen, now is the time to put your project in action.
Leverage the Flipkart Yono SBI offer today and get a 10% cashback on all home and kitchen appliances, electronic accessories, mobile phones, laptops, TVs, cameras, furniture, tablets & fashion products. Your dream home makeover is just a click away. The offer also stands if you choose to take the EMI option.
The offer is applicable on only certain eligible products and the cart value must be equal to or higher than INR 500. Shoppers can make unlimited transactions during the offer period. The maximum permissible discount is INR 750 on SBI debit and credit cards and it's valid from 16th October to 21st October.
3. No Money? No Problem. Enjoy SBI Debit Card EMI Offer on Flipkart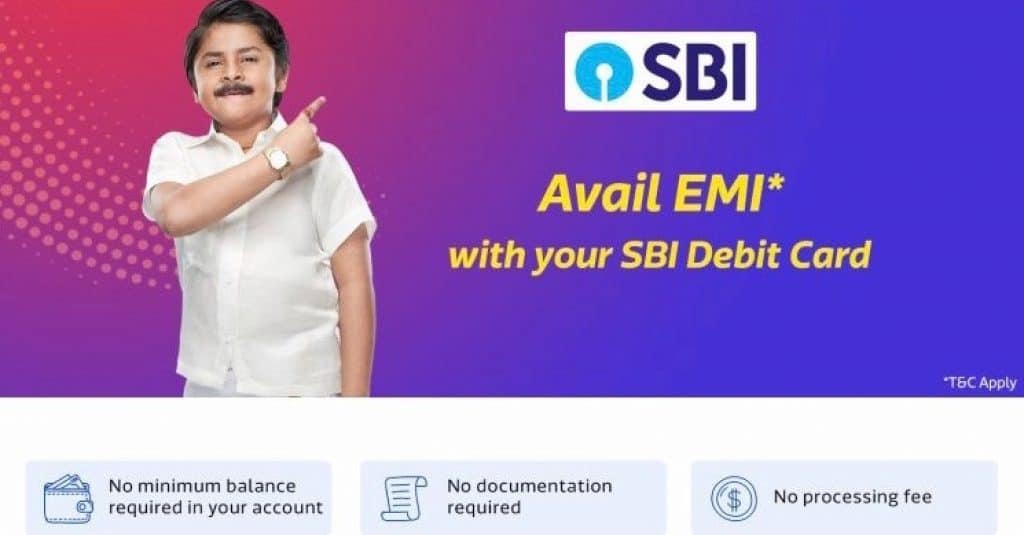 Worried that your retail therapy might break the bank? You don't need a credit card to get on an EMI plan. Your SBI debit card is as good as gold. You can get up to INR 75,000 on your SBI Debit card to spend on Flipkart that you can pay back in easy instalments at an extremely affordable interest rate of 13.55% p.a. Just ensure that the minimum transaction value is INR 8000.
Want to know the best part? You don't need to have any balance in your account to grab this ridiculously amazing flipkart sbi offer.
Perform the Flipkart SBI debit card Emi eligibility check by shooting an SMS DCEMI to 57575. If the debit card EMI option is available, it will also appear under easy payments
4. Can't afford it? Get on the NO cost EMI plan with SBI credit cards
Use your SBI credit card to purchase the latest TV sets, smartphones, laptops, appliances and more and pay for it with the NO cost EMI plan.
Browse through the gargantuan array of products where there is something for everyone. Thanks to the SBI credit card offers on Flipkart today, you won't have to burn a hole in your pocket either.
Avail of the No cost EMI option with a SBI credit card and pay for your gadgets in instalments. The No cost EMI option doesn't levy any interest rates so you only pay the price of the product and not a penny more.
5. Stay flexible with Flexible EMI SBI card on Flipkart and pay back when you can!
Need another reason to get excited for today? Get pumped because nothing on your wish list is beyond reach this year because of the Flipkart SBI offer. Your SBI card is your ticket to happiness. Buy whatever your heart desires and pay back when you can. Choose an EMI plan for 3, 6, 9 or 12 months and start living the life of your dreams. No pesky documentation and no processing fee will be levied on this option.
Keep calm and enjoy the Flipkart SBI offers in 2023
Shopping fanatics and deal hunters alike – this offer is about to make you day memorable. Bring home all your favourite products at competitive prices along with added discounts, EMI, No Cost EMI and Flexible EMI options with the Flipkart SBI card offers. Whether you are in a shopping frenzy or a calm and collected shopper, this is one offer that is too good to pass up on. SBI and Flipkart have certainly brightened our lives with this worthwhile offer and the easy payment options make it very easy for anyone to purchase goods without a solid financial commitment.
The special EMI offer on Debit card does not even require you to have any balance in your SBI account. A perfect kickstart to the day for broke college students and freshers living from pay check to pay check. And with the added 10% off, you can definitely get your money's worth on Flipkart. Go pen down your wish list because you're about to fill your home with all the things you love this year.