Today, we are going to tell you everything about how to avail debit card EMI on Flipkart in 2023. So, get ready with your HDFC, SBI, Axis and ICICI Debit Cards and enjoy buying mobiles, laptops, electronics, appliances and so many other things.

Availing debit card EMI on online shopping on flipkart is very easy now! In this post, we are going to tell you each and everything that you need to know to avail the benefits of EMI on Debit Cards.
No one has ever been sad with their hands full of shopping bags. Shopping makes the world a better place. It can be anything and everything that you have always wanted to have. And, with modern technology's gift, it is even better.
Now, shop your favourite items with Flipkart's debit card EMI option. It is time to get ready and start shopping.
Now, that we stand at the verge of modernization it is time to evolve with it. Sit within the comforts of your home and order electronics, latest mobiles, smart TVs, appliances, cameras, furniture, washing machine and so many other things.
Of course, you know all about all of this, but did you know that now you have debit card EMI option on Flipkart? It is now time to start shopping at Flipkart for it has Debit card EMI option on the use of HDFC, AXIS, ICICI, and SBI. No matter which product you like, now Flipkart gives you the option to buy it with the use of its EMI debit card option. Isn't that just great?
Are you eligible for the Debit Card EMI option?
Are you excited to hear about this unique feature that Flipkart has brought up for you? Of course, you are. If you are in love with shopping, then know more about the factors that are applicable regarding the suitability of Debit Card EMI option.
It is time that you are not disheartened by the price of the products that your heart is craving for. Now that you have the chance to shop with your Debit Card EMI option, there is nothing at all that can stop you, right?
Shopping online has its own range of benefits. From lower price to every item of different categories under one website is what you get. In the last couple of months, Flipkart has come up with a new option to make shopping even more fun and affordable than it used to be.
There was always the EMI option on credit cards but now it has been transferred to debit cards as well. In a recent study, the Reserve Bank of India declared that the number of people who used a debit card were way more than the ones who owned a credit card. That is the main reason behind Flipkart's Debit Card EMI option.
Flipkart has started out this venture with the leading four banks as its partners. SBI, AXIS, ICICI, and HDFC are the ones that Flipkart has amalgamated with.
Flipkart has nothing to do with the eligibility of the user. It is the bank of the cardholder that makes this decision. The banking history and the transactions that have taken place in the past decide all of this.
If you are eligible for Debit Card EMI, then you will find the option of it on the home page of Flipkart. For this, you have to be a registered customer of the Flipkart. You will come across it when you add a product to your cart and proceed towards the checkout. Amidst several payment options if you find the option of Debit Card EMI, then you have the chance to pay using this method. You can select instalment options according to your needs.
How to Check Debit Card EMI Eligibility on Flipkart?
How to Check Debit Card EMI Eligibility on Flipkart?There are two ways for checking SBI, HDFC, ICICI, and AXIS Bank debit card EMI eligibility on Flipkart on online shopping.
Method 1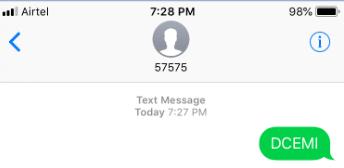 You need to type DCEMI and send this to 57575 and you will get to know whether you are eligible to avail the benefits of Debit Card EMI or not.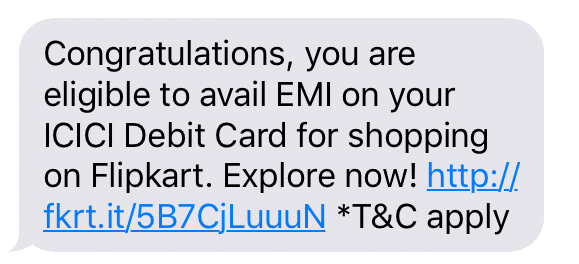 Method 2
There is one more method to check for your eligibility to avail the debit card EMI option. On Flipkart app or website, the availability of the debit card EMI will appear under easy payments if eligible. Also, you can search for debit card EMI at the time of the checkout process.

How to avail Debit Card EMI option on Flipkart?
We understand you are excited about this whole new option about Flipkart but hold on to your guns. You need to know all about to start your all new shopping experience here. Flipkart is known amidst its customers for its unbelievable range of products and options to pick from. From Big Billion Day to its handy app. But, now Flipkart has come up with something different. It is the option of Debit Card EMI.
Now, buying goods will be easier and way more convenient than it used to be. The first criteria that you have to meet to avail this mind-blowing option to buy things is a debit card that has been issued by SBI, ICICI, HDFC or AXIS bank.
Step by step guide on how to get the debit card EMI on Flipkart
Step 1 – After you are done choosing what you want, proceed to the option that says check out.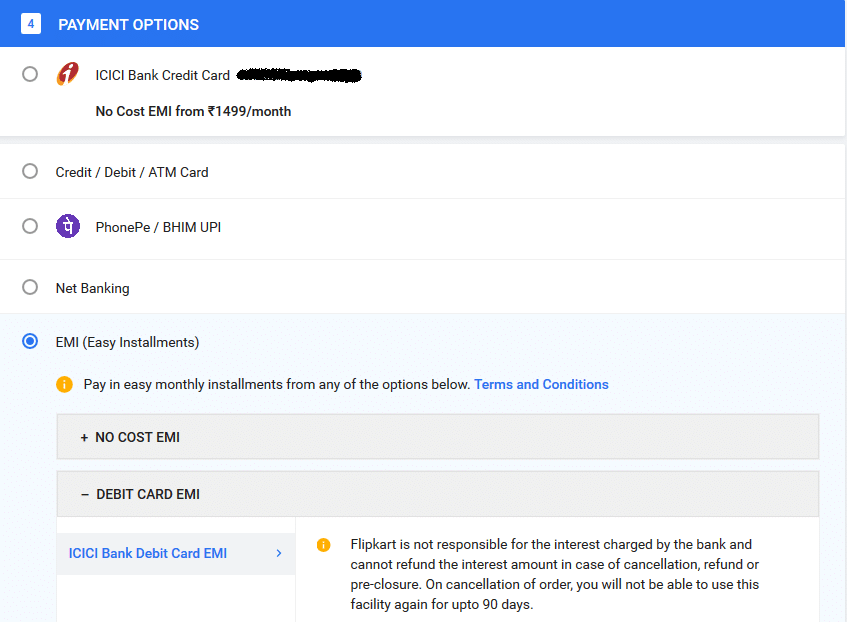 Step 2 – When you go to the check-out page click on the option that says EMI or easy instalments. You have to click on the Debit Card EMI option.

Step 3 – Once this step is taken care of, you will be charged an amount. This is something that your bank will charge and not Flipkart. So, in case there is a cancellation of an order the option to use the Debit Card EMI will close for a period of three months. You will be charged with an interest by the bank whose Debit card you are using.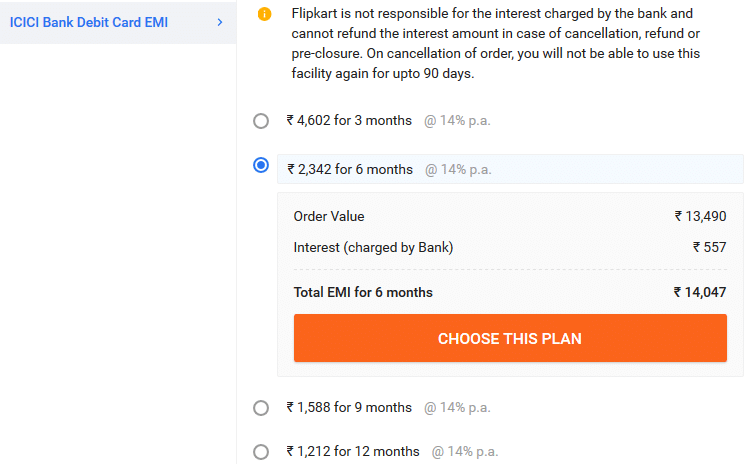 Step 4 – You will then be asked to enter the one-time password that will be sent to your registered mobile number. Enter that and accept the conditions (after going through it carefully).
And, voila. With a few easy steps, the item you want will be within the reach of your hands.
Pay attention to these Debit Card EMI FAQs :
We have gathered some of the most important frequently asked questions for you. Go through to see if it helps you out. These are designed in a way to clear every doubt you have about the whole new concept of Flipkart's Debit Card EMI option.
What do we mean by Debit Card EMI?
It is the same thing as Credit Card EMI. A customer will be able to pay for his purchases with the use of Debit Card and that too on a monthly instalment basis.
Which products show the option of Debit Card EMI on Flipkart?
This option is available on electronics, laptops, furniture, mobiles, TVs and so on. In order to find out whether or not your selected product is available for EMI on Debit Card or not, you have to proceed to the check-out option.
How does the whole Debit Card EMI option work?
If your bank and Flipkart approve you to use this option, then it will be present on the payment option once you check out. The amount of EMI will depend on your bank transactions and previous history. You will have to wait for a minimum of four days for your bank to approve your request of EMI and then you can proceed to pay the amount in forms of EMI.
Which Debit Cards carry the option of EMI and what is the criteria?
Right now, only four banks provide the option of Debit Card EMI. They are SBI, AXIS, HDFC, and ICICI. Although, no minimum balance is required for you to qualify the whole procedure there is still one criteria. You must have sufficient amount in your bank account to pay off your EMI.
What is the minimum amount of product that you have to buy from Flipkart to avail the offer of Debit Card EMI option?
It is eight thousand rupees for SBI, ICICI, and AXIS but for HDFC bank it is ten thousand rupees.
What happens when an item is returned or cancelled?
Money is returned back to the customer in case there is a return or cancellation. However, the bank might charge some amount for cancellation.
Is there any down payment or additional charges?
No, there are no additional charges added to the product. However, the bank will add GST on your interest amount.
Buy what you want with Flipkart Debit Card EMI Offer in 2023
Flipkart has finally made it possible to buy whatever one wants without having to worry about money. The option to own the desirable items at amazing prices can only happen at India's greatest online shopping website – Flipkart.
With this whole new option of Debit Card EMI, everything will seem attractive. All you have got to do is check whether or not the availability of it. On facing any kind of problem regarding payment or completion of a transaction reach out to the customer services. They will provide you with all the guidelines you need.
Every step that Flipkart takes is done keeping in mind the happiness and convenience of the customers. This is one more way to make the entire experience of shopping fun and easy.
Also, you will be able to obtain additional discounts on products at Flipkart with the help of the debit and credit cards. You just need to check out the Flipkart bank offers before your purchase. So, for upcoming sales on Flipkart, wait no more and check the offers now!