In this article, we have explained you about what is Flipkart super coins and how to use Supercoins in Flipkart in detail. By the end of the article, you will have a fair idea about Flipkart Supercoins and its benefits.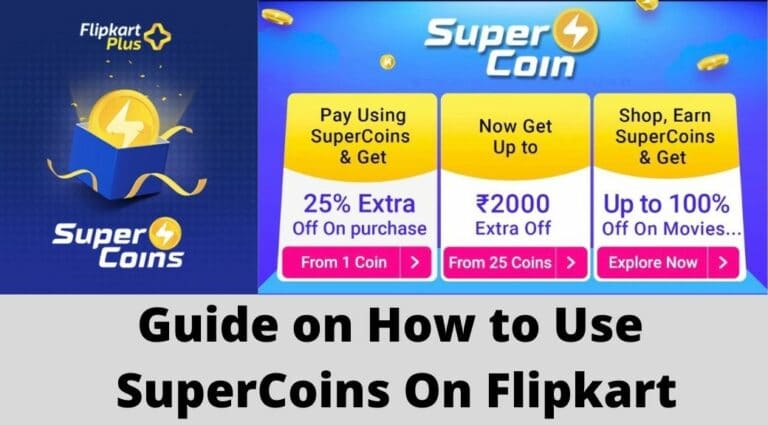 Flipkart has aced its way amongst one of the leading e-commerce sites. The site has achieved a fair amount of success and has gained quite a bit of popularity amongst Indian buyers. It has now reached a customer base of over a million.
Due to the outbreak of a pandemic, online business has boomed. This has proven to be an opportunity for these sites. With increasing acceptance, Flipkart has introduced a unique and one of its kind concepts of super coins.
With super coins, customers will now be rewarded every time they shop from Flipkart. You can enjoy this benefit irrespective of the mode of payment you opt for. The reward coins are not only limited to Flipkart but can also be earned by using and placing orders on other sites like Urban Clap, PhonePe, OYO, Ola, Zoom Cars, 1MG or any other brand partner through Flipkart.
The concept of super coins lets you shop with an extra bit of saving. If used properly you can save a great deal of money while using the supercoins. To make you understand better, we have created this guide for you to know everything you need to know about Flipkart super coins and enjoy their maximum benefits.
What are Flipkart Supercoins?
It is a form of reward you earn while shopping on Flipkart. This reward depends directly on the amount you spend. In simple words, the more you spend the more you earn. The regular customers may earn up to 2 super coins per 100 rupees you spend and a maximum of 50 Flipkart supercoins per order.
Flipkart offers additional benefits to plus users. Flipkart Plus users may earn 4 supercoins per 100 rupees spent and a maximum of 100 supercoins per order.
However, if you earn more than 200 supercoins, you have automatically upgraded to a Flipkart Plus member for the next twelve months. This is another benefit of supercoins as you can enjoy additional benefits being a plus member.
Moreover, you can use these coins in over 5000 offline stores, you may even pay 100 per cent of your bill using them. You can do so by scanning the super scan QR pay code. YOu can even purchase OTT subscriptions, enjoy flight or hotel discounts.
You can use your Flipkart supercoins in a 3rd party store. This is a unique benefit that is not provided by any other website. It is a massive move taken by an e-commerce site in India.
What is the Use of SuperCoins in Flipkart?

The use of supercoins is not only limited to Flipkart. You can use these rewards across a variety of brand partners and numerous offline stores. You may use supercoins to enjoy more than 300 plus rewards on Flipkart itself. You can avail of wonderful discounts, or may even buy items for rupees one.
Once you reach 200 supercoins, you become a Flipkart Plus member and then you can have additional benefits like free and fast delivery, early access to sales, special customer service and you can even trade your supercoins to cash in amazing rewards.
Becoming a plus member will help you earn even more supercoins. You can also use the allotted Flipkart supercoins to book a flight through the Flipkart app and enjoy a great discount. The app will offer you the best deal. By doing so you will also earn more supercoins. This gives you dual benefits.
A step-by-step guide on how to use Flipkart Supercoins
To avail of the maximum benefit, you need to know how to use these reward coins properly. It is very simple to use and helps you save quite a lot of money. We have created this list for you so that it becomes fairly easy for you to use and enjoy the benefits of these reward coins.
Step 1 – Go to the Flipkart app on your mobile or computer
Step 2 – Click on the top right corner on your name.
Step 3 – Once the page is opened, click on 'My Reward Store'
Step 4 – Now choose the desired category and click on 'view all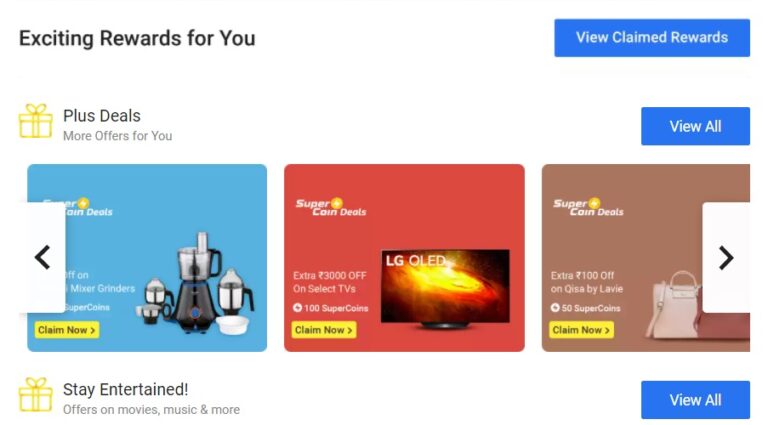 Step 5 – Explore and tap on the offer that you want to claim using Flipkart supercoin.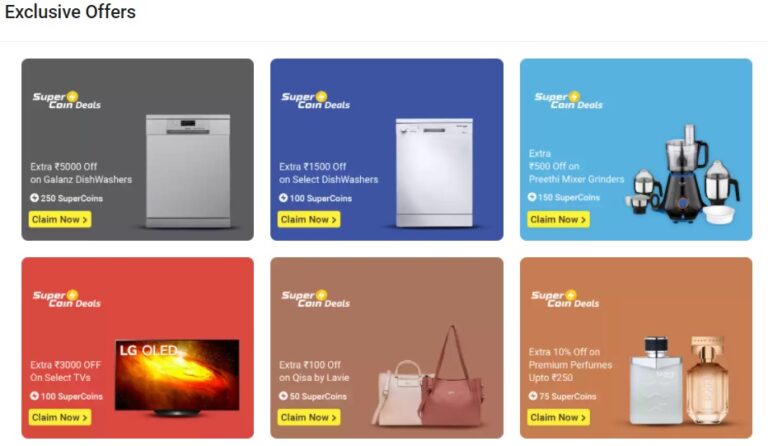 Step 6 – The last step is to click on 'Claim offer'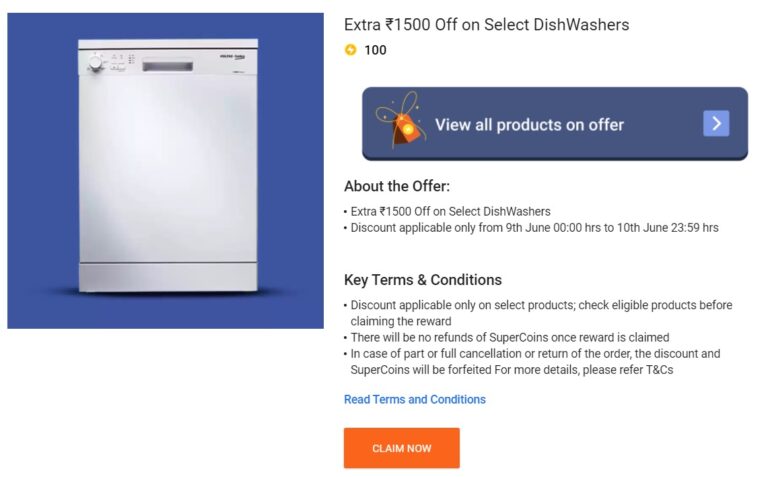 For the Flipkart Plus members:
The Flipkart Plus member can use their supercoins for the products they want to buy, following are the offers you can enjoy with the supercoins:
Use the 'supercoins price' filter to find the product valid to this offer.
You can even buy EVGs and coupons from this supercoin zone.
Purchase exclusive deals from the supercoin zone using the supercoins.
You can also use super coins to book a flight through the app for an amazing discount.
How to Check Supercoins in Flipkart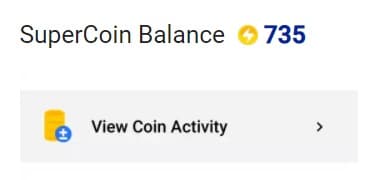 You can check Flipkart supercoins to keep track of your reward coin balance. To check, follow these steps:
Go to the Flipkart website or app
Login to your Flipkart account
Then go to Flipkart plus zone
There will be ' My coin balance' on the right, click on it.
Your super coin balance will appear.
How many Super coins are required for Flipkart plus membership?
Flipkart supercoins offer many additional benefits too. You earn 2 Flipkart supercoins for every 100 rupees you spent and up to 50 supercoins per order.
But once you reach the threshold of 200 supercoins, you are automatically upgraded as a plus member which will now let you enjoy many additional benefits that will make your shopping experience more convenient and enjoyable. However, no super coins will be deducted from your balance, you can still use them. A few of the benefits of being a Flipkart plus member are listed below, have a look.
How to earn free Supercoins in Flipkart?
The only and simple way to earn supercoins and enjoy maximum benefit is by placing an order on the site and spending money. In other words, the more you spend on Flipkart the more super coins you will earn. There is nothing else you need to do.
For every 100 rupees you spend, you will be rewarded with 2 super coins and a maximum of 50 supercoins per order. This is the case if you are a non plus member. But once you reach 200 super coins you will be automatically upgraded to a Flipkart Plus member.
This is great for you to earn more supercoins, once you have become a plus member you will be rewarded with 4 super coins for every 100 rupees you spend on the site and you can earn 100 supercoins per order.
So you earn double rewards after becoming a Flipkart Plus member. So to earn more starcoins you need to be an active shopper on the site and then you can have an optimum advantage of this unique reward system.
Besides this, you can also earn super coins by availing services from the partner brands of Flipkart like OYO, Ola, Zoom cars and many others by using the supercoin zone. However, this feature is available exclusively if you use the app for the purpose.
You can also earn supercoins by booking your flight through the Flipkart app. While doing so you can also enjoy amazing discounts offered by the app.
Another way to earn reward coins is by playing games on the app. You can now use your spare time playing games and earning rewards for your next online purchase.
What is the Value of 1 Flipkart SuperCoin ?
Flipkart has not directly disclosed the Indian rupees equivalent to the 1 Flipkart supercoins. However, we made estimations that one supercoin is equal to one Indian Rupee. We have concluded from the fact that the 2500 supercoin gift voucher is worthed 2500 rupees.
Nevertheless, the offer varies from product to product. As mentioned earlier, this super coin can be used to avail of a discount on your next Flipkart order or to pay the bill to a partnered offline store or while making a booking with a partnered online store.
What is the Validity of Flipkart SuperCoins?
Flipkart converts your plus coin to 10 super coins. That means if you 1 had one plus coin, now you will have 10 supercoin. Supercoins have a validity of 12 months. They expire after 12 months starting from the end of the month, they were credited in. In simple terms, your supercoin will expire at the end of the month which they were credited in a year back. For instance, if 10 supercoins were credited to your account on May 17th 2021, then those 10 supercoins (if not used) will expire on May 17th 2022.
To keep proper track of your supercoin so that none of it goes to waste we advise you to keep checking your balance. You can check your supercoin balance from the topmost section of the supercoin zone on your app.
When will the SuperCoins be credited to your account?
Once you place your order and after you receive it, it is under a return period. During this period you can return your product or exchange it if you are not satisfied with it or for any other reason. The supercoin for a particular order will be credited to your account once this return policy period is over.
While booking travel/stay through the Flipkart app or the partnered app, the supercoins earned for that payment will be credited to your account once the Booking date has passed. You can check the status of your supercoin balance and all the transactions you made using them in the supercooin zone.
The cancellation and refund policy of SuperCoins:
The estimated supercoin used or earned is calculated by using the whole cart value. If you cancel a particular order from the cart, there will be re-totaling of the supercoins used and earned based on the new total cart value and accordingly, the supercoins will be calculated.
The same goes for if you return a particular product, you can check the details every time on either the 'order history page' or 'supercoin' zone.
However, the reward coins used for reward redemption can not be returned. Once you purchase the reward you cannot refund or cancel it. So we suggest you place your order very carefully after putting a thorough thought into it.
The Final take on Flipkart Supercoins
Flipkart has upped its customer satisfaction game by introducing the concept of supercoins. It is unique and the first of its kind in India. You can use these reward points for paying bills in over 2000 offline stores and many partnered online sites like OYO, Ola, ZoomCars and many others. The concept behind earning these reward coins is fairly simple, the more you spend the more you earn. You can claim the supercoins by purchasing great deals, you can even make flight bookings.
You can enjoy a new experience of online shopping which is way more convenient and satisfactory. In this article, we have mentioned everything you need to know about these supercoins. We did this so that you can enjoy maximum benefits and save a great deal of money. Read it for maximum benefit and have a happy shopping!