Get the latest JioMart bank cashback offers in 2022 and make the most use of your SBI, HDFC, Citibank and ICICI credit and debit cards for your benefit.
JioMart cashback offers for SBI, HDFC, ICICI and Citibank credit and debit card customers has come as a boon and is here to stay for a long while! If you are not an account holder in one of these banks, hurry up, and do the needful because deals like these are not to be missed.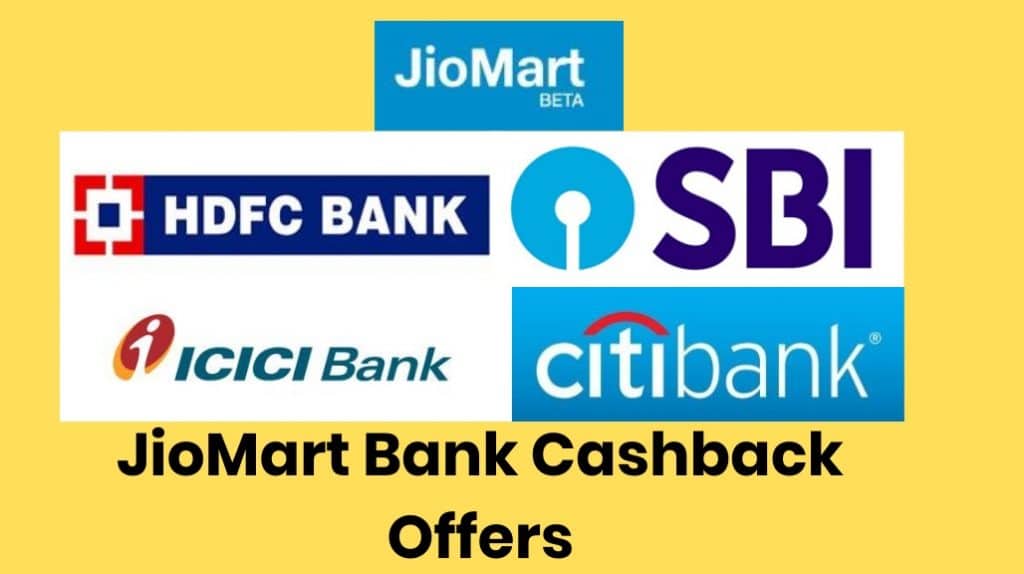 Who must have imagined that having a debit or credit card of any of the leading banks will prove to be of use in this manner, right? Well, through JioMart bank offers, this is coming true. How great is that, right? By availing any of these JioMart credit and debit card offers, you get a chance to earn some cashback. And after all, who doesn't like some cashback, irrespective of how big or small the amount is.
We don't want you to miss this chance of earning some bit through either of these JioMart cashback offers, and thus, we give you an extensive list of the Jiomart offers that are being provided in the month of January. Looks like, this month is going to be lit up since most of you'll can reap its benefits. But aren't you excited to know what these Jiomart Bank offers are? You sure must be! So, let's check it out. Stay tuned and read the details below.
Here's your go-to list to know about the JioMart Bank Cashback Offers 2022
If you are keen on knowing what Jio bank offer have in store for you, check out the guide below and keep a note of all the important things. After all, who would want to miss out on getting benefited by deals like JioMart cashback offers 2022, right? Now, let's dive into the offers!
1. Take a look at JioMart HDFC Bank Offer

This JioMart HDFC bank offer has been exclusively designed for HDFC bank account holders. So, if you are one of them, you must take interest in this deal.
HDFC JioMart offer gives you a good chance to grab a flat 10% cashback provided you have either an HDFC bank credit or debit card. What's even more important for you to know is the fact that you can avail this JioMart HDFC bank credit/debit card offer only on JioMart's platform and not anywhere else.
What's more? The minimum transaction amount for this deal remains Rs. 2000 and the maximum cashback that you can earn on per card during the offer period is Rs. 500. Don't be worried about not receiving the cashback on time because it will be credited to your account in less than 90 days. But do note that the validity of this Jiomart HDFC bank cards offer is short and it starts from 11th January and ends on 31st March (Every Wednesday).
So, make the most of this deal while it's still there!
2. Nothing better than JioMart SBI offer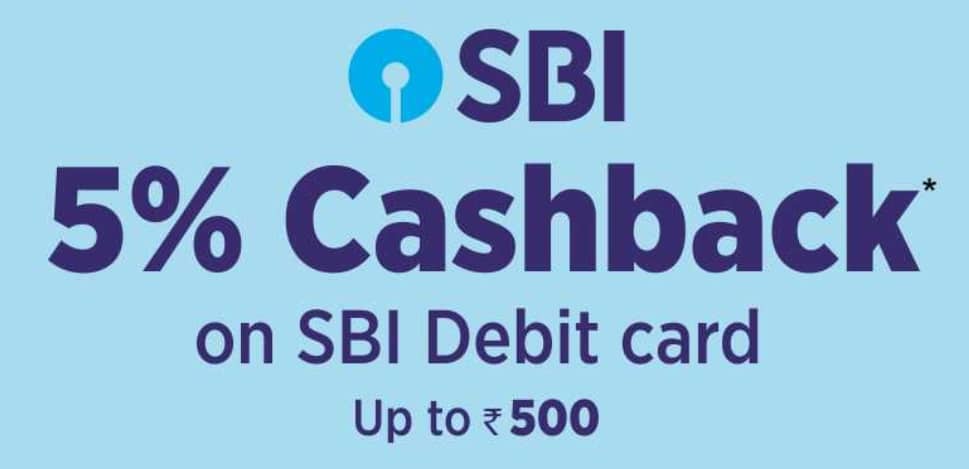 Being an SBI account holder, if you ever thought that you couldn't make great use of your debit card, then don't be upset. Here's a chance for you to utilize it well.
Through this JioMart SBI offer, you can gain about 10% cashback, should you have an SBI debit card. However, you can avail this deal only on JioMart and if your transaction exceeds the limit of Rs. 500. On this, you'll stand eligible for a maximum cashback of Rs. 500 during the offer period. And this cashback will be directly credited to your primary account in less than 45 days, so rest assured about it.
What's even more interesting is that you can either make use of your SBI visa card, SBI mastercard, or SBI RuPay debit card. The JioMart SBI debit card offer stays valid from 2nd October to 4th October, so make note of these dates without fail.
3. Glance through JioMart ICICI Bank Offer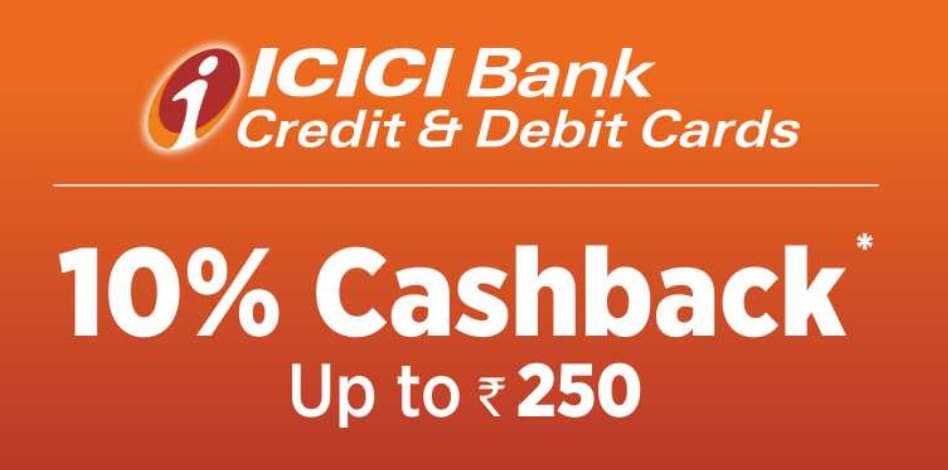 JioMart ICICI bank offer is for those of you who are proud account holders with ICICI bank. Through this exciting JioMart ICICI bank credit and debit card offer, participants have a great opportunity to avail cashback of up to 10% in exchange of making payment through ICICI bank credit or debit card on JioMart's platform.
If your minimum order value on the said website during the ICICI bank offer on JioMart exceeds a minimum amount of Rs. 1500, then you stand eligible for a maximum cashback of up to Rs. 500. However, since the offer is valid from 23rd January to 26th January, you got to hurry up and make use of this time so that you don't miss this golden chance.
And if the concern is about receiving cashback on time, don't worry – it will be credited to your account within 90 days. How great is that, right? But do take note of the dates so that you don't forget whenever the offer gets activated on JioMart.
4. Remember to consider JioMart Citibank Offer

Here, in this JioMart Citibank offer, you have the chance take home a flat 10% cashback with your Citi bank credit or debit card, provided you apply it on JioMart's application or website.
What's important for you to know is this Citi bank JioMart offer is applicable only if the transactions exceed Rs. 1500. In that case, you can get a maximum discount of Rs. 500 per card. Also, rest assured about the cashback, it'll get credited to your account within 60 days.
And we're sure you might be keen on knowing the JioMart Citi bank credit and debit card offer validity period, right? Well, it starts from 6th August and lasts uptil 11th August. So, do try your chance at this offer while its there. If you do not own Citi bank cards, then you'll not stand eligible to participate in this deal.
5. Can anything get better than JioMart MobiKwik offer?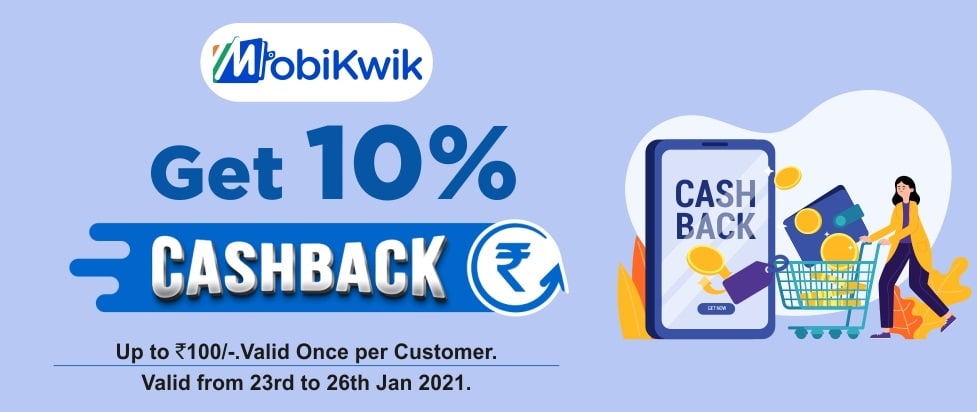 We are often on a lookout for deals on MobiKwik – isn't it? Well, this dream has come true since JioMart MobiKwik offer is right here to your rescue!
Imagine just being able to make payment through your MobiKwik wallet and earning a flat 10% supercash on JioMart? How lucrative does that sound, right? And the best part is that there is no minimum purchase value involved in this JioMart MobiKwik supercashback offer, which makes it all the more attractive to users.
And in return, you get to take home a maximum of Rs. 1000 supercash for participating on JioMart. The only thing that you need to be careful about is making use of coupon code, which in this case is KWIK15 whilst making payment through MobiKwik. You may use this code twice per user. Can this get any better? Don't forget the most important part – the offer dates, which in this case is 23rd Jan to 26th January.
For availing this offer, you get plenty of time. So, do utilize it to its optimum extent because such deals don't happen often.
6. Don't miss availing JioMart Paytm Offer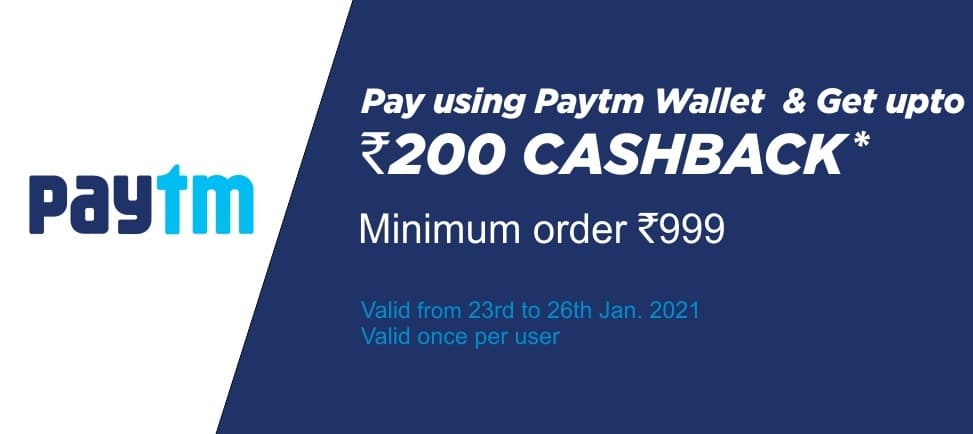 Paytm deals have always fascinated us and so will this JioMart Paytm offer! By availing this deal, you have an opportunity to get a virtual scratch card of minimum Rs. 20 and a maximum of Rs. 200 if the minimum purchase value is Rs. 999.
Once the purchase has been made on JioMart, the users can access the deal under the cashback and offers section on Paytm. However, the sad news is that this offer is valid only once per user during the offer period, so make your decision wisely!
Besides, don't forget to take note of the JioMart Paytm wallet offer dates, which happens to be 23rd – 26th January. Yes, just eight days, so do remember it well. Excited for this Paytm Jiomart offer? We too are!
7. The best deal is JioMart PhonePe Offer

This list of offers would've been incomplete without the JioMart PhonePe offer. In this deal, all you need to do is use PhonePe for making the payment on JioMart's website. The minimum purchase amount in this case is Rs. 499 and the scratch card that can be earned in exchange is of minimum Rs. 35 and a maximum of Rs. 500.
What's important for you to know is that this offer is valid only once per user during the offer period, so be alert of the offer dates. This deal stands valid from 1st November to 8th November. The reward you earn will be sent to you in less than 24 hours after scratching the virtual scratch cards. Sounds interesting, right?
We'd told you; all of these JioMart cashback offers are extremely beneficial and have been deliberately designed, keeping in mind the needs of the users. Now that we have unveiled the details of each of these JioMart cards offers, it's time for you to look into them, grab your credit or debit cards, and head over to the site to avail either of it.
What are you waiting for? We hope the information we have shared with regard to the JioMart wallet offers have given you a clarity now. Waste no time and crack your deals soon!
But other than the given details, if you still have some queries, don't worry. We're here to solve them. In that case, check out the section below where we have addressed all the minute points pertaining to the upcoming JioMart sale offers and also the process of availing these JioMart bank offers. Stay tuned!
Here's How you can avail JioMart Bank Cashback Offers
If you are first time user of JioMart, then this guide below is going to come handy to you while you participate in the JioMart sale and try your hands at any of the JioMart cashback offers. So, here's how you can go about it:
Login and register on JioMart website or download the application and fill in the details
Add the desired products to the cart
Do ensure that the value of the cart matches with that of the minimum order value criteria as recommended in the offers
Apply coupon code if the JioMart offer demands
Make payment through the bank card that has been stated in the offer if you want to avail cashback
Take a seat back. The cashback will be credited to your account within 60 to 90 days.
This is how simple the process is! Isn't it quick, too? If you refer to these steps, there's no chance you can ever go wrong. We vouch for it.
Hurry up and make a move towards JioMart Bank Cashback Offers 2022
Why would you ever want to lose your chance of availing deals as mentioned above? Especially when they are fetching such lucrative cashbacks. There's no way that it should happen, right? So, why waste any time at all? Forget about other platforms when there's JioMart to your rescue. It's letting you utilize your bank's cards in exchange of some great benefits. And we repeat, such deals are not made available too easily, so you must utilize it well whilst its there.
By looking at the list offers, you must have understood that now is the perfect time to get those bank cards out for the right use, so why think so much? Especially when you have a great chance to save some bit in the form of cashback. Whether it is Rs. 200 or Rs. 500 – we all love some money in exchange of shopping. Don't we? In fact, we always hunt for such deals online, while making our purchases on different platforms. So, now that these deals have walked up to you, make use of it to its optimum extent.
Don't let this opportunity go out of hands. We have unveiled the details and process. Now it's up to you how you go about it. Our hope is that you reap benefits by making use of your debit and credit cards!