HDFC has decided to make 2023 special for you by bringing special MakeMyTrip HDFC bank offers in 2023 for the Net banking and credit & debit card holders. You can now save a huge amount of money on your business and personal domestic or international trips.
MakeMyTrip HDFC bank debit & credit card offers 2023 are available for all those who have their accounts in this bank. These amazing HDFC bank MakeMyTrip offers can change your entire traveling life and give you so much more than what you generally do when you travel, since you are expected to pay less due to the discount.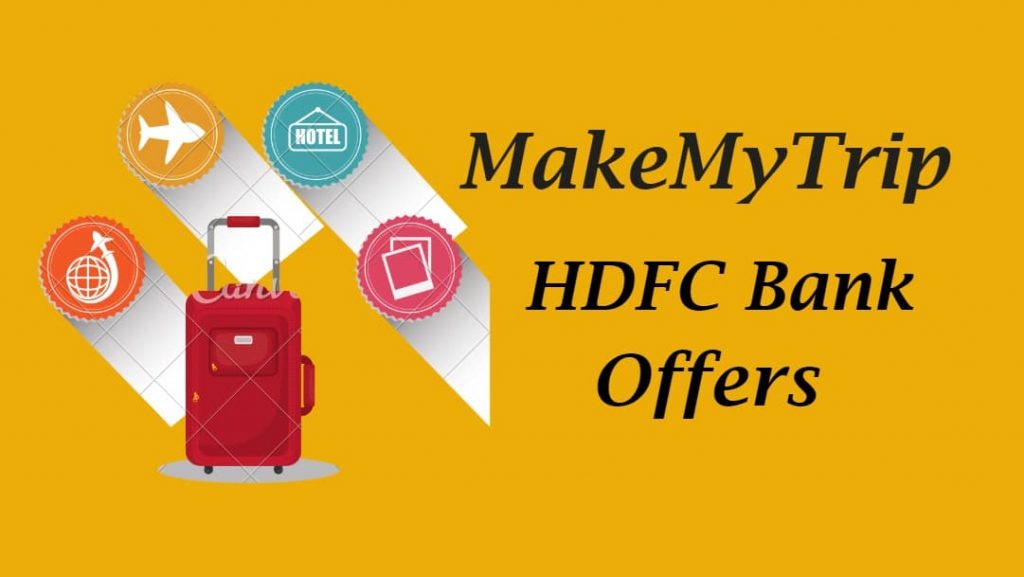 Finally, let's move to the most-awaited MMT offers for all the special HDFC bank account holders:
Don't worry about spending a lot of money on your next trip, with these amazing MakeMyTrip HDFC Bank offers, you can not only visit your dream destination but also keep the money as low as possible.
MakeMyTrip's Exclusive Offer for HDFC Debit Card Holders!
If you want to enjoy the best HDFC bank offer from MakeMyTrip, this is probably crafted for you exclusively! However, the only condition is that you need to have an HDFC debit card in order to enjoy 5% cashback on domestic & international flights, hotels, buses and cabs!
Yes! If you have an HDFC debit card and you make the booking on MakeMyTrip on Thursday, Friday, Saturday and Sunday, you can get the cashback credited in a couple of days!
You get up to INR 1200 cashback on domestic flights and 5% cashback on International flights, domestic hotels, and international hotels. You need to use the coupon code MMTBIG5 in order to enjoy this MakeMyTrip HDFC debit card offer.
However, the MMT HDFC bank offers are valid only till 30th December only and after that you won't be able to get the cashback.
MakeMyTrip HDFC Credit Card Offers on Domestic flights:
HDFC bank credit and debit cards offer on MakeMyTrip are good enough to change the life of all the avid travelers around the globe. You can use HDFC bank credit cards offer on domestic flight booking to get the most out of your tour. The offers have been created to give you the ease to travel to any location of your choice within India.
| | |
| --- | --- |
| Flight Booking Amount | Discount |
| Between Rs 2,500 to Rs 15,000 | Flat Rs 1000 Discount |
| Between Rs 15,001 to Rs 20,000 | Flat Rs 1200 Discount |
| Above Rs 20,000 | Flat Rs 2500 Discount |
Wonderful MMT HDFC Credit Card offers on international flights:
MakeMyTrip HDFC international flight cashback coupon code has to be noted down and used in order to avail HDFC bank offers for international flights. If you are planning to go out of India, these international flight booking offers can give the most amazing discounts to you. No matter which country you are planning to make a trip to, these offers can be used to save money on all the international flight tickets that you book.
1. Discount on the transaction amount of 10,000 to 50,000:
When you use the MakeMyTrip promo code HDFCINT for the mentioned transaction, you are allowed to enjoy a cashback of Rs.2500 on international flight ticket bookings. Can you ask for anything more than this discounted price?
2. Cashback on the transaction amount of 5,0001 to 1,00,000:
Another code that you have to remember is HDFCINT; however, this is for the mentioned amount. You enjoy a cashback of Rs.5000 when you use your HDFC credit to make the payment.
3. Cashback on the transaction amount of Rs.2,00,000 and above:
HDFCINT coupon code allows you to get a cashback of Rs.10,000, but only when your transaction amount is as much as it is mentioned here and only when you use your HDFC Credit cards for the payment.
Let's get you a wonderful MakeMyTrip HDFC Bank Offer on Domestic Hotels
If you are sick and tired of all those office meetings and conferences, go to a nice place nearby or stay at a luxurious hotel. You are not going to regret spending on a good hotel room because you can save a good amount of money with the help of these wonderful discounts designed for you.
Here are some best HDFC bank offers on domestic hotels:
| | | |
| --- | --- | --- |
| Hotel Booking Amount | Discount | Coupon Code |
| Between Rs 3000 – Rs 4500 | Rs 900 OFF | HDFCDOM |
| Between Rs 4501 – 6000 | Rs 1350 OFF | HDFCDOM |
| Above Rs 6000 | Rs 1800 OFF | HDFCDOM |
Awesome MMT HDFC Offers on some of the Best International Hotels:
HDFC bank special offer for hotel bookings are meant for all those international trip lovers out there. If you have an HDFC credit card, you can use it to get the most out of your international trip. You can not only book the ticket at an offered price, but also book a hotel room at a discounted offer. All you have to do is remember the coupon code HDFCINT1, HDFCINT2, HDFCINT3 and use it to get the discount that you are planning to enjoy.
| | | |
| --- | --- | --- |
| Booking Amount | Offer | Coupon Code |
| Rs 10,000 to Rs 20,000 | Flat Rs 1500 OFF | HDFCINT |
| Rs 20,001 to Rs 30,000 | Flat Rs 3000 OFF | HDFCINT |
| Rs 30,000 or more | Flat Rs 5000 OFF | HDFCINT |
How about planning the trip to your dream destination? How about a second honeymoon with your partner? Nothing can replace the joy that you feel when you book international hotel rooms at affordable prices. With the offers designed for you, you can get flat 20% off on the base price of the hotel room that you book in another country.
In order to avail the above mentioned offers, you have to enter the respective coupon codes without which the discounts won't be granted to you.
Also, you have to remember that the offers are not valid for a long period of time and that you have to use them before the expiry date.
If you are not an HDFC bank account holder or don't have the internet banking user account or credit or debit cards of this bank, you can't avail the mentioned discounts.
The offer on domestic flights can be used thrice per card per month. On the other hand, the offer for international hotels can be used twice per card per month. The mentioned offers can be used for different cities (or even countries). Now go ahead and start planning your trip right now using either the website of MakeMyTrip or the app.
MakeMyTrip's Unusual Deal With HDFC Bank in 2023 :
HDFC is one of the most reputed banks in India. It provides the account holders with impeccable services because it believes in giving the best to all those who count upon their customer service. In order to do something extra special for their account holders, the bank came up with a brilliant idea.
Since MakeMyTrip is a popular name in the traveling crowd, HDFC tied up with it to bring unusual offers for all those who have HDFC bank's credit or debit cards. If more people in your family have accounts in this bank, you can utilize the offers in a much better way. You can save a lot of money on your trip.
Can your trip be any better than this?