Start shopping at Flipkart with No Cost EMI Offers on Flipkart if are you excited to get the fun and thrill back in your life. Now is the time to go ahead and get your required shopping done.
No matter how expensive the mobile, camera, laptop, TV or any other electronics is you can now get it from Flipkart at no cost EMI option.
Flipkart is the leading online shopping site in India. Almost every product that one needs to survive, enjoy or divulge is available here. But, that is not all that Flipkart has to offer its customers. The various payment options in Flipkart make it a website that customers can't say no to.
The recent addition to Flipkart's payment methods includes the No cost EMI option that is available on mobiles, laptops, cameras, electronics, TVs and so on. If you have shopping on your mind then try out Flipkart's amazing new no cost EMI offers on Flipkart.
It is the time you know all about Flipkart No Cost EMI. So, go ahead and read all about it. If you have HDFC, SBI, Axis, ICICI, American Express, Yes bank, Kotak, Citibank & Bajaj Finserv card then you will have the chance to enjoy the benefits of no-cost EMI on Flipkart.
What is Credit Card EMI?
If you are in love with shopping then you know the kind of benefits that credit card has in your life. It helps you shop even when you don't have any money to pay for the thing you bought. No matter what the occasion you can simply use your credit card and start shopping.
Credit Cards are issued by several banks they earn interest if any payment is made later than the actual day of payment. If you purchase something using Credit Card EMI option then the principal amount plus the interest on the product is added together and then divided into equal payments. You have to clear these payments on a monthly basis depending on the scheme you are on.
What is no cost EMI on Flipkart?
The scheme of No Cost EMI has been started by Flipkart to help shoppers buy everything they want. Be it an expensive phone, laptop, TV, camera or anything at all. The EMIs that customers have to pay will not include any kind of additional cost or processing fee.
This No Cost EMI scheme appears if a shopper wants to buy anything expensive and allows them to pay the EMI over a period of three to twelve months. Flipkart assures its shoppers that no kind of additional cost is added to the price of the product.
Flipkart and Bajaj Finserv have come up with this whole idea. What does that mean? It means Flipkart is not financing you but Bajaj Finserv is.
Which bank credit cards are offering the No Cost EMI option on Flipkart?
The online shopping website Flipkart not only provides a plethora of choices to its shoppers but it also provides several deals on using their credit cards for shopping. Shopping thousands of products with no hassle is the only experience one should have and Flipkart is proudly offering that.
Flipkart is currently working with several private as well as public sector banks to help customers enjoy the no cost EMI option on credit cards. With the help of this offer buyers can use the EMI option to pay back Flipkart the amount of money they owe on different products, with easy monthly installments. This money can be paid somewhere between three months to as long as two years. Banks that are offering this No Cost EMI option along with Flipkart are as follows.
State Bank of India
HDFC Bank
ICICI Bank
Kotak Mahindra Bank
Axis Bank
Citibank
Induslnd Bank
Standard Chartered Bank
HSBC
American Express
Yes Bank
RBL Bank
One can get long term repayment tenure from all the banks except for HSBC and SBI. Every bank sets a minimum amount on the purchase price.
ICICI, HDFC and Citibank demand the minimum amount to be as much ten thousand rupees. The rest of the banks have it at only four thousand rupees.
Processing charges of no kind is added to the amount of purchase by any banks. However, banks might charge interest on the purchase of the product depending on the kind of terms and conditions they follow.
Is No Cost EMI available on Bajaj Finserv Card at Flipkart?
The scheme that Flipkart has come up with about the whole No Cost EMI option is applicable on Bajaj Finserv Card. Flipkart and Bajaj Finserv merged together to offer customers the benefits of no cost EMI option.
Customers who own an EMI card from Bajaj Finserv can avail the benefits of this offer. This EMI card from Bajaj Finserv isn't like the credit card that banks hand out. This card means like a loan card, personal only for your use.
Only a small population of India own a credit card. That is why Bajaj Finance offers this scheme where consumers can buy whatever they want with this card.
How does no cost EMI work?
There is nothing tricky about this whole procedure. You only reap benefits out of it. On a selected range of products, like laptops, electronics, mobiles, TVs, and so on you can avail this great offer.
You will be paying the EMIs based on the scheme you have selected and no additional charges or interest will be charged on this. Plus there is no down payment that a consumer has to make. All of this adds up to a great shopping experience.
The second you select the option to pay your EMI using your credit card, the limit on your Credit Card will be blocked. Your bank is then going to convert the amount payable into EMI option. Any interest charged by your respective bank on this purchase will be deducted as discount from the original amount by Flipkart.

How to avail the No Cost EMI option on Flipkart?
After hearing so much about it, now you will like to know how you can avail this great offer where no cost is charged on your EMIs, right? Follow the step by step procedure and you will see how easy it is.
Step One : You have to check on the product page whether or not the option for No Cost EMI is applicable.


Step Two: Go to the buy now option if you are done selecting the product you want to purchase.
Step Three: You will be transferred to the page where you can make the payment. Under the option that says Easy Payment, check the option for No Cost EMI.

Step Four: Choose the option that is viable to you, under the EMI scheme.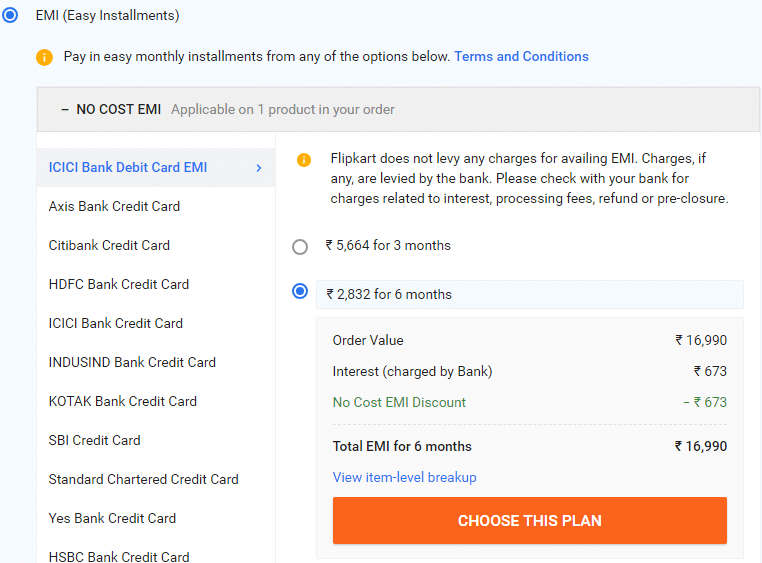 Step Five: Complete the transaction.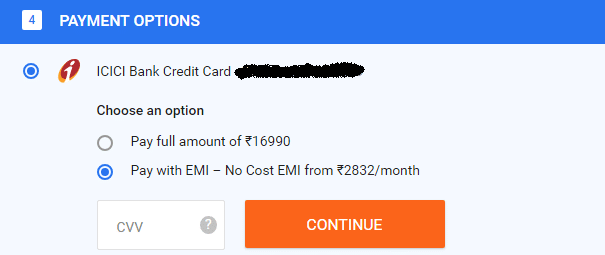 With only five easy steps you end up enjoying the no cost EMI option from Flipkart.
Which products fall under the no-cost EMI option on Flipkart?

In order to enjoy the EMI option, you have to know the products that come under this scheme.
Television Sets
Mobiles
Washing Machine
Refrigerator
Air Conditioner
Home Appliances
Watches
Furniture
Camera
Laptop
Hard Disk
What are the benefits of No Cost EMI option?
The benefits if you start to think about it are too many. You get to shop the items you want without having to pay for it immediately. No matter how costly the item is you will have the chance to shop it. That helps to make the purchase extremely affordable. The processing fee or any additional cost is zero. Leading private and public sector banks offer this service. Plus there is no hassle of down payment. Consumers can choose a time span that feels comfortable and proceed with their monthly EMIs.
Ending Thoughts.
Everyone loves to shop. The only constraint between them and the product they want is the huge amount of money that they have to pay for it. With no cost EMI option on Flipkart that problem is finally solved.
Consumers can shop for all luxury products without worrying about the additional expenditure. So, shop every product you need from Flipkart today with no cost EMI option. And if you are not having any credit card, don't be worried as now you can avail the EMI option on Flipkart via your debit card too. Check out more on debit card EMI offers on Flipkart here.
The chance to shop your favourite products that probably are beyond your budget right now, can be taken care of with the offers that Flipkart provides on Credit Card EMI option. Without wasting anymore time start shopping.