Here is our takeaway of the Best Ghee Brands in India in 2023 that not only melt in your mouth but give you wholesome goodness and health in every spoonful of indulgence. Check out the list…
Every food lover in India knows that the search for the Best Ghee in India is a tedious task with so many brands claiming to be the best in offering pure and quality products. But the one that stands tall on true parameters of taste, texture, smell, quality, and nutrition is not easy to find.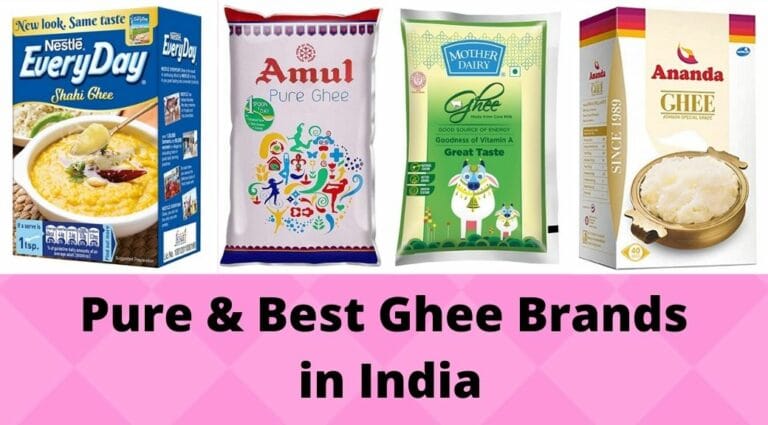 In this detailed review below we have closely researched the best ghee brands in India and bring you all the details that help you choose the best desi ghee in India… one that reminds you of your grandma's love and unveils the magic of your mother's tasteful recipes even of the most humble everyday dishes. Read more to know all about this Indian formula that is gaining popularity in global cuisines.
Does Ghee Benefit our Health? The Real Story of Goodness
Have you grown up hearing the age-old adage from your grandmother that 'Ghee' is the key to great health? Or have you loved your parathas with a dollop of desi ghee or your favorite dal tempered with a generous serving of ghee? If yes, then you know how Indian households have always cherished the use of ghee and promoted its use in every culinary delight.
Ghee or clarified butter has long been an essential element of Ayurveda medicine and is known for its high nutritional value. Loaded with the benefits of Vitamin E and omega-3 fatty acids ghee is highly beneficial with multiple health benefits.
Contrary to the belief that ghee is loaded with fat, what needs to be understood is that ghee contains good fats that play a vital role in the functioning of the heart and brain providing the necessary energy to the body and keeping it active throughout the day. Let's take a look at the multiple benefits of ghee…
With so many benefits of the humble ghee, surely our grandmothers weren't wrong in calling it the 'king ingredient of the kitchen.'
Pick the Best from Our Take of the 12 Best Ghee in India in 2023
Check out our list of the 12 Pure and Best Ghee Brands in India in 2023 that brings you closer to the secrets of picking the right ghee for your family. In this well-researched review, we talk about the best market players in this segment and do a litmus test to check their tall claims.
We discuss the good, bad, and worst features of each brand and take you through a guided tour explaining the factors to keep in mind while selecting the best desi ghee brand in India. So stay tuned and keep reading to get some insightful information about this key essential Indian delight that is gaining popularity on the global forum.
1. Try the Nestle Everyday Ghee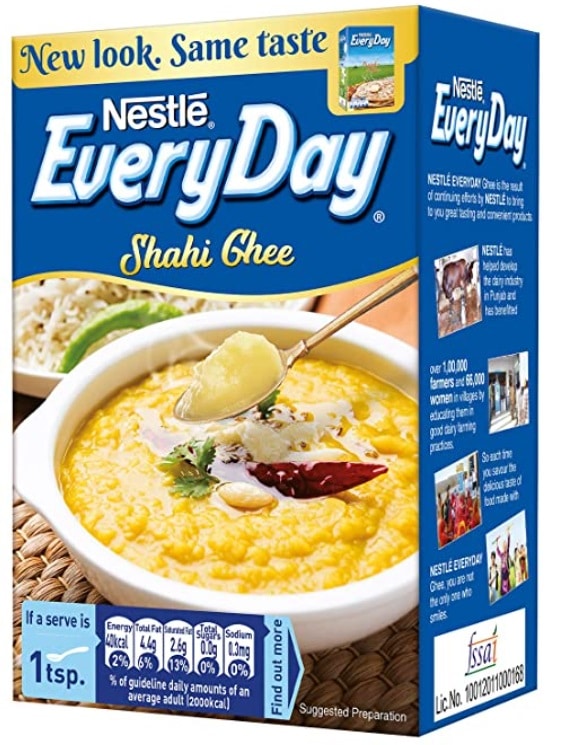 Nestle Everyday Ghee ends your search for the best cow ghee in India in 2023 with its supreme quality and unmatchable brand reputation. Made from the milk of responsibly fed cows in Punjab-the land famous for its dairy industry, the product promises unique quality and outstanding taste. The delicious taste and rich granular texture, instantly make you fall in love with this Indian delight. Packed with essential nutrients it helps you meet your body's daily fat requirements and imparts energy that keeps you going throughout the day.
One liter of the packaged ghee is moderately priced at around Rs.430-500/-. Packaged in a specially designed tetra pack it helps to retain the aromas and flavors of the ghee for a long time bringing you the best cow produce at an affordable price tag. Ideal for use in everyday Indian delicacies like parathas, rotis, and dal to enhance taste and flavors. Adds a rich taste and flavor to Indian sweets like panjiri, ladoos, and other delicacies because of their melt-in-the-mouth texture.
2. Pick the most trusted Amul Pure Ghee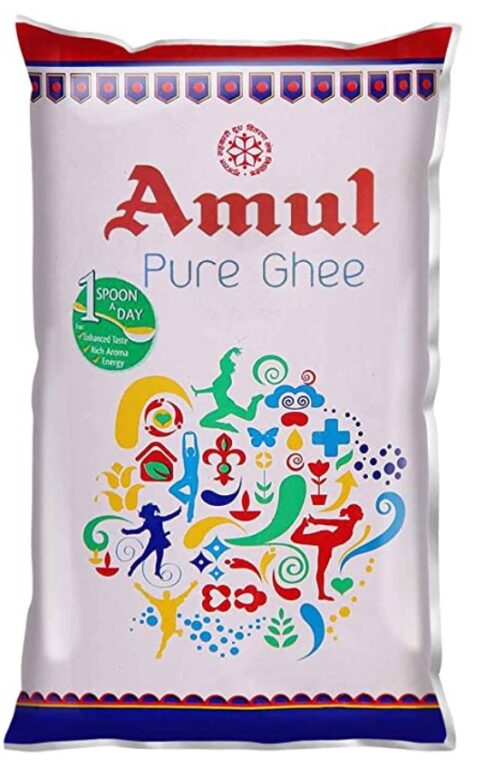 The list of best quality ghee in India in 2023 is incomplete without the mention of Amul Pure Ghee. Loaded with the goodness of Vitamin A, D, E, and K Amul ghee comes from the finest dairies of India's largest cooperative society. With a strong ethnic aroma and rich granular structure the quality of the ghee is not only outstanding but one which has gained a rich reputation over the years.
As a 100% vegetarian product, it is free from added colors and preservatives. It comes in 3 standard packages of 1-liter tin, 1-liter pouch, and 1-liter tetra pack. All of the packages are designed to retain the aromas and flavor of the ghee while making it travel-friendly to carry. Being free from cholesterol and bad fats, it is recommended to incorporate at least 1 spoonful of desi ghee in our diets for optimum health results.
You can buy the standard 1-liter pack at a price of around Rs.470-500/-
3. Enjoy the taste of Mother Dairy Cow Ghee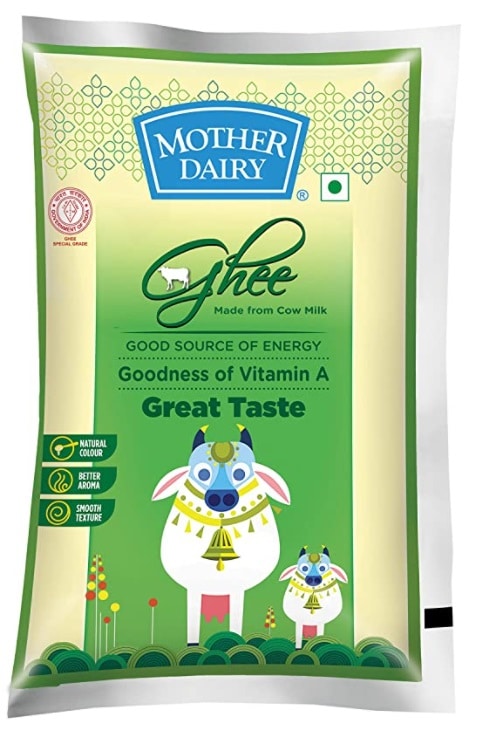 Talking about the best cow ghee brand in India, the name that strikes us instantly is Mother Dairy Cow Ghee. A name that has long made its place in the dairy industry, Mother Dairy products like milk, ghee, paneer, cheese, cream, etc are relished by many Indian households.
For ages, cow ghee has been considered the best for human consumption and is considered the purest form of ghee. Rich in vital nutrients like vitamins and omega-3 fatty acids, Mother Dairy Cow Ghee is considered as a 'rasayana' or rejuvenating food that promotes longevity.
Regular consumption of this ghee leads to better vision, healthy digestion, and strong bones and immunity system. The standard 1 Litre pack of Mother Dairy Ghee is available in the price range of Rs.485-500/- and is worth the quality and taste that you obtain from the finest dairy manufacturers.
4. Taste the flavors of Aashirvaad Svasti Pure Cow Ghee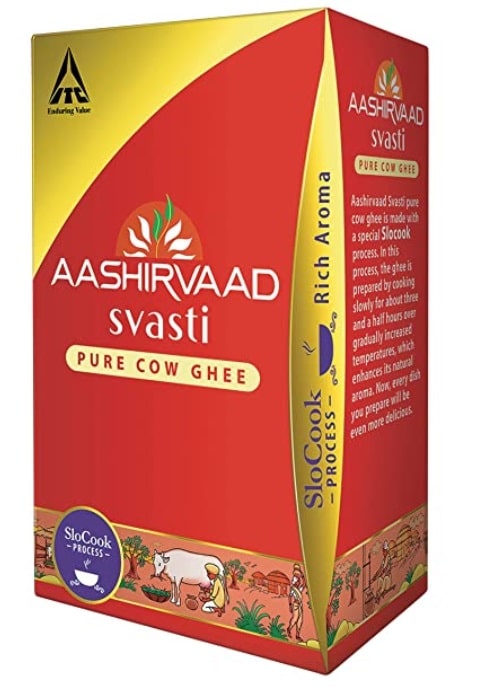 The list of best ghee brands in India is incomplete without the mention of Aashirvaad Svasti Pure Cow Ghee that is recognized as one of the best cow ghee because of its supreme quality and taste. Coming from the trusted Aashirvaad brand, the Svasti Pure Cow ghee goes through a strong four-stage quality process ensuring that you get the best quality ghee that enhances the flavors of your recipes.
Manufactured through a traditional process of slow cooking for about 3.5 hours and with temperature increased gradually to bring out the best flavors of this dairy product, the quality of the ghee is worth every penny you spend on it. Commanding a higher price as compared to its contemporaries, you can get 1 liter of the Aashirvaad Svasti Cow Ghee for a price of Rs.550/-.
With a natural golden color and a rich granular texture, the ghee is not only delicious to eat but also highly appealing and enriching for health. Made from pure cow milk, this desi ghee from Aashirvaad is loaded with vitamins, especially vitamin A that is known to boosts immunity and protect the body from external infections.
5. Savor the goodness of Ananda Pure Ghee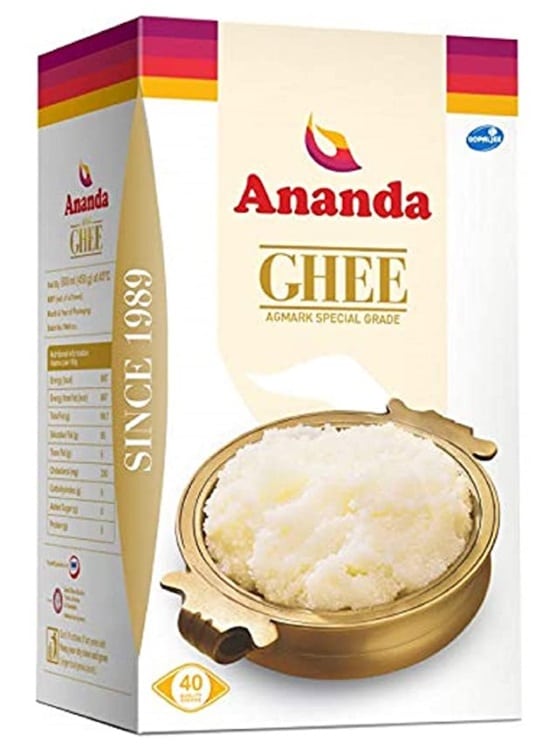 If you are looking for quality ghee at a budgeted price try the Ananda Pure Ghee that is rich in Vitamin A, D, antioxidants, omega-3 fatty acids, and Conjugated Linolenic Acid all of which are essential for the growth of the body and in stimulating the metabolism. A lactose-free product that is light on the stomach and gives you the enriching taste of pure desi ghee without the guilt of fat and heaviness.
As a stable fat for cooking, Ananda pure cow ghee is filled with monounsaturated fats (MUFA) and polyunsaturated fats (PUFA) that act as a superfood and strengthen the body. It is an ideal cooking medium for traditional Indian sweets, frying snacks, and flavoring and tempering cuisines.
Available in a 1-liter tetra pack it is priced like most of its contemporaries at a price of Rs.490-500/- per liter and has all the goodness that a dairy product promises.
6. Choose a healthy pack of Patanjali Cow's Ghee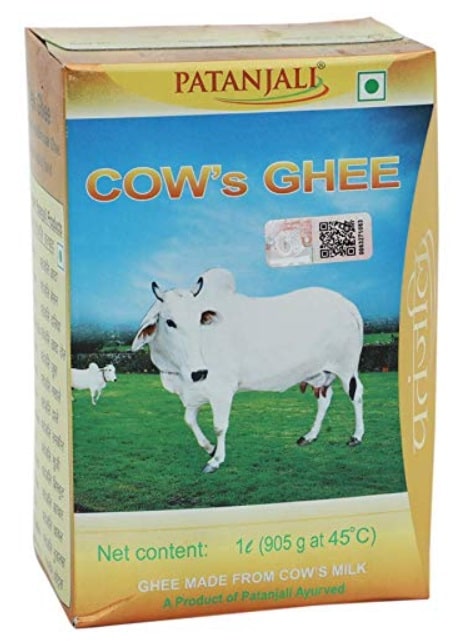 Patanjali Cow's Ghee is the most coveted brand when it comes to the best pure ghee in India. With a reputation for pure, healthy, and unadulterated food items, the Cow ghee from Patanjali is high on our recommendations of the Best ghee brands in India in 2023.
Loaded with nutrition, regular consumption of Patanjali Cow Ghee is known to increase memory power, digestion, and boosting immunity. The presence of vitamins and antioxidants balances Vata, pitta, and Kapha in the body. It improves digestion by stimulating the secretion of enzymes and acids that foster the healthy digestion of food.
It reduces complains of constipation and nourishes the body both from within and on the outside. Though slightly higher priced at Rs.500-550/- for a 1 Litre pack, yet it is light on the stomach and heart with no traces of sugar or bad fat.
7. Pick a pack of Sri Sri Tattva Cow's Pure Ghee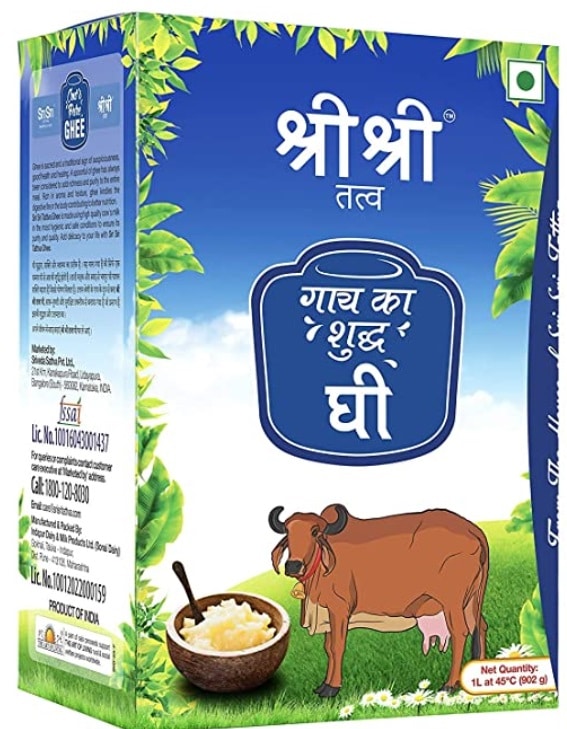 Your search for the best organic ghee in India ends with the Sri Sri Tattva Cow's Pure Ghee that is loaded with wholesome goodness, health, and nutrition. Processed hygienically using high-quality cow milk, the ghee is pure and of the finest quality. It has a rich granular texture that adds character to your dishes and an aroma that enhances the flavors of your recipes.
Enriched with the goodness of vitamin A, the Sri Sri Tattva Ghee is processed with high-quality standards and is untouched by hands, thus maintaining complete hygiene and safety during the processing and packaging.
The shelf life of the ghee is 9 months from the date of manufacture and is priced at around Rs.550-600/- for a 1-liter pack. A spoonful of Sri Sri Tattva Cow ghee every day can give your body much-needed energy and keep your digestive system smooth while boosting your appetite.
8. Relish the taste of Gir Organic A2 Pure Cow Ghee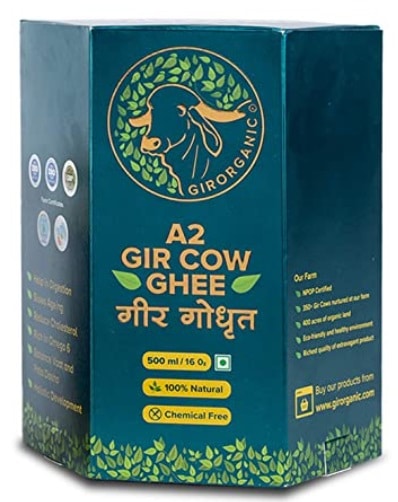 Another brand making its mark in the list of best ghee brands in India is the Gir Organic A2 Pure Cow Ghee that is made from the milk of special Gir cows. These cows graze freely in the meadows and are fed with ayurvedic and medicinal herbs so that they produce the best quality milk. Using traditional methods the Bilona ghee is extracted by first boiling the cow milk and then cooling it down.
Thereafter, a spoonful of curd is added to this milk and left overnight for the curd to set in. In the morning the curd is churned to extract high-quality butter from it. In the last leg of the process, the butter is boiled to evaporate the water and obtain high-quality pure butter from it.
The Gir Organic A2 Pure Cow Ghee is by nature lipolytic that helps to break down fats in the body, boosts metabolism, and provides instant energy. It improves gut health, boosting digestion and keeping the digestive tract smooth and healthy. As a natural antioxidant, it reduces serum cholesterol and prevents blockages in the arteries, thus maintaining a healthy heart.
With so many star-studded quality, the ghee undoubtedly comes in a premium price range of about Rs2000/- for a 1-liter package. The packaging of the ghee is done in supreme glass bottles to avoid the ill effects of plastic or foil from interfering with the taste of the ghee.
9. Try the Amazon Brand-Vedaka Cow Ghee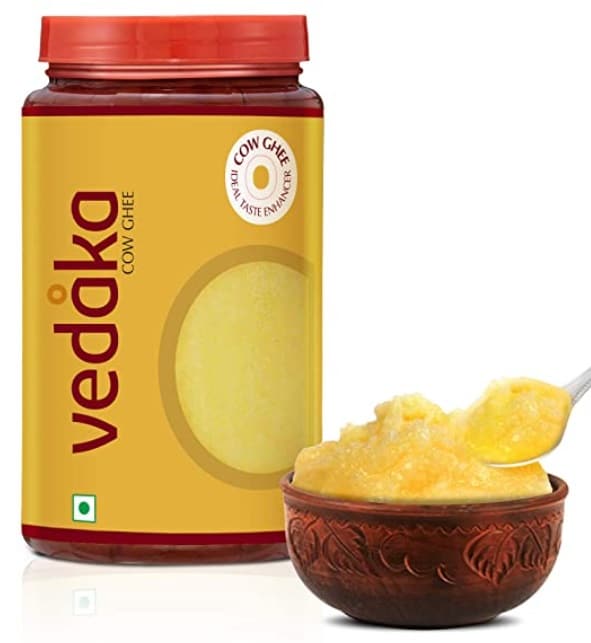 Coming from the house of Vedaka-an in house product of Amazon, the Vedaka Cow Ghee is made from 100% cow milk adhering to high-quality standards and is free from added preservatives, impurities, and artificial colors. Containing the right amount of Vitamin A, Vitamin E, and a short chain of fatty acids, the Vedaka Cow Ghee aims at providing your body with optimum nutrition every time you consume the ghee.
Add a touch of flavor and delightful taste to your parathas, pulao, sweets, and snacks with the Vedaka Cow Ghee that is hygienically packed giving you wholesome goodness and health in every bite. Moderately priced, a package of 1 liter comes within a humble price range of Rs.450-500/-.
10. Bring home Madhusudan Pure Vegetarian Desi Ghee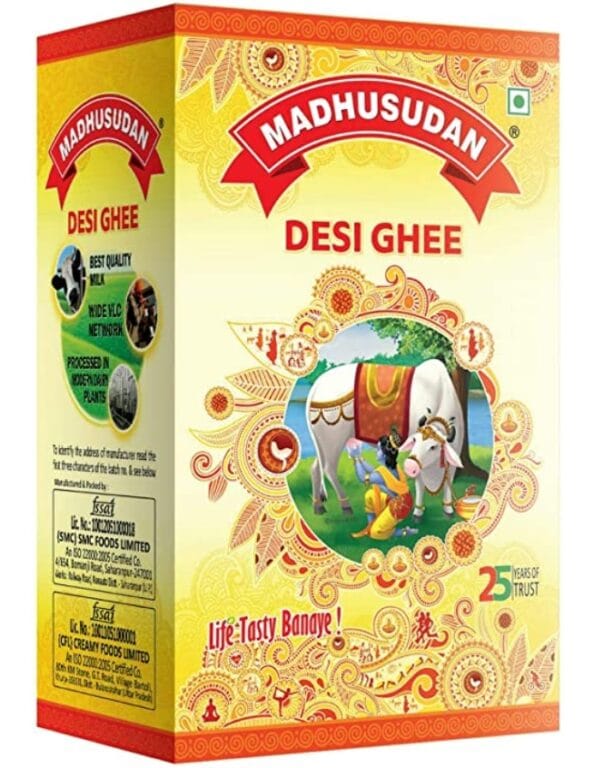 Speaking of the best buffalo ghee in India, the Madhusudan Pure Vegetarian Desi Ghee is a much-coveted ghee brand that is made from high-quality buffalo milk and is rich in healthy fats. If you love the taste and sight of parathas or your favorite snacks simmering in pure ghee, then the Madhusudan desi ghee should be your number one choice.
A 100% vegetarian product, the Madhusudan pure ghee offers wholesome goodness and health in every spoonful of serving. Enrich the taste of Indian delicacies like sweets, namkeens, and savory products with the authentic and pure taste of the Madhusudan desi ghee. Buy this product in a hygienically packed carton box that comes in a moderate price range of Rs.450-500/- for 1 liter and is easily available in most supermarkets and online grocery platforms.
11. Relish the original taste of Vedic Ghee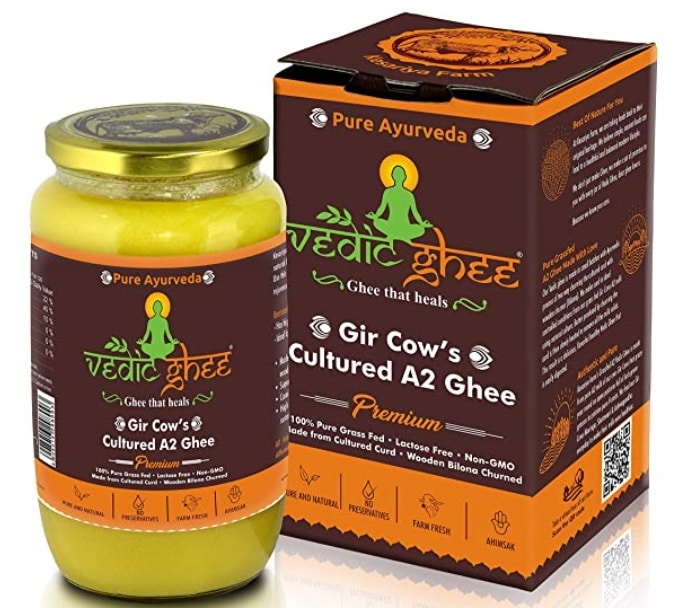 A quality product coming from Kesariya Farms, A2 Vedic Ghee is made from the milk of high-quality grass-fed Gir Cows. Boasting of high quality, it is hand-churned ghee prepared by simmering butter that is obtained from churning cultured curd. It involves skimming the milk solids from the surface that appear on churning and leaving behind any residue that settles at the bottom.
With a perfect blend of omega -3 and omega -6 fatty acids along with the goodness of Conjugated Linoleic Acid, the regular consumption of this desi ghee makes muscles and bones strong while boosting the immune system. Packed with a delicious taste and a pleasant aroma, the ghee is available in 1-liter packages and is priced at around Rs.1700-1800/-.
12. Shop for the Gowardhan Ghee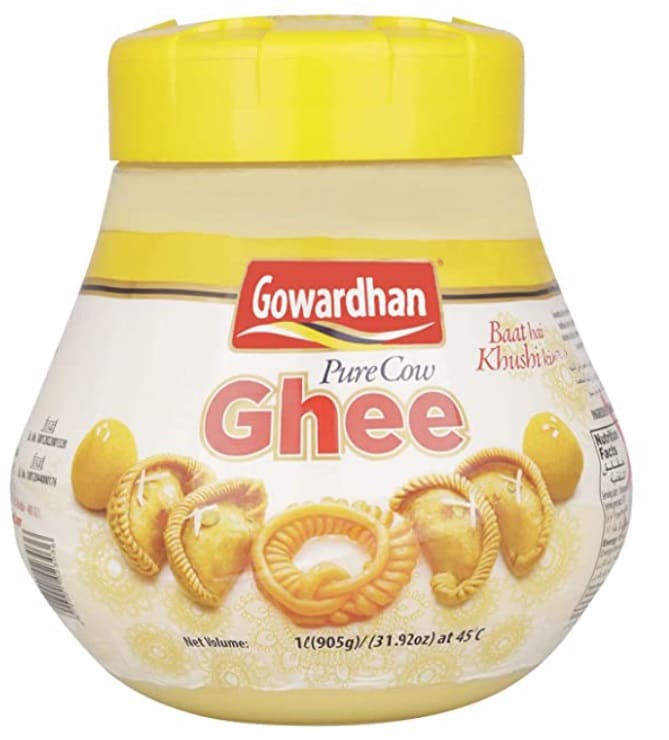 A product of Parag Milk Foods Pvt. Ltd. the Goverdhan Ghee is an exemplary dairy product that has carved a niche for itself in the ghee industry over the years. Using time-tested traditional recipes of ghee making, the Goverdhan ghee is manufactured in modern dairy plants to ensure high hygiene and quality standards.
Rich in Vitamin A and Beta carotene it is ideal for improving vision and keeping the bones and muscles healthy and active. High levels of polyunsaturated acids and low saturated fats in this cow ghee make it a healthy addition to our daily diet.
Priced slightly on the higher side, you can pick the 1-liter jar for a price of about Rs.550-600/- but the quality is worth the price you pay for it.
Tips for Buying Ghee: Unlocking the Secrets of Pure Ghee
Ghee or clarified butter is a rich dairy product that is common in Indian households. As per mandatory food norms, milk fat is the major component of ghee and should constitute 99.5 percent of ghee. For ages, it has been used as a food-enriching substance and is used in Indian recipes like parathas, traditional sweets, snacks and to add richness to a recipe. Because of its high nutritional content, it is believed to be an instant energy booster that strengthens the human body.
With thousands of ghee brands available in the market today, how do you know which is the best ghee to buy for your family? How do you differentiate between cow and buffalo milk ghee and what makes pure ghee look different from an adulterated version? We help you answer all these questions and more with a quick guide on how to choose the best quality ghee in India. Read ahead to know more…
FAQs: The Q & A Reckoner for Pure Ghee
Still, perplexed how to find the best and purest quality of ghee? Well, we answer questions that storm your brain and clear the air about the best ghee in India. Read on to get better insights about the best quality ghee in India…
Which is the best ghee to buy?
The best ghee is one that is pure and contains high milk fat. It should be rich in nutrients and free from additives and coloring agents. Traditionally processed ghee is considered one of the best variants of ghee.
What brand of ghee is the best?
While each of the brands listed above in our list of the Best Ghee Brands in India is of high quality and supreme taste, yet one brand that has gained unmatched popularity and reputation over the years is Amul Cow Ghee. Made from pure cow milk, it is high in nutrients and delightfully tasty.
Is Amul Ghee pure?
Sourced from the dairies of Gujarat and all over India, Amul Cow ghee is made from pure and quality cow milk using traditional processing methods. No wonder, its quality is an exception and taste delectable.
Which ghee is better yellow or white?
Cow ghee is yellow and has a light granular texture which is considered of the highest quality, whereas buffalo milk ghee is white, denser with a heavy texture.
Which ghee is pure?
Cow's ghee is the purest form of ghee that has a high content of saturated fats and many antifungal, antibacterial, and antifungal properties. It is highly beneficial for health and acts as an Ayurvedic medicine when consumed in moderated quantity.
Is Patanjali Ghee pure?
Made from 100% cow milk, Patanjali ghee adheres to high-quality standards with a rich aroma and granular texture. It is sourced from the milk of well-fed and grazed cows that ultimately make the ghee tasteful and healthy.
Which is the best organic ghee in India?
High-quality organic ghee is produced from the best quality A2 cow ghee and processed using the traditional ghee extraction method. While all the organic ghee brands listed above are of supreme quality, we recommend Gir Organic A2 Pure Ghee as the best of the lot.
Is ghee good for the brain?
The vital nutrients and saturated fats in ghee strengthen memory power and stimulate the nervous system. It activates the brain, heart, and immune system offering instant energy and improving cognitive skills.
Does ghee whiten skin?
Loaded with antioxidants and beta carotene, ghee plays a crucial role in skin healing, rejuvenating it, and improving skin tone. It reduces pigmentation and gives skin a brighter and whiter tone.
Can we eat ghee daily?
Ghee obtained from cow's milk is a natural product subject to very minimal chemical processing, thus it is safe to have 1-2 spoonfuls of ghee every day. It meets the body's daily need for vital nutrients and healthy fats.
Which is the best time to eat ghee?
Ayurveda recommends consuming one spoonful of ghee on an empty stomach. It is best to consume it raw, in its natural state by drizzling it over hot cooked meals.
Who should not eat ghee?
People who have a medical history of cardiovascular diseases, obesity, or are overweight should avoid the consumption of ghee. Daily intake of ghee should not exceed 10-15 grams.
What are the side effects of ghee?
The high fatty acids in ghee can increase the pressure on blood vessels, thus increasing blood pressure levels. It is also not recommended to people suffering from fatty liver or other liver-related disorders.
Why is ghee expensive?
Ghee is nothing but clarified butter, which means that it is obtained by simmering butter for a long time. Since butter has 20% water content, evaporating water through simmering creates a yield of 80% thus making ghee expensive because of the labor involved in processing it.
Final Thoughts on the Best Ghee Brands in India in 2023
Listing the Best Ghee in India was an overwhelming task that required much research and study on our part. Our review above is based on taking into consideration the source of ghee, its processing method, quality, composition, taste, and health benefits.
Each of these factors was closely monitored for every brand to bring you meaningful insights on the purest and best quality ghee available in the Indian markets. Hope this read leaves you enlightened about what makes true ghee high in purity, taste, and nutrition, so that next time you drizzle this spoonful delight on your dish you know how the humble cow makes your ghee so wow!