Our list of the Top 10 Pure and Best Coconut Oils for Hair in India in 2023 brings you close to the magic formula for taming and nourishing your locks like never before.
In this list of the Best Coconut Oils for Hair in India in 2023, we unveil all the secrets of good hair oil and how coconut oil is still the number one choice amongst Indians when it comes to nourishing hair. We review some of the best brands of coconut oil and how each one claims to be unique and different from the other.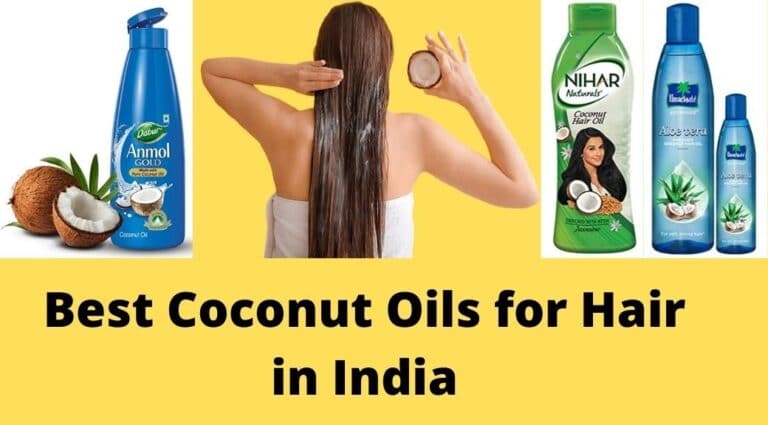 Keep reading to know what makes good coconut oil and how to differentiate between superior quality oil and a substandard one. Learn how oiling nourishes your hair and what is the correct way to use coconut oil. All this and more as you scroll down the article…
Is Coconut Oil Good For Hair…Myth or Fact?
For ages, our grandmothers and mothers have been propagating the use of coconut oil for nourishing and strengthening the hair. But is there any truth behind this age-old tradition or is it just a cultural practice handed over from generation to generation? Let us find out…
Coconut oil is an essential fatty oil that is derived from raw or dried coconuts. At room temperature, it resembles butter and is heavy and white, however, when melted it becomes a liquid. It is loaded with nutrients and health benefits because of which it is not only used as hair oil and in cosmetics but also abundantly used in cooking.
While most people believe that coconut oil stimulates hair growth faster, clinical research claims that because of its umpteen medicinal values it improves hair and scalp health even though there is little evidence that it promotes hair growth. Thus by improving scalp health, indirectly fosters healthy hair growth and gives you nourished, soft, and smooth locks.
Benefits of Coconut Oil for Hair: Unveiling the Secrets of White Gold
Undoubtedly when it comes to hair nourishment coconut oil is no less than a blessing. This humble oil that is so commonly available in the market is loaded with vital nutrients, vitamins, and medicinal properties that add to its value and richness. Let us see how coconut oil benefits our hair and contributes to its growth and health.
(i) Treats scalp infections:
A healthy scalp is the secret of healthy and well-nourished hair. It ensures that your hair roots or follicles are strong and free from damage or fungal infections. The scalp is often infected with dandruff, fungi, or dryness all of which make hair follicles and hair weak. Regular use of coconut oil nourishes the scalp and its anti-bacterial properties treat fungi and other infections, giving you a fresh and clean scalp.
(ii) Helps to retain hair moisture:
When the hair scalp is dry, you may experience unnatural itching, irritation, dryness, and flakiness. Coconut oil is a natural saturated fat that helps to retain the natural moisture of the scalp and hair thereby reducing dryness and irritations associated with it.
(iii) Prevents split-ends:
Regular use of coconut oil prevents the loss of protein from the hair. This averts hair from breaking or becoming brittle thus reducing the occurrence of split ends. Because of its natural nourishing abilities, it is used both as a hair mask and as a leave-in conditioner after a hair wash.
(iv) Acts as a heat protector:
With new trends in hairstyling, the use of heating devices cannot be ruled out. However, protecting hair from undue heat damage is important and coconut oil comes in handy to reduce the ill effects of heat on hair. It prevents heat from drying and restores the natural oils of the hair.
Nourish Your Hair with Our Top 10 Best Coconut Oils for Hair in India 2023
As you read below you learn about the Best Coconut Hair Oils in India in 2023 that have flared well on our scale of quality and performance and have made it to the list of the top 10.
After in-depth research, we have compiled this exhaustive list that brings you the finest brands of coconut oil in India giving you details about the brand, quality of the oil, its usage, and its efficacy in keeping your hair soft and healthy. Take a look at our list of the best coconut oil brands for hair in India.
1. Try the Parachute Advansed Aloe Vera Enriched Coconut Hair Oil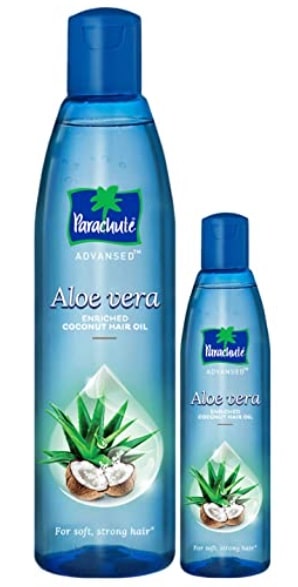 If you are wondering why Parachute Advansed Aloe Vera Enriched Coconut Hair Oil tops our list of the Top 10 best coconut oil for hair in India in 2023 then we have plenty of reasons to prove our point. With the magic formula of aloe vera and pure coconut oil, this works perfectly to make your hair super soft and shiny.
The natural goodness of aloe vera makes the hair soft while coconut oil nourishes the hair to make it strong and long. It not only tames your frizzy hair but also repairs dull and damaged hair to make them look lustrous and healthy.
With its light and non-sticky formula, this coconut hair oil from Parachute is sure to find a place in your daily hair care routine. The light consistency allows easy penetration and absorption of the oil by the hair roots, adding strength to your hair follicles and leaving your hair strands strong and well-nourished.
Recommended to be used at night followed by a wash in the morning for best results, it may also be used as a leave-in conditioner after a hair wash.
2. Pick the Parachute Advansed Jasmine Coconut Hair Oil for faster hair growth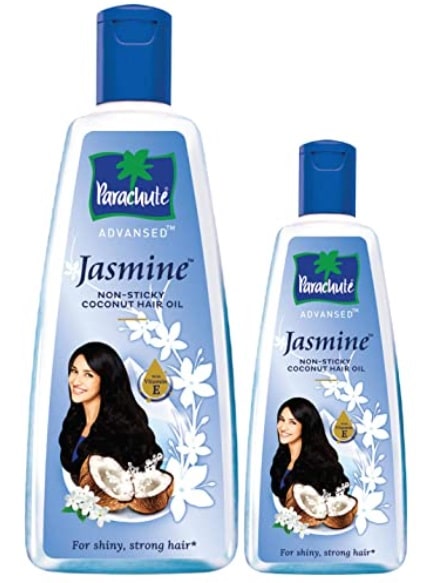 Emerging as one of the best coconut oil for hair growth in India, the Parachute Advanced Jasmine Coconut Hair Oil is high on our list of recommended hair oils. Enjoy the rejuvenating fragrance of Jasmine flowers in your coconut oil as it combines a unique blend of pure coconut oil, jasmine extracts, and Vitamin E that impart a remarkable shine and luster to your hair making it soft and silky.
Now get the nourishment for your hair and scalp without struggling with the greasiness of coconut oil, through this light-weight and non-sticky hair oil that is enriched with the goodness of vitamin E. It penetrates deep within the roots and nourishes them from the root to the tips. Its non-sticky formula allows you to apply it even after a hair washes without feeling oily or greasy in the application.
Available in an attractive transparent bottle, it is handy to carry during travel and its regular application prevents hair fall and hair breakage.
3. Try the Nihar Naturals Non-Sticky Coconut Hair Oil

Another brand making it to our list of the Best Coconut Hair Oil in India in 2023 is the Nihar Naturals Non-Sticky Coconut Hair Oil that comes with the combined goodness of Methi extract, Jasmine, Vitamin E, Mineral Oils and Coconut Oil. This unique combination not only makes hair strong and thick but also nourishes the hair from roots to the tip.
Formulated especially for curly and wavy hair, this coconut oil from Nihar works well to keep frizz down and avoid breakage due to tangling and dryness. The goodness of methi prevents hair breakage while pure coconut oil penetrates your hair 10 times faster as compared to other hair oils. Jasmine extracts impart a pleasant fragrance to the oil making it appealing and refreshing.
Also available in the rose variant, this hair oil from Nihar is light-weight fragrant, and completely natural in composition that prevents hair fall and strengthens hair roots.
4. Choose Vatika Enriched Coconut Hair Oil to fight hair fall problems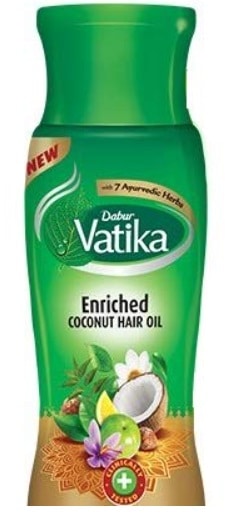 Your search for the best coconut oil for hair fall ends with the Vatika Enriched Coconut Hair Oil that is formulated with a unique blend of Amla, Brahmi, Harar, Kapurkachri, Coconut and Rosemary oil that cleanses and conditions the scalp while strengthening hair.
Its regular use remarkably reduces hair fall and promotes faster hair growth making it one of the best coconut oil for hair regrowth. The natural coconut oil helps in hydrating and moisturizing hair while amla strengthens hair roots and gives you long thick locks. The presence of lemon or citric controls sebum flow and prevents the occurrence of dandruff while Harar acts as a natural remedy for hair fall. Brahmi adds to hair health while Henna maintains hair color adding to its shine and sheen.
The goodness of Ayurvedic herbs has a magical effect on your hair and its regular application or massage before a wash can show some remarkable results within a short time.
5 Purity redefined through Maxcare Virgin Coconut Oil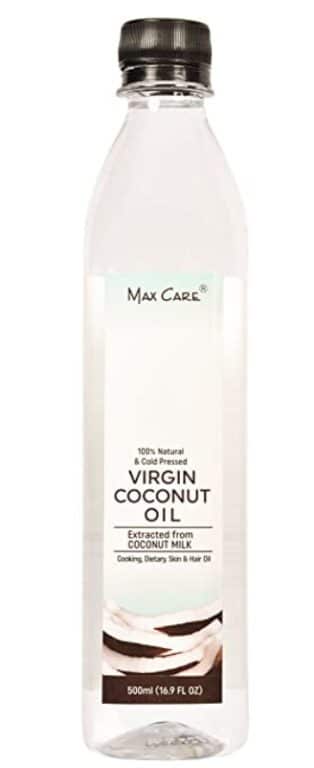 Talking about the best virgin coconut oils in India, one name that never goes unnoticed is Maxcare Virgin Coconut Oil that is 100% pure and extracted through the cold-pressed method keeping all vital nutrients and the goodness of coconuts retained.
Unlike contemporary coconut oils that are extracted from dehydrated coconut meat, the Max Care Virgin Coconut oil is made from the finest quality fresh coconuts and is free from additives and preservatives. Its water-like clarity and a thin consistency make it easy to apply and quick to absorb by the hair. The light, subtle aroma gives it a pleasant fragrance and is ideal for deep conditioning of the hair. It keeps the hair scalp free from infections and fungi promoting the healthy growth of hair.
6. Pick Meera Pure Coconut Oil for freshness and aroma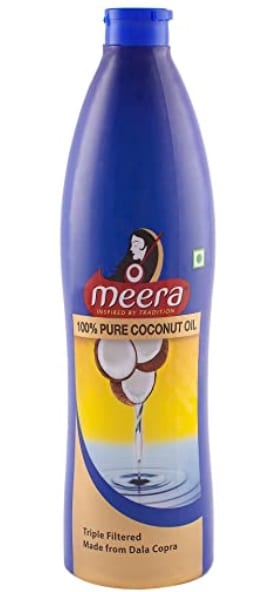 A lesser-known brand but a promising one making it to our list of the best coconut oils for hair in India is the Meera Pure Coconut Oil. Made from the finest quality Dala Copra coconuts, this oil claims to be 100% pure with high natural saturated fats that keep your hair well-nourished and moisturized.
The multi-purpose oil is extracted through the triple filtration process and is made from the finest quality coconuts that are hand-picked and processed most hygienically. Free from additives, preservatives, and artificial fragrances, the Meera Pure Coconut oil adds shine and smoothness to your hair with regular use and application. Economically priced, this coconut oil comes in a bottle of 500ml that is neatly packed and easy to carry and use.
7. Try Deep Nourishment through Rey Naturals Coconut Oil for Hair

Talking of cold-pressed coconut oils, Rey Naturals has a special place on our list of the best coconut hair oils in India. Claiming to be 100% pure, Rey Naturals Coconut oil is extracted from the finest hand-picked coconuts that deliver the best quality.
Enriched with the goodness of vitamin E, this coconut oil deeply nourishes the hair follicles and keeps your hair strong and healthy. It disinfects the hair scalp, keeping it free from infections and dandruff and stimulating better hair growth.
With its deep moisturizing abilities, it nourishes hair from the root to the shaft and adds a shine & luster that is unmatchable. Whether you have straight, curly, or wavy hair, this coconut oil works well on all hair types and prevents breakage and untimely hair loss. With a transparent hue and a subtle aroma of coconut, the oil is refreshing with multiple therapeutic values. Its antioxidant and anti-fungal properties work well to promote healthy hair growth.
8. Choose quality through Dabur Anmol Gold Coconut Oil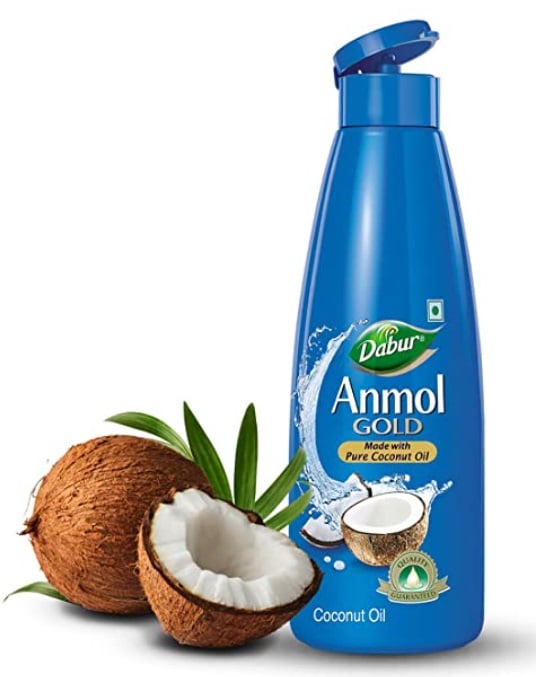 Talking of the best organic coconut oil for hair in India the name of Dabur Anmol Gold Coconut Oil is the most obvious choice. Made from the finest quality and hand-picked coconuts the oil is extracted through a detailed and natural process retaining the natural oils and nutrients of the super fruit.
Going through a multi-stage filtration process, the oil passes through 34 quality tests before it is approved for packing and retail sale. With a unique tamper-proof seal the natural fragrance of the oil is kept intact. Because of its purity and high nutrient content, Dabur Anmol Gold Coconut Oil works well on hair to provide deep nourishment and complete nutrition. It penetrates well in the hair root making hair healthy, strong, and thick.
9. Indus Valley Bio Organic Coconut Oil for deep conditioning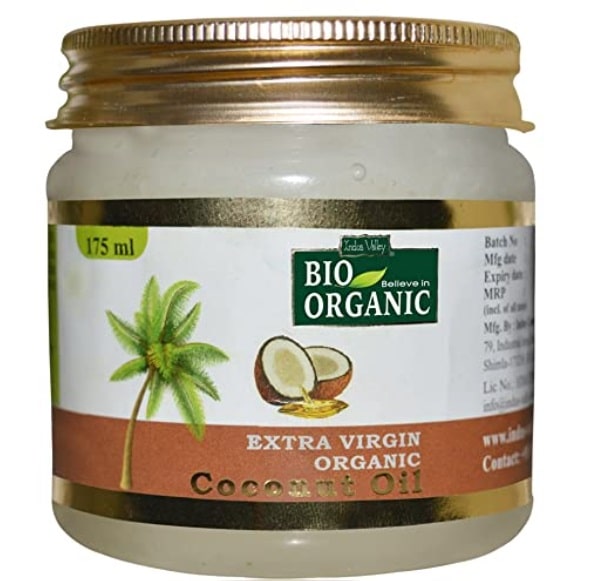 Meeting your demand for pure coconut oil for hair, we bring you Indus Valley Organic Extra Virgin Coconut Oil that is % organic and naturally extracted from the best quality coconuts. Enriched with the goodness of fatty acids and lauric acid, it is extremely nourishing for the hair and skin.
Indus Valley Bio Organic Coconut Oil is enriched with anti-oxidants and is completely unbleached and unrefined offering the best balance of nutrients to your hair and scalp, making each hair strand healthy and giving you voluminous hair. Free from parabens and adulterations you are assured of 100% pure quality with the goodness of fresh aromatic coconuts.
10. Try the Ayurvedic goodness of Patanjali Coconut Hair Oil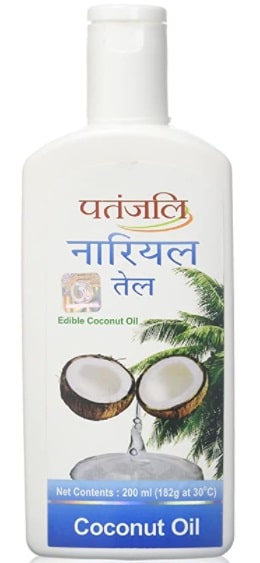 If you are a staunch believer in Ayurvedic science then Patanjali coconut oil for hair should be your ultimate choice. As light-weight oil, it is easy to apply and comes in a handy white plastic bottle. Assuring you of pure quality, it is 100% natural and free from chemicals, additives, and preservatives.
Being non-greasy it spreads evenly on the hair scalp and is easy to use in a hair mask or for massaging the hair. Incorporating it into your regular hair care regime can bring about a remarkable difference to your hair quality adding shine and nourishment to your locks.
How to Use Coconut Oil for Hair Growth
For ages, coconut oil has been a key ingredient in skin care and hair care products for some obvious reasons like its natural moisturizing abilities and deep conditioning qualities. Speaking of hair, coconut oil can do wonders to nourish and tame your hair adding strength, vitality, and a natural shine. However, what needs to be considered is how you use coconut oil to benefit your hair. While most of us use it in our daily hair care regime, there are some vital tips to keep in mind, that can enhance the positive effects of coconut oil on your hair. Read on to learn more…
a) Using Coconut Oil as a hair conditioner:
Post a hair wash, comb coconut hair oil from the midsection to the tips of the hair strand. This way it acts as a leave-in conditioner and reduces dryness and frizz faced by shampooed hair.
b) Use it as a detangler:
If you often struggle detangling your hair after a wash, then rub some coconut oil on your washed and conditioned hair. The oil forms a protective layer on your hair strands and makes them smooth allowing the comb to pass through them easily.
c) As a hair massage oil before a wash:
Massage your hair with some warm coconut oil at night and leave it overnight to wash your hair in the morning. Alternatively, you can also massage your hair with coconut oil one hour before washing them. This way it moisturizes your hair and prevents the loss of natural oils when you wash them.
d) Use it in your hair mask:
Combine coconut hair oil with your hair mask ingredients like henna or oil and apply it gently to your hair. It works as a deep conditioner and softens and smoothens hair strands imparting great shine and luster.
e) Try it as a styling aid:
Use a few drops of coconut hair oil to style and tame your frizzy hair so that they look well-groomed and styled.
f) For treating scalp irritations:
If you are troubled by dryness, dandruff or flakiness then apply a decent amount of coconut hair oil evenly on your scalp. Its natural anti-fungal properties help to combat lice, and scalp irritations, soothing itchiness, and redness.
Your One-Step Guide for Buying Pure Coconut Oil for Hair
While coconut oil may seem to be a common item on your grocery list, buying it with prudence is what makes the actual difference. Differentiating between pure organic coconut oil which is of the highest quality from below average oils requires some in-depth knowledge and understanding about this heavenly oil. Here we enlist some points to consider when buying coconut oil and how to grab the best deal.
(i) Check out its color
Avoid buying coconut oil that is grey or yellow. This coloration may be a sign of contamination. Always go for coconut oil that is clear and transparent in hue. That reflects the genuine purity of the oil.
(ii) Check the label terms:
When buying coconut oil look out for labels like "organic", "extra virgin" or "cold-pressed". Unrefined coconut oil is best as it is in its natural state free from adulterations and chemical processing that can rob it of its natural goodness. Virgin or extra virgin coconut oil is of the highest grade that is high in fatty acids and works well to moisturize your hair. Organic coconut oil is extracted from coconuts that are grown without the use of pesticides, hence they are in the most natural form.
(iii) Avoid RBD Coconut Oil:
RSB stands for Refined, Bleached, and Deodorized coconut oil and is possibly the worst quality of coconut oil available in the market both for hair application and consumption.
(iv) Check the smell:
Pure coconut oil has a mild fragrance and smells like a fresh raw coconut that has just been cracked open. Refined coconut oil on the other hand has a nutty and roasted aroma as it has been processed under high temperatures.
FAQs
Still doubtful about which coconut oil to pick from the supermarket? Worry not, we make it even simpler for you by answering some simple questions to help you choose just the right pack of coconut oil for your hair. Read on…
Which is the best coconut oil for hair?
Virgin coconut oil that is unrefined and unbleached is perhaps the purest form of coconut oil and is best for your hair. It has all vital nutrients and natural oils intact imparting health and goodness to your hair and scalp.
Which is the best brand for pure coconut oil?
While all the above brands of coconut hair oil reviewed by us above are checked on purity and quality standards, yet Parachute Advansed Aloe Vera Enriched Coconut Hair Oil and Vatika Enriched Coconut Hair Oil are the most trusted names that have been ruling the market for a long.
Does pure coconut oil grow hair faster?
The fatty acids and vital nutrients in pure coconut oil work well to nourish your hair follicles, making your hair grow longer, thicker, and stronger. When your hair and hair scalp is healthy, it promotes good hair growth making your hair look voluminous.
What can I mix with coconut oil for faster hair growth?
While several other oils and natural gels can be mixed with coconut hair oil for faster v hair growth, one easy and the popular combination is to mix one tablespoon of coconut oil with one tablespoon of aloe vera gel. Mix well and apply the combination on your hair scalp and strands. Let it sit for some time. Then rinse your hair and continue with shampoo and conditioner.
Can I use coconut oil on my hair every day?
Using coconut hair oil is often considered safe and useful for hair. However, using too much coconut hair oil can leave your hair looking greasy, oily and can lead to a build-up on your scalp, especially if you have fine thin hair.
How long does it take for coconut oil to work on hair?
It is usually recommended to allow coconut hair oil to sit on your hair for at least 20-30 minutes after application. However, if your hair is too dry or damaged, an overnight treatment of hair oil is best recommended for better results.
Should we apply coconut oil to wet or dry hair?
If you are struggling with dry, damaged hair then it is recommended to use coconut hair oil on wet hair for extra nourishment. When you apply it on wet hair, it forms a protective and moisturizing layer on your hair that leaves it soft and shiny all day long.
Can coconut oil regrow lost hair?
While there is no scientific evidence that coconut oil can regrow lost hair, yet it is believed that because of its high nutritional content it works well to keep the hair scalp healthy thereby promoting the growth of healthy and strong hair.
How often should I apply coconut oil to my hair?
Experts suggest that for best results you can apply coconut oil two-three times a week if you have normal or coarse hair followed by a proper shampoo and conditioning regime. If you have thin hair, it is recommended to use coconut hair oil just once as it can leave your hair looking oily and greasy.
Your Ultimate Bet on Choosing the Best Coconut Oil for Hair in India in 2023
As the most popular hair oil in India, the choices for coconut hair oil are innumerable and one can easily get carried away by the false claims of good quality made by most brands. To save you from this marketing trap, we have reviewed some of the best brands of coconut oil in India sharing insights on their quality, use, and composition.
Hope these thoroughly researched details shared above have left you brighter on choosing the right coconut hair oil and how this white gold can transform your hair into black shiny locks that can make heads turn easily as you flaunt your mane with confidence.