Gather around fellas, for some very exciting redBus offers, bank coupons, and promo codes for 2022 that would let you avail up to 20% discount on bus ticket bookings. Check 'em out here!
redBus has come up with a bunch of bus booking discount offers and special bank coupons to make your traveling easier and cheaper in 2022.
As a 20-something youngster I absolutely understand and empathize with your want and need to travel the world, see places, make memories and leave your mark behind. I also understand that doing all this can be pretty daunting since we're all barely making through life as an 'independent adult', how and from where do we spend an enormous sum on vacationing? I feel you. I feel all of it.
But here's the thing, traveling doesn't always needs to be expensive and necessarily burn a hole in your pocket. All you have to do is be keep your eyes open and be aware about exclusive deals, offers and discounts that various websites offer theses days.
For instance, redbus has come up with multiple offers that can be found and read about by just following through this article. Be it Redbus discount offers, promo codes, bank collaborations and what not. Just read on and find out more.
Here we bring to you an elaborate list of redBus Offers & Bank Coupons 2022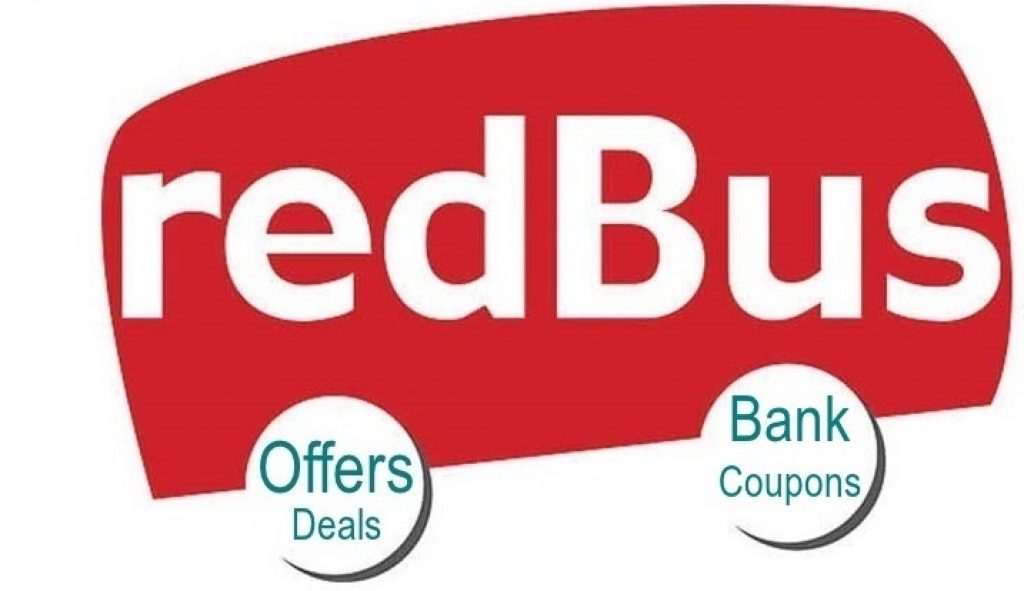 If you are big on traveling or you plan on letting loose the travel bug inside you in 2022, here are a few redBus bank offers and coupon codes and more of what you really need to check and consider before splurging away all your money on expensive travel tickets. Take me and this piece of writing seriously and you'd be saving a lot of money, mate. Trust me! (wink, wink)
So, let's dive in?
| Redbus Promo Code | Offer on Bus Tickets |
| --- | --- |
| COLOURFUL | Rs 150 OFF on Bus Tickets |
| FIRST | 20% OFF for New Users |
| COLOURS | 12% OFF on Tickets |
| MSRTC | 25% OFF on MSRTC Buses |
| COOLSAVER | 20% OFF on Bus Bookings |
| RBICICI15 | 15% Discount for ICICI Customers |
| RBRTC | 10% OFF on State Road Transport buses |
1. A Pretty decent 12% Redbus cashback offer on bus tickets
So here's the first offer redBus brings to you. The thing is, you'd have to use the promo code COLOURS on checking out to get a cashback of up to 12% into your redBus wallet.
The cashback would be credited within 48 hours of the date of the journey and will be valid for 6 months.
The maximum discount you'd be eligible to get would be INR 200/-. And most importantly this redBus offer will depend on your route of travel and bus operator. So choose wisely. To avail this offer you'd have to purchase a ticket of INR 200, minimum.
This offer will solely be valid for the users who'd log in and verify their mobile numbers with a one-time password (OTP). So CONTROL promo code will have an overall limit of twice per customer email or mobile number.
2. redBus Cool offer for its first-time users
In case you are a new or a first-timer of the redBus, you are very much eligible for its 'redbus new user offers' but the prime thing you need to do is to download the RedBus app from the playstore or the app store as this offer can only be redeemed when you make your ticket bookings via the redBus app.
After downloading, you'd be able to find out all about the redBus app offers. Post this, use the promo code FIRST while checking out and get up to 20% off (up to INR 200) and INR 100 cashback on bus ticket bookings.
To avail, this Redbus App offer your ticket value must be a minimum of INR 400 else you would not be eligible to take advantage of this offer.
3. You can now save up to INR 100 on bus tickets with redBus new Offer
How, you ask? Well, well, well use code COLOURFUL to get up to 10% on booking bus tickets. The maximum discount you can get would be up to INR 150/-.
To avail, this Redbus offer in 2022 your minimum ticket value should be INR 200. Also, this offer would depend highly on your travel route and bus operator, so, think before you book your tickets. In a similar manner you can check out for redBus offers today and know what is new at the given moment.
Lastly, INCHARGE offer code have a general utmost of twice per client email or portable number.
4. With the Spring Saver Offer, save up to INR 275 on bus tickets
Pretty excited? You should be! Not every day does a brand like redBus come up with such great deals and offers for its variegated user base.
If you live in or are making travel bookings from Madhya Pradesh, Gujarat, Goa or Rajasthan, you can use the redBus promo code COOLSAVER and get 20% discount, up to INR 200 off on bus tickets. The minimum bus ticket value, in order to avail this offer, should be INR 200.
5. RedBus & Amazon Pay together have something exciting to send your way
Here, the users will recover a cashback of 10% up to INR 75, relevant once per user just for Amazon Prime users on paying via Amazon Pay on Redbus.
Customers will recover a cashback of 25% up to 75, pertinent once per user just for a first time Amazon Pay users on Redbus when they avail this redbus amazon pay offer. The offer is legitimate just on online requests made on the Redbus site or applications utilizing Amazon Pay. The cashback will be credited as Amazon Pay balance inside 3 working long stretches of finishing the installment.
6. Exclusive offer for MSRTC users
This offer is exclusively for the users of Maharashtra in association with the Maharashtra State Road Transport Corporation. You can use the promo code MSRTC in order to get a 25% discount up to INR 100 and also get a cashback of INR 100 when you book tickets of the MSRTC buses.
The minimum order value for this offer has to be INR 200/-. The cashback will be credited to the redBus wallet within 48 working hours after the date of the journey and not the ticket booking.
The offer money is substantial for a half year from the day it is credited into the wallet, after which it will lapse and can't be utilized. redBus offer is material on all channels. Furthermore, you can always find out more by searching for redbus coupon code today.
Every user can avail this offer once and only once. In other words, this offer will be applicable once per customer mobile number or email id.
7. Now save INR 175 with this RTC Offer
Hey user! Now use the promo code RBRTC to get a 10% discount up to INR 100 on your bus ticket bookings. For a reason, we don't quite know yet, this offer will be valid for bookings on all State Road Transport Corporation buses except KSRTC (KERALA RTC).
8. Super Deal for users exclusively taking the Andhra Pradesh and Telangana route while traveling
If you're planning on taking a bus anywhere in Andhra Pradesh or Telangana, you've hit a little luck here. Use the promo code SUPERDEAL and avail a discount of 15% up to INR 150 on your bus tickets when booked via redBus.
The minimum order value for this offer needs to be INR 300. This offer is available only on the mobile web, desktop and latest version of Mobile apps. You can always find out more by searching for redbus offers today on bus booking in case you read this later on.
9. RedBus didn't leave out the users using ICICI cards, here's what they're offering
On a minimum transaction value of INR 300 using ICICI debit/credit cards, a user can avail a discount of 15% up to INR 100 by using the promo code RBICICI15 on redBus.
With this redbus icici bank offer every user can avail this offer once and only once. In other words, this offer will be applicable once per customer mobile number or email id. Moreover, this offer will be valid only on every Monday between 4:00-10:00 p.m., so plan your ticket bookings accordingly
10. RedBus along with HDFC Bank has some amazing offers for their users
If you're booking your bus tickets using your HDFC Debit/Credit cards, here's a great deal for you. You can now get a cashback of 5% up to INR 250 on your debit card or get 5X reward points on your HDFC Credit Cards.
There's no specific promo code needed in order to avail this Redbus HDFC bank cards offer. The minimum transaction value to avail this offer should be INR 1000. The entitled cashback would be credited to the user's account after 90 days of the purchase made.
11. Use Rupay to book tickets on redBus and get a 10% cash back right away!
While making ticket bookings on redBus use your Rupay debit/credit card and get a 10% cashback of up to INR 100 in your redBus wallet. You can expect the cashback to be deposited in your Rupay wallet within 48 hours of your journey commencement date. The minimum transaction value must be INR 500.
Moreover, this offer would only be valid once per email/mobile number or user as we can say. Also, a user would need to log in and verify their mobile number with an OTP to avail this offer.
To avail this offer browse to redBus via your mobile web, desktop or app. In case where you'd like to know about what offers does redBus offer on the very day you read this, just search for redbus offers today on bus booking and I'm sure you'd find tons of them.
12. If you're an avid Freecharge user, you're in luck!
While booking your bus tickets on redBus just make you choose the option to pay via Freecharge. On a successful transaction, the user will receive a 10% cashback of up to INR 75 within 72 hours of the date of payment.
This amount can be used on the Freecharge website/app or any other merchant website that accepts payment via Freecharge. This amount shall remain valid for 1095 days, counted since the day of the transaction and would be non-transferable.
As a user, you can avail this offer by browsing to the official Freecharge website or by using the redBus app. But the user would have to pay the entire amount of his tickets via Freecharge, and no partial payments shall be entertained. This offer will be valid once per Freecharge user/account/mobile.
13. Book tickets on redBus using Mobikwik and get a 15% cashback!
Want to travel but you're short on money? Don't worry, now, book your tickets on redBus and pay using Mobikwik to get a good 15% cashback of up to INR 200 as super cash. You do not need any promo codes to get going here.
The minimum ticket value should be INR 300, for you to avail this offer. A user can take advantage of this offer twice and not more. The cashback or the supercash shall be credited within 48 hours of the transaction and shall be valid for 90-days.
14 . You wouldn't expect this but well, you now have offers for the Diner Club International as well
Here is the redBus HDFC offer which will only be valid when ticket bookings would be done via the redBus app. 10X Reward Points offer is pertinent just on HDFC Bank Diners Club retail Credit Cards viz. HDFC Bank Diners Club Black, HDFC Bank Diners Club Premium and HDFC Bank Diners Club Rewardz Visas.
The offer isn't relevant on the corporate or business card. 10X Reward Points offer is pertinent for exchanges done on or after 23rd August 2021 and additionally before 28th Feb 2022. The maximum reward points that can be earned here are as follows –
HDFC Bank Diners Rewardz Card – 2,000 reward points
HDFC Bank Diners Premium Card – 5,000 reward points
HDFC Bank Diners Black Card – 25,000 reward points
15. Book Bus Tickets on redBus and get up to 50% off on hotel bookings
Now when you book your bus tickets via redBus get 50% off on hotels across India. Use the promo code REDHOTELSALE while booking and making payments.
This offer would be valid only on the base fare of the hotel rooms you intend on booking. You can avail this offer by booking via the redBus website, mobile website or app. Discounts would be different for different hotels and cannot be clubbed with any other existing offers.
16. Get INR 1000 just by referring redBus to your friends and family
First things first, this offer will only be valid when availed through the latest version of the redBus app on the android/iOS app. You can invite your friends to download the app and use your unique referral code to sign up. Just by doing this you will get some remarkable rewards like INR in your redBus wallet.
As soon as they sign up, they can use the promo code FIRST and get a discount of 20% up to INR 200 plus get a cashback of INR 100 on their first bus booking, for which the minimum transaction value must be INR 400.
The referrer will get the reward of Rs 100 as offer money in their redBus wallet inside 48 working hours after the ref has finished their first voyage, exchange estimation of which must be in any event Rs 400. Most extreme reward that a referrer can gain through their referrals is Rs 1000.
Now that we're clear on all the offers, let's understand how can we avail the aforementioned offers
Here's a step by step guide to avail the redBus offer of your choice –
Step 1 – Browse to the official redBus website or open their app on your smartphone.
Step 2 – Login to your account if you have one or sign up for a new one in case you don't.
Step 3 – Search for the destination you'd want to book tickets for.

Step 4 – Select bus operator you'd want to travel with.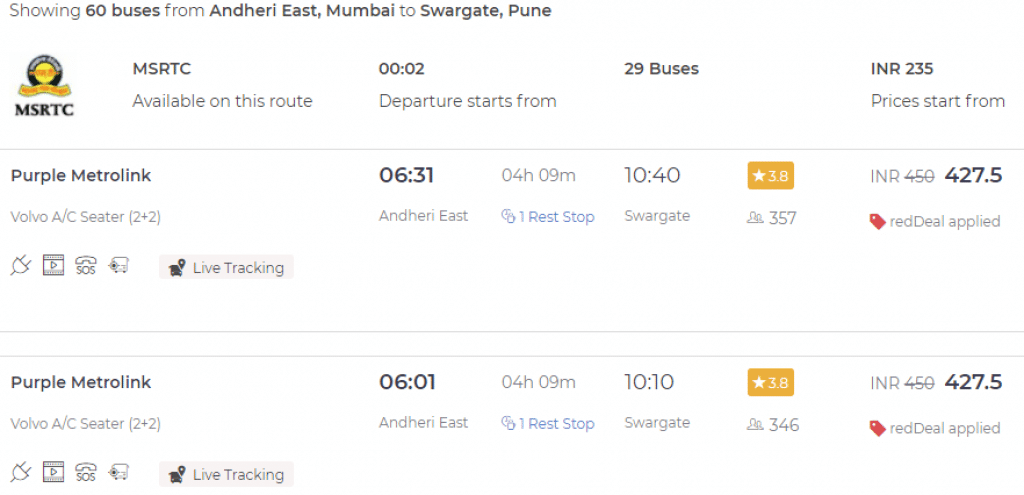 Step 5 – Select the seat & boarding point of your choice and then click on the proceed button.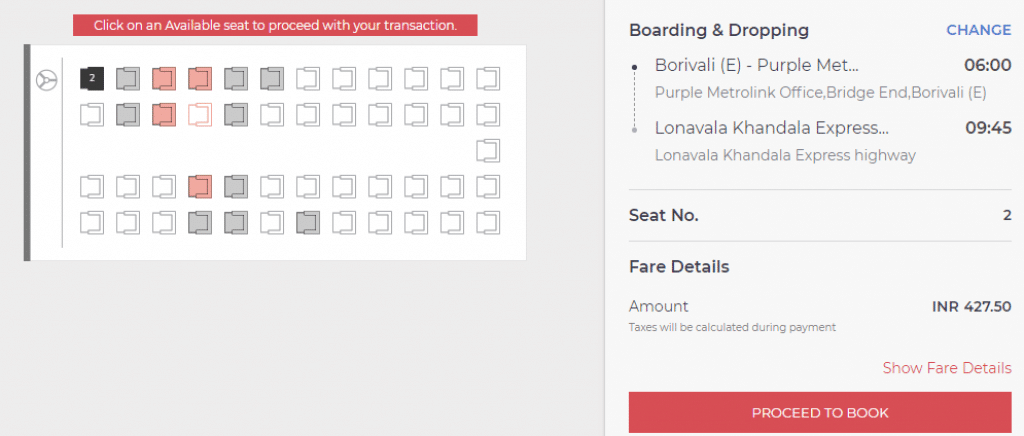 Step 6 – Post this, you'd be redirected to the payments page, where you need to tick the I have an offer code.

Step 7 – Then enter the desired promo code and click on the apply button.
Step 8 – The discounted amount would be visible and you'd be expected to make the payment post this.
Easy, ain't it? Well, that's how it works! (You can thank me later!)
Also, before coming to an end, I'd like to talk about the fact that how user friendly is the entire concept, website and app of the redBus. With the start-up culture at its boom, this is something that really took it all a tad ahead by solving a major, major problem faced by millions of indians everyday. In a country like ours, traveling by bus is the optimum option but buying tickets used to be such a hassle but no more!
Now let's talk a bit about redBus, the venture who has made traveling so much easier for people around the globe
redBus came to limelight in the last few years but it goes way back. Founded in 2006 as a part of the very famous, MakeMyTrip Limited. Currently, it is being headed by Prakash Sangam who is the CEO and Anoop Menon who is the CTO. Both of these gentlemen come with an immense amount of knowledge, experience and have headed well-renowned brands like Airtel, Hindustan Unilever, Shiksha.com etc.
Over the years, redBus, India's largest online bus ticketing platform that has transformed bus travel in the country by bringing ease and convenience to millions of Indians who travel using buses. They provide the widest choices, superior customer service, lowest prices, and unmatched benefits, redBus has served over 8 million customers. They have a very sharp global presence with operations across Indonesia, Singapore, Malaysia, Colombia, and Peru apart from India.
Not just this, redBus has been garnered with a bunch of prestigious awards for their remarkable services – The Most Innovative Company by Business Standard, Most Trusted Brand by The Brand Trust Report, Mobile Innovation Award by Eye for Travel and more.

Further, they work with a wide range of operators which sums up to about 2300+ in numbers. To name a few, SRS Travels. Evacay Bus, Kallada Travels, Orange Travels, Parveen Travels, Rajdhani Express and many more. The cities where redBus has been serving the most include Hyderabad, Banglore, Pune, Chennai, Mumbai, and more from across the nation.
Here are a few features of redBus that distinguishes it from all of its competitors in the market
redBus connects you with over 2300+ bus operators not only in India but in 6 other countries as well. No wonder they have a customer base of 17 million and have booked over 180 million tickets uptil now. Mind boggling or whattttt?!
They have very recently introduced a very helpful feature called On-Time Guarantee where the perks are:
a) Bus on time
The user would get 25% refund if the bus delays for 30 minutes or more on departure.
b) No bus cancellation
If a certain bus is cancelled without any alternate arrangement, the user will get a 150% refund.
c) Alternate Assurance
If a bus breaks down while travelling and there is no alternate arrangement within 6 hours of the incidence, a user would be eligible to get a 300% refund.
Moving on, now a user even track their bus, which is a very important feature keeping safety, security and other factors in mind. With the Track My Bus feature you can now track over 10,000 buses on 60,000 routes.
Further, they promise to offer you the best and variety of everything –
d) Uncountable choices
They give you the most stretched out number of travel alternatives crosswise over a great many courses.
e) A class apart Customer Service
They put their experience and connections to great utilization and are accessible to unravel your movement issues.
f) Cheapest prices
They generally give you the most minimal cost with the best accomplice offers.
g) Unparalleled benefits
They deal with your travel past ticketing by giving you creative and exceptional advantages.
So, isn't redBus the best or should I write more? Haha. Jokes apart. I hope we could assist you with all your doubts and queries regarding redBus and all of its offers. In case you have more questions, please feel free to reach out to us in the comments section below and we shall get back to you as soon as possible.
Until then, keep reading, keep shopping and stay tuned for more great offers, deals and discounts.