Reliance Jio prepaid and postpaid 4G data plans & offers for November 2022 are all set to wow new and existing Jio customers.
Ever since its launch, Reliance Jio has caused a revolution for 4G subscribers in India. It presents the simplest and most affordable tariff and data plans to awe its consumers.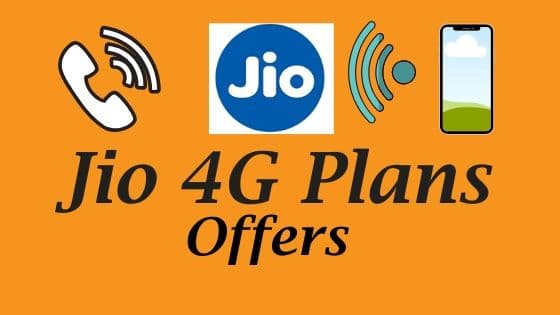 If you've been waiting for the right 4G data plan in 2022 to take care of your gaming, movie watching, social media interactions, online shopping, and other needs, then Jio is what you should go for immediately.
Now, you can surf online through the designated hours at night without paying anything extra. Make free voice calls and enjoy free roaming facilities to all networks operating in India. If you are the one who likes listening to news channels even while you are at work, then Jio gets the best news for you. Be it music, films, games or featured apps, there is a lot in store for you when you choose to go the Reliance way.
With the best Jio 4G data plans 2022 that are designed just for you, the wide range of Reliance Jio plans is what you should be looking at without any further delay.
From data, options starting from Rs 75 for 28 days to the ones that go up to Rs 4999 for 360 days, and everything in between, there is no dearth of plans to choose from.
The best thing about taking up a Jio connection and keeping it recharged with the tariff plan of your choice is that you can chalk out your voice calls and other data usage beforehand and buy the right plan accordingly. Here, we help you take a quick look at some of the best data plans that Reliance Jio has in store for you.
Cities where Jio 4G Data Tariffs are Valid
Jio 4G tariffs are valid for all subscribers, located in all the towns and cities of India. So, whether you happen to be residing in Delhi, Mumbai, Chennai, Kolkata, Bangalore, Kerala, Bihar, Punjab or Andhra Pradesh, you are eligible to recharge your Jio sim with these data plans right away.
Exciting Reliance Jio Prepaid & Postpaid 4G Data Plans 2022
What follows below will help you go through the various Reliance Jio 4G prepaid and postpaid data plans that will permit you to enjoy the best ever connectivity on your LTE and VoLTE smartphones. Do go through all the available Jio data plans before making the right choice for your 4G data requirements.
Special Jio 4G Data Plans in November 2022
If you are a user of Reliance Jio Prime prepaid card, you must check out this deal. Here's the exclusive offer curated only for prime customers with a massive range of 4G plans, suitable to everyone's needs. It doesn't matter whether you need a recharge for just a day, a month, or a year straight. You'll find it all here, so check out the Jio 4G Data plans listed down below!
| Plan | Data | Validity |
| --- | --- | --- |
| Rs 155 | 2 GB Data | 28 Days |
| Rs 119 | 1.5 GB Per Day | 14 Days |
| Rs 149 | 1 GB Per Day | 20 Days |
| Rs 179 | 24 GB (1 GB per day) | 24 Days |
| Rs 199 | 1.5 GB Per Day | 23 Days |
| Rs 209 | 1 GB Per Day | 28 Days |
| Rs 479 | 84 GB (1.5 GB per day) | 56 Days |
| Rs 533 | 112 GB (2 GB per day) | 56 Days |
| Rs 395 | 6 GB Data | 84 Days |
| Rs 601 | 3 GB per day | 28 days |
| Rs 666 | 126 GB (1.5 GB per day) | 84 Days |
| Rs 719 | 2 GB per day | 84 Days |
| Rs 1199 | 3 GB per day | 84 Days |
| Rs 2879 | 2 GB Per Day | 365 Days |
| Rs 1559 | 24 GB Data | 336 Days |
| Rs 2525 | 1.5 GB Per Day | 336 Days |
Jio Top-Up Vouchers 2022
If you wanted to know details regarding Jio top up vouchers 2022, you have landed on the right page. Wondering which plan would best suite your need? For personal use, you can recharge with Rs. 100 and secure a talktime worth Rs. 81.75.
On the other hand, for professional purpose, you can even recharge with Rs. 1000 and grab a talktime as high as Rs. 844.56.
The best part is, there are even plans costing as less as Rs. 10 with a minimal talktime for people who do not prefer to make many calls. The choice is yours – the details are below. Choose the right one for you!
Jio has adopted a widely accepted international model, where the calls and the SMS remains free, but the company will only charge for the data. This is in tandem with the VoLTE only services that Jio offers, where all communication is channelled via mobile data.
The company offers regular top up plans for small amounts wherein the user bears the tax and processing charges. It currently has three convenient pricing options aimed primarily at small charges. These top-ups refill your account balance, which can be used to make calls & SMS (both national and international), international roaming calls, SMS & data, etc. it can also be used for premium short codes & calls, and for recharging your Hero pack from your core account. The pricing options for regular talk time plans are as follows-
| | |
| --- | --- |
| MRP | Talktime |
| Rs 10 | Rs 7.47 |
| Rs 20 | Rs 14.95 |
| Rs 50 | Rs 39.37 |
| Rs 100 | Rs 81.75 |
| Rs 500 | Rs 420.73 |
| Rs 1000 | Rs 844.46 |
As the pricing suggests, it might not last one a whole lot, however, it is highly beneficial when you are in a pinch. If you are in the middle of a call and your balance expires, you can opt to use any one of the above mentioned plans to gain an extra few minutes of talk time.
Jio 4G Data Vouchers 2022 :
| Plan | Data |
| --- | --- |
| Rs 15 | 1 GB |
| Rs 25 | 2 GB |
| Rs 61 | 6 GB |
| Rs 121 | 12 GB |
| Rs 101 | 6GB |
Jio Postpaid Plans:

Jio Full Talktime Plans
Jio also offers a slew of full talk time plans aimed at regular top ups for longer periods. These are aimed at being the "primary" top ups, where people top up their balance at timely intervals as per their uses. These full talk time plans offer full value for their money, i.e., a top up of X. amount will result in a talk time worth of X. amount with no additional charges. Jio Currently has nine such full talk time plans, priced at Rs. 100, 150, 200, 300, 500, 750, 1000, 2000, &5000.
These top ups off optimum monetary value in the users' core account. The top amount can be used for making international calls and SMS, international roaming calls, SMS, wide data coverage, SMS beyond 100 per day, premium short codes and calls, and for recharging the Hero pack from your core account.
Terms and conditions for Jio prepaid and postpaid plans
How to Recharge Reliance Jio Online?
Staying true to its vision of creating a digitally empowered customer base, Reliance has set up easy to use and configure online payment methods to recharge your Jio numbers. By registering yourselves on Jio.com, you will be presented with a unique Jio ID, which can be used for checking the validity, balance amount and recharging your balance. You can also link and manage multiple Jio accounts of friends and family.
In order to recharge your Jio sim, you can go on Jio.com or the MyJio app, enter your credentials (i.e., Jio number/ mobile number/ email id- depending on your registration method), choose the appropriate tariff plan, and pay for it using your preferred method of online payment. It is as simple as that.
Reliance is looking to expand its payment services to include popular payment portals such as Paytm, mobikwik, freecharge, etc., in order to make it easy for patrons. These payment portals are expected to offer additional Reliance Jio recharge offers on each transaction, thus sweetening the deal even further.
Benefits of Jio ID
You can also use the services of MyJio app and the website even if you aren't registered by simply clicking on the "Skip Sign In" button, while using the Jio sim. This will allow you to use the App for all your requirements from making recharges on the go to getting additional technical support from the experts, even if you don't have a Jio ID.
However, it is highly recommended that one registers for the Jio ID as it opens up a slew of additional services such as JioTV, JioCinema, JioMusic, JioMags, Jionet, Jio4Voice, JioXpressNews, JioNewspaper, JioSecurity, JioCloud and possibly more in the future.
Signing up for Jio ID
Download the MyJio app, and tap on the "Sign up" button.
Enter the Jio Number or Jio Customer Id and click on the "Generate OTP"
You will receive the OTP as an SMS, which you will have to enter in the appropriate field, along with a strong password and the email ID which you would like to register your Jio ID with, and click on "Activate"
You will receive an email with the verification link. You will then have to click on this link and verify your Jio ID. Once this is done, your Jio ID will be activated within 24 hours.
Once your Jio ID is activated, you will be free to use it to access your account on Jio apps and the Jio website, which will enable you to find the best offers on Reliance Jio 4g data plans on your next recharges.
Reliance Jio – The Best Telecommunication Solution for You
Jio has been a popular buzzword since it came into existence in September of 2016. In an unprecedented move, Jio began offering free services for a set amount of time for all of its users, no questions asked, thus stirring a commotion in the telecom industry in the country.
Despite the initial snag, Jio continued to stay true to its word and offer reliable services throughout the entire 22 sectors of the country. It was also the first one to employ a completely VoLTE only technology – which uses the internet data to make calls, send SMS and browse the internet.
Mind-blowing Reliance Jio Plans and Offers in November 2022
Digital Life by Reliance Jio is what most subscribers, from all across India, are looking towards enjoying these days. The going is getting all the more attractive for all young and old users belonging to diverse walks of life as this best-in-class 4G network is rolling out the lowest data rates globally.
All that you need to enjoy these lucrative offers and deals for 4G connectivity is invest in a LYF device starting at Rs. 2,999/- or get yourself a LTE handset that will make you enjoy Jio in no uncertain terms.
With free voice calls and no complicated telecom charges to its credit, the offers for 4G data from Jio boast of simple 4G tariff plans that are complete with special discounts for eligible students.
The enterprise-friendly solutions and plans are also worth taking a look at and promise to bring in the highest levels of savings for large and small sized organizations alike. If you are still in two minds about this platinum 4G services in India, then think no longer, you cannot go wrong with Jio.
Last Few Words on Reliance Jio 4G Data Plans & Offers 2022
Go for the Reliance Jio 4G data plans and best offers for 2022 that will make your decision of selecting this carrier all the more worthwhile. Even as you look around for the best deals and offers for JioMart, you will be surprised to get all the other freebies alongside.
From making unlimited calls to your near and dear ones living in other towns and cities of India, or abroad, to using the highest data speed in your comfort zone – you can get it all. These data plans are here to stay and will guarantee the best ever user experiences to you as well. So, linger no longer and choose the best data plan from Jio that suits your immediate, emergent and future needs alike – you will not be disappointed by the results.