The exciting SBI Amazon Offers from 4th to 8th August 2023 will fetch state bank debit & credit card users attractive up to 10% cashback discounts to make their shopping more fun-filled and enjoyable.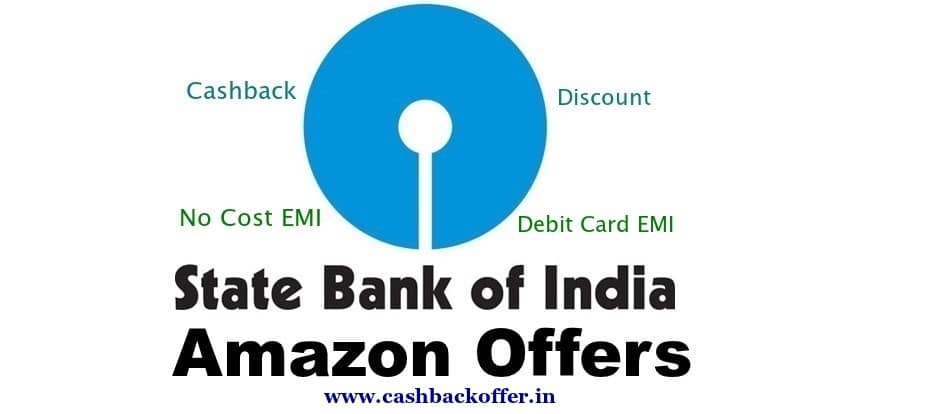 Do you know that the latest SBI Amazon Offer of 2023 is all set to get the best tidings and savings for you? There is a lot of good news in store for CashBack Offer for SBI Debit & Credit Cards users like you.
It's raining cash backs and discounts on Amazon India. There are plenty of hot deals to grab on different categories like electronics, mobile phones, laptops, electronics, televisions, appliances, clothing, and more. So, if you have been looking for the best rates on the products of your choice, then instead of looking elsewhere, get yourself some pleasantly surprising rates at Amazon India.
What's more? If you happen to be a State Bank of India customer holding an SBI debit or credit card, then you can be assured of getting smart cash backs to add more fun to your purchases.
If you are concerned about the different product categories on which these discounts and cash back offers will be applicable, then do know that the given SBI Bank offers on Amazon India buys are applicable on mobile phones, laptops, electronics, televisions, appliances, clothing, etc.
Whether it is about buying a high-end laptop for yourself or a mobile phone for your loved one, you can be assured of getting the best Amazon SBI Offer in 2023 in the form of attractive cash backs when you use your SBI debit or credit cards to make the payment at checkout time.
Here bringing you all the latest SBI Amazon Cashback & EMI Offers 2023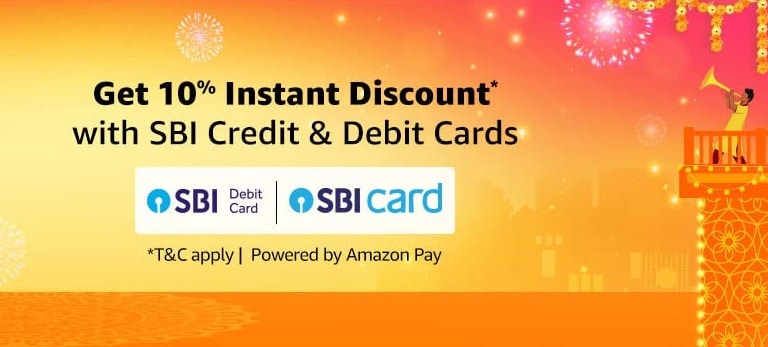 Here, we have outlined the exclusive Amazon SBI debit and credit card offers of 2023 that will make your shopping time all the more pleasurable and fruitful.
Enjoy a 10% Discount with this Amazon Great Freedom Sale SBI Cards Offer 2023
The Amazon India Debit & Credit Card offers are definitely not to be missed. When you purchase the goods of your choice on Amazon India Great Freedom Festival Sale 2023 by using your State Bank Credit or Debit Card, you avail:
| | | |
| --- | --- | --- |
| Purchase Value | Discount on Non-EMI | Discount on EMI |
| Rs 2,000 | N/A | N/A |
| Rs 5,000 | Rs 500 | 500 |
| Rs 10,000 | Rs 1000 | 1000 |
| Rs 15,000 | Rs 1500 | 1500 |
| Rs 18,000 | Rs 1500 | 1750 |
State Bank of India
State Bank of Hyderabad
State Bank of Bikaner and Jaipur
State Bank of Travancore
State Bank of Mysore
State Bank of Patiala
How to avail this Amazon Offer for SBI Customers
The Amazon SBI offer is easy to avail of and promises the best returns in the easiest possible steps. If you are wondering how to go about the act and get the cash back in your kitty after making your purchase, then its time to follow the under mentioned steps:
Step 1 – Open the official website of Amazon India by typing in the URL of Amazon.in. You will be greeted with a friendly interface that will introduce you to various product categories of your choice.
Step 2 – Login to your account to avail the deals and offers. In case you don't have an existing account, then sign up to create your very own account without any delay.
Step 3 – Start shopping to your heart's content and keep adding products to your shopping cart on Amazon India.
Step 4 – Once you are done and directed to the payments page make the payment via your SBI credit.
Step 5 – The cash back that you are eligible to get will be credited to your account within a span of 1 day or instantly.
Amazon Great Freedom Festival Sale 2023 SBI Offer Terms & Conditions
If you are wondering about the Amazon SBI Offer terms and conditions that apply to this Great Freedom Sale, then you may like to go through the section below to get first-hand information about what to expect when you are ready to avail your SBI Amazon offer.
This alluring cash back offer can also be availed on the EMI requested on your State Bank Credit cards.

The cash back is applicable on all card payments done through State Bank credit cards cards; it is applicable for the cash on delivery orders availed during the given period as well.
However, the cash back possible as a result of this Offer will not be eligible on your purchases of Amazon.in Gift Cards, jewellery items, gold and some other product categories.
SBI net banking related transactions are not eligible for this offer.
Shop and Shell out with SBI Card Offer at Amazon and a Get 5% Discount
You've got a chance to fill your virtual box with a bunch of items from the Amazon pantry and have everything delivered at your doorstep under Amazon SBI credit card & debit offer. All that you will need is an SBI card to avail 5% discount on a minimum purchase of Rs. 2000 i.e. Rs. 250 as an instant discount applicable from 1st July to 3rd July 2023.
| Order Value | SBI Offer Discount |
| --- | --- |
| Rs 1500 | N/A |
| Rs 2000 | Rs 100 |
| Rs 5000 | Rs 250 |
| Rs 6000 | Rs 250 |
With sheer ease and convenience, you can have everything without standing in the queue or waiting at the billing counter. Besides, now you'll not have to wait for more than 24 hours to have all the groceries at home, plus you are going to be saving on almost every product that you purchase from your favorite brand.
Additionally, if the bill amounts to a huge sum, you can even make the purchase using the EMI facility provided by SBICPSL. Isn't this a huge sigh of relief?
Do check out Amazon SBI Yono App Offer

Most of us have reaped the benefits of various offers on Amazon. And here's yet another advantage for you! Guessing it? Well, let us disclose the details to you. Through Amazon SBI Yoni App offer, you have the opportunity to save big whilst spending big too. All you have to do is make your payment with SBI debit card.
The best part – there's no minimum transaction value involved. Which means, no matter how big or small your payment amount is, you can still participate in this offer if you own an SBI debit card. Also, since SBI and Yono have tied up for this deal, it makes this offer exclusive and limited to only Yono.
The best way to avail this SBI offer is by making any purchase from Amazon through Yono by adding the product to Yono's cart and making the payment using SBI debit card. By doing so, you can earn a whopping 10% cashback along with 5% unlimited cashback and bonus offer.
By any chance, if your transaction amount exceeds Rs. 25000, you can earn extra 5% cashback. This offer gives you a chance to earn unlimited cashback and bonus offer in the form of Amazon pay balance.
Do note that this offer would not be applicable on payment made by cardholders using COD facility. Also, by any chance, if you happen to cancel or return the order, you'll not be eligible for any cashback from Amazon or Yono. If you are keen on trying your luck for this offer, you must remember the offer dates – which in this case is 19th to 22nd January.
Ready to shop? Excited much? Wait no more, go get shopping like never before!
Now Get 5% Cashback on SBI Credit EMI!
If you have an SBI Credit card, then maybe you should not look for other offers than this on Amazon! On a minimum order of Rs.12500, you can now get 5% back! The maximum amount of cashback you can enjoy is of Rs.1500.
Since this SBI EMI Cashback offer on Amazon is between the period of 22nd April to 24th of April, you are going to get the cashback latest by 24th of July .
Refrigerators, washing machines, mobile phones, televisions and all such products can be purchased using SBI credit card, which makes you eligible to avail this EMI cashback offer. Let us not forget to mention that latest cameras, furniture items and air conditioners are also included in this offer.
This time, Amazon and SBI have come together to give a fantastic offer to all the SBI Credit card holders. All you have to do is look for this message on Amazon, find out about all the products that make you eligible to enjoy this discount and then select the EMI option on the page of payment. You don't have to pay any Cost EMI, despite getting a chance to pay in easy installments!
Shop at Amazon with 'No-Stress' and 'No Cost EMI' on your SBI Credit Card

SBI's No Cost EMI Offer on Amazon is focused on making it easy for buyers to shop expensive items on Amazon through EMIs without any extra costs.
Anyone and everyone can simply buy any expensive item and payback through EMIs over a period of 6 months or 12 months without having to pay any additional processing fee, interest, or down payment. Anyone with an SBI Credit Card and a verified Amazon account can opt for the No Cost EMI Offer.
So if you've been waiting to purchase your favorite laptop, mobile phone, or any electronic item and appliances, do not hesitate. This is your time to shop and spend.
Divide and Pay with Easy Installments on Amazon with SBI's Debit Card EMI facility
For all those of you feeling helpless for not having an SBI credit card, here's a chance for you to avail the newly introduced Amazon SBI debit card EMI offer. Isn't this the good news that you've all been wanting to hear? So if you are an existent savings account holder with SBI, you can shop as much as you want on Amazon and avail the EMI option with your debit card.
To be able to avail this SBI Debit card EMI offer on Amazon, the user needs to have the Amazon App or access to the website. Experience convenience, selection, immediate delivery, and lucrative deals on Amazon – so shop till you drop!
Flexible Amazon SBI EMI Offer with your SBI credit card
Get set to take the benefit of best ever EMI deals when you use your SBI Card for making purchases on Amazon India. You need not get stressed about making upfront or one time payment for your buys On Amazon. This is because you can avail in 3, 6, 9 and 12 EMIs when you buy just about anything on this site with your SBI cards. As there is no need of any documentation, you may look forward to paying for your purchases without having to dole out any processing fees either.
What's exciting about availing EMI offers on your purchase transactions is that there are very few and easy steps that you need to follow for getting recourse to the EMI facilities.
Grab the Mouthwatering SBI Cards Offers on Amazon.in
It does not happen every day that you get hold of such interesting cash back offers to make your day so delightful. So, without wasting any more time, make sure that your SBI credit cards and debit cards are in their active state and get going with your purchase list.
Once you have your wish list ready, you will find it easy to look for the product categories of your choice on Amazon India portal and its mobile application.
The best thing about availing this cash back offer for SBI customers is that you can be assured of smart savings within the entire offer period on electronics, laptops, mobiles, and all other products of your choice. Get set to get the best out of your State Bank of India cards; you deserve nothing but the best!
Are you looking for Amazon Hdfc offers as well? If you happen to be an Hdfc bank customer, then the Amazon offer for Hdfc debit and credit card users will make you get the best returns on your purchases on Amazon India without any ado.
So, what are you looking around for? Just gift yourself some shopping time and get going with your purchases to get the best deals and offers in your kitty like never before. You will enjoy every bit of your shopping spree with these exciting offers in your bag.
Happy shopping with your Debit & Credit Cards, enjoy Amazon SBI Offers; today!