The below-mentioned list of top 10 artificial jewellery brands in India in 2023 are here to take you by surprise. If you want to shop for artificial jewellery, stay tuned and read the details.
We have rounded up the top 10 and best artificial jewellery brands in India in multiple types like modern, traditional, antique, and contemporary. Visit their sites, place an order, gather a collection, and add extra elegance to your look!
Whether you are planning to attend a family function, celebrate a festival, or get married, knowing these best artificial jewellery brands in India will always prove to be of help to you when time arises. And in regards to their products, these brands guarantee durable, quality-focused, and unique pieces that cannot be found anywhere else.
So, do take a look at the best artificial jewellery brands in India and leave everybody impressed with your choice!
Your Go-to List of the Top 10 and Best Artificial Jewellery Brands in India 2023
Get a perfect look on every occasion by grabbing the finest pieces from these top 10 artificial jewellery brands in India in 2023. Take a glance at what they have in store for you and accessorize your outfit in ways never done before. Without further ado, let's check some of these best online jewellery shopping sites in India.
1. Tribe Amrapali

When we speak of the top 10 artificial jewellery brands in India 2023, Tribe Amrapali tops the charts without a doubt. This is one of the oldest artificial jewellery brands in Indian that came to life in 1978.
Almost four decades later, this brand has now evolved as a multinational brand and gained repute for being the best artificial jewellery brands online. Tribe Amrapali not only offers a traditional collection but also modern, that too at great prices. Right from hair accessories to toe rings, there's nothing they do not possibly have. Their jewellery pieces start from Rs. 400 and go all the way up till Rs. 15000.
If you are keen on shopping from them, find them on popular e-commerce sites such as Amazon or Nykaa fashion. Explore their range of Tribal Pop, Najma, Kaasni, Devaya, and Manikarnika, and find yourselves shopping for more luxurious artificial jewellery than ever before.
2. Pipa Bella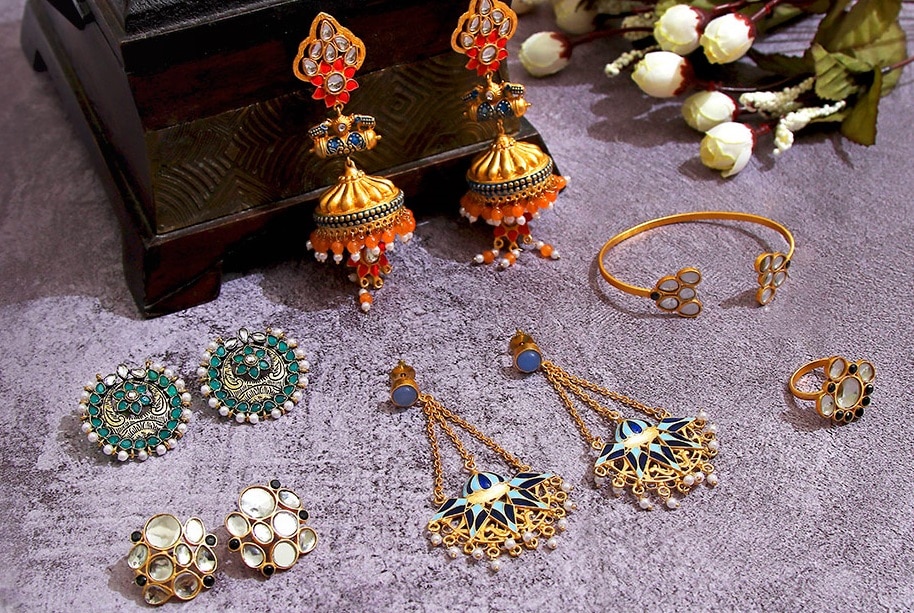 If there's a mention of the best online jewellery shopping sites in India, the first name that comes to our mind is Pipa Bella. This brand established itself digitally and soon became a favorite one amongst youngsters. Pipa Bella brings with itself over 1000 unique designs across a range of products including bracelets, cocktail rings, necklaces, pendants, earrings, and chains.
What makes Pipa Bella even more unique and sought-after is the fact that it uses a variety of additional elements such as crystals, metals, resins, stones, and beads in all of its products. Though some may find this brand a little expensive as compared to the rest, the money invested is absolutely worth it.
It'll excite you to know that Pipa Bella offers discounts and interesting deals from time to time, and this, in turn, will make your purchase valuable and reasonable. Other than so many benefits, there's also an option for customization – whether it is for pendants, rings, or bracelets.
3. Zaveri Pearls

Another brand in India for best artificial jewellery is Zaveri Pearls. This brand came to life in 1997 and has since been offering a curated range of fashion jewellery for women in India.
Zaveri Pearls has gained immense name over the years for its complex Kundan jewellery pieces and richness of pearls in artwork. Every time you find the need to have a rich and elegant look on any of your outfits, grab a jewellery of this brand and you'll be set to go.
Zaveri's pearls fall in the range of Rs. 500 to Rs. 12500. And the best part – you can find its massive collection online on various sites including Amazon and Myntra. Moreover, this brand has set up an easy and secure payment method, and thus, you can make your choice from their offerings at the comfort of your home and have it delivered to your doorstep.
4. Voylla

When it comes to purchasing imitation jewellery, Voylla can be looked up on as the best artificial jewellery brands in India. Unlike other brands offering jewelleries only for women, Voylla possesses a wide collection for men, too.
Voylla's inception dates back to 2011, and since then, the brand has evolved drastically. At present, it boasts of having over 250 stores and 45000 exclusive jewellery designs. Voylla is headquartered in Jaipur, Rajasthan. What makes this brand one-of-a-kind is the fact that it offers 100% skin-friendly jewellery products. So, even if you have a skin that reacts to artificial jewellery or is generally sensitive, opt for Voylla and we assure, it wont harm you. When you wear Voylla, you don't have to be afraid as the brand doesn't believe in compromising with the quality.
Besides, it doesn't matter whether you want traditional jewellery, funky pieces, or contemporary ones, there's everything you'll find in their stores as well as online, on their site. Visit their website or find their products on Amazon or Myntra. Their jewelleries can be found in the range of Rs. 99 to Rs. 10399.
5. The Luxor

The Luxor not only happens to be one of the best artificial jewellery brands in India but also one of the most affordable ones. If and when you happen to visit their platform, you'll notice a massive range of earrings, bangles, bracelets, necklaces, anklets, and mangal sutra.
What's even better is that this brand boasts of having a great collection of modern, traditional, and chunky jewellery. The Luxor is highly sought-after by young women, owing to its unique and new designs. It doesn't matter whether you like heavy jewellery, delicate ones, or simple minimal-looking accessories – there's something for every client.
If you are a regular shopper from Amazon, Tatacliq, Flipkart, or Paytm Mall, you can go through The Luxor's products on these sites. Plus, the prices aren't too high either – right from Rs. 246, the range goes all the way uptil Rs. 2299.
6. Aarvee

There's no shortage of artificial jewellery brands in India 2023, and Aarvee is one of them. Whether you are looking for semi-precious jewels or traditional ones, there's everything you are likely to find here. One look at their Instagram page will give you an idea on what's trending or not.
So now, you no longer need to go anywhere to find some meticulously curated fashion jewellery with superlative quality. At Aarvee, you'll get all kinds of jewellery at reasonable prices. All you need to do is check their page, choose the needed jewellery from their wide collection, and shop for antique pieces as per your choice.
Once you land on their page, you'll know why people call Aarvee as one of the best fashion jewellery brands in India. There's possibly nothing you won't find of your taste there!
7. Sukkhi

Sukkhi is a popular and amongst the top 10 artificial jewellery brands in India. All of its product range is exclusive and unique – and importantly, available at extremely reasonable rates as compared to other brands in the same category.
As one of the best artificial jewellery brands in India, Sukkhi boasts a large collection of accessories for young girls, women, and men. Whether you want a bridal set, oxidized jewellery, or Kundan pieces, this brand will offer you all of it. At present, they have over 10000 jewellery designs that are crafted by expert designers. From men's rings to earrings, pearl necklaces to Kundan chokers, get everything on its site, Amazon, Myntra, ShopClues, or Snapdeal.
8. YouBella

If you are looking for some modern designer jewellery, go for YouBella and you won't be left disappointed. You can amp up your fashion statement without necessarily spending a lot of money. Having earned the repute of the best artificial jewellery brand in India, YouBella justifies its name well as one of the top jewellery brands. Whether you want an everyday purpose jewellery or something for a special occasion, you are certain to find it on YouBella.
The brand's focus, since inception, has been to create jewellery in unique and creatively attractive designs – the kinds that can be donned at all hours. You can source YouBella's jewellery through their website or Instagram page.
9. Quills and Spills

Amongst all the best artificial jewellery brands in India, Quills and Spills happens to be one of the most preferred one when it comes to modern jewellery designs. This brand is certain to introduce you to a whole new world of jewellery. To know what they have in store for you, check their Instagram page where they present a range of accessories that are not just highly pleasing but also unseen before.
Quills and Spills has the best collection of temple jewellery, that would look just apt on your ethnic wear. Other than this, their jewellery in the mid-range – be it earrings or pendants, rings or anklets – prove to be perfect for gifting purpose. You'll no longer wait for occasions to shop for accessories once you check out what Quills and Spills offer!
10. Isharya

Isharya is amongst the most luxurious best artificial jewellery brands in India. This brand has introduced the most modern jewellery designs, with collection spanning from necklaces, earrings, rings, bracelets, and other ornaments of different categories.
Owing to its attractive craftsmanship, many celebrities, influencers, and women alike prefer Isharya as their go-to jewellery brand. Moreover, the designers of this brand are experts who are well-versed with the fashion trends and latest techniques. Overall, Isharya brings excellence in jewellery that demonstrates what it means to be confident and glamorous.
Shop for the Best Artificial Jewellery Brands in India 2023 now!
These were few of the best artificial jewellery brands in India 2023 that you must check out before investing in antique accessories. With options as many as these, making a choice would definitely be difficult, but worth the time spent. Plus, all your needs will be met through either of these brands – right from traditional accessories to modern ones, bridal wear to party wear – all of it will win your heart and you won't be able to resist from picking out a few.
Additionally, all these jewellery pieces are so unique, well-crafted, and polished that you'll not be able to locate them elsewhere easily. None of these brands will demand you to splurge heavily either. What more can you ask for? You need not even go to any of their physical stores – you can have it ordered it at home through their website, Instagram page, Facebook page, or application. We bet, you'll find it hard to go away empty-handed. And since these brands are popular in India, they guarantee quality and durability, all whilst considering the weather conditions in different parts of India.
Sounds great, right? Why wait – go, shop for the best jewellery!