Start shopping online with the help of Bajaj Finserv no cost EMI scheme and start enjoying your life without getting worried about your money. Don't let your money come between you and your desires. Go out and do shopping as much as you want. No matter how costly your product is. You can enjoy the no cost EMI benefits with Bajaj Finserv EMI Networks cards.
Say goodbye to the burdening interests on EMI's with Bajaj Finserv's No-cost EMI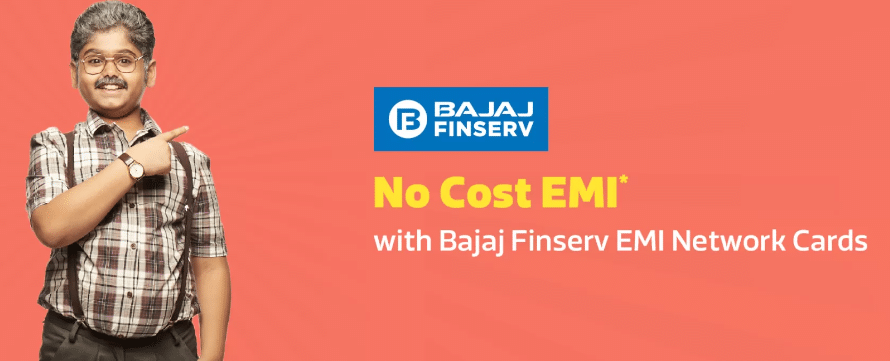 Bajaj is one of the leading companies of India. It is not only a leading motor company, but it is also one of the most effective financial companies of India.
The financial ideas of Bajaj are always very unique and easy to understand. Bajaj Finserv no cost EMI is one of the recent brainchildren of it. It will help the customers to buy a big amount of products without worrying much about the financial setbacks.
Bajaj Finserv is offering two types of EMI cards namely the Bajaj Finserv Titaniun EMI card and Bajaj Finserv Gold EMI card. By using these two cards you can buy products both by online and directly from the store without being worried about the extra EMI cost.
You can also enjoy the privileges of Bajaj Finserv no Cost EMI if you are shopping from India's two biggest online shopping sites namely Amazon and Flipkart. So, it is the right time that you should know the benefits of Bajaj Finserv no cost EMI. Have a look and go through it.
No cost EMI, what is that?
No cost EMI is a financial plan by which the buyers can buy products in installments, but they don't have to pay the extra service charges which comes along with the EMI. No cost EMI will allow you to save a certain amount of money that you don't have to pay with the EMI.
How Bajaj Finserv EMI card can help you?
It is a way of payment which allows you to save the extra money which you are giving while paying the EMI. This card works as 'pre-approved loan' and can be used to buy any kind of gadgets, appliances, clothes and much more. It can be used in any retail outlet who is a partner of Bajaj.
Bajaj Finserv no EMI card will reduce the burden of your pocket. It will also allow you to choose between 50 categories across 25000 outlets across the globe.
How does Bajaj Finserv No Cost EMI work?
If you have the Bajaj Finserv No Cost EMI Card you will fall under no cost EMI scheme and you don't have to pay any additional price to the main amount of the product or the services for which you have paid. You can choose a time gap between 3, 6, 9, 12, 18 or 24 months to pay the EMI.
How to get Bajaj Finserv EMI card?
Getting a Bajaj Finserv EMI card is very easy. All you have to do is to maintain some eligibility criteria.
So, here is the list of eligibility required to apply for the card:
The applicant has to be at least 18 years old so that he can apply for the card.
It is mandatory for the applicant to have a stable and consistent income so that he can pay back the loan that he has taken from the card.
Here is a list of documents that the applicant has to show, while applying for the card.
An ID proof that is copy of PAN card/ passport/ Driving License/ UID/ Voter's ID card should be carried by the applicant.
The applicant must carry a resident proof of Fixed Line Bill/ Passport/ Bank passbook of a PSU Bank/ Electricity bill.
A cancelled Cheque must be carried.
A passport size photo is a must.
A signed 'National Automated Clearing House' mandate must be produced to the document collection executive.
You can also apply online for Bajaj Finserv Card.
If you are a current client of the lending institution, all you have to do is to log in to your customer portal and administer for the card. And if you want your card to come within 10 to 15 days, you just have to pay Rs 349. Then you can buy any product of your choice without thinking about the extra EMI.
How to shop online using Bajaj Finserv EMI Card?
It is very easy to do online shopping by using the Bajaj Finserv Card. You just have to follow some simple steps to do the online shopping. Here is the list of steps. Follow them respectively.
1. You must shop on online portals by using the Bajaj Finserv no cost EMI card.
2. Once you select the commodity, you have to look for the 'No-Cost EMI' option which you will get on the page.

3. After that, you have to select the tenure of month for installment breakup of that specific product.
4. Then you have to select Bajaj Finserv from the list of partner banks of that website
5. Once, the selection is done Bajaj Finserv EMI card will be filled in with details such as your name, your card number and the expiry date.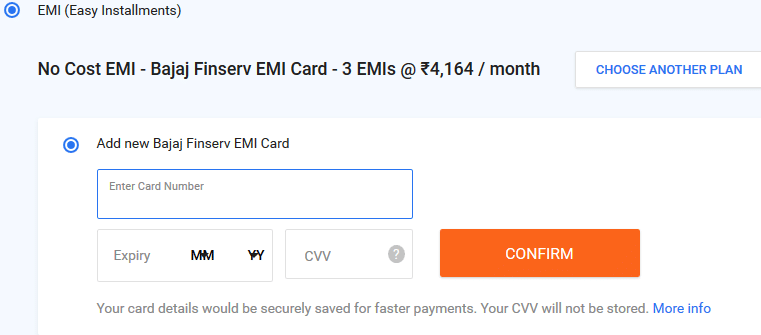 6. Next, an OTP will be sent on your registered mobile number.
7. Then you have to enter the OTP and your transaction will be done.
Which online products can be purchased by Bajaj Finserv No EMI Card?

There are one million products that you can buy online. It will be impossible to pen down all the products that you can buy online using the Bajaj card. So, here I am listing the categories from which you can select your desired category.
1. Buying electronic gadgets are made easy by the Bajaj Finserv card
It is the time that you should stop bothering about the price of the electrical gadgets like mobiles, laptops, cameras, TV's or any other electrical appliances. With the help of the Bajaj Finserv card you can buy any gadgets in easy installments.
With partners like Flipkart and Amazon you will get all the gadgets you desire. And also, you don't have to think about that extra money of interest that you earlier paid for your EMIs.
2. Hotel reservations can also be done by using the Bajaj Finserv card
Booking hotels are made easy by using Bajaj Finserv card. Many people face problems regarding booking online Hotels because they had to pay a huge amount of money while booking. But with Bajaj Finserv card you can reserve hotels at any point of time without worrying much about that huge sum of money.
You can pay the booking fairs in installments without paying any extra money that comes along with the EMI. Moreover, you can enjoy the benefits from the organizations like MakeMyTrip and TomasCook if you book your hotels by using Bajaj Finserv No EMI Card.
3. You can book airline tickets
Yes, you book your airline tickets by using Bajaj Finserv Card. You can enjoy this service not only for the domestic flights but also for the international flights as well.
For some people it is a huge problem to book an international flight because the price of the tickets is pretty high but by the help of this card you can also pay your flight tickets in installment.
Cox and Kings, MakeMyTrip, SOTC and Musafir.com are the partners of Bajaj Finserv. So, plan your holidays accordingly without getting stressed about the pressure of your pocket.
4. Groceries can also be purchased with the help of Bajaj Finserv No EMI Card
You don't have to spend a lot on groceries on a very short interval of time. With the card in your hand you can enjoy the privilege of buying groceries on EMI from the renowned stores like Big Bazar and HyperCity. And the installments that you have to pay are very easy. So, don't wait for it. Go ahead and grab hold Bajaj Finserv no EMI card.
5. Healthcare services and fitness can also be taken care of with the help of Bajaj Finserv No EMI card.
Gym memberships and fitness classes are getting costlier day by day. So, paying them by EMI's is a brilliant way to get in shape without getting concerned about the financial hurricane.
Apart from this fitness services you can also pay for your cosmetic surgery, cardiac surgery, dental surgery and emergency trauma procedures with the help of life care finance from Bajaj Finserv.
Not only that, you can also access over 160 treatments from the leading hospitals like Apollo Hospitals, Columbia Asia and Cloudnine amongst 2700 medical centers. A loan of 4.5 lakhs will also be approved if you want to get treated for hair loss or want to go through a cosmetic surgery without digging a hole in your pocket.
6. You can also buy clothes and accessories
If you are a fashion freak and always want to be in trend, Bajaj Finserv card will be very useful to you. With the brands like Reebok, GAP, Meena Bazaar, Sunglass hut and Nautica you can shop as much as you want without getting depressed about the money. The card will allow you to shop on EMI's with really easy installments.
7. Buying furniture and home accessories made easy
Making a home is really a big investment but you don't have to worry much about it because you have the Bajaj Finserv card. You can buy furniture, home fittings, a modular kitchen and décor pieces from the partners like Home Center, Home Town, Evok, Hindware and Faber on very easy bite-sized installments.
Bajaj Finserv no cost EMI is a very useful and easy-to-use brainchild from Bajaj. People can now stop worrying about the pocket hole that comes up with all the things mentioned above. It works as a bridge between the confusion and the confirmation that people are suffering. So, don't let your confusion to take over your confirmation. Grab the Bajaj Finserv No EMI card and live your life happily.