Let us take a quick look at some of the most interesting Amazon Great Indian Festival Sale 2023 offers, deals & coupons that will be up for grabs from 15th October 2023.
The Amazon Navratri Sale of 2023 is here! Amazon.in is all set to hog the limelight and delight buyers on the 15th, 16th, 17th, 18th, and 19th of October 2023.
Yes to celebrate the special occasion of Navratri & Diwali, the largest online shopping portal in India – Amazon India – is all set to make things bright and joyous with huge online discount offers and great savings.
So, if you have been waiting for long to get your hands on the electronics, apparel, fashion accessory, books, home appliances, or just about anything else; the right time to go about it all is now!
Amazon Great Indian Festival Sale Offers, Best Deals & Dates 2023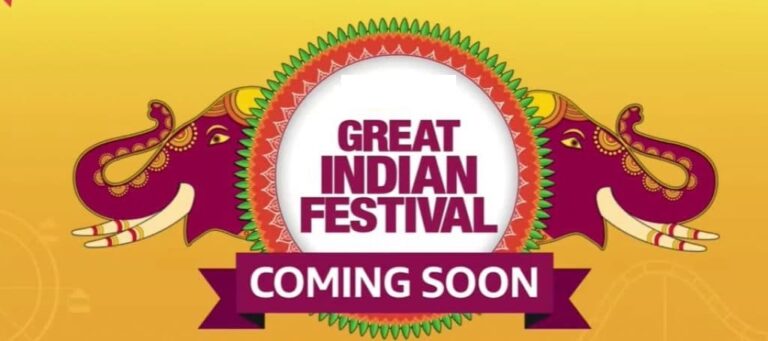 During the Amazon Great Indian Festival Sale from 15th October 2023 to 19th October 2023, you may look forward to getting mind-blowing deals and offers on 10 million-plus products from diverse categories. These products range from mobiles, electronics, laptops, clothing tablets, books and appliances, to a lot more.
Here, there are many exciting cashback offers from leading banks of India too, If you happen to be a credit/debit card holder of HDFC Bank, Axis Bank, SBI, CitiBank, or other banks of repute, you will get further cash backs and returns to make your purchases all the more attractive.
Join the Amazon India Great Indian Festival Sale from 15th October 2022 to 19th October 2022 and fulfill your dreams of getting the best possible returns on your buys.
| | |
| --- | --- |
| Amazon Great Indian Festival Sale Dates | 15th to 19th October 2023 |
| Early Access for Prime Members Timing | 12 AM on 14th October 2023 |
| Sale End Time & Date | 11:59 PM on 19th October 2023 |
Early Bird Offer on Great Indian Sale Top deals for Amazon Prime Members
Have you been waiting for the amazing great Indian sale period of Amazon? If you are a prime member of Amazon, we have some great news for you. Amazon has decided to make you feel extra special for being their extra special prime family member.
While the others will have access to top deals of the Amazon Great Indian Festival Sale from the 15th October 2023 to 19th October 2023, you, as an Amazon Prime member, are going to get the top deals from 14th October 2023 (12 AM) itself! If you want to get more from this sale period, come early with your Amazon Prime Card!
Get Exclusive early access if you are an Amazon Prime member on 14th October 2023 during the Amazon Great Sale. Apart from that, you can avail the bonus offer where you would get an additional discount of 10% while purchasing products worth 6000 INR on Amazon. The maximum cashback that you can get is 1000 INR and it is valid on the prepaid orders exclusively.
Mind Blowing Amazon Great Indian Festival Sale 2023 Steal Deals :

| Categories | Great India Festival Offers |
| --- | --- |
| Electronics | Up to 40% OFF and never before prices on top electronic items |
| Mobiles | Upto 50% discount on smartphones + exchange offer + No cost EMI |
| Laptops | More than Rs 35,000 OFF on popular laptops + No Cost EMI |
| TVs & Appliances | Biggest discount of the year + No Cost EMI |
| Home & Kitchen | Lowest price on Home & Kitchen Products. |
| Bank Offer | Enjoy 10% extra discount on SBI Credit Cards |
At the Amazon India Great Indian Festival Sale 2023, you will enjoy up to 70% discount on thousands of products and get super-exciting deals every hour! Yes, as you log in at different hours across the day (and night), you will get to see new items that have been added to the list of "hourly deals."
The good thing about this Amazon Great Festival Indian Sale offer 2023 is that you can schedule your shopping time in line with the deals that will be available for buyers in the next hour. So, just in case you do not find the item of your choice at say 12 am, then keep logging in every hour to find what else is on offer. If you are lucky, the toy, book, oven, tiffin carrier, TV, mobile, or just about anything else that you wish to buy, may appear on the next hourly deals.
Go for it!
Best Amazon Great Indian Festival Sale Mobiles Offers 2023 :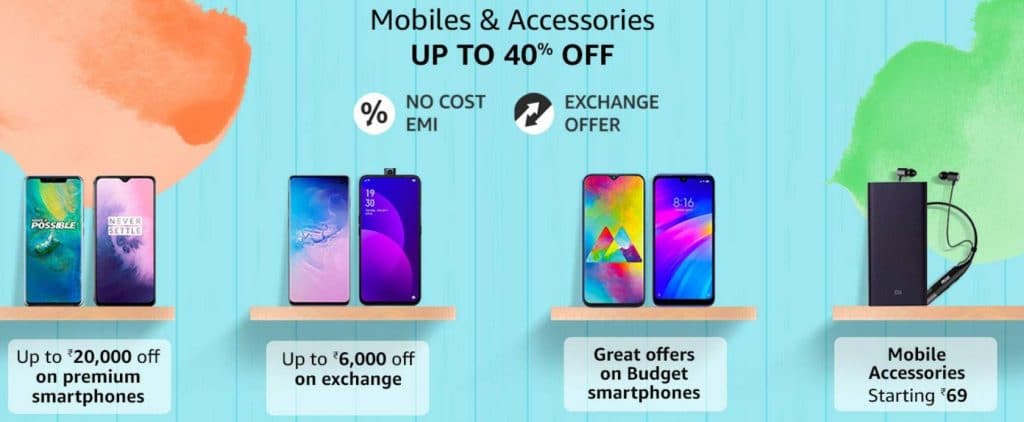 At the Amazon Great Indian Festival Sale 2023, you are going to get bumper discounts on mobile phones from coveted brands like Motorola, Sony, Samsung, Lenovo, Nokia, Vivo, Honor, Oneplus, HTC, Apple, Xiaomi, etc. You may like to avail of exciting discounts on several mobile accessories as well.
As you go about your search to buy mobile accessories online on Amazon India, you can choose from an intriguing range of power banks, mobile cases and covers, battery chargers, earphones and other attachments. You can choose these mobile accessories to suit the type and brand of your existing or new mobile. Just go through the comprehensive list of accessories available at the Amazon Great Indian Sale 2023 and freeze your buy on what you had been looking for so long.
For instance, Bluetooth devices are oft-purchased mobile accessories that are designed to suit different versions of Bluetooth compatible handsets. You may also like to purchase a Bluetooth speaker online for enjoying long hours of high-quality music within your home, or outdoors.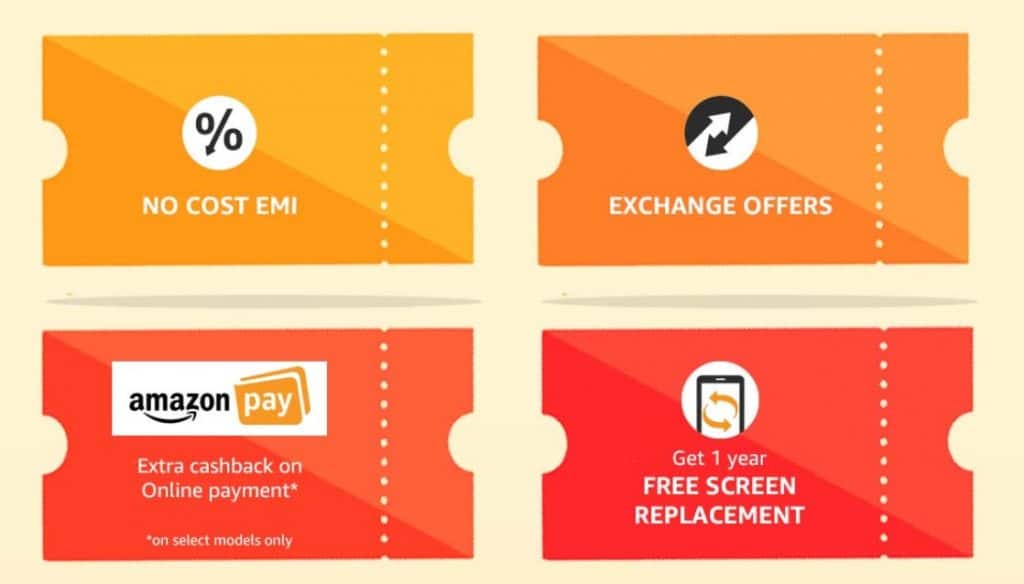 The other mobile accessories available at a discount at this portal include cables & chargers, cleaning cloths, and various other mobile accessories at very pocket-friendly prices.
Some of the best Amazon Great Indian Festival Sale 2023 deals on mobiles include:

A smartly organized "Open Sale" of top selling mobiles online.
Great offers on all the best selling Smartphones of 2023.
Special discounts on the latest arrivals of 2023.
Huge discount on Premium smartphones.
Bumper discount on most mobile accessories.
Exchange Offer
No Cost EMI & Debit Card EMI
Extra cashback on prepaid orders
With a world of exciting offers on mobiles at your fingertips, you surely cannot ask for more. Right?
Amazon Great Indian Festival Sale 2023 Offers on Electronics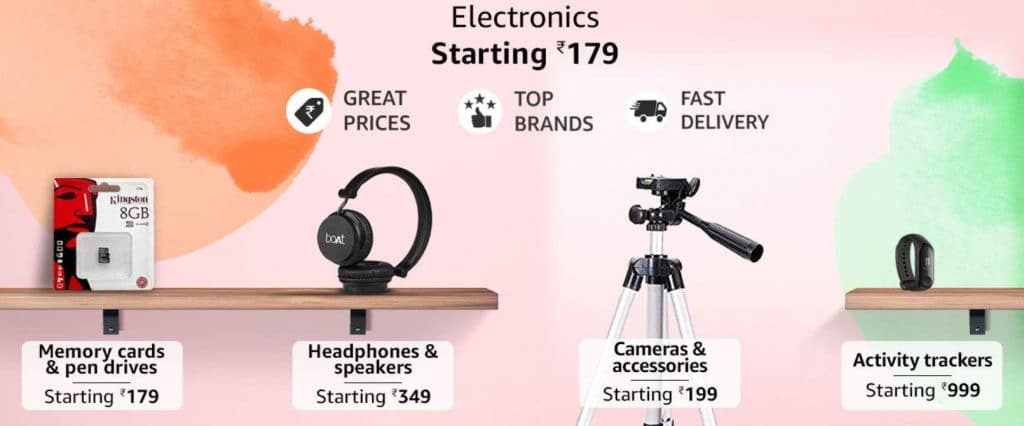 The amazing Amazon Great Indian Festival Sale 2023 discount offers on electronics items such as cameras, laptops, tablets, smartwatches, monitors etc. will leave you swooning and asking for more.
At this Festive Sale, Amazon India has brought together numerous reliable vendors that are all stocked up to cater to your requirements of feature-rich, high-quality electronics. Hold on to your purchase of electronics until the 15th of October 2023 and get the best discounts on the rack for making your shopping experiences all the more worthwhile.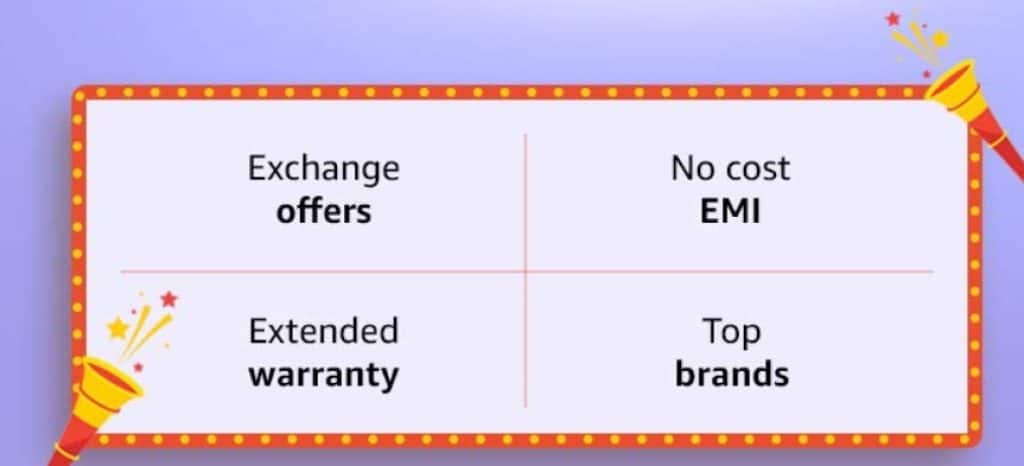 Given below is what Amazon India has on its cards in the electronics category; only for you!
| | |
| --- | --- |
| Electronics | Offer |
| Laptops | Up to Rs 40,000 Discount |
| Cameras | Up to Rs 10,000 Discount |
| Tablets | Up to 40% OFF |
| Monitors | Minimum 60% OFF |
| Headphones | More than 60% OFF |
| Fitness Trackers | Starting from Rs 7,999 |
| Pen Drives | Lowest Ever Prices |
| Hard Drives | Up to 60% OFF |
| Gaming Accessories | Starting from Rs 399 |
1. Amazon Great Indian Sale Offers on Laptops & Computer Accessories
At the Bumper Great Indian Sale by Amazon India, you can buy the best laptops and their accessories online. The right computer accessories help in tackling your personal and work related computing tasks in better ways.
So, in order to gain high performance measures and work faster than before, just log into Amazon.in for a host of computer accessories marketed by a variety of brands and work smartly in more efficient ways.
At the Amazon Sale of October 2023, you can:
Get Bumper discount and exchange offer on best selling laptops.
Impressive offers on a wide variety of laptops keyboards, mice, bags, sleeves, PC headsets, webcams, network devices, laptop skins, cooling pads, batteries, USB hubs, components, cables, and a lot more at Amazon.in.
Access the latest computer accessories from reputed brands like Samsung, SanDisk, Strontium, Kingston, Generic, Sony, HP, and many other leading manufacturers.
From laptops and desktops to computer peripherals and components, there is absolutely no dearth of useful products to buy at discounted rates at this Amazon Festival Sale 2023.
Some of the best Amazon Great Indian Sale offers on computers & accessories include:
Smart deals on Laptop from all leading brands.
Large discounts on computer accessories.
Mobile app specific offers and deals on the latest models of computer.
2. Save Up to 60% on Cameras and Accessories at Amazon Great Indian Festival Sale 2023

Shop online at the Great Indian Sale at Amazon India and select from a large selection of digital cameras, Point & Shoot cameras, Digital SLRs, lenses, camera accessories, and camcorders.
This online store also features other devices like binoculars, telescopes, projectors, CCTV cameras, etc. The different brands of cameras available with big discounts on their price tags include those that are attributed to Canon, Nikon, Sony, Pentax, Fujifilm, Panasonic, etc.
This Amazon great electronics sale features many deals of the day on popular cameras and featured categories like Digital SLRs, Point & Shoot, High zoom (20x +) cameras, lenses, mirror less cameras, camcorders, camcorders, surveillance cameras, binoculars, telescopes, projectors, digital picture frames, etc.
As the mere ownership of a camera will not help you become a pro photographer, you need to invest in different camera accessories for clicking sharper, better and more attractive pictures.
At the Amazon Great Indian Festival Sale, you have camera accessories offers and deals for making your picture captures smoother and more exciting. From cables and cords to monopods, camera bags, tripods, lens cleaners, scratch-guards, filters, selfie sticks and more – you can get it all.
Also, you may like to invest in the right battery or battery charger for giving more juice to your camera. There is also a large collection of remote controls, dry cabinets, flash diffuser umbrellas, extension tubes, drones, of lens hoods, lens caps, microphones, etc. on offer. So, shop to your heart's content for the best deals on cameras, lenses, and their accessories – you will not be disappointed.
Whether you are an amateur or professional photographer, you can avail of:
Large discounts on cameras from reputed manufacturers.
Offers and deals on camera accessories.
Diwali discounts on the latest models of cameras.
3. Grab-worthy Great Indian Festival deals on Tablets
Every once in a while, we all wish to have a tablet to watch our favorite series, movies, or play video games. The bigger the screen, the better it is. What better than having a light and portable screen that is smaller than a laptop and better in terms of affordability?
To fulfil this wish, Amazon brings to you some exciting deals on tablets during the Amazon Great Indian Sale. Besides purchasing other electronic items, it is also a good time to invest in a tablet of any brand. But now, you must be wondering which brand to opt? There's so much variety in the market that picking the best from the rest is sure going to be tough. If your budget permits, you can invest in an Apple Ipad or HTC Nexus. However, those who are running tight on budget can go for a Samsung, Lenovo, or Sony model. They are equally good too.
The question arises, what is that Amazon is offering? To bring to your notice, Amazon is offering a flat 40% discount on tablets as well as No-cost EMI facility. If you wish to purchase an expensive piece but are hesitant to pay all at once, you can go for the EMI option. How great is this offer, right? So, when are you shortlisting your most-desired tablet? Go for it, this offer is valid for a limited period. Don't miss this chance.
4. Make the most of the Great Indian Sale offers on other Electronics
We are all fond of electronics, but how often are we able to purchase products? Not regularly, right? So why not take advantage of occasions like the Amazon Great Indian Festival sale where there are discounts up to 50% on smartwatches, gaming accessories, home theatres, stationary, fitness trackers, and other office supplies.
We bet you'll not find deal like this elsewhere – not as lucrative as this one. Imagine getting a product for half the price than the original one. That's a rare moment which you wouldn't want to miss. So, our advice to you is check the items that you need to replace or sell, and shop during the sale period. That'll help you save a lot of amount and energy which you would've otherwise spent in hopping from one store to another. We have made our list of things that we are going to purchase from Amazon, but how about you?
Amazon Great Indian Sale Deals on TVs & Appliances

Looking at the deals and offers, it would be a wise choice to shop for things you need or may need in the near future from Amazon during the Great Indian Sale 2023. Now let's move on to check some other deals available on TVs and appliances. Stay tuned and read further.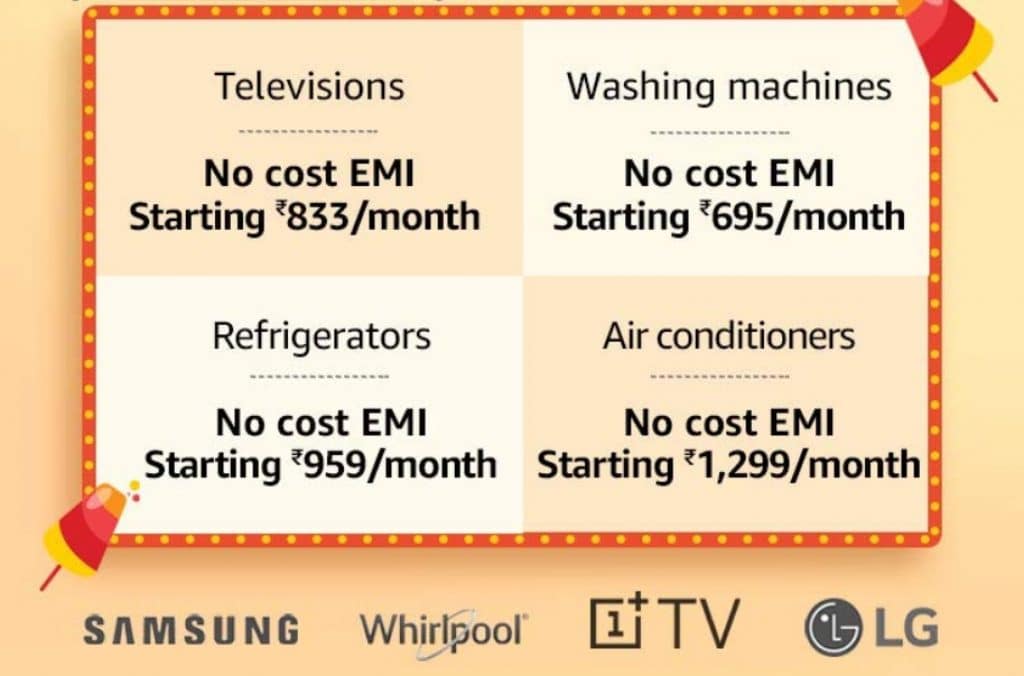 1. Mind-Blowing Discounts on Televisions at Amazon Great Indian Sale 2022

Are you looking for the best selling TVs of 2023 at the Amazon Great Indian Sale? Choose from an exhaustive selection of LED TVs, 3D TVs, LCD TVs, Smart TVs, Ultra HD TVs, HD Ready TVs, Full HD TV and a lot more.
Here, you can lay your hands on the top brands of TVs from reputed manufacturers like Micromax, LG, Panasonic, Samsung, Sony, Philips, Onida, Mitashi, Toshiba, Intex, etc.
So, gear up to enjoy the best possible discounts, hassle-free shopping, 1-year brand warranty, pan India delivery, cash on delivery, and many other features of this Sale. You will love every moment of your shopping spree!
| | |
| --- | --- |
| TVs | Offer |
| 4K TVs | Up to 50% Discount |
| 32 Inch TVs | Minimum 40% OFF |
| Premium TVs | Up to 40% OFF |
| Large Screen TVs | Flat 50% Discount |
Buy televisions at Amazon India Great Indian Sale and get access to:

An impressive selection of TVs with innovative technologies, advanced features, and sleek designs to gain the best viewing experiences.
Mind-dazzling discounts on an extensive selection of high-definition TVs like LED TV, LCD TV, and Plasma TVs to choose the right TV that match your budget and style.
Easy ways of estimating various parameters like size, display technology, price, and a host of other factors that require consideration while purchasing a television.
At this Sale by Amazon India, the best TV offers & deals include:
Attractive Discounts on LED TVs, 3D TVs, Smart TVs, LED TVs, 3D TVs, LCD TVs, Smart TVs, Ultra HD TVs, and multiple display technologies.
Offers on accessories and mounts for TVs.
Discounted TV accessories like TV stands, cables, remote controls, etc.
2. Enjoy Up to 40% Discount on Large Appliances at Amazon Great Indian Sale 2023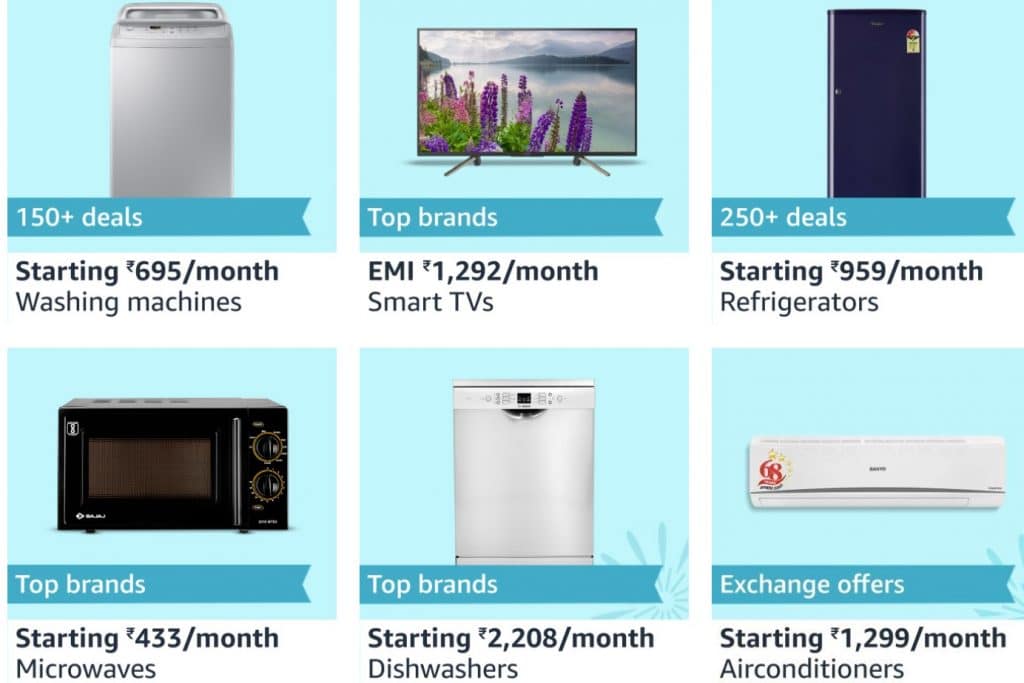 Buy large appliances online at the Amazon Great Indian Sale that will make heads turn with the best discounts on washing machines, refrigerators, air conditioners, geezers and more.
At this Amazon Sale packed with great savings and lucrative offers for one and all, you can be assured of getting discounted large appliances for your kitchen and other home improvement purposes.
So, be it products for heating and cooling, dining and kitchen, lawn and garden, home furnishing, home storage and organization, or anything else, the discounts and offers on large-sized appliances at Amazon India have to be seen to be believed.
By logging into Amazon India during this eventful fesitve Sale, you can get:
Super discounts on all large appliances like vacuum cleaners, air conditioners, refrigerators, washing machines, dryers, etc.
Hot offers for making your home a better place to live in.
| | |
| --- | --- |
| Large Appliances | Offer |
| Washing Machines | Starting from Rs 695 per month |
| Refrigerators | Starting from Rs 959 per month |
| Chimneys | Starting from Rs 750 per month |
| Microwaves | Starting from Rs 433 per month |
| Dishwashers | Starting from Rs 2200 per month |
| Acs | Starting from Rs 1299 per month |
Great Indian Sale Best Deals and offers on Home & Kitchen Products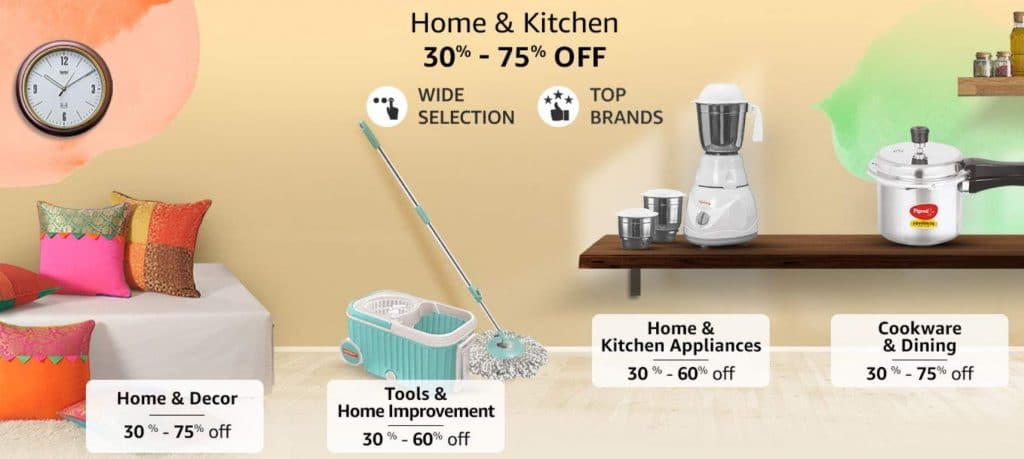 At the Great Indian Sale hosted by Amazon from 15th October 2023 to 19th October 2023, you are likely to come across some of the best deals and offers on small appliances for your kitchen or home too.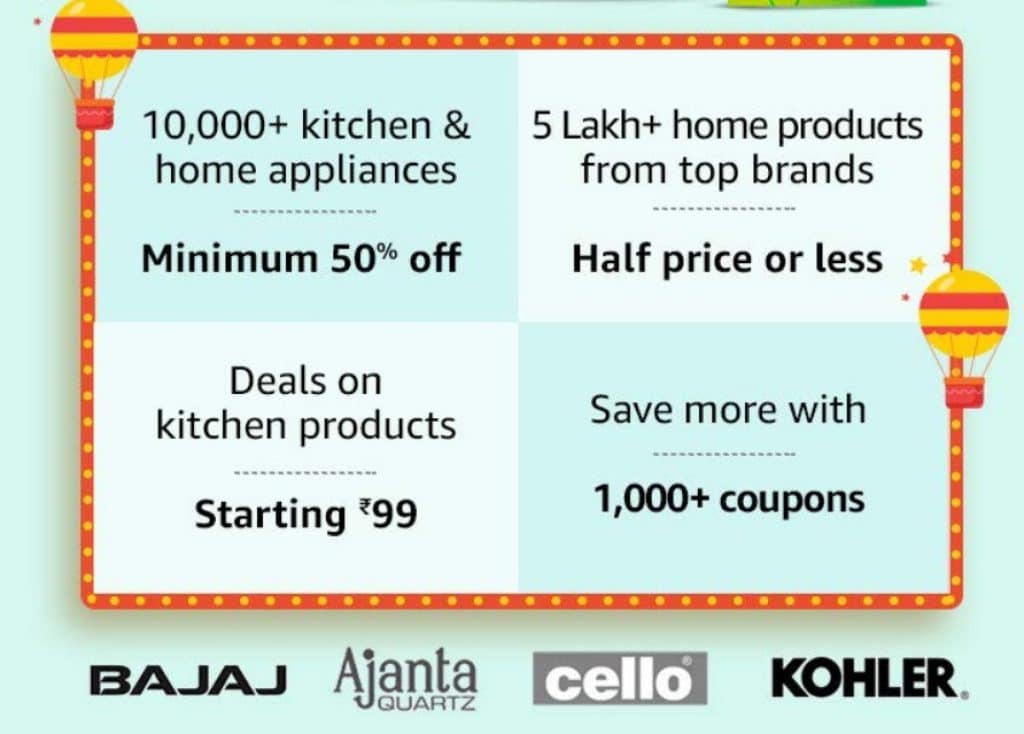 From toasters to roti makers, mixers, blenders, ovens, grinders, hand blenders, small geezers, room heaters, and more, this is the right place for it all.
So, stop looking any further for all the day-to-day items that you require for making your life easier than before. Create a quick wish list and make your purchases before these heavily discounted products start vanishing from the racks of this popular shopping place, which serves as a haven for buyers of all generations and from different walks of life.
Smart Fashion & Accessories Sale at Amazon India
Grab the best offers on fashion accessories and apparel for men, women, and children at this much-awaited sale at Amazon India. Here, you will get an amazing range of ethnic wear, men's, women's and kids clothes, shoes, watches, sunglasses, jewellery, etc.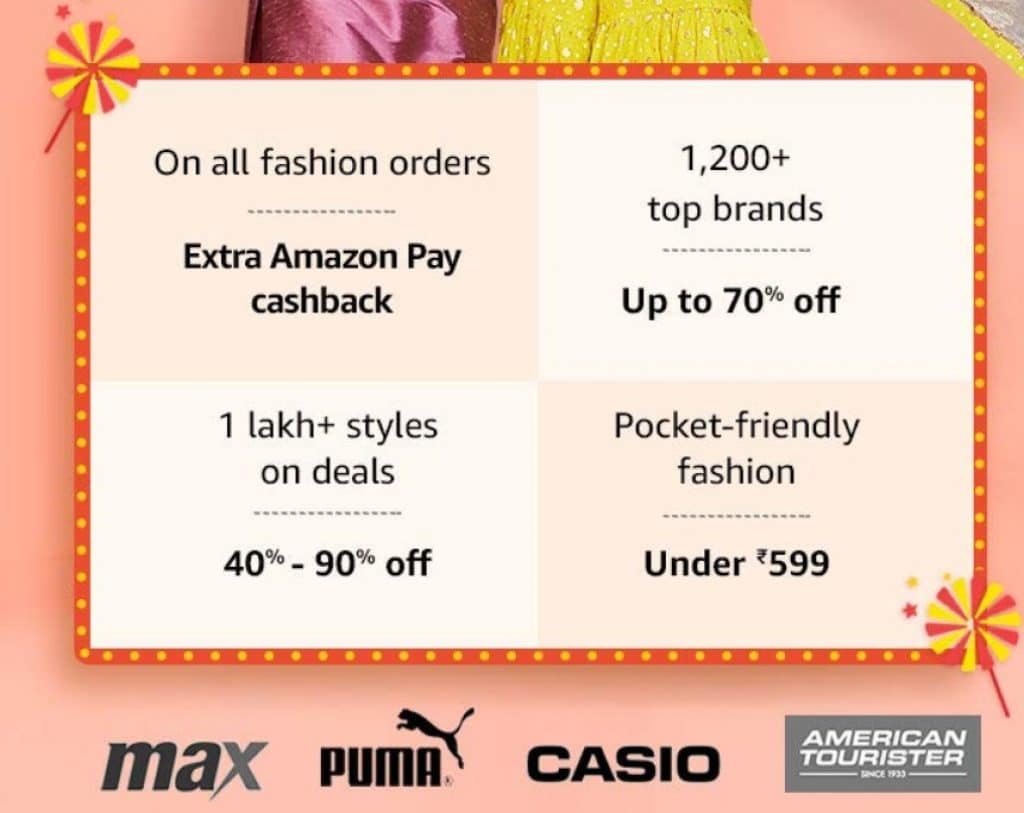 If you have been waiting to buy a brand new pair of Levi's denims at a discount, then this is the right occasion too. Whether it is about buying woolens or formal wear online, you will be amazed at the large-sized collection that this website has in store for you.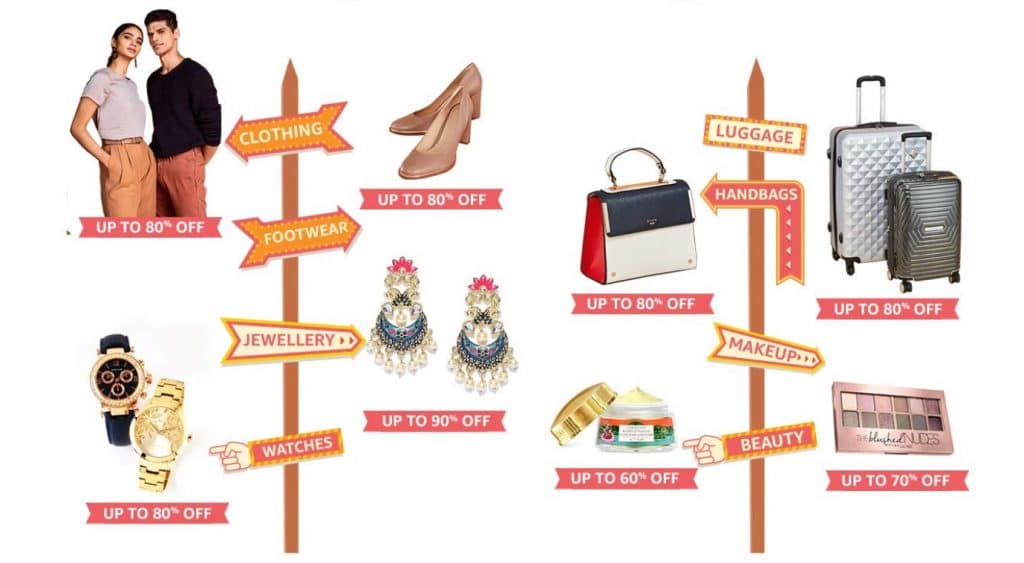 So make your wish list of sarees, salwar kameez, formal shirts, trousers, kids wear, ethnic wear, and all other pieces of apparel that you wish to add to your wardrobe; you will not get a better chance than this to grab the right fabrics, colors, designs and patterns again!
Crazy and Useful Amazon Sale Offers on Daily Essentials: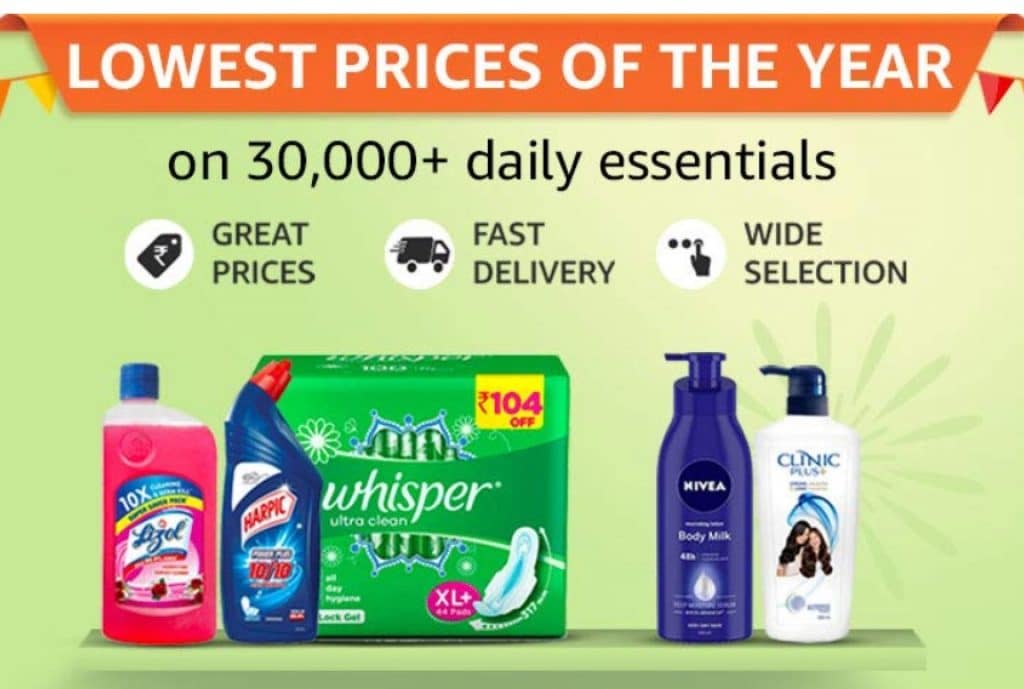 There are a lot of products that you can't deny buying on a daily basis; these products are used often and thus, you are unable to save a huge chunk of money because these are basic products. Yet, there is a period on Amazon when you get up to 50% off on daily essentials and that period is during the SALE phase!
There are 100+ brands in beauty and healthcare products and you can fill your cart with shampoos, shaving kits, pet food, diapers, washing powder, etc. and buy them at affordable prices.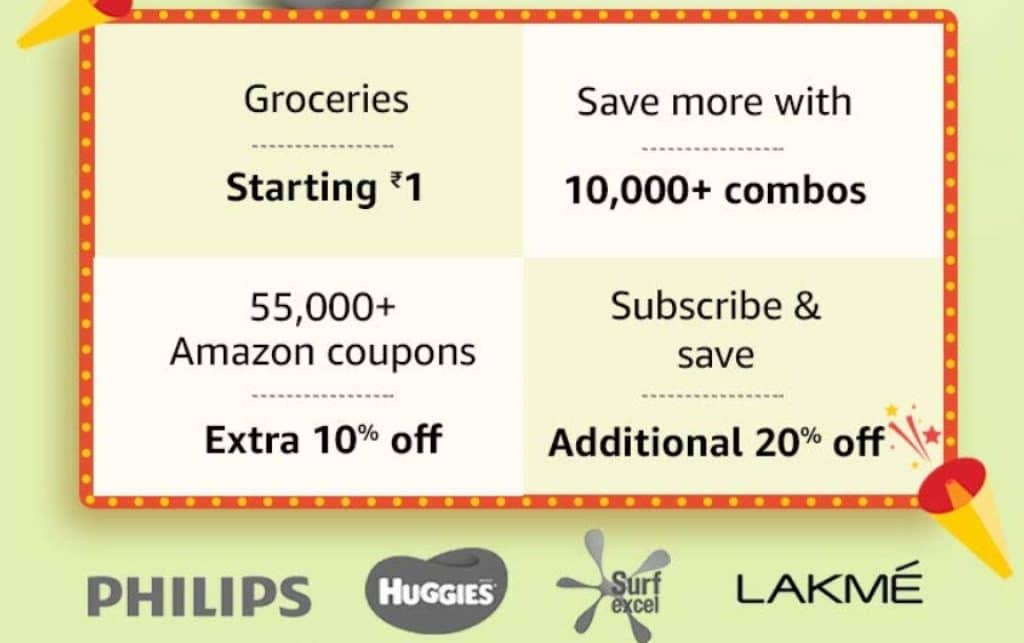 You also get up to Rs.300 cashback when you make any grocery purchase, which not a lot of e-stores provide you with. Let us not forget that you get 20% additional discount with subscription and coupons for this website. Brands like Philips, Ariel, Pedigree, Pampers, NesPlus, etc. are some of the proud product sellers on Amazon during this sale.
| | |
| --- | --- |
| Daily Essentials | Offer |
| Groceries | Starting at Rs 1 |
| Baby Essentials | Up to 55% OFF |
| Household Essentials | Starting Rs 99 |
| Skin & Hair Care | Up to 60% OFF |
| Daily Needs | Starting from Rs 99 |
| Sports Nutrition | Up to 40% Discount |
| Healthcare Devices | Lowest ever prices |
Nerdy Offers on Books, Entertainment and More: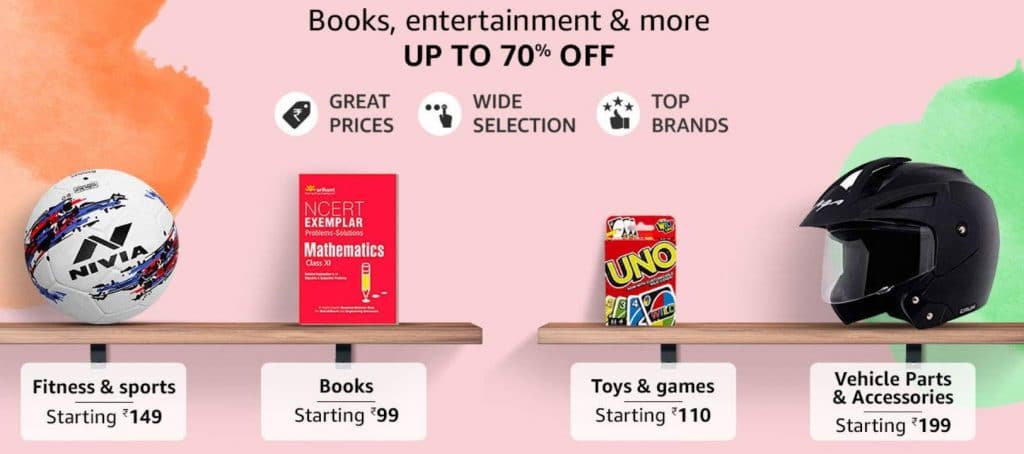 Do you like reading books? Do you find them way too expensive in land based stores? Are you looking for an e-store that can let you buy amazing books at affordable prices? The good news is that now you are eligible to get up to 60% off on books, entertainment and other such products that promise to bring happiness to your doorstep.
There are more than 15 offers under this section on 400+ brands! This means you get up to 60% off on more than 500 products! Brands like HERO, Disha, Arihant, Osram, Vega, etc. have collaborated with Amazon to bring amazing discount offers to customers.
Why discount offers on books? Amazon is promoting books to ensure that the youth is attracted to reading more and more entertaining novels and self-help work of their choice. That's not all – there are many other things to grab the offer on!
Unmissable discounts on Amazon devices

If you are a smart gadget enthusiast, then here's good news for you. Amazon has come to your rescue by introducing discounts and deals on a range of Amazon devices at Amazon Great Indian Sale.
Whether you want to gift your kid a kindle for his birthday or surprise your partner with an exciting amazon echo, you can have it all at discounted rates. During this sale, you can grab up to Rs. 5000 off on Amazon devices listed on the site.
There's a massive discount of 33% on amazon's smart speakers, 35% off on echo dot with a smart plug, and firesticks available at merely Rs. 99. Shocked, right? That's what this offer is all about. So, make a list of things you have been wanting to purchasing for the longest, and grab these discounts at the earliest.
All you gadget fanatics, you'll now be able save heavily by shopping on Amazon. So, what are you waiting for? It's time to have those devices and accessories for yourselves.
Grab the branded Amazon products at discounted rates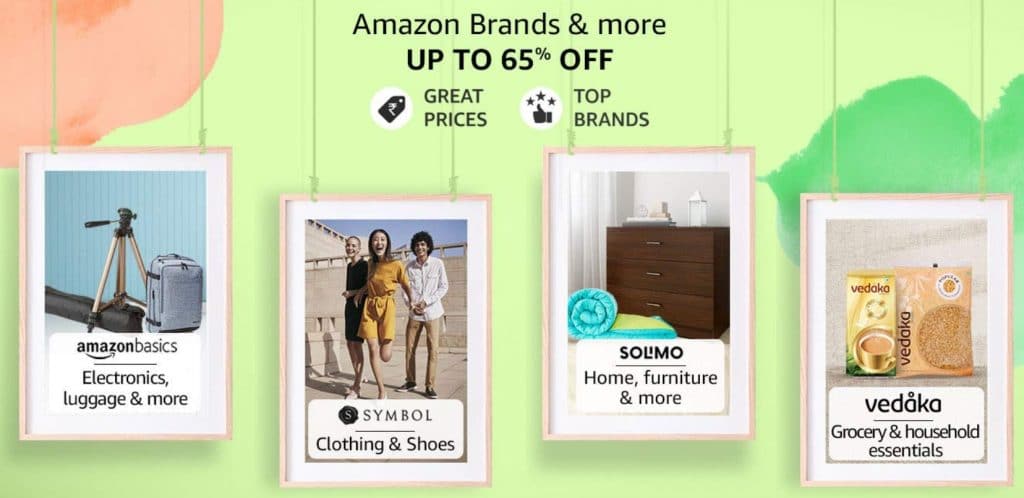 If you are wondering what range of products you'll get on this offer, stay stress-free. Whether you want a comforter, sports shoes, pressure cooker, or electronic accessories, there's a massive range that you can choose from. The best part – you'll find all these products at about 40-70% discount. Exciting, isn't it?
If you haven't yet shortlisted a new pair of casual shoes for yourself, pick one from Amazon's collection on their inhouse brand with up to 70% discount. Are you planning to go on a trip but falling short of a huge bag? Why worry when there's Amazon luggage available in different sizes, patterns, and styles at 60% off? Yes, you heard that right. We are all extremely conscious about certain equipments, for instance, a tripod. What if you find one from Amazon basics collection with a 60% discount? Wouldn't you grab it? Of course, you should, after all it's meant for you!
In this offer, you'll get products of some of the finest Amazon brands at great prices and variety. However, this offer is limited for a very limited period, so don't miss your chance of saving a bit on your online shopping.
Get Domestic flight tickets at discounted prices

We're sure you must be wondering how you can book flight tickets on Amazon. But yes, you can now fly within the country by booking tickets on Amazon and availing heavy discounts as a part of this offer.
Don't worry, your desire to travel and take a trip is now going to be fulfilled with Amazon Great Indian Sale. Under this offer, you can get up to Rs. 2000 cashback after booking your domestic flight tickets. Isn't that great?
The best part – you receive the cashback within 3 working days after booking your tickets. This cashback will be credited into your Amazon pay balance, which can later be used for purchasing other items. There are no additional charges or hidden fees besides the ticket cost, neither there is any extra cancellation penalty from Amazon over the airline cancellation fee.
If you are planning to make use of this offer, do keep in mind that the validity is once per user. So, don't miss your chance of saving while traveling.
Amazing Amazon Great Indian Festival Sale 2023 SBI Offer :
Are you a State Bank of India credit card holder? If yes, then you are in for some greater discounts and savings during Amazon great Indian sale in October 2023. Yes, as an SBI Credit card user, you are eligible for an extra 10 percent instant cashback on Amazon's mobile app, and up to 10% discount on all transactions done on the Amazon desktop site.
To avail this wonderful Amazon SBI cards offer, you need to have a minimum transaction amount Rs 5,000 in place. Here, the maximum permissible cash back is INR 1,500.
Exciting No Cost EMI and EMI on Debit Cards to make your Purchases Easy!

Don't worry if you are tight on budget. Do not stop making your dream wish list or online shopping plans on the Amazon Great Indian Sale. If you are still wondering why then do know that easy payment means are in store for you this season.
Even as you go about buying the things that you need, you can be totally relaxed with the thought that you can plan out your payments through No Cost EMIs and EMIs on your debit cards. Happy, eh?
Say, when you choose to opt for No Cost EMI on credit cards of major banks like HDFC, Axis, ICICI, etc. the interest amount applicable by the bank will be provided to you as upfront discount. This effectively means that the EMIs payable by you will be charged zero interest thereby making your payment process more economical and simpler.
The monthly installments will be computed as the total product price divisible by the number of months across which you choose to pay your EMIs. With zero additional charges, zero down payment and zero processing fee options, you can feel free to go about your buys with zero tension!
Do you have an HDFC, Axis, SBI or another leading bank's debit card? Are you looking for smart EMI options? Amazon India Sale facilitates the same for you as well. You can get up to INR 1 lakh as loan when you make your purchases at the much-awaited Sale – just shop till you drop and use your debit card to pay through easy EMIs.
What's more? Bajaj Finserv allows for zero cost EMIs on your purchase of smartphones, refrigerators, washing machines, televisions and other appliances. Are you ready to buy what you need? Do not worry about EMIs when you are shopping on Amazon India Sale – you will get the best returns without paying too much!
Here You Go With The Prime Exclusive Deals Just For You:
If you are an Amazon Prime Member, you deserve some extra treatment during the Great Indian Sale Period. Being a loyal customer of Amazon, you deserve something special and this is what Amazon is here for!
As a prime member, you are going to enjoy special deals on brands like FitBit, Adidas, Bose, Samsung, TCL, United Colors of Benetton, Puma, LG, Black and Decker, Biba, Levi's, Yamaha, Wildcraft and many more. This means that the offers are not only on fashion, but also on accessories and technological items!
Load Amazon PAY Balance and Get An Attractive Cashback Offer:
Wondering why you would ever wish to get into Amazon Pay balance and refill it over and over again? Firstly, you can checkout instantly since you don't have to re-enter your card details. Secondly, you can track the balance from any part of the world. Thirdly, if you want to return a certain product, you can get faster refunds sent right into your account.
Before the Amazon Great Indian Festival Sale Period, if you load your Amazon Pay balance with a minimum of Rs.2000, between 1st October 2023 (11:59 PM) to14th October 2023, you get 10% cashback! The maximum cashback per customer is Rs.200!
Don't miss your chance to collect offers for extra savings
What better than being able to save while shopping online? We are sure you don't want to miss this opportunity. If that is what you think, then keep an eye on Amazon Great Indian Sale and participate in this offer.

Here's your chance to collect the offers now, in advance, and use it later during the sale period. The best part about this offer is that once you place an order on Amazon during the Great Indian Festival sale, you'll receive the cashback in less than 72 hours.
Who must have imagined getting cashback in exchange of shopping on Amazon? Are you just as surprised as we are? Well, if that's the case, start making a list of things you want to order online so that when the time comes, you have everything handy. There's one thing you must note if you are planning to grab this offer – make your payment through debit/credit card or Amazon wallet because this offer is not applicable on cash on delivery mode.

By now, you should have an Amazon account, but if you don't, create one for some extra savings! We bet you'll not regret preparing for the sale in advance because the benefits you'll get later will be worth it. Shop till you drop and enjoy this experience.
With Amazon app, take home exciting prizes

We all love playing games, be it video or outdoor. What if you were told that you could win prizes on Amazon by playing games. Would you want to miss this opportunity? Definitely not, right?
During Amazon Great Indian Sale, you stand a chance to avail amazon app jackpot where you could win prizes worth Rs. 5 lakhs or more. Yes, you heard it right. To win this prize, it is not mandatory to purchase or make payment of any kind. Whether you purchase something or not, your chances of winning does not get affected in any way. The participants only need to sign up for the contest by downloading the amazon app.
The participants who answer the contest correctly will be randomly picked during the offer period. The winners can win either of these products – HP laptop, google pixel slate, JBL boom box, Nikon camera, iPhone xs max, or Fitbit. However, each participant will receive only one prize under this contest.
Excited to participate? Go, check out more details on the website and prepare yourself for this contest. It's a lovely chance to take home one of these products, free of cost! What more can you ask for? Go, grab the offer now!
Enjoy these offers on Amazon products and bring home some exciting products at reasonable rates. Happy shopping!
iPhone 12? Trip To Bali? Special App Only Deals Can Help You Win It All:
If you download the Amazon App right now and begin shopping using the same, you stand out from the crowd that uses desktop to purchase things that they need from this e-store. Since you don't 'fit into the crowd', Amazon, treats you in a much better way!
You have a chance to win an iPhone 12 (128 GB) or a trip to Bali. You just need to enter into the contest by accepting the Official Contest Rules. Make sure you read the contest eligibility requirements before you decide to get into this mind-blowing opportunity.
Please note that this opportunity can be grabbed during the most awaited Amazon Great Indian Sale Period only!
About Amazon India
Amazon India, one of the most customer centric online shopping companies in India, is a thriving marketplace that permits buyers to buy all that they require at the best possible rates.
Amazon.in takes pride in giving Indian shoppers much more than they demand: low prices, vast selection, reliable and fast delivery, convenient and trusted shopping experiences. Alongside, it offers all sellers an exciting world-class e-commerce platform to transact from for high profits. Committed to ensuring 100% Purchase Protection for all kinds of shopping episodes taking place onsite, Amazon.in allows users to leverage the benefits of secure online ordering experiences; convenient payment options like cash on delivery benefits, easy returns, reliable shipping, and so forth.
Amazon India was launched in the country with books, movies, and TV shows. Over the years, it has expanded its product base to include the Amazon Fashion Store, Kindle E-Readers, Samsung mobiles, Canon cameras, Dell laptops, Fastrack watches and lots more. With plenty of deals and offers to choose from, large savings comes naturally to shoppers on this site.
What's more? Customers love to shop for all products showcased at Amazon India via the Amazon App that is compatible for Android, iOS, and Windows alike. Overall, this shopping portal allows for convenient, fast and safe ways of searching online, browsing offers, comparing prices, and shopping quickly and easily, from anywhere and anytime.
Reasons to Shop at the Amazon Great Indian Festival Sale 2023
Every year, buyers wait expectantly for the Great Indian Sale organized by Amazon India, and this year is no different. Are you ready to enjoy the many attractions of the Great Indian Sale in 2023? Promising to be larger and more fun-filled than all other sales before, it will surely keep buyers glued to the Amazon India desktop site and its mobile application from 15th October 2023 to 19th October 2023, both days inclusive.
The biggest news is that this year's Amazon Great Indian Sale is reported to encompass more dealers and product categories than last year; so, get set to avail the most popular offers on the Amazon Sale , you will be glad to gain a head start before all others!
The major Indian e-commerce Amazon.in is all set to throw open the curtains of this exciting Sale from 15th October 2023. The Amazon sale will last for four full days and has months of preparation behind it for bringing a vast range of products and the maximum savings too. All prepped to grab the attention of online shoppers and dealers, media personnel, and others, the 'Great Indian Sale' promises to cater to the ever-increasing festive season demand that has taken over India in the 2nd week of October 2023.
The good news with regards to this Amazon Sale is that it does not only plan to lure customers with lucrative deals and offers, it also has a solid ground strategy in place to ensure reliable payments and the timely delivery of all goods. Some of the main reasons of shopping on the Great Indian Sale on Amazon are given below.
1. Amazon India has tripled its warehousing capacity since last Diwali. With extended space of five million cubic feet to its credit, it is fully equipped to handle all kinds of online transactions with flair.
2. Amazon has up to one million products in store for next day delivery. As it will be locking horns with India's largest retail rivals online, yes, both Flipkart and Amazon will be triggering off their high-voltage festive sales in September, it has ensured the ready delivery of all products, and more!
3. Amazon India has been making preparations for this mega sale for months. It has enrolled a host of product selections and vendors for this purpose. Now, more than 50,000 sellers have queued up to participate in this mega event. Enjoy!
Popular Offers on The Amazon Great Indian Festival Sale 2023

Popular Searches on Amazon.in Great Indian Sale includes offers on:
Mobiles: The vast range of mobiles that are available at discounted prices include the iPhone 12, iPhone 13, iPhone 14, Redmi Note 11 Pro, Honor 10X, Motorola Moto G9, Redmi Note 10 Pro, Oneplus 9 Pro, Samsung mobiles, Sony mobiles, Nokia mobiles, Micromax mobiles, Lenovo K9, OnePlus 8, HTC Mobiles, and so forth.
Electronics: Buy HP laptops, Dell laptops, Acer laptops, Bose audio, Sony audio, Canon cameras, Nikon cameras, Sony cameras, Lenovo Phab+, Mi pads, Micromax tablets, and so forth at a discount.
Daily household products: From Dove shampoos, L'Oreal Paris, Whisper, Philips Shavers, Gillette, Fisher Price games to Lego toys, Hamleys, Whey proteins, etc. this Sale has it all.
Watches: Avail big offers and deals on Casio watches, Titan watches, Fastrack watches, Timex watches, Maxima watches, Fossil watches, Citizen watches, Sonata watches, Tommy Hilfiger watches, etc.
Shoes: If shoes and other types of footwear is what you wish to buy at the Great Indian Sale by Amazon, then you are in luck too. Buy Bata shoes, Woodland shoes, Fila shoes, Crocs shoes, Nike shoes, Adidas shoes, Puma shoes, Reebok shoes, etc and enjoy large savings.
Lifestyle: The branded lifestyle products at discount during this Sale includes Fastrack bags, and a wide range of products from Baggit, Hidesign, Ray Ban, VIP Bags, Da Milano, American Tourister, etc.
Apparel: Along with casual and formal shirts, you get to buy sarees, salwars suits, denims for men and women, men's polo shirts, capris, and clothes for children at a discount.
With so much and more in store, you will love to shop till you drop at Amazon India Great Sale 2023. Start preparing a list of all the items that you have been wanting to buy for your personal collection, gift to loved ones, or resell on your own e-commerce portal.
With the right research and loads of discounts in store, you can be assured of gaining a lot of mileage right away. Grab the electronics, fashion accessories, apparel, mobiles, TVs, large and small appliances, and everything else that your heart desires – you will surely love to buy the goods of your choice here!
Happy shopping!!!