Take a glance at the Best Solar Inverters in India in 2023 which are bound to bring your monthly electricity costs down!
In this article, we will be mentioning in detail the top 8 best Solar Inverters in India in 2023. Everything from how they work, which solar inverter is the best for what purpose, and a quick highlight to each inverter. Before we jump into this list let us give you a brief about solar-powered inverters.
Solar inverters help convert the DC or direct current output of a solar panel to an AC or alternating current. This leads to the functioning of a commercial electrical load or grid. The inverters have functions with respect to photovoltaic arrays. The solar inverters are an efficient, environment-friendly and conscious device that leads to less consumption of energy with higher output.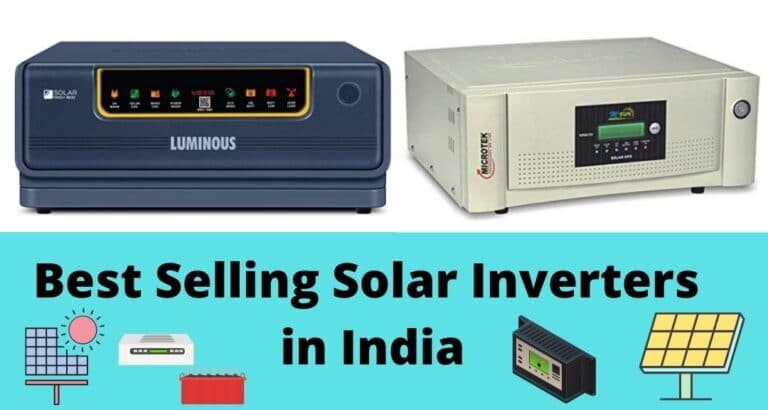 This is an individual step to help preserve the environment from further degradation. As battery-powered inverters generate a ton of e-waste. Their batteries, wires, cells after a period of time cannot be used again and have to be thrown out. While petrol-powered generators tend to create a ton of air pollution which harms the environment. To avoid pollution of any sort and get a good return for your money it is suggested that you opt for a solar inverter.
A listicle of the best solar inverters in India 2023 :
To make your purchasing easier, here is a detailed list of the best solar inverters in India. This is a hand-curated list of the top-performing solar inverters according to the Indian customer population. Each of these inverters have received a ton of good reviews. However, in the end, it is your call to decide which inverter best suits your needs.
1. Luminous Solar Inverter NXG1400 12 Volt Home UPS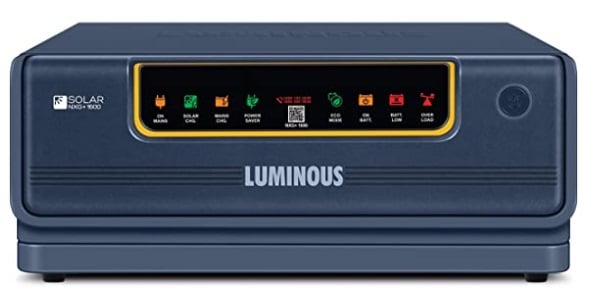 The best solar inverter in India in 2023 is the Luminous Solar Inverter NXG 1400. When purchasing something as crucial as an inverter, it is extremely important that you select a brand that has a reputation of fulfilled promises. The Luminous segment of solar inverters is one such brand that offers great inverters to meet domestic needs.
This Luminous Solar inverter has high-quality features that are great and stand true to the company's name. This inverter comes with incorporated charge controllers. This feature helps to saddle up or generate solar energy and activate the required appliances.
This controller also helps to charge the batteries quickly and easily make them ready for use. Another great feature is once the batteries are charged it moves away from the source leading to the maximization of solar energy.
The Luminous Solar inverter also comes with i-charge technology which helps with the quick charging of the device. The switch has to be turned on manually, however, the power-saving mode is shut-off while the i-charge is on.
Talking about consumption and saving, the Luminous Solar Inverter NXG 1400 saves around 3 units on a daily basis.
The safety features incorporated in this solar inverter are integrated with the aim of protecting batteries from overheating, over-charging and short circuits. The main fuse is there and helps against excessive current. The Luminous Solar Inverter NXG1400 12 Volt Home UPS is a completely noiseless device.
This amazing solar inverter is priced at INR 9500+ in India.
I-Charge Technology
Integrated Safety Features
Incorporated Charge Controllers
2. V-Guard Smart Pro 1200 S Solar Inverter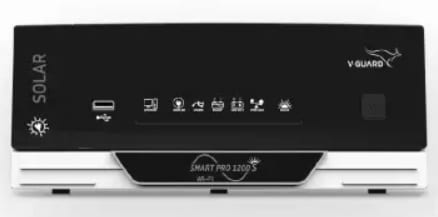 One of the best solar inverters brands in India is V-Guard. It is another one of the most reputed brands in the country. Hence, trusting it with something as important as an inverter is completely worth it.
In this day and age, we like to opt for something that is fully automated and at the touch of a button. Imagine operating an inverter through an app on your phone. This is true and you can purchase such an inverter in India. The V-Guard Smart Pro 1200 S Solar Inverter can be operated through its mobile application that can be downloaded on your phone.
This inverter clearly stands true to its name. The V-guard application displays the backup time, plays with different modes, checks for power cuts and looks out for the battery for an extended lifespan.
The application also alerts about the Battery Topping Reminder. This is when the distilled water has to be refilled to maintain the batteries. The battery recharge time varies from 8-10 hours. It relies on the capacity and charging selection of the batteries. It weighs around 9.6 kgs and can run up to 1000 Watts including the burden of heavy appliances.
A bonus feature about this device is that it has 30% faster turbocharging. Another feature is the holiday mode. When activated, it keeps the device charged and ready upon your arrival from your holiday.
The V-Guard Smart Pro Solar Inverter is incorporated with pure sine-wave technology for maximum efficiency. This ensures that there is less power consumption and a hassle-free, noiseless process with a longer battery life of the appliances.
As mentioned before, V-Guard is a trustable brand. When you are paying the big bucks and purchasing something like an inverter, you expect perks and more. The brand offers free installation of the device and customer support across the country. In case, you find yourself confused about the inverter or it breaks down at some point, you can simply opt for their amazing customer support.
The V-Guard Smart Pro 1200 S Solar Inverter costs about INR 8000+ on online platforms. It is also available on the v-guard website. This is a value for money for a device that comes with an array of features.
Mobile Application to work the inverter
30% faster turbocharging
Holiday Mode
3. Luminous Solar hybrid 1100/12V Home UPS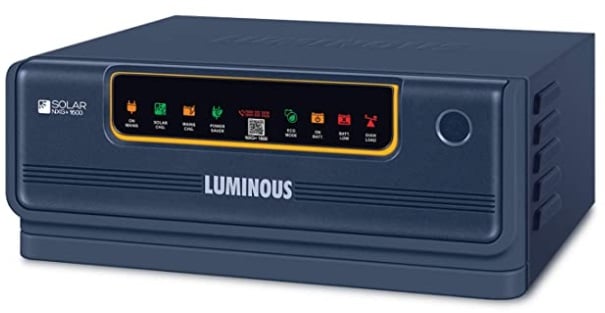 The best solar hybrid inverter in India is the Luminous Solar Hybrid 1100. Luminous is a reputed Indian brand that is known for its variety of electric and power appliances. The brand is widely known and develops quality devices that have a good lifespan.
The Luminous Solar hybrid 1100/12V Home UPS is one solar inverter that has made electrical consumption and distribution simpler. This device is like the above-mentioned Luminous Solar Inverter NXG1400 in terms of some of its features. Like the mentioned device, it comes with integrated charge controllers that help with generating power for the appliances.
The best quality is the Intelligent Solar Optimisation Technology (ISOT). This uses solar energy to its fullest, charges from the main source and saves up to 1-3 units daily. With such units being saved on an everyday basis, your electricity bill is bound to be lower than usual.
This home UPS also comes with the i-charge technology. In case, your locality witnesses power cuts, then this technology saves you from suffering through the power-outage. The i-charge technology helps your inverter charge fast; however, the power-saving mode is turned off while the i-charge operates.
This Luminous home UPS has two modes that are, the ECO mode and the UPS Mode. Talking about the safety and security of the device, it has precautionary in-built features that help with the protection of its batteries.
It prevents overheating, overcharging and short circuits. It is a noiseless device and conducts its operations in a systematic and hassle-free manner with pure sine wave technology. All these features make the Luminous Solar Hybrid 1100 one of the best solar inverters in India 2022 for home.
The weight of the device lies around 11.5 Kgs and comes with a 24-month warranty. This is an ideal choice for homes and small shops or stores. It is priced at INR 6900+ which is a fair deal as it comes with an amazing set of features.
Intelligent Solar Optimisation Technology
i-charge Technology
In-built Safety Protocols
4. MICROTEK M-sun solar inverter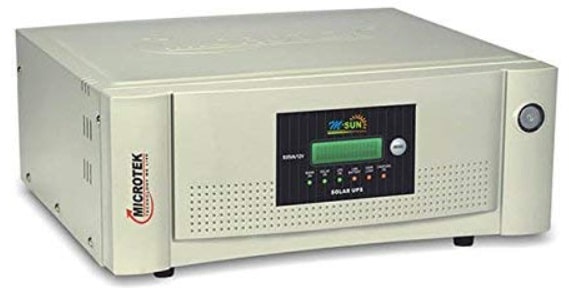 Another one of the best solar inverters in India 2023 is the Microtek M-sun solar inverter. Microtek is a renowned and well-known brand in the country. The brand is applauded for its legacy, maintenance and quality power and electric products. It has many products that come with power-saving solutions, voltage solutions and solar energy amongst others.
One such product of this brand is the Microtek M-sun solar inverter that is a great option for domestic purposes. This solar inverter comes with the microcontroller DSPIC Intelligent Control Design which is great technology and helps with the elongated lifespan.
It also has an LCD display the screen which shows certain parameters like the status and fault along with input and output voltage. This inverter has a well-integrated safety and protection protocol which fully protects from overheating or short-circuits.
It also has a sensory overload feature to prevent overload of energy demand on the device. It is designed in a manner that the energy is fully utilized. If too much solar energy has been generated then, it is used to charge the batteries and redirect the energy to the main load. This way you save up on your electricity bills remarkably.
This Microtek solar inverter comes with a grid changing feature that allows it to disable and enable as and when required. The grid is disabled during a power cut automatically. It also has an auto-reset feature. This is a great inverter for the home front as it promises high performance, saves up on electricity and hence, leads to reduced bills over time. It uses the pure sine wave technology leading to low to nil noise during its operations.
The Microtek M-sun solar inverter weighs around 10 kgs and is designed sophisticatedly. It is a popular device and is easily available in markets. The Microtek solar inverter is priced at INR 5700+.
LCD Display
Grid Changing Feature
Auto-reset Feature
5. Smarten Superb 2500VA Solar PCU Inverter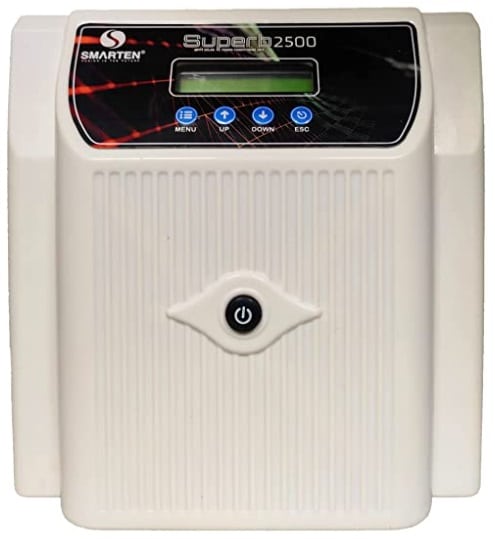 The best mppt solar inverter in India is the Smarten Superb 2500VA Solar PCU Inverter. One might not stay up at night fretting about electricity bills but what if we tell you that a technically advanced Superb Solar PCU inverter can save around 5 units of electricity on a daily basis and provide you with total clean energy.
This Solar inverter has the most advanced features in the market right now such as selectable 4 levels for battery's depth of discharge, an exciting LCD display and an advanced DSP controller for efficient working.
This solar inverter more efficient than the usual inverters with a reliable independent charger to recover a deep discharge battery. This feature will help the inverter to not run out of battery even while it is getting charged and provide the house with clean energy simultaneously.
Talking about safety and protection, it has phase-to-phase protection in its main mode, a heat sink capacity of 100 degrees Celsius, and a fuse that helps in case of excessive current.
The Superb Solar PCU inverter is a low maintenance product, with triple protection with low voltages charging and efficient power output on which you can rely upon.
The Smarten Superb 2200 inverter (1100va- 5.2kva) comes with a complete sine wave technology and is safe for the environment.
LCD Display
DSP Controller
Sine Wave Technology
6. Luminous Solar NXG 1100 Inverter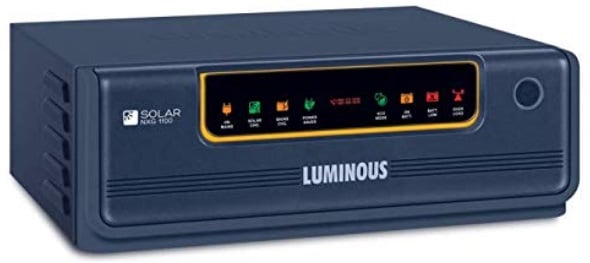 Another one of the Best solar inverter companies in India, Luminous's inverter has made it to our list. We are talking about the Luminous Solar NXG 11000 inverter. As stated above this company is well-known across the country.
The brand has a variety of power types of equipment ranging from cables and wires to inverters and solar energy devices up on sale. Using solar energy not only saves up on the electric bills but also is environmentally friendly and a smart choice.
In this modern era when we are already living in a degraded environment, it calls for smarter consumption and usage patterns. Inverters like the Luminous Solar NXG 1100 inverter helps to make the situation better. It maximizes solar usage and drives electricity to the appliances.
This range of products come with pure sine wave technology leading to noiseless operations which are foolproof up to 80%.
The grid is disconnected once the batteries are fully charged and then power is supplied with the help of the panels. It also has the i-charge technology that assists with fast charging; decreasing the charging time by 30-40%.
The Luminous Solar NXG 1100 is most effective in areas that witness frequent power cuts. When using the device on the i-charge mode, the power-saver mode is deactivated for faster charging.
The features also include the battery type selector that is used to figure out the charging currents. It has and supports a single battery. The voltage used is around 12V and saves around 1.5-3 units on a daily basis. This leads to a low electricity bill and less power consumption.
The Luminous Solar NXG 1100 inverter is around 11.5 kg in weight and is priced at INR 7000+ on the Amazon India website. It is readily available on all online platforms selling such items.
i-charge Technology
Integrated Safety Protocols
Sine Wave Technology
7. ZunSolar 1050 VA Pure Sine Wave ZRi PWM Home Inverter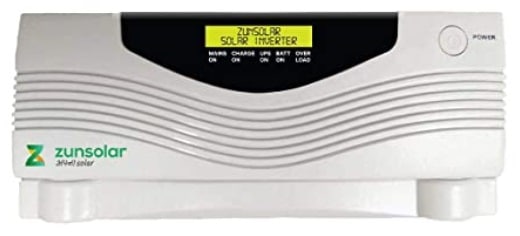 Another one of the best solar Inverter for home in India is the ZunSolar 1050 VA Pure Sine Wave ZRi PWM Home Inverter.
There are certain products which a house needs in order to be called complete and ready to be inhabited by its occupants who would want to lead an uninterrupted and comfortable life, well, of course, that's the bare minimum for something such as a home to have.
One such essential requirement in today's times when we are so dependent upon power and backup of power is an inverter, the complete package of backup which is reliable and proves to be a one-stop solution for the segment.
ZunSolar 1050 VA Pure Sine Wave ZRi PWM Home Inverter is that one-stop solution that safeguards the argument of providing power backup to your house. It comes with various impressive and attractive features such as having an in-built charge controller and its compatibility with solar units makes it not only cost-effective but also makes it environment friendly.
With the same in mind, this ZunSolar inverter boasts of superior storage space and a long run time in case of power cuts. While also completing the set by providing ultimately fast charging. This device comes as light as weighing just 4kgs and delivering a good 40 Ah, 130-280 volts, it is in itself a smart device which can properly know when to charge that too in limited time and hoard the backup for whenever the user needs it to be used.
On the lines of saving your money, contributing your bit towards the environment on the basis of charging using the solar panels and helping you save electricity with proper usage report of the activities, safe to say again that this is the one-stop solution for your electricity backup problems.
In-built charge controller
Compatibility with solar units
superior storage space
8. UTL Heliac Pure Sine Wave Solar Inverter
The last best solar inverter in India on our list is the UTCL Heliac-1200/50A Pure Sine Wave Solar Inverter.
The environmental crisis calls for us to be responsible in terms of our behavior and lifestyle. Each factor when weighed in, causes problems to the environment. The car you drive, the deodorant of your choice or any other device may be causing problems to the environment. It is a must that we check the product whether it is environmentally cautious and only then make the purchase. Inverters are a necessary item especially in areas that experience frequent power cuts.
UTL Heliac solar inverter is a great choice for inverters at homes. The batteries are charged by solar energy as well as grid power. The solar energy charges the load and the battery. Later on, if required, it uses the government provided electricity.
This inverter weighs around 11kg and the voltage ranges from 850VA to 3500VA. Some of the features offered by the Heliac solar inverter are solar charge controller, LED indication, a colorful LCD display, maximum preference to solar energy gathering, built-in IT mode etc.
Heliac solar inverter comes with unique features. This inverter can be operated with or without solar panels. It can also be used as a normal inverter without the usage of solar panels. This makes the inverter dual quality. The Heliac inverter has features that are smart and recognise the battery that is connected.
The auto-adjusting feature checks the battery type and thereafter, charges, as per the need. The safety and protective gear are vastly integrated with the Heliac PCU.
The DG output frequency is one that differs and if the DG is enabled, then it goes with input frequency, very well. The UTL Heliac Pure Sine Wave Solar Inverter is priced at INR 7200+ and is available on Amazon India and other online websites as well as local markets.
LCD Display
LED indication
Built-in IT Mode
Why should you buy a Solar Inverter? – Benefits of Having a Solar Inverter
It is valid to ask such a question when you have been using a regular inverter for ages. So why make the change, right?
Let's look at the benefits of purchasing a solar inverter:
How should you buy a solar inverter? – Solar Inverter Buying Guide
Now that we are clear with why you should choose a solar inverter over a normal inverter. Let us guide you in how you will purchase the best solar inverter for yourself. Refer to the points below.
a) Type of Solar Inverter:
Solar inverters are of many types, which one do you prefer: – Battery (Off Grid) Inverter/Without Battery (On Grid Inverter)/Hybrid Inverter.
b) The technology of Inverter:
Then you have to decide on the technology: – PWM or MPPT. PWM inverters are basically "An inverter whose functioning relies upon the pulse width modulation technology". A MPPT inverter is a DC-to-DC converter and the full form of it is "Maximum Power Point Tracker".
c) Place of Usage:
The next criteria you have to consider is where you will be using this inverter. At your house, office, school, college, clinic, etc.
d) Power Consumption:
Then take into consideration what is the power consumption of the area you want to place your solar inverter. Is it greater than 1/2/3/5 KWH? Accordingly, you can select one inverter.
e) Voltage Requirement:
What is the voltage required by the area in which you will be placing the inverter? These inverters mostly come in 3 variants- 12V, 24V and 48V.
f) Cost
The last yet main part of buying an inverter is the cost or your budget. How much is your budget? How much are you willing to spend on a solar inverter?
It is when you have the answer to all these points that it will be easy for you to pick one single solar inverter which will best suit your needs.
Here Are Some Frequently Asked Questions About Solar Inverters- FAQs
You may be having some questions regarding the following topic. These questions may be clouding your judgment when making a purchase. To make your buying process simpler, let's answer some of the commonly asked questions about best inverters in India–
Which is the Best Solar Inverter in India in 2023?
A detailed summary of the Top 8 solar inverters in India in the year 2022 has been provided above. Each inverter comes with a unique set of its own features. You will definitely find an inverter that fits the house or any other place you opt for the best. However, our say is that the Luminous Solar Inverter NXG1400 12 Volt Home UPS is the best solar inverter in India in 2023.
Which is the best solar inverter brand in India?
India has some of the best brands that work and deal with such products as Luminous and Microtek amongst others. Each of these brands has inverters with the best features that will fit your needs.
How long do solar inverters last?
Inverters have a lifespan of up to 10-15 years.
Do solar inverters need maintenance?
Yes, make sure your inverter is not overly heated and overworked. Keep it clean and dust-free. If it is acting in an unusual way, check for it.
Concluding Remarks on The Best Solar Inverters in India
A Solar inverter is a great investment and helps with the environment as it uses clean air to conduct their operations. It is also great for reduced costs in terms of electricity bills and also uses less consumption of electricity.
We have to be careful about our purchasing and consumption habits for the future. The ongoing crisis to protect the environment against further degradation calls for not only governmental aid but also community and individual support. Items as small as deodorants affect the environment negatively.
Imagine, something as heavy as an inverter and its effect on the environment. Hence, we must use our better judgment and opt for those inverters that help us preserve the environment. This article has given a detailed insight into the best solar inverters in India.