Avail Make My Trip Bank of Baroda Offer today and get best benefits on flights, hotel bookings and train tickets. Use your Bank of Baroda credit card to avail the benefits.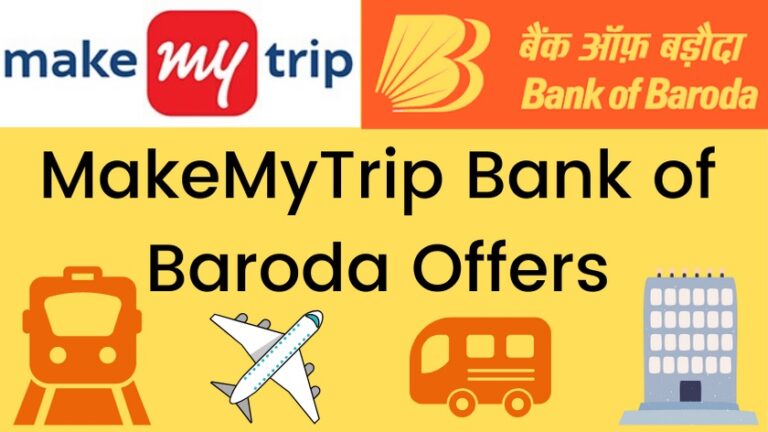 Knocking yourself out at work? You definitely need a break. And with the best offers from MakeMyTrip, you do not have to dent your bottom line. The online travel giant has now collaborated with Bank of Baroda to offer users discounts of flights, trains, and hotels to make travel cheaper and easier for all. The discount offers are available to all BOB credit card holders which means that if you are a loyal BOB customer, you have huge benefits coming your way.
MakeMyTrip Bank of Baroda Offers & Coupons 2022:
MakeMyTrip is one of the leading online travel companies in India that makes travelling hassle free. From flights to train and bus tickets, from hotel reservations to travel packages, you can have it all at your fingertips with MMT. And now that you can avail the Make My Trip Bank of Baroda Offer, it would be wise to make the most out of it. So, let's see what MMT and BOB has in store for you:
| | | |
| --- | --- | --- |
| Category | Minimum Booking Value | Maximum Discount |
| Domestic Flights | NA | Rs 1500 |
| International Flights | Rs 10,000 | Rs 7,500 |
| Domestic Hotels | Rs 2,000 | Rs 10,000 |
| International Hotels | NA | Rs 25,000 |
| Trains | NA | Rs 100 |
1. Fantastic deals on Domestic Flights
Whether you want to enjoy snowfall in Himachal Pradesh or explore the beaches of Goa, now is the perfect time to do so, especially when you can avail bob credit card offers on domestic flights from MakeMyTrip. To make your travel more pocket-friendly, MMT is now offering a flat discount of 12% on domestic flights. The discount value is capped at INR 1,500 and is available only for BOB credit card holders.
The offer is applicable only on bookings made on Sundays between 5th January and 29th March. Users can add code MMTBOB while booking their tickets to enjoy the discount. It is important to note that the discount can be availed only when bookings are made via MMT official website, mobile website, and mobile app (iOS and Android only).
2. Save more when you book International Flights via MakeMyTrip
Not only domestic flights, MMT has also made international flights cheaper. All international flights booked between January 5th and March 29th, will be eligible for an instant discount of 10%, not exceeding INR 7,500. BOB credit card users will only be eligible for this offer. The bank of baroda offers on flight booking is applicable only on transactions of INR 10,000 or more.
Users can book their tickets on Sundays using the coded MMTBOB to enjoy this offer. Transactions made through the MMT app (iOS and Android) and MMT website (desktop and mobile) will be eligible for this offer on the select days. So, whether you want to go to your favourite beach Thailand or explore the treasures of Turkey, MMT is your go-to travel partner.
3. Get the best Domestic Hotels at MakeMyTrip
MMT doesn't only help you reach your favourite destinations, it also ensure comfortable and hassle-free stays. You can book hotels that meet your preference and fit your budget at MMT. And thanks to the latest Make My Trip Bank of Baroda Offer, users can get an instant discount of 35% when they book hotels via the MMT official app or website.
Credit card holders from BOB can avail a maximum discount of INR 10,000 by using the code MMTBOB while booking hotels in India. Bookings should be done on Sundays between January 5th and March 29th of this year, i.e. 2020. Minimum transaction amount to be eligible for the offer is INR 2,000. So, you do not have to worry about accommodation, wherever you go.
4. Find International Hotels within your budget with MMT
Not sure where to stay when you travel aboard? MakeMyTrip has got you covered. MMT has collaborations with the best hotels across the world. Booking a room via MMT is super easy and hassle-free. MMT takes care of your pocket as well. Bank of Baroda users holding credit cards can now get discounts on booking international hotels via MMT. If this is the first time that you are booking an international hotel via MMT, you get a fantastic 30% discount. If you are a regular, you still get a 25% discount.
A maximum discount of INR 25,000 can be availed via this offer. Users need to add the code MMTBOB while making payment via the MMT app or website. This discount is available every Sunday between 5th January and 29th March.
5. Train Travels become cheaper with MMT
Now you can save more when you book train tickets via MakeMyTrip. The travel company is offering a flat discount of 20% on train bookings made between 1st January and 31st March via the official app and website. The offer is only for Credit Card holders of BOB and they can use the code TRAINBOB to get the discount. The maximum discount amount is INR 100.
How to Avail Bank of Baroda Offer on MakeMyTrip?
Now that you about the MakeMyTrip BOB offer 2022, it is time to know how to use the offer to make great savings. So, here's what you can do to get the offer before it expires:
Login to your account at MakeMyTrip via the official app or website on a Sunday with the offer validity period.
Book your hotel, train journey, or flight as needed.
On the checkout page, add the e-coupon MMTBOB.
Click on Apply to get the discount.
The discount will be deducted from your cart value.
Make payment via BOB credit card.
That is all. You will have your accommodation or travel booked at a discounted price. As simple as that!
What do you need to know before availing Make My Trip Bank of Baroda Offer?
The offers from MMT are really mouth-watering. But before you jump into booking tickets and hotels via MMT, here's what you need to know:
Why book hotels and tickets via MakeMyTrip?
MakeMyTrip is a leading travel company in India and has collaborations with thousands of hotels, villas, apartments, and more in India and abroad. Not only that, you can easily book air tickets, train tickets, bus tickets, and cabs via MMT at affordable prices. It takes out the uncertainty that you may face at a new place. MMT guarantees that your travel is safe, secure, hassle-free, and enjoyable. MakeMyTrip allows you to choose the best accommodation and suitable travel options within your budget. With easy-to-book facilities and a great support system, MMT ensures peace of mind whether you are travelling within India or abroad.
Make the most out of MMT Bank of Baroda offer
Whether you are travelling for leisure or business, these incredible offers from MakeMyTrip are surely going to make your day. Availing these offers is super easy if you have your Bank of Baroda credit cards with you. So, what are you waiting for? Come Sunday, login to your MMT account via the official app or website and book your hotels and tickets at a discounted price.
Don't have a Bank of Baroda credit card? No worries. Make My Trip HDFC bank offers are here for you. You can use your HDFC credit card to avail discounts on domestic and international hotel bookings and domestic flights. So, it's time to save on every booking you make via Make My Trip.