Getting the best offers has become easier with the list of Amazon ICICI Bank Offers for July 2023! Now get bigger cashback & free vouchers at Amazon with ICICI debit & credit cards!
If you are searching for discounts and good offers on electronics, mobile phones, fashion accessories, garments, etc., then you have got to pick the best Amazon India ICICI offer of 2023 for yourself from the list.
Just like the other e-stores keep competing with each other, Amazon has always been doing something or the other to ensure to be ahead in the race of stiff competition.
As a customer, there are hundreds of reasons for you to shop from this e-store, especially because of high quality products and good services of the website.
You find it easy to trust the name of Amazon because it has been serving customers like you since quite some time now. Thus, you can shop for everything and anything that you want to, without worrying about what you are investing in.
Best Amazon ICICI Bank Cashback & Free Voucher Offers 2023:
1. The Fascinating Amazon ICICI Bank Prime Day Sale Offer 2023

Amazon ICICI bank cashback offer is not something that you get to enjoy everyday; it is something that comes rarely, but when it comes, more and more people are benefitted from it.
There is an exclusive offer for ICICI bank debit and credit card holders during Amazon India Prime Day Sale 2023. You just need to buy the products using your ICICI debit or credit card and you would get 10% instant discount on all transactions from 15th July to 16th July 2023 .
This may sound like a simple offer to you, but it means a lot since a lot of people buy expensive products also. Thankfully, they can now save at least a certain amount of money by taking advantage of this Amazon Prime Day Sale ICICI bank cards offer in 2023.
You just need to note that the minimum transaction amount has to be Rs.5000 and when you make the payment, you enjoy the discounted amount. You get a discount for a maximum Rs.1500 so make sure you reap the benefit of purchasing everything that's mentioned in your shopping list.
2. Awesome Super Value Day Amazon ICICI Bank Offer: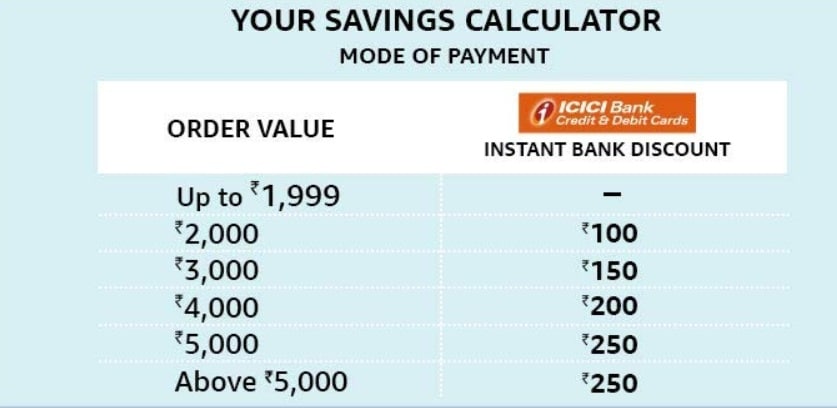 Super Value Day is something that makes you go gaga over Amazon since this is the only e-store that has this concept. You can save a good amount of money on everything that you purchase and thus, most of the people wait for this special day so that they can buy good stuff for themselves. With the help of the popular Amazon ICICI bank cashback offer, you can now get more on this day!
Now you can not only save a huge amount of money because it is the Super Value Day, but also because of the ICICI Amazon offer.
| Minimum Order Value | ICICI Bank Offer Cashback |
| --- | --- |
| 1500 INR | N/A |
| 4000 INR | 200 INR |
| 6000 INR | 250 INR |
Amazon super value day offer can now get you up to Rs.250 cashback at Amazon.in! You just need to use your ICICI bank credit or debit card when you need to checkout with the products that you want to purchase, own and use for a better lifestyle.
On minimum bill amounts of Rs.2000, Rs.4000 and Rs.5000, Amazon gives you a cashback of Rs.100, Rs.200 and Rs.250, respectively. However, if you use your ICICI bank debit or credit card, you get Rs.100, Rs.200 and Rs.250 additional cash back, respectively.
Please note that this Amazon ICICI Bank Credit and Debit Cards offer is valid from 4th July 2023 to 7th July 2023 only.
3. Let's Check Amazon Offer on ICICI Bank Credit & Debit Card EMI

Even if you go for EMI transactions, you can enjoy 5% cashback offer when you use your ICICI bank credit or debit cards to shop from Amazon. This means you can not only use your very own ICICI card but also your family members' (if they have it too) and enjoy this offer in a much better way.
The only condition is that this Amazon ICICI credit & debit card EMI offer is valid on purchases of or above Rs.8,000. You can get up to Rs.1,500 cashback. Please note that this offer is valid during the period – 20th of June to 25th July.
4. Shopping? Now Get An Amazon Gift Card Worth Rs.100 FREE:
ICICI Bank has come up with another brilliant idea to give the best offer to its internet banking, bank iMobile app and m.icicibank.com users! You get an Amazon gift card free worth Rs.100!
You have to visit the internet banking website – m.icicibank.com, login into your internet banking account, do the financial transaction and enjoy the discount of Rs.100! All you have to do is remember that this offer is for the first 200 customers only and not for everyone.
Please note that this offer is valid on the first financial transaction that you make with your ICICI bank iMobile app or internet banking or on m.icicibank.com.
You have to rush up to use this offer since it is valid from 1st January to 30th December ONLY!
5. Mega Offer For Digital Banking Users:
The Amazon ICICI coupon that you need to use for this offer is something that people have always been waiting for!
This Amazon ICICI offer allows you to get Rs.350 off, along with a chance to win JBL Bluetooth speakers! Happy knowing about the offer, already?
ICICI bank has come forward with something that its customers may have never heard before; if you make digital transactions on Amazon with your ICICI bank internet banking facility, whether you use the mobile app or the website for shopping, you are going to enjoy the offer for sure.
That's not all – this offer is valid on iMobile app and m.icicibank.com too! All you have to do is use this offer before it expires or the others grab the opportunity way before you do.
But how do you get the opportunity to win the JBL speaker? In order to get Rs.250 off, you have to pay at least one bill, get your prepared devices recharged and then send the money to a few of your loved ones. In order to bang the speaker, you have to be in the top 30 users who have made the highest number of transactions for the month!
Please utilize this offer between the 6th of January to 31st of December.
6. Shopping For The First Time? Special First Transaction Order on Internet Banking: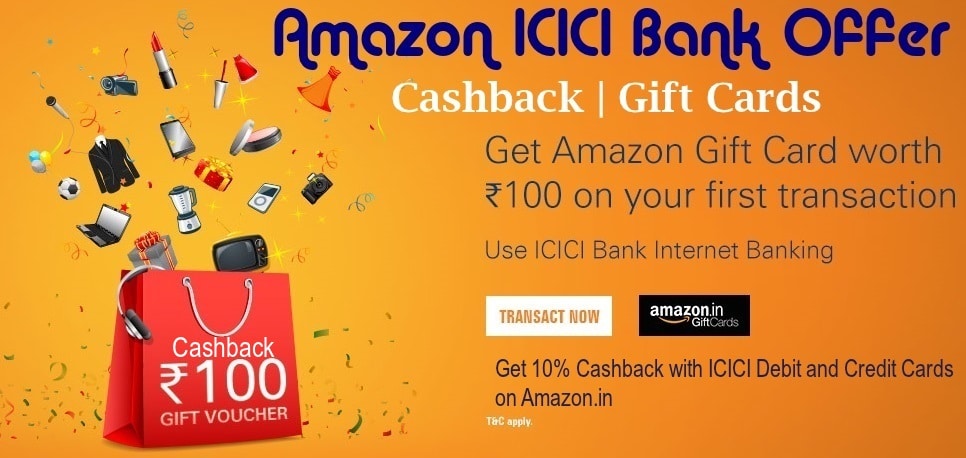 This special ICICI net banking offer is something that is going to blow your mind with its awesomeness – you need to visit the Amazon.in website, select all the products of your choice and then make the payment with the help of internet banking facility of ICICI. You don't have to remember any code for this offer; you just need to make the payment with the internet banking facility and you would be provided with Rs.100 cashback.
How do you get the cashback done?
Rs.100 is automatically credited into your Amazon.in account, which means you can use it anytime in the future you want to. Where would you get an offer like this? Only when you combine ICICI with Amazon!
Hurry before it lasts!
7. Time To Pay Bills With The Amazon Gift Card Worth Rs.100:
Presenting a lovely Amazon ICICI offer for you in which you can pay your electricity bill, gas bill, refill your prepared mobile or DTH, credit card bill or even shop online!
Under this ICCI Amazon gift card offer, you get an Amazon gift voucher worth Rs.100 JUST LIKE THAT! However, this is only for those who get into their very first internet banking process. If this is your first transaction using ICICI bank internet banking facility, you can get a voucher of Rs.100 from Amazon.in; you can use this amount to shop on the e-store and buy everything that you have been adding to your list of shopping.
Hurry before this offer expires!
8. Another Amazon Gift Card Worth Rs.100 Offer, But For ICICI App Users This Time:
ICICI brings an exclusive free Amazon gift voucher worth Rs.100 for all those addicted to their mobile app iMobile! That's not all – whether you want to pay your electricity bill or your gas bill – anything and everything can be taken care of in an easy way!
With this awesome Amazon gift voucher offer, you are eligible to get Rs.100 gift voucher for your Amazon account! This offer is valid for the first 200 transactors only (every day) and the money is credited to the Amazon.in account of the customer.
If you want to add some extra cash to your Amazon customer account, don't forget to use iMobile ICICI App to make the payments of all kinds!
Use this offer from 1st of March to 30th of December!
3 Reasons To Use The Above Amazon ICICI Bank Offers in 2023:
After going through the list of all the Amazon ICICI bank credit & debit card offers mentioned above, you may be wondering why you would ever want to use them. There are three reasons why no one should miss these offers; read below to know about them:
In case you don't have an ICICI bank account, don't worry because Amazon still has something special for you, in case you have SBI cards. You get up to 10% cashback with SBI Offer on Amazon .
Happy Shopping !